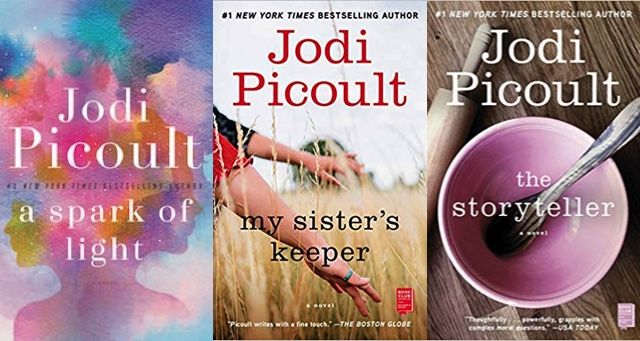 Fiction
The Best Jodi Picoult Books: 3 Reading Pathways
This content contains affiliate links. When you buy through these links, we may earn an affiliate commission.
Jodi Picoult has been my all-time favorite author ever since I read My Sister's Keeper back in 2004. When she came to my hometown some time later and I was going to miss her signing to be at dance practice, my mom sweetly talked Barnes & Noble into getting me a signed copy that I could pick up. I managed to snag an advanced copy of her latest, A Spark of Light at BookExpo last year and I carried it around like it was my first born child. Anyways, what I'm trying to say is that I have loved every single one of Picoult's 25 novels and any excuse I have to get more people to read Jodi Picoult books I will take. So here we are.
That being said, given that she has an extensive catalog—it can be difficult to know where to start. You can absolutely read in publication order, starting with Songs of the Humpback Whale. Jodi Picoult books are stand-alones (with a few recurring characters, more on that later) and can be read in any order. So if chronological is your thang, you can find a list on her website to go off of. If you want a curated reading order for Jodi Picoult books, check out my three suggestions below.
Jodi Picoult Reading Order #1: Current Events
Now, one of the my favorite things about Jodi is that her books are meticulously researched and tackle important but often taboo subjects. If you're looking to read some books about current events…
Picoult's latest release tackles the hotly debated topic of women's right to choose. Told in reverse chronological order, we follow the events that led up to a gunman bursting into a women's reproductive health center and taking its inhabitants hostage. This book is so dang powerful and Picoult is able to tell a story with an objective lens. Also, don't skip the author's note on this one, it's amazing to see all the research Jodi did and her thoughts.
Ruth is a highly respected labor and delivery nurse at her Connecticut hospital, but runs into a moral conflict when a white supremacist couple refuses to let her touch their baby. While alone in the nursery, the baby goes into cardiac arrest and Ruth makes the decision to save the baby's life. Ruth is then sued by the parents and the community is forced into answering tough questions about prejudice and privilege. This book was published a mere month before the 2016 election and today feels even more scarily real.
This is another book that is horrifyingly relevant and this time concentrates on the aftermath of a school shooting. Peter Houghton has been bullied his entire life and the abuse only intensifies when his only friend. Josie, is welcomed into the popular crowd. So Peter commits an act of violence that rocks his little, New Hampshire town. What really happened during those 19 minutes? Could the Houghtons have prevented this? And what should happen now to ensure this never happens again?
When a series of horrible events ends Zoe's miracle pregnancy and shatters her longtime marriage, she throws herself into work as music therapist to distract from the pain. She forms a tentative relationship with guidance counselor Vanessa and to Zoe's surprise, they fall deeply in love. On the other side is her ex-husband Max who has joined a conservative, evangelical church which has a vendetta against the "homosexual agenda" and the attack on traditional family values. So when Zoe approaches Max with the request to use their frozen embryos to raise a child with Vanessa, he spurs the church into action. Sing You Home is also in development for a movie adaptation, spearheaded by Ellen DeGeneres!
Jodi Picoult Reading Order #2: Recurring Characters
While narratives do not cross between books, there are a handful of characters that Picoult has repeated within her stories. Sometimes it's a mere mention in passing, others they play a larger role.
Character Frankie Martine appears in three of Jodi Picoult books: Salem Falls, the story of former teacher, Jack St. Bride, who was falsely accused of an inappropriate relationship with a student. After a brief prison stint, he appears in the small New Hampshire town of Salem Falls and becomes the subject of a group of teenage Wiccans, who accuse him of sexual assaulting one of the girls; Perfect Match, which looks at assistant DA Nina Frost whose world is turned upside down when it comes to light that her 5-year-old son had been sexually abused by a local priest (detective Patrick Ducharme also appears in Nineteen Minutes); and Second Glance, the story of events that unfold after a developer slates an ancient Abenaki Indian burial ground for a strip mall—inspired by Vermont's dark history within the American eugenics movement.
In Keeping Faith, we meet another recurring character. Faith White is a little girl who speaks to God…supposedly. She speaks to an invisible being she dubs her Guard and appears to be able to heal the sick and quote the bible. Faith's acts get enough coverage that it summons teleatheist Ian Fletcher, to her home. As Faith's parents witness more of Faith's behavior, her mother, Mariah, begins to believe more and more that her daughter is actually performing miracles. Her father, Colin, on the other hand, fears for his daughter's sanity and sues Mariah for sole custody of Faith.
Ian also appears in Change of Heart, which centers Shay Bourne, a death row prisoner whose last request shakes the legal and medical system. He wants to donate his heart to the sister of his victim, who desperately needs a transplant to live. The catch? The death penalty (his sentence) makes it medically impossible for him to donate his heart.
House Rules has a brief mention of Peter Houghton from Nineteen Minutes. House Rules centers on Jacob, an 18-year-old living with Asperger's syndrome who has a knack for solving crimes. He has become obsessed with forensic analysis and has a habit of showing up at crime scenes and telling the police what to do and surprisingly, he's usually right. So when his tutor is murdered, the police turn their sights on Jacob.
Jordan McAfee and his wife and son also appear in Salem Falls and Nineteen Minutes, after being first introduced in The Pact, a book about a possible suicide pact and how it affects their families in the aftermath.
Jodi Picoult Reading Order #3: Popular In the Reading Community
Chances are you've heard of My Sister's Keeper, arguably Picoult's most lucrative work. I've also included two other Jodi Picoult books I've noticed other readers mentioning when I've talked to them about Picoult. And also my personal favorite, because why the hell not.
Anna is the product of preimplantation genetic diagnosis. After her parents learned their first born, Kate, has leukemia, Anna was specifically conceived to be a bone marrow match for her sister. Throughout her life she has been expected to undergo countless surgeries and other medical procedures so her sister can live. But Anna has finally had enough and sues her parents for rights to her own body. Just read this book, please. And DON'T watch the movie.
When a dead newborn is found in a barn of an Amish community, it completely rocks the small town of Paradise, Pennsylvania. The mother is revealed to be an unmarried teenage Amish girl named Katie. Katie vehemently protests the medical proof that the baby is hers and since the baby did not die of natural causes, she is arrested for the murder of the baby. Her case is taken by high profile defense attorney, Ellie, who experiences multiple culture clashes with Katie's parents and community at large as she attempts to prove Katie's innocence.
When Sage Singer develops an odd friendship with 90-year-old Josef Weber, a beloved member of her little town, she is shocked when he asks her kill to him. His reasoning? He used to be a Nazi. And Sage's grandmother is a Holocaust survivor. This book is another beautiful narrative from Jodi about how we carry the past with us and how we can let it go.
Police chief Cameron McDonald is forced to arrest his cousin, Jamie, when he admits that he mercy-killed his terminally ill wife. As the murder trial begins, Cameron clashes with his wife, Allie, who admires Jamie for loving his wife so dearly that he'd do anything for her. Everyone must confront their thoughts on when love crosses moral obligation and just what constitutes mercy. Mercy has been my favorite Jodi Picoult book ever since I read it. I love this book so much.