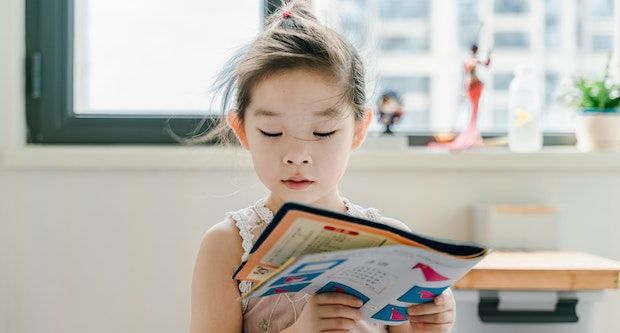 This content contains affiliate links. When you buy through these links, we may earn an affiliate commission.
As a child, I loved books with a twist. Some of my favorite stories had a mystery I needed to solve (Encyclopedia Brown by Donald J. Sobel) or allowed me–the reader!–to decide what the characters should do (Choose Your Own Adventure by R.A. Montgomery). These interactive children's books gave me a chance to explore my creativity and problem solving skills beyond the words on the pages.
Now, as a (very tired) adult with two kids, interactive children's books are a bit more exhausting. (Example: I need to be in a very special mood to "read" wordless picture books.) While I try to beg off reading interactive children's books, my kids have other plans for me. They want The Book With No Pictures for the hundredth time just so they can hear me say GLuURR GA-wocko over and over again. They plead with me to pore over the pages of The Eleventh Hour: A Curious Mystery with them so I can help them figure out who ate Horace's birthday feast. They ask me to read Huff and Puff (complete with blowing on the pages) so they can watch the pigs' houses fall down.
Even at my most tired, even when I don't want to read gibberish words every night, somehow in the middle of these interactive children's books I find myself getting into the story again. It turns out that interactive children's books still have magic even after all these years.
Interactive Picture Books
I Got the Rhythm by Connie Schofield-Morrison and Frank Morrison
On a simple trip to the park, the joy of music overtakes a mother and daughter. The little girl hears a rhythm coming from the world around her― from butterflies, to street performers, to ice cream sellers everything is musical! She sniffs, snaps, and shakes her way into the heart of the beat, finally busting out in an impromptu dance, which all the kids join in on!
This interactive children's book is a retelling of the Three Little Pigs story that allows the reader to play the part of the big bad wolf. Three interior die-cut holes invite readers to huff, puff, and blow the pigs' houses down! This fractured fairy tale ends sweetly when, rather than blowing down the third pig's brick home, the wolf/reader blows out the candles on a cake baked by the pigs! A satisfying and engaging read for every young Three Little Pigs fan.
Press the yellow dot on the cover of this book, follow the instructions within, and embark upon a magical journey! Each page of this surprising book instructs the reader to press the dots, shake the pages, tilt the book, and who knows what will happen next! Children and adults alike will giggle with delight as the dots multiply, change direction, and grow in size! Especially remarkable because the adventure occurs on the flat surface of the simple, printed page, this unique picture book about the power of imagination and interactivity will provide read-aloud fun for all ages!
You might think a book with no pictures seems boring and serious. Except . . . here's how books work. Everything written on the page has to be said by the person reading it aloud. Even if the words say . . . BLORK. Or BLUURF. Even if the words are a preposterous song about eating ants for breakfast, or just a list of astonishingly goofy sounds like BLAGGITY BLAGGITY and GLIBBITY GLOBBITY. Cleverly irreverent and irresistibly silly, The Book with No Pictures is one that kids will beg to hear again and again. (And parents will be happy to oblige.)
When Horace the elephant turns eleven, he celebrates in style by inviting his exotic friends to a splendid costume party. But a mystery is afoot, for in the midst of the games, music, and revelry, someone has eaten the birthday feast. The rhyming text and lavish, detailed illustrations each provide clues, and it's up to the reader to piece them together and decide whodunit!
Every book needs you to turn the pages. But not every book needs you to tap it, shake it, jiggle it, or even blow it a kiss. Innovative and timeless, Tap the Magic Tree asks you to help one lonely tree change with the seasons. Now that's interactive—and magical! It begins with a bare brown tree. But tap that tree, turn the page, and one bright green leaf has sprouted! Tap again—one, two, three, four—and four more leaves have grown on the next page. Pat, clap, wiggle, jiggle, and see blossoms bloom, apples grow, and the leaves swirl away with the autumn breeze.
Open Very Carefully by Nick Bromley, illustrated by Nicola O'Byrne
What would you do if you were settling down for a quiet bedtime story and you realized that a crocodile had fallen into your storybook and was — not to put too fine a point on it — wreaking havoc? Would you slam that book shut and cram it back onto the bookshelf? Or would you be brave enough to peek?
Middle Grade Interactive Books
Doodle Adventures: The Search for the Slimy Space Slugs! is a lighthearted fantasy where the reader first draws him- or herself into the story, and then continues by following prompts and adding more illustrations and doodles. Set in space, the book invites the reader to join Carl, a duck and member of a super-secret international group of explorers, on a journey in search of a very important grail-like object. The book is sturdy paper over board with beautiful cream paper—perfect for defacing! And by the end, the reader will have co-written a tale to return to again and again, and show off to family and friends.
Pierre the Maze Detective has a new case. Mr X has stolen the Maze Stone, which has the power to turn the whole of Opera City into a maze. Can you help Pierre and his friend Carmen find their way through the mazes – and stop Mr X before it's too late? This beautifully illustrated book features 15 full-spread illustrations of intricate, magical mazes. Take a trip through a fantastic world of underground cities, hot-air balloons, tree-top towns and haunted houses. Trace your way through each maze, spot the clues and solve the extra mystery challenges along the way.
Do you know that water covers nearly 70 percent of the earth and that nearly 70 percent of the human body is made up of H2O? That more than half of the earth's species live in water? Or that the sea reflects the sky, so is most often blue, but can also appear green, gray, turquoise, or brown, depending on light, algae, or plant life? With its witty pen and ink illustrations, each page of this activity book engages readers of all ages with fun facts about the intricate world of the sea. Readers learn how to fold an origami boat, sketch fantastical fish, and draw daring tattoos on a sailor's arm, while discovering more about the substance that is so essential to our lives that it's sometimes called "Adam's ale."
Follow the mad antics of Sloth and his sidekick Sengi as they try to find their way out of the zoo with the help of machines. Their efforts are brought to life through novelty elements including pop-ups, pull-outs, and lift-the-flaps, allowing readers to explore in greater depth how and why machines work. Spreads highlight the use of simple machines in everyday objects, such as scissors and clocks, mixers and whisks, bikes and brakes, while the story contains clear and simple text to engage the reader.
Children's Poets Laureate J. Patrick Lewis and Kenn Nesbitt team up to offer a smart, stealthy tour of the creatures of shadowy myth and fearsome legend—the enticing, the humorous, and the strange. Bigfoot, the Mongolian Death Worm, and the Loch Ness Monster number among the many creatures lurking within these pages. Readers may have to look twice—the poems in this book are disguised as street signs, newspaper headlines, graffiti, milk cartons, and more!
Want even more fun with reading? Find our recommendations for the best kindergarten read aloud books here!