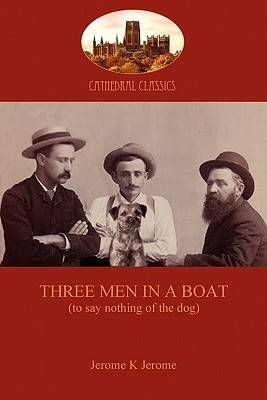 Classics
Best Humor Of All Time: THREE MEN IN A BOAT
Let the fur fly, and the claws be unvelveted, but I'm coming out swinging saying the best book of humor I've ever read is Jerome K. Jerome's 1889 "comic travelogue" Three Men In A Boat. C'mon, leave the modern snark and #fail memoirs behind for three men in a boat going down the Thames wearing Victorian flannels with a dog named "Montmorency." What is there not to die laughing about?
I fell apart reading about how "one" (O! how I love how the Victorians use that pronoun!) has to pretend to like the English seaside but really it is a box of rocks.
It's like Oscar Wilde went on a canoe trip: you know from the start that everybody's going overboard with their carnations. There is a diversion on cheese. And a discourse on how to pack, which is actually quite insightful given my experience packing for river holidays in the 19th century is that no matter how good your intentions your meat pies will invariably end up smashed at the bottom of the hamper. Likewise, your toothbrush.
It is a delightful innocent excursion from the dry great cool-kid smartypantsness of the McSweeney'sish and New Yorker-ish humor I usually read and snicker over but have have never laughed out loud over, though it is funny it is funny not in a tickle your funny bone kind of way, more like laugh because a friend tripped over his own shoelace kind of way (not that there's anything wrong with that).
But there are flavors of humor as they are of ice cream, and vacations. And this one is vanilla bean flecked, and riparian, and makes you feel like you could be (if you aren't already) friends with all of the characters.
_________________________
Sign up for our newsletter to have the best of Book Riot delivered straight to your inbox every two weeks. No spam. We promise.
To keep up with Book Riot on a daily basis, follow us on Twitter or like us on Facebook. So much bookish goodness–all day, every day.