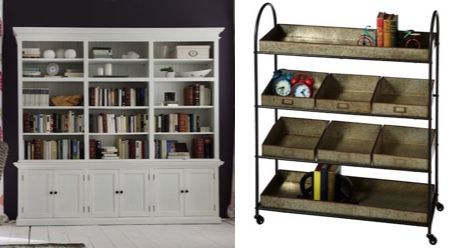 The Best Home Library Furniture, For Real Or Imaginary Houses
Cicero famously said that a room without books is like a body without a soul. For many readers and bibliophiles, books are a huge part of what makes a house a home, as vital to everyday living as the clothes in the closet and the contents of the kitchen cupboards. When you have a lot of books, what is the best way to store them?
For many of us, books seem to live wherever there is space. There might be bookshelves in the bedroom, or the living room, or the study, or even the kitchen. There could be bookshelves in hallways, under staircases, or over doors. If you're very fortunate, you might even have a dedicated room for books and reading—your very own home library.
If you are lucky enough to be in the process of furnishing a home library, or creating a reading nook, or even just dreaming about how you would furnish your own dream library in a future hypothetical house, here are some ideas and inspiration. This post is a round-up of some of the library furniture posts we have done in the past, as well as a tour of my own indulgent dream home library. In my future imaginary dream house, this is what my home library will look like and the home library furniture that will be in it.
General home library designs
This post has some great and innovative ways for storing books and creating home libraries. If a full library is a little beyond your scope and you just want to create a reading nook somewhere in your house, we've got you covered!
Here are ten great reading books, 15 awesome reading nooks for kids, and outdoor reading nooks. But this post is about home libraries, so let's crack on with the tour.
Home Library Furniture: The Bookshelf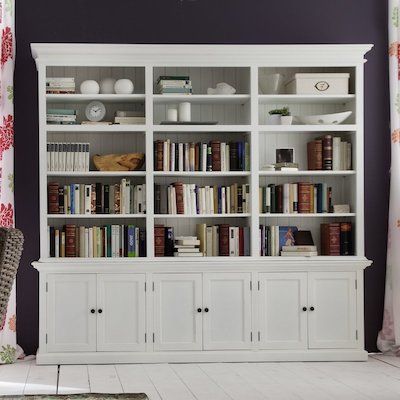 This is probably the most important piece of library furniture—the shelves on which your books will live. For my dream library, I don't really want anything fancy or unique or artistic.
Just simple shelves that will hold a lot of books, and even better if there is extra storage. This pretty thing is my pick for my dream home library. This post highlights some great library bookcases and this post includes a few more unusual bookshelf options.
Home Library Furniture: The Chair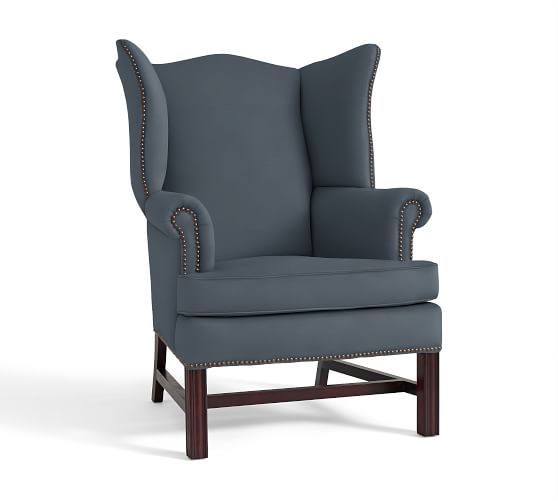 Where you will read is, in my opinion, the second most important aspect to consider when designing a home library.
You need a comfortable chair! You'll be sitting in it for hours, after all. My pick for a reading chair is this wingback one from Pottery Barn. This post showcases some great options, with different styles and price points.
Optional extra: library trolley
In public libraries, library trolleys and carts are ubiquitous. They represent liminal space; the transitional place where books wait to be transferred to their proper home. In a home library, where you theoretically don't have people traipsing in and out and borrowing you books, you probably don't need one.
But they are still awesome, and they could be used for things like storing your library books, or the "to read" pile, or any overflow because you might have accidentally bought more books that will fit on your existing shelves. Hey, it happens. If I were ever to need/want a library trolley my pick is this pretty vintage-style one. It doesn't exactly match the rest of the furniture I've picked, but it looks so lovely! Maybe it could be a statement piece… This post has some fantastic library trolleys if you have a need for one.
Optional extra: library ladder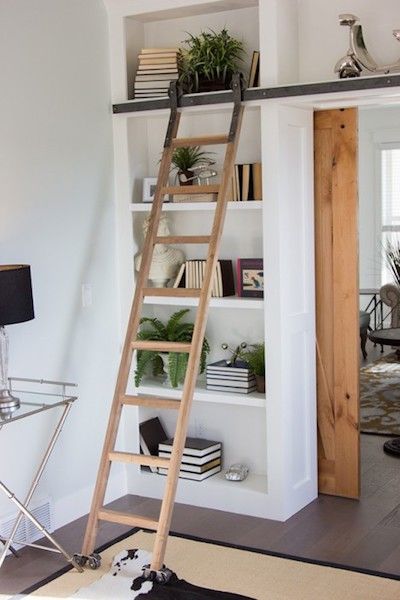 If you're lucky enough to have floor-to-ceiling bookshelves, or if you have bookshelves in spots that are hard to reach (like above a doorway), then you might be in need of a library ladder. I'm not sure if I would have a library with a ladder in it, but if I did, this simple one would be nice with the other furniture I've picked out for the library. This post showcases some great ones.
So there you have it—this is what my dream home library looks like. What about yours?