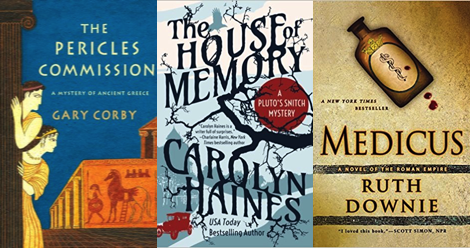 Mystery/Thriller
20 Of The Best Historical Mystery Books, Or They Don't ALL Have to Be Set In Regency England?
This content contains affiliate links. When you buy through these links, we may earn an affiliate commission.
History and mystery are two words that rhyme fields that go easily hand in hand. As the saying goes, when two historians discuss the same event, often you'll end up with three different perspectives. I suppose the same can be said of many different fields, but I think it is especially true for history because there are so many ways to interpret decisions and events. Since none of us were there, and often there is only a limited number of corroborating documents to support a point of view, we have to resort to speculation. Which is fun. And it's fertile soil for authors who then give us many, many delightful historical mystery books.
I don't really know that mystery as a genre requires any definition. I do, however, want to make a note about what defines historical fiction. According to the Historical Novel Society, historical fiction can be any work set more than 50 years ago, or which was written by someone who wasn't alive during the events described, which would require the author to rely on research to describe it. Alternate history, pseudo-history, timeslip, historical fantasy, and multiple timeline novels all count as historical fiction as well. Of course, there is really no one easy way to define the entire genre of historical fiction. I personally prefer to think of historical fiction as being set before 1960, even though I wasn't alive until the late 1970s. Post-1960 events just seem too recent to write about in terms of "historical fiction." I call that literary fiction or contemporary fiction. That's just me, though. You can define it however you want.
Within the historical fiction genre are a number of subgenres. One of my favorites is historical mysteries. I tend to gravitate toward medieval mysteries just because that is the era I studied. And honestly, I can't help loving a good sleuthing, outspoken nun, or a disgraced knight in highly dented and un-shiny armour. There will always be a soft spot in my heart for the Brother Cadfael series by Ellis Peters; the Sister Frevisse series by Margaret Frazer; the Matthew Bartholomew series by Susanna Gregory; and my current favorite, the Crispin Guest series by Jeri Westerson. However, there are SO MANY others out there which may not be as well known, and which cover a great range of time periods. There ARE historical novels that aren't set in medieval, Tudor, Regency, or Victorian England (though I did end up including a couple because the series are so damn fun to read). Below are just a very few that I recommend. I could go on for days…
Medicus by Ruth Downie
Shinju by Laura Joh Rowland
What are your favorite historical mystery books?