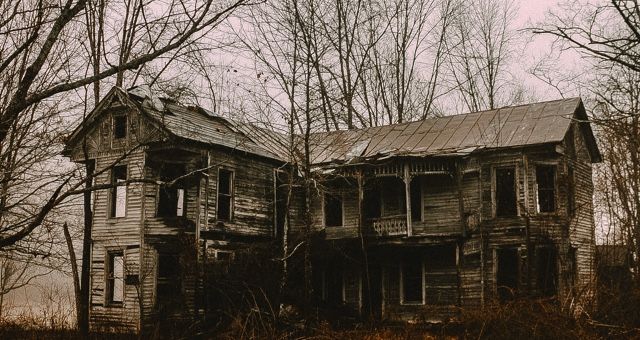 Horror
30 Haunted House Books That Will Give You The Creeps
This content contains affiliate links. When you buy through these links, we may earn an affiliate commission.
The haunted house is probably one of my favorite tropes across the whole horror genre. Book, film, video game; there is nothing creepier than big, empty spaces and being stalked by something unseen. Whether it's a massive multi-room building like a hotel or apartment building, a creaky old mansion, or an unassuming suburban home, haunted houses derive their horror from feelings of invasion and violation. Even in a hotel there is an expectation of safety and security, even more so in the apartment or house you inhabit. The monsters are supposed to be outside. But in haunted house books the monsters are inside, with you, violating that sense of security.
There is also the fact that hauntings in books often either stem from or cause domestic disruption, further destabilizing the interior of the home and annihilating any feelings of being safe or protected. Even the Gothic romances, from which the modern haunting story stems, were about the inversion and disruption of the domestic space. So their modern descendants come by it rightly. There is also a good deal to be said with regards to the relation between women, hauntings, and domestic spaces, and if that is an area which interests you make sure you check out Sarah Smeltzer's post on Women, Trauma, and Haunted Houses.
Looking out your window and seeing something staring back at you is scary. But lying in bed and hearing something move inside your house? That's always going to be worse. Thankfully, there are a whole slew of writers who have shared that sentiment! When it comes to haunted house books we have plenty of scares to fill our shelves.
"Classic" Haunted House Books
I'm fudging the term "classic" for this category, but there are a number of semi-legendary books that make up the roots of the lineage of modern haunted house books.
I'm guessing that most of you are familiar with some version of this creepy Henry James novella about the young governess and her two beautiful but strange charges, whether you've read the actual text or seen one of the film adaptations. As far as haunted house books go, this is definitely a "classic." Also, Turn of the Screw seems to be the inspiration behind season two of The Haunting of Hill House on Netflix (The Haunting of Bly House now, technically), so you may as well read up while we (im)patiently wait for 2020.
I can't leave Hell House off this list, but I also cannot include it without recommending that you read with caution. Matheson's haunted house book was published in 1971, and belongs to that horror publishing of the '70s and '80s. Its contents are graphic, heavily sexual in nature, and (given its publication date) completely lack any modern sentiment. As a result a lot of readers find it rough, or downright offensive. But that doesn't change the fact that it is a well known contribution to the history haunted house books. Plotwise, it's pretty familiar: the house's owner invites a psychiatrist and two psychics into the house to investigate the existence of the afterlife. What could go wrong? (Besides everything.)
This book, okay? Atmospheric I expected. Queer icon Theodora I expected. To be sincerely freaked out while stuck on a plane at 30,000 feet, I did not expect. But at least I could be sure that the plane wasn't haunted. If you've only seen the (admittedly awesome) Netflix adaptation, do pick up a copy of Jackson's original novel and give it a read. Hill House is frightening in all its various forms, text and film, as it torments the protagonist Eleanor, and all others unfortunate enough to inhabit its walls.
Haunted houses don't always have to be old and steeped in dark history. Siddons's The House Next Door is about a beautiful new house, and is told not from the perspective of this house's inhabitants but rather through that of the neighbors, Colquitt and Walter Kennedy. They are witness to the accidents and tragedies that come to surround the new house and afflict its inhabitants.
Burnt Offerings doesn't get a whole lot of attention these days, and when people do talk about Marasco's novel it is usually in relation to the book's influence on Stephen King's The Shining. But Marasco's novel preceded all of the big haunted house books of its decade, including not just King's book but Jay Anson's The Amityville Horror as well, so it deserves recognition in its own right as a sort of ur-text for haunted houses of the later 20th century. In Burnt Offerings, Ben and Marian Rolfe accept an offer to rent a mansion in upstate New York for a fantastically low price (nothing suspicious there…); the only catch is that they are responsible for preparing meals for the mysterious, elderly Mrs. Allardyce who lives unseen in a distant wing of the house. (I'm sure it's fine. Really.)
Side note: the cover on this Valancourt reissue is gorgeous.
Speaking of The Shining, would any haunted house book list be complete without King's famous haunted house (or in this case haunted hotel) novel? Somehow there's something even creepier about a building as large and rambling as an antique hotel being haunted. It lacks the intimacy of a home haunting, but there are just so many more places for scary things to hide. And when Jack Torrance and his family get snowed in at the massive Overlook Hotel things start to get really off-kilter.
Haunted House Books for Adults
As you may have noticed in the previous section, "classic" haunted house books are pretty darn white. It's unsurprising, but it's not great. Thankfully, the haunted house never dies (get it?), and the modern horror genre has a much more diverse selection of inhabitable horrors on offer. You might recognize two of these titles from my recent list of horror by authors of color, but they're both such great examples of the haunted house plot that I couldn't leave off this list.
I have heard that this book is really scary. The synopsis is ominous enough, to be sure, but apparently the book itself is just chilling. If you get around to reading it before me definitely tweet me and let me know. Dahlia has been assigned by her father, owner of Music City Salvage, to head out to the massive Withrow estate to which the owner, Augusta, has decided to sell the salvage rights. It seems like a fairly straightforward job. Until Dahlia and her crew turn up a body on the property, Augusta stops taking their calls, and a violent storm cuts off the road (and power) to the property. Leaving them trapped, but not alone.
Heads up readers, this book comes with an author-provided content warning for discussions about sexual assault. Riley Thomas is a medium who really wishes she wasn't. A freaky accident when she was a kid, involving a malevolent spirit and that teen terror favorite the Ouija board, has left her with an aversion to all things frightening. Until a friend pressures her into attending a paranormal investigation of the Jordanville Ranch. Riley has no interest in using her skills to speak to the ranch's supposed ghosts, but the restless spirit of a child, and someone out to keep the ranch owner's secrets buried by any means necessary, may leave her no choice.
Crime writer Lucas Graham's life is falling apart. Both his marriage and his career are crumbling, and he needs an opportunity to turn things around. Enter convicted cult leader Jeffrey Halcomb. Having been offered exclusive access to the notorious Halcomb, Lucas decides to begin his research where the story began: an ordinary looking farm house on the coast of Washington State. But the history he has come to explore is dark, and restless. This book (and really anything Ahlborn has written) comes highly recommended by the horror community, so definitely considered adding it to your list.
I talked a bit about The Graveyard Apartment in my last post but I knew I couldn't leave it off this list of haunted house books. You know what's scarier than a haunted house, and maybe even scarier than a haunted hotel? A entire haunted apartment block. In The Graveyard Apartment, a young couple with a dark secret move into a new apartment building with their daughter. The other tenants begin to move out one by one as terrors plague the building, until only the couple is left alone with whatever is lurking in the building basement. Say it with me now: Yikes.
Isn't that cover fabulous? Those eyes are freaking me out, it's great. Cantero is one of those authors that keeps skipping across my radar, usually in reference to Meddling Kids, his eldritch, Scooby Doo-esque book (oh yeah). But while Meddling Kids is high on my to-read list, I've also had my eyes on his haunted house book, The Supernatural Enhancements. When A. finds out he has inherited a massive house deep in the Virginian woods, it's unexpected, not to mention suspicious. Sure enough, he and his companion Niamh realize all too soon that there is more to Axton House than meets the eye. Its past is dark and full of secrets. I'm super excited to get my hands on this one, because apparently it's a mixed-media book (letters, security footage, journal entries, etc.), which is so my jam.
Pinky lost her mother during a border crossing from Pakistan when she was just a baby, and has been raised ever since by her grandmother, Maji, growing up in Bombay with Maji and Pinky's uncle's family. When Pinky opens a mysterious door one day in the midst of a powerful monsoon, she releases the ghosts of a drowned infant and its nursemaid. Now Pinky's family must come to terms with this secret, and all it entails.
Oops, snuck an exorcism book into a list of haunted house books. But look, houses get down right spooky with demons in them. Particularly the Barrett household, when their 14-year-old daughter begins to exhibit symptoms of what seems to be acute schizophrenia. As things get progressively worse and Marjorie's doctors prove unable to help her, the family is forced to turn to the Church for help. But with bills piling up as fast as horrors, they also agree to the priest's suggestion that they allow in a production company that is eager to pay them for the right to film Marjorie's exorcism.
Is your house bigger on the inside? If it's not also blue and box-shaped on the outside, you may have a problem. The protagonist of Mapping the Interior is a 12-year-old whose house is bigger on the inside. One night he follows someone—someone who can't or shouldn't be there—through a door to a part of the house that can't or shouldn't be there. But when he sets out to map the unknown corners of his home, he ends up putting himself and his little brother in danger.
This addition to the list was recommended to me as being just absolutely read-through-your-fingers frightening. In one of those plots familiar to many haunted house books, Julie and James need to get out of the city and end up settling in a house in the country. But what was supposed to be a fresh start for the troubled couple soon turns into a nightmare. As the house seems to misshape and decay before their eyes, Julie and James rush to discover its history before they follow suit.
This is the other book I migrated over from my diverse horror list because honestly it just sounds like too good to not include here. Angela Toussaint has not been back to her grandmother's house—the house the townspeople of Sacajawea, Washington, call the Good House—in two years. Not since her son Corey died. But she's finally ready to return and discover the truth—about Corey's death, about her Grandmother, and about the Good House.
Sarah Waters is perhaps best known for her historical novels Fingersmith and Tipping the Velvet, but I was delighted to find that she had also written a haunted house book. Whether there's an actual ghost in this one, or just a Gothic ghost (which is to say a ghost which is only a metaphor, or which has some other real world explanation) remains to be seen. Hundreds Hall, home to the Ayres family, may be haunted by nothing so much as its own history. Its owners—a mother and her two children—are struggling to keep up with the house's slow decline, as well as with the changing world outside. But there may be something within the walls of Hundred's Hall that's every bit as frightening as change.
Trying to save their marriage (seeing a theme here re: hauntings and domestic disruptions?), Stephen and Marlo Coleman and their twin girls are moving. Marlo has inherited an old house through the family trust, and the only caveat is that they have to take care of her old Aunt Anabelle who still lives in the house. But as we've learned by now, mysteriously inherited big old houses in the country equal trouble. Anabelle keeps talking about a family curse, and saying she sees her dead daughter walking the halls, and strange happenings in the house itself seem to support her claims.
Haunted House Books for Young Adults
Being a teen is hard enough without being haunted.
Mixed media haunted house books are their own little niche of found footage and diary entries and I love them. Two decades have passed since a fire destroyed Elmbridge High and killed three students. Maybe four, as Carly Johnson hasn't been seen since. The main suspect is a girl called Kaitlyn, whose diary was discovered amid the ruins. In its pages lies the truth behind the fiery inferno that consumed the school that night, and the truth about what happened to Carly Johnson.
I mean you can't really make a list of YA haunted house books without this one. I think there's even room to argue that Anna Dressed in Blood was one of the books that kickstarted the modern resurgence of YA horror fiction (but let's save that for another day). It's the epitome of haunted house stories, complete with creepy old Victorian and a vengeful, bloody spirit. Cas Lowood is a ghost hunter, born and bred, and he travels the country with his mother and cat, seeking out and destroying malicious spirits. When it comes to tracking down a local they call Anna Dressed in Blood, it should be business as usual, but this vengeful spirit is unlike any he's ever encountered. And she's the first to spare his life.
YA haunted house books have a real obsession with spooky Victorian houses. Not that I can blame them—as far as architectural choices go, Victorian is a doozy. It can either be your Grandma's cozy house, or it can be a freaking suburban Crimson Peak. Lucy Acosta and her cousin Margaret grew up in what was, apparently, one of the latter. Her mother died when she was just a baby, then her aunt vanished while walking in the woods, and now Margaret is spending too much time in the attic. Where, she says, she can hear the whispers of her dead mother in the walls.
The Fall by Bethany Griffin
Retelling of Poe's "The Fall of the House of Usher," anyone? I mean, do I even need to say more? Is there a more classic "this house has serious issues" story out there? The Fall is told from the point of view of Madeline, who thought she had succeeded in avoiding her fate as an Usher. It turns out it's harder than she thought to escape the past, but if Madeline cannot find a way out of Usher House, with her brother in tow, and pull the wretched building down behind her, she's going to end up just like all the other Ushers before her: young, mad, and cursed.
Amity by Micol Ostow
Oh Amityville, source of eternal terror in the heart of New England. First there's Connor, who moves to Amity with his family and starts experiencing dark, horrifying nightmares. Nightmares he'd kind of like to make come true. Then there's Gwen, ten years later, who moves to Amity with her family to get a new start. But she too is haunted by terrible visions as the house begins to manipulate her into playing its deadly game. Because make no mistake, Amity is alive, hungry, and ready to use Connor and Gwen to get what she wants.
I haven't read any of Vega's books yet, but I've heard that her debut novel Merciless was seriously cringe inducing, so I expect good things from The Haunted as well. Hendricks isn't super keen on the boring small town her parents just moved her too, and she expects little by way of excitement. Then it turns out that the house they chose as their fixer-upper? Haunted. Not that Hendricks believes that, of course. At least not until things start to go from boring to bad, and from bad to worse.
Haunted House Books for Middle Graders
Some of the books that are still high on my scare list are the books I read as a kid. Just because a book was written for middle graders doesn't mean it can't scare your pants off.
Hand to heart, I will be a Mary Downing Hahn fan until the day I die. Her books are scary when you're in the age category they were written for, and then you read them as an adult and you find all these horrifying connotations that went over your head as a kid. In The Girl in the Locked Room, Jules and her family move into an old, abandoned house (as you do when you apparently have no sense of self preservation). Right away Jules can sense something is wrong. She can't stop thinking about the room upstairs with the locked door, and the pale face she keeps seeing in the window.
This book is described in the synopsis as "gently Gothic," and honestly that just everything I want in life. Olivia Stellatella, however, would like her life to be more "generally normal" than "gently Gothic." After her mother leaves, her father moves her and her grandmother into a creepy old concert hall, where Olivia's only friend is a stray cat named Igor. To make matters worse, the place is haunted and the ghosts need Olivia's help. The concert hall is in danger of being torn down, and if Olivia can't save it they will be trapped as spirits forever.
Rule number one of hauntings: where the history is darkest, the ghosts are strongest. And the history in Thomas's new house is dark. Legend says that it was once a stop on the Underground Railroad, and that two escaped slaves and the abolitionist who owned the house, Dies Drear, were murdered there. Now the ghosts of the three walk the house forever, trapped by their terrible fate. First published in 1968, The House of Dies Drear is actually the oldest book on this list! But thankfully, the book's receipt of an Edgar Award, and its status to many as a classic of MG fiction, have ensured that it remains in print for future generations.
Tessa Woodward's family has dragged her away from her home in warm, sunny Florida, and plopped her in the middle of Chicago. Cold, wet Chicago. Then, to make matters worse? Her new house turns out to be haunted, and the ghost seems to be trying to communicate with Tessa. There's a secret buried in the house on Shady Street, and with the help of some new friends Tessa sets out to discover what it is, and why the ghost chose her.
Can we set up a charity fund for all these poor MG main characters being moved into haunted houses by their oblivious parents? Harper's definitely going to need some help getting out of the mess that comes with her creepy new house. Rumor has it the house is haunted, and from day one Harper can feel that something is wrong. A feeling that seems to be validated when her little brother Michael starts acting strangely. And then there are the memories that Harper can't access, memories that might help her make sense of what is happening if she can just make herself remember.
Honestly, if your new house is called Witheringe House? There's no way it's not going to be haunted. And, sure enough, from the day that Elizabeth and her friend Zenobia arrive, strange things begin happening at Witheringe House. What exactly is in the forbidden East Wing? And are the vines in that wallpaper moving? Zenobia seems to thrive on the strangeness, but Elizabeth is less enthusiastic as it becomes clear that something is seriously wrong with Witheringe House.
***
Still not enough scares? Make sure you check out our Horror Archives for more recommendations.