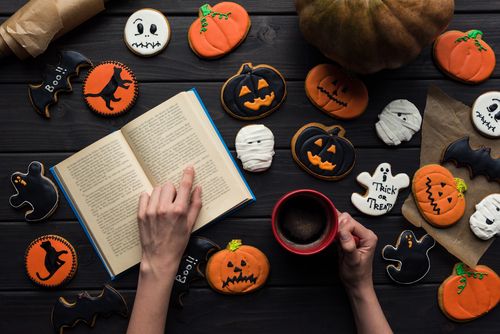 Children's
26 Of The Best Halloween Books for Kids (That Are Only Slightly Scary)
This content contains affiliate links. When you buy through these links, we may earn an affiliate commission.
The best way to start autumn off right is by gathering up a big pile of the best Halloween books for kids and getting yourself in a cozy mood. If you are introducing a child to the spookiest of seasonal celebrations, here are some of the best picture books that can help you explain the concept and get both you and your favourite small person very excited for costume-and-candy good times. If 26 options aren't enough for you, Book Riot also has you covered here and here.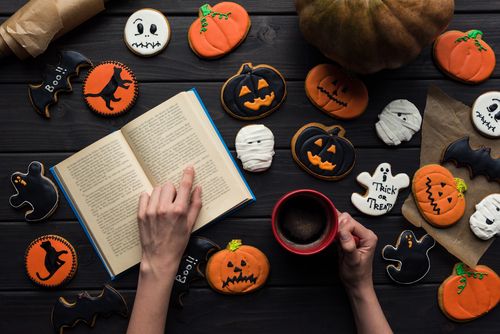 1. Zombelina by Kristyn Crow and Molly Idle
Our heroine, Zombelina, loves to dance alongside her monster friends. Then she signs up for ballet classes with real, human girls and develops stage fright. Idle is an award-winning illustrator whose work is always delightful and, at the book's core is a very universal story about being different and wanting to feel accepted.
A young girl moves into a haunted house on the edge of town…luckily, she's a crafty witch and knows exactly how to deal with undead house guests. Our astute heroine makes use of the ghosts as curtains, sheets and tablecloths. Kohara's books have a very distinct aesthetic, cute and monochromatic, and this Halloween tale is definitely one that'll give kids the right amount of squee and scare.
A timid little pig and his Halloween-loving father get ready for the holiday. It was nice to see his dad spending so much time trying to boost his confidence and sewing his costume. This book will be great if you know any nervous Trick-or-Treaters who aren't so sure that they like this holiday.
A book by children's lit superstar Pilkey about a wiener dog who gets made fun of by all the other dogs in his neighbourhood. One Halloween night, all of that is going to change…It's actually a very moving story about fitting in and making friends. Plus I love the addition of unusual vocabulary like the word 'ornery'.
The Halloween kid loves his namesake holiday, and he will not stand for spooky monsters trying to bust in and ruin the night for the rest of the kids. Amusing art accompanies a great read-aloud that can be read in a very satisfying cowboy twang.
Grumpy, scaredy chick Egg doesn't want to go Trick-or-Treating with Peep. Wan's art is always super charming, and some kids will relate to Egg's nervous reaction to Halloween. Special bonus: cheesy Halloween jokes that you can recycle and use at your next Pumpkin-spice season shindig.
7. Just Say Boo by Susan Hood and Jed Henry
I really like the book's autumn-y toned illustrations and the rhyme scheme is easy. Not the most detailed book, but an enjoyable read-aloud anyway.
Written like it's a ghost textbook, detailing specters and their various habits. It also suggests how you can fight off their nefarious schemes, and how to eventually be rid of them completely. Though the art isn't my favourite out of this list, the book is definitely original, and will be good for older kids that want something a bit more inventive.
Gorgeous linoleum block art and poetic writing tell the story of a girl who longs to ride a broom like a real witch. It's a great message for kids (and adults!), as the girl doesn't give up and continues to pursue her goal.
A wordless, comic-form picture book about a small dog's scary next door neighbours (ghost cats). I really recommend this one highly, it is a real visual treat with cute little ghost cats being naughty. It will also allow you to use the term "ghost-toast" when describing it, which I just think is fun to say.
A little girl believes her mom is a witch – and that she is her familiar, a cat. Reasons include that her mom's bathroom is full of confusing potions (face and body creams, perfumes), that she cackles with other women (book club), and that she gardens all manner of magical herbs. The collage illustrations are adorable and gently show the reader the truth of the mother's "magic".
Pig loves wearing her Halloween costume, Pug is not so fond. Pig feels sad because she wishes her friend cared more about the holiday, but Pug is just a wacky rapscallion who wants to roll around in dirt. It's great for tiny ones who just need a quick and easy seasonal read.
Miss Smith, with her short spiky red hair and Blondie pin, is a punk rock teacher. She brings the kids in her class to meet a pale, purple-clad librarian called Virginia Creeper, who then reads a bunch of scary stories to Miss Smith's diverse class. When characters from the books (Queen of Hearts, Dracula, pirates) start crowding the room as she reads, the kids eventually find themselves in the midst of a haunted literary party. Will they escape? Hilarious. Aimed at slightly older kids because it's rather detailed and has some funny bits that the younger ones won't understand.
14. A Tiger Called Tomás by Charlotte Zolotow and Marta Alvarez Miguens
This is a recently updated book which has shifted the shy main character into a young Latino boy, from Thomas to Tomás. His mother encourages him to get to know his new neighbours, but he's afraid that they won't like him. Finally, on Halloween, the now costumed Tomás goes out and interacts with his neighbours for the first time. He discovers that they recognize him despite his costume and that they've been wanting to spend time with him this whole time. A sympathetic story about shyness that will connect with many children.
A weird, wonderfully interactive ghost story. This would be great for a storytime with older kids. Typically adorable Bob Shea artwork and silly plot, with a style of humour that'll make every one smile.
Last year I did this for 3 different Halloween themed storytimes, and the kids loved it each time. Jasper Rabbit is growing up and not afraid of the dark anymore. Except that he's just gotten a new pair of underwear, and they glow eerily in the dark when the lights are off. Jasper keeps trying to get rid of them, but they keep coming back. A follow up to the equally whimsical Creepy Carrots, this is a seriously silly tale that will charm all ages.
17. Little Boo! By Stephen Wunderli and Tim Zeltner
The art is lovely, the writing is evocative, and kids will certainly relate to the little pumpkin seed's desire to grow up. The seed wants to be scary but is too small and no one is afraid. The wind tells him to be patient but that is easier said than done. The art is really cute but also gets a bit spookier and more Halloweeny as the seed finally grows into a jack o'lantern.
18. monster Trucks by Anika Denise and Nate Wragg
Vivid illustrations of trucks will be heartily enjoyed by vehicle enthusiasts, while the text contains new vocabulary (Toothsome! Perky! Leer!). Will be a delight to kids who dig noisy books.
19. Leo by Mac Barnett and Christian Robinson
Leo the ghost is lonely. No one notices him, and when they finally do he's misunderstood and everyone is afraid. He makes friends with a girl named Jane who doesn't seem to be afraid of him – eventually he realizes that it's because she thinks he's an imaginary friend. How will Leo tell Jane the truth, and will it cause him to lose his new and only playmate? A sweet, gentle story about friendship and acceptance.
Kimin doesn't know what to wear for Halloween. His mother suggests that he go through his grandfather's belongings, where he find a mask that he remembers being afraid of when he was younger. He learns that his grandfather was a Korean mask dancer and, in homage to him, borrows the mask and robe for his costume. The author's note about Talchum (traditional Korean mask dancing) makes the book more than just a typical Halloween story, and it has a wonderful message about connecting to cultural traditions.
21. Black and Bitten Was Night by Robert Heibreder and John Martz
A rhymey, sing-song-y picture book full of nonsense words and an epic battle between children and evil skeletons (Skul-a-Mugs, as named in this book).
Sammy is obsessed with Halloween. So obsessed, in fact, that he's preparing his family's haunted house a year early and driving them crazy with all the tricks being tested. Can they handle a full year of this? Relatable to anyone with a loved one who goes totally overboard during the holidays.
I'm a sucker for Buffy the Vampire Slayer anything, so even though this isn't strictly Halloween, how can I not use the opportunity to talk about it? Teeny Buffy, Willow and Xander (obviously not canon because they didn't meet as children) investigate spooky closet noises, face off against familiar creatures and seek advice from Giles. A twee, monsterful bedtime story.
24. Room on the Broom by Julia Donaldson and Axel Scheffler
Julia Donaldson, creator of The Gruffalo, is an author you probably already know if you have little kids in your life. Intensely successful, she knows her way around a rhyme. In this book, a kind witch keeps inviting animals to share her broom despite her pet cat's reservations. The animals eventually show themselves to be very useful when the witch is threatened by a dragon.
25. In the Haunted House Touch & Feel Lift-the-Flap Book by Eve Bunting
Kids go craaaazy for lift the flap books – I think that it's like a surprise party in a book for them. This one, by Eve Bunting, is no exception to that rule of childhood good times. A tiny bit spooky, but mostly just a charming story about a father and daughter going through a haunted house (the flaps are generally doors with monsters behind them).
Adorably big-eyed Georgia doesn't believe in ghosts, despite the fact that household items are disappearing and then turning up where they aren't meant to be. Still, she's very certain that the floating items can be easily explained! A confident, smart female main character that ain't afraid of no ghosts.
---
What do you think are the best Halloween books for kids? Share 'em in the comments!