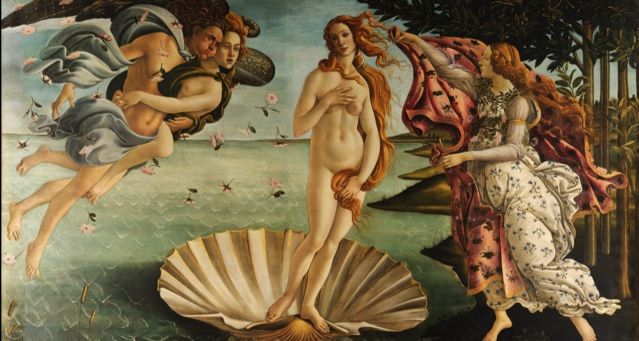 Lists
50 Must-Read Greek Mythology Books
This content contains affiliate links. When you buy through these links, we may earn an affiliate commission.
My first bookish memories are of holing up in my closet (my favorite reading spot) and reading my illustrated ancient Greek mythologies for hours. My fascination with the soap opera–worthy cast of goddesses and gods, heart-breaking tragedies, and fantastical shifts from human to beast and back again has only grown stronger over the years. Greek mythology books (retellings, translations, and commentary) continue to be some of my favorite reads.
If you're still fascinated with Greek mythology books, or looking for Percy Jackson or Circe read-alikes, you'll find the best of them here for adults, teens, and kids alike.
Books are broken down by category: translations of the classics, fictional retellings, nonfiction commentary, as well as books for teens, middle graders, and kids. I've also only included one book per author to increase our scope here. All book descriptions come from Amazon.
One quick note before we jump into it: For an ancient culture that was queer AF and existing at a crossroads between multiple, diverse cultures, today's conversations around Greek mythology are real white-washed. Frankly, they're much less diverse than the cultures and heroes we'll be reading about. It's getting better overall, but I'd love to see more diverse voices being published today, both in the commentary and retellings of these myths.
Greek Mythology Collections and Translations
When it comes to Greek mythology, you can go back to the source.…kinda. Each new translator from the original Greek adds their own spin on the stories, highlighting certain sections and altering the words in profound ways.
However, as a mythology rooted in oral traditions with its always-shifting truth, this seems right. Here's some of my favorite translations and collections of Greek mythology.
There are Heroes – and then there are Greek Heroes.
Few mere mortals have ever embarked on such bold and heart-stirring adventures, overcome myriad monstrous perils, or outwitted scheming vengeful gods, quite as stylishly and triumphantly as Greek heroes.
Filled with white-knuckle chases and battles, impossible puzzles and riddles, acts of base cowardice and real bravery, not to mention murders and selfless sacrifices, Heroes is the story of what we mortals are truly capable of – at our worst and our very best.
A landmark anthology of the masterpieces of Greek drama, featuring all-new, highly accessible translations of some of the world's most beloved plays, including Agamemnon, Prometheus Bound, Bacchae, Electra, Medea, Antigone, and Oedipus the King, featuring translations by Emily Wilson, Frank Nisetich, Sarah Ruden, Rachel Kitzinger, Mary Lefkowitz, and James Romm.
The great plays of Ancient Greece are among the most enduring and important legacies of the Western world. Not only is the influence of Greek drama palpable in everything from Shakespeare to modern television, the insights contained in Greek tragedy have shaped our perceptions of the nature of human life. Poets, philosophers, and politicians have long borrowed and adapted the ideas and language of Greek drama to help them make sense of their own times.

4. The Iliad by Homer, translated by Caroline Alexander
Composed around 730 B.C., Homer's Iliad recounts the events of a few momentous weeks in the protracted ten-year war between the invading Achaeans, or Greeks, and the Trojans in their besieged city of Ilion. From the explosive confrontation between Achilles, the greatest warrior at Troy, and Agamemnon, the inept leader of the Greeks, through to its tragic conclusion, The Iliad explores the abiding, blighting facts of war.
Soldier and civilian, victor and vanquished, hero and coward, men, women, young, old—The Iliad evokes in poignant, searing detail the fate of every life ravaged by the Trojan War. And, as told by Homer, this ancient tale of a particular Bronze Age conflict becomes a sublime and sweeping evocation of the destruction of war throughout the ages.
Carved close to the original Greek, acclaimed classicist Caroline Alexander's new translation is swift and lean, with the driving cadence of its source—a translation epic in scale and yet devastating in its precision and power.
The only work of its kind to survive from classical antiquity, the Library of Apollodorus is a unique guide to Greek mythology, from the origins of the universe to the Trojan War.
Apollodorus' Library has been used as a source book by classicists from the time of its compilation in the 1st-2nd century BC to the present, influencing writers from antiquity to Robert Graves. It provides a complete history of Greek myth, telling the story of each of the great families of heroic mythology, and the various adventures associated with the main heroes and heroines, from Jason and Perseus to Heracles and Helen of Troy. As a primary source for Greek myth, as a reference work, and as an indication of how the Greeks themselves viewed their mythical traditions, the Library is indispensable to anyone who has an interest in classical mythology.
6. Metamorphoses by Ovid, translated by Charles Martin
Ovid's epic poem―whose theme of change has resonated throughout the ages―is one of the most important texts of Western imagination, an inspiration from Dante's times to the present day, when writers such as Salman Rushdie and Italo Calvino have found a living source in Ovid's work.
Charles Martin combines a close fidelity to Ovid's text with verse that catches the speed and liveliness of the original. Martin's Metamorphoses will be the translation of choice for contemporary readers in English. This volume also includes endnotes and a glossary of people, places, and personifications.
Edith Hamilton's mythology succeeds like no other book in bringing to life for the modern reader the Greek, Roman and Norse myths that are the keystone of Western culture-the stories of gods and heroes that have inspired human creativity from antiquity to the present.
We follow the drama of the Trojan War and the wanderings of Odysseus. We hear the tales of Jason and the Golden Fleece, Cupid and Psyche, and mighty King Midas. We discover the origins of the names of the constellations. And we recognize reference points for countless works for art, literature and culture inquiry–from Freud's Oedipus complex to Wagner's Ring Cycle of operas to Eugene O'Neill's Mourning Becomes Electra.

Fictional Greek Mythology Books and Retellings
Like all Greek myths, these fictionalized retellings contain love and sex, poetry and passion, and often buckets of blood. Among these, you'll find close historical retellings as well as texts that read like spiritual descendants of the original myths in a completely new setting.
In the middle of the night, Creusa wakes to find her beloved Troy engulfed in flames. Ten seemingly endless years of brutal conflict between the Greeks and the Trojans are over, and the Greeks are victorious. Over the next few hours, the only life she has ever known will turn to ash.
The devastating consequences of the fall of Troy stretch from Mount Olympus to Mount Ida, from the citadel of Troy to the distant Greek islands, and across oceans and sky in between. These are the stories of the women embroiled in that legendary war and its terrible aftermath, as well as the feud and the fatal decisions that started it all.
Powerfully told from an all-female perspective, A Thousand Ships gives voices to the women, girls and goddesses who, for so long, have been silent.
10. Alcestis by Katharine Beutner
In Greek myth, Alcestis is known as the ideal wife; she loved her husband so much that she died and went to the underworld in his place.
In this vividly-imagined debut, Katharine Beutner gives voice to the woman behind the ideal and reveals the part of the story that's never been told: What happened to Alcestis in the three days she spent in the underworld?
The award-winning poet reinvents a genre in a stunning work that is both a novel and a poem, both an unconventional re-creation of an ancient Greek myth and a wholly original coming-of-age story set in the present.
Geryon, a young boy who is also a winged red monster, reveals the volcanic terrain of his fragile, tormented soul in an autobiography he begins at the age of five. As he grows older, Geryon escapes his abusive brother and affectionate but ineffectual mother, finding solace behind the lens of his camera and in the arms of a young man named Herakles, a cavalier drifter who leaves him at the peak of infatuation.
When Herakles reappears years later, Geryon confronts again the pain of his desire and embarks on a journey that will unleash his creative imagination to its fullest extent. By turns whimsical and haunting, erudite and accessible, richly layered and deceptively simple, Autobiography of Red is a profoundly moving portrait of an artist coming to terms with the fantastic accident of who he is.
And so it begins: a bet between the gods Hermes and Apollo leads them to grant human consciousness and language to a group of dogs overnighting at a Toronto vet­erinary clinic. Suddenly capable of more complex thought, the pack is torn between those who resist the new ways of thinking, preferring the old 'dog' ways, and those who embrace the change. The gods watch from above as the dogs venture into their newly unfamiliar world, as they become divided among themselves, as each struggles with new thoughts and feelings. Wily Benjy moves from home to home, Prince becomes a poet, and Majnoun forges a relationship with a kind couple that stops even the Fates in their tracks.
André Alexis's contemporary take on the apologue offers an utterly compelling and affecting look at the beauty and perils of human consciousness. By turns meditative and devastating, charming and strange, Fifteen Dogs shows you can teach an old genre new tricks.
For Her Dark Skin is a tightly crafted exploration of the story of Jason and Medea weaving both traditional and contemporary fictional and thematic elements into a sharply ironic tale of revenge, ambition, passion and pride.
Desires and consequences lead the all-too-human characters through a piercing new interpretation of classic themes.
Three thousand years ago a war took place where legends were born: Achilles, the greatest of the Greeks, and Hector, prince of Troy. Both men were made and destroyed by the war that shook the foundations of the ancient world.
But what if there was more to the tale of these heroes than we know? How would the Trojan War have looked as seen through the eyes of its women? Krisayis, the ambitious, determined daughter of the High Priest of Troy, and Briseis, loyal and passionate princess of Pedasus, interweave their tales alongside Homer's classic story of the rage of Achilles and the gods of Olympus. What follows is a breathtaking tale of love and revenge, destiny and the determination, as these two brave women, the heroes of the Trojan War, and the gods themselves come face to face in an epic battle that will decide the fate of Troy.

Being a Greek god is not all it once was. Yes, the twelve gods of Olympus are alive and well in the twenty-first century, but they are crammed together in a London townhouse-and none too happy about it. And they've had to get day jobs: Artemis as a dog-walker, Apollo as a TV psychic, Aphrodite as a phone sex operator, Dionysus as a DJ.
Even more disturbingly, their powers are waning, and even turning mortals into trees–a favorite pastime of Apollo's–is sapping their vital reserves of strength.
Soon, what begins as a minor squabble between Aphrodite and Apollo escalates into an epic battle of wills. Two perplexed humans, Alice and Neil, who are caught in the crossfire, must fear not only for their own lives, but for the survival of humankind. Nothing less than a true act of heroism is needed-but can these two decidedly ordinary people replicate the feats of the mythical heroes and save the world?
The Trojan War, fought nearly twelve hundred years before the birth of Christ, and recounted in Homer's Iliad, continues to haunt us because of its origins: one woman's beauty, a visiting prince's passion, and a love that ended in tragedy.
Laden with doom, yet surprising in its moments of innocence and beauty, Helen of Troy is an exquisite page-turner with a cast of irresistible, legendary characters—Odysseus, Hector, Achilles, Menelaus, Priam, Clytemnestra, Agamemnon, as well as Helen and Paris themselves. With a wealth of material that reproduces the Age of Bronze in all its glory, it brings to life a war that we have all learned about but never before experienced.
It's not easy being Hades. Constantly guarding his world against other meddling and ambitious deities is stressful work. So when a naked goddess falls directly into his lap, along with the news that he has to shelter her for the indefinite future, he is less than thrilled. Particularly since he can't help but lust after the beautiful female.
The Underworld isn't the first place Persephone would pick for a vacation—who in their right mind would choose a dark palace over sunshine and flowers? Yet from Hades's first touch, the dark, sexy ruler fascinates her and has her thinking a fling might be just the thing to while away her confinement.
But trust each other? Not a chance. Until the day comes that Persephone must leave…and they realize that trusting each other is the only way they'll ever meet again.
"I have been acquainted with the smell of death." So begins Clytemnestra's tale of her own life in ancient Mycenae, the legendary Greek city from which her husband King Agamemnon left when he set sail with his army for Troy. Clytemnestra rules Mycenae now, along with her new lover Aegisthus, and together they plot the bloody murder of Agamemnon on the day of his return after nine years at war.
Judged, despised, cursed by gods she has long since lost faith in, Clytemnestra reveals the tragic saga that led to these bloody actions: how her husband deceived her eldest daughter Iphigeneia with a promise of marriage to Achilles, only to sacrifice her because that is what he was told would make the winds blow in his favor and take him to Troy; how she seduced and collaborated with the prisoner Aegisthus, who shared her bed in the dark and could kill; how Agamemnon came back with a lover himself; and how Clytemnestra finally achieved her vengeance for his stunning betrayal—his quest for victory, greater than his love for his child.
In this ambitious, ingenious narrative, celebrated historical novelist Mary Renault take legendary hero Theseus and spins his myth into a fast-paced and exciting story.
Renault starts with Theseus' early years, showing how the mystery of his father's identity and his small stature breed the insecurities that spur his youthful hijinx. As he moves on to Eleusis, Athens, and Crete, his playfulness and fondness for pranks matures into the courage to attempt singular heroic feats, the gallantry and leadership he was known for on the battlefield, and the bold-hearted ingenuity he shows in navigating the labyrinth and slaying the Minotaur. In what is perhaps the most inventive of all her novels of Ancient Greece, Renault casts Theseus in a surprisingly original pose; she teases the flawed human out of the bronze hero, and draws the plausible out of the fantastic.
Five thousand years out of the labyrinth, the Minotaur finds himself in the American South, living in a trailer park and working as a line cook at a steakhouse. No longer a devourer of human flesh, the Minotaur is a socially inept, lonely creature with very human needs.
But over a two-week period, as his life dissolves into chaos, this broken and alienated immortal awakens to the possibility for happiness and to the capacity for love.
In the introduction to The Penelopiad, Margaret Atwood's retelling of the Myth of Odysseus, she writes:
"I've chosen to give the telling of the story to Penelope and to the twelve hanged maids. The maids form a chanting and singing Chorus, which focuses on two questions that must pose themselves after any close reading of the Odyssey: What led to the hanging of the maids, and what was Penelope really up to? The story as told in the Odyssey doesn't hold water: there are too many inconsistencies. I've always been haunted by the hanged maids and, in The Penelopiad, so is Penelope herself."
With The Penelopiad, Atwood has written a fierce, funny, and subversive myth that challenges the patriarchal nature of Greek Mythology.
A hurricane is building over the Gulf of Mexico, threatening the coastal town of Bois Sauvage, Mississippi, and Esch's father is growing concerned. A hard drinker, largely absent, he doesn't show concern for much else. Esch and her three brothers are stocking food, but there isn't much to save. Lately, Esch can't keep down what food she gets; she's fourteen and pregnant. Her brother Skeetah is sneaking scraps for his prized pitbull's new litter, dying one by one in the dirt. Meanwhile, brothers Randall and Junior try to stake their claim in a family long on child's play and short on parenting.
As the twelve days that make up the novel's framework yield to their dramatic conclusion, this unforgettable family–motherless children sacrificing for one another as they can, protecting and nurturing where love is scarce–pulls itself up to face another day. A big-hearted novel about familial love and community against all odds, and a wrenching look at the lonesome, brutal, and restrictive realities of rural poverty, Salvage the Bones is muscled with poetry, revelatory, and real.
The ancient city of Troy has withstood a decade under siege of the powerful Greek army, who continue to wage bloody war over a stolen woman–Helen. In the Greek camp, another woman watches and waits for the war's outcome: Briseis. She was queen of one of Troy's neighboring kingdoms, until Achilles, Greece's greatest warrior, sacked her city and murdered her husband and brothers. Briseis becomes Achilles's concubine, a prize of battle, and must adjust quickly in order to survive a radically different life, as one of the many conquered women who serve the Greek army.
Briseis is just one among thousands of women living behind the scenes in this war–the slaves and prostitutes, the nurses, the women who lay out the dead–all of them erased by history. With breathtaking historical detail and luminous prose, Pat Barker brings the teeming world of the Greek camp to vivid life. She offers nuanced, complex portraits of characters and stories familiar from mythology, which, seen from Briseis's perspective, are rife with newfound revelations. Barker's latest builds on her decades-long study of war and its impact on individual lives–and it is nothing short of magnificent.
C. S. Lewis—the great British writer, scholar, lay theologian, broadcaster, Christian apologist, and bestselling author of Mere Christianity, The Screwtape Letters, The Great Divorce, The Chronicles of Narnia, and many other beloved classics—brilliantly reimagines the story of Cupid and Psyche.
Told from the viewpoint of Psyche's sister, Orual, Till We Have Faces is a brilliant examination of envy, betrayal, loss, blame, grief, guilt, and conversion. In this, his final—and most mature and masterful—novel, Lewis reminds us of our own fallibility and the role of a higher power in our lives.
Nonfiction Commentary and Books about Greek Mythology
The ancient Greeks continue to captivate us, with clues that lead us into mysteries that have yet to be solved. From the origins of the Labyrinth to the realities of the Trojan War and the role of women, these are some of the best nonfiction commentaries on Greek mythology.
When famed archaeologist Arthur Evans unearthed the ruins of a sophisticated Bronze Age civilization that flowered on Crete 1,000 years before Greece's Classical Age, he discovered a cache of ancient tablets, Europe's earliest written records. For half a century, the meaning of the inscriptions, and even the language in which they were written, would remain a mystery.
Award-winning New York Times journalist Margalit Fox's riveting real-life intellectual detective story travels from the Bronze Age Aegean—the era of Odysseus, Agamemnon, and Helen—to the turn of the 20th century and the work of charismatic English archeologist Arthur Evans, to the colorful personal stories of the decipherers. These include Michael Ventris, the brilliant amateur who deciphered the script but met with a sudden, mysterious death that may have been a direct consequence of the deipherment; and Alice Kober, the unsung heroine of the story whose painstaking work allowed Ventris to crack the code.
The Trojan War is one of history's most famous conflicts, a ten-year-long war waged over the beautiful Helen. For more than two thousand years this story has been a source of artistic inspiration. But is it true?
In The Trojan War historian and classicist Barry Strauss explores the myth and the reality behind the war, from Homer's accounts in The Iliad and The Odyssey to Heinrich Schliemann's discovery of ancient Troy in the late nineteenth century to more recent excavations that have yielded intriguing clues to the story behind the fabled city. The Trojans, it turns out, were not ethnic Greeks but an Anatolian people closely allied with the Hittite Empire to the east. At the time of the Trojan War the Greeks were great seafarers while Troy was a more settled civilization. And while the cause of the war may well have been the kidnapping of a queen—and, more significantly, the seizure of her royal dowry—the underlying cause was a conflict between the Trojans and the Greeks for control of the eastern Aegean Sea.

Written with the authority of a scholar and the vigor of a bestselling narrative historian, The War That Killed Achilles is a superb and utterly timely presentation of one of the timeless stories of Western civilization. As she did in The Endurance and The Bounty, New York Times bestselling author Caroline Alexander has taken apart a narrative we think we know and put it back together in a way that lets us see its true power.
In the process, she reveals the intended theme of Homer's masterwork-the tragic lessons of war and its enduring devastation.
Why Homer Matters is a magical journey of discovery across wide stretches of the past, sewn together by the Iliad and the Odyssey and their metaphors of life and trouble. Homer's poems-transmitted orally across the generations, shaped and reshaped in a living, self-renewing tradition-occupy, as Adam Nicolson writes "a third space" in the way we relate to the past: not as memory, which lasts no more than three generations, nor as the objective accounts of history, but as epic, invented after memory but before history, poetry which aims "to bind the wounds that time inflicts."
The poems, which ask the eternal questions about the individual and the community, honor and service, love and war, tell us how we became who we are.
YA Greek Mythology Books
Greek mythology books appeal to readers of all ages, with some stunning retellings written for young adults. Check out even more mythology books for teens here.
35. Abandon by Meg Cabot
Though she tries returning to the life she knew before the accident, Pierce can't help but feel at once a part of this world, and apart from it. Yet she's never alone . . . because someone is always watching her. Escape from the realm of the dead is impossible when someone there wants you back.
But now she's moved to a new town. Maybe at her new school, she can start fresh. Maybe she can stop feeling so afraid.
Only she can't. Because even here, he finds her. That's how desperately he wants her back. She knows he's no guardian angel, and his dark world isn't exactly heaven, yet she can't stay away . . . especially since he always appears when she least expects it, but exactly when she needs him most.
But if she lets herself fall any further, she may just find herself back in the one place she most fears: the Underworld.
Eighteen-year-old Tally is absolutely sure of everything: her genius, the love of her adoptive family, the loyalty of her best friend, Shane, and her future career as a Nobel prize-winning astronomer. There's no room in her tidy world for heartbreak or uncertainty―or the charismatic, troubled mother who abandoned her soon after she was born. But when a sudden discovery upends her fiercely ordered world, Tally sets out on an unexpected quest to seek out the reclusive musician who may hold the key to her past―and instead finds Maddy, an enigmatic and beautiful girl who will unlock the door to her future.
The deeper she falls in love with Maddy, the more Tally begins to realize that the universe is bigger―and more complicated―than she ever imagined. Can Tally face the truth about her family―and find her way home in time to save herself from its consequences?

One day Persephone is an ordinary high school junior working at her mom's flower shop in Athens, Georgia. The next she's fighting off Boreas, the brutal god of Winter, and learning that she's a bonafide goddess-a rare daughter of the now-dead Zeus. Her goddess mom whisks her off to the Underworld to hide until Spring.
There she finds herself under the protection of handsome Hades, the god of the dead, and she's automatically married to him. It's the only way he can keep her safe. Older, wiser, and far more powerful than she, Hades isn't interested in becoming her lover, at least not anytime soon. But every time he rescues her from another of Boreas' schemes, they fall in love a little more. Will Hades ever admit his feelings for her?
Can she escape the grasp of the god of Winter's minions? The Underworld is a very nice place, but is it worth giving up her life in the realm of the living? Her goddess powers are developing some serious, kick-butt potential. She's going to fight back.
Every girl who has taken the test has died. Now it's Kate Winters's turn.
It's always been just Kate and her mom—and her mother is dying. Her last wish? To move back to her childhood home. So Kate's going to start at a new school with no friends, no other family and the fear that her mother won't live past the fall.
Then she meets Henry. Dark. Tortured. And mesmerizing. He claims to be Hades, god of the Underworld—and if she accepts his bargain, he'll keep her mother alive while Kate tries to pass seven tests.
Kate is sure he's crazy—until she sees him bring a girl back from the dead. Now saving her mother seems crazily possible. If she succeeds, she'll become Henry's future bride, and a goddess. But if she doesn't…
Seventeen-year-old Penelope (Pen) has lost everything―her home, her parents, and her ten-year-old brother. Like a female Odysseus in search of home, she navigates a dark world full of strange creatures, gathers companions and loses them, finds love and loses it, and faces her mortal enemy.
In her signature style, Francesca Lia Block has created a world that is beautiful in its destruction and as frightening as it is lovely. At the helm of Love in the Time of Global Warming is Pen, a strong heroine who holds hope and love in her hands and refuses to be defeated.
Zephyr Mourning has never been very good at being a Harpy. She'd rather watch reality TV than learn forty-seven ways to kill a man, and she pretty much sucks at wielding magic. Zephyr was ready for a future pretending to be a normal human instead of a half-god assassin. But all that changed when her sister was murdered—and Zephyr used a forbidden dark power to save herself from the same fate.
On the run from a punishment worse than death, an unexpected reunion with a childhood friend upends Zephyr's world—and not only because her old friend has grown surprisingly, extremely hot. It seems that Zephyr might just be the Nyx, a dark goddess that is prophesied to shift the power balance: for hundreds of years the half-gods have lived in fear, and Zephyr is supposed to change that.
But how is she supposed to save everyone else when she can barely take care of herself?
42. Starcrossed by Josephine Angelini
Helen Hamilton has spent her entire sixteen years trying to hide how different she is – no easy task on an island as small and sheltered as Nantucket. And it's getting harder. Nightmares of a desperate desert journey have Helen waking parched, only to find her sheets damaged by dirt and dust. At school she's haunted by hallucinations of three women weeping tears of blood… and when Helen first crosses paths with Lucas Delos, she has no way of knowing they're destined to play the leading roles in a tragedy the Fates insist on repeating throughout history.
As Helen unlocks the secrets of her ancestry, she realizes that some myths are more than just legend. But even demigod powers might not be enough to defy the forces that are both drawing her and Lucas together – and trying to tear them apart.
Greek Mythology Books for Kids & Middle Grade
Many of us began reading Greek myths as children, captivated by Pegasus, the trials of Hercules, and the never-ending bickering of the gods. What follows are some of the best options for toddlers to middle schoolers.
(And because his series is the entrance for most into the world of Greek myths, check out even more of our reading recommendations like Rick Riordan's Percy Jackson series here. There's also some great suggestions in this list of kid's fairytale retellings.)
43. Athena the Brain by
Joan Holub & Suzanne Williams
In Athena the Brain, Athena always knew she was smart and special, but she didn't realize that she was a goddess! When she's whisked away to Mount Olympus Academy, she worries about fitting in and dealing with her dad (Zeus). Luckily, she meets the Goddess Girls and finds the best friends she's ever had.
Here are the immortals of Olympus—the gods and goddesses of ancient Greece—as freshly described as if they were alive today.
Mighty Zeus with his fistful of thunderbolts; mischievous little Hermes; grey-eyed Athena, godess of wisdom; Asclepius, the first physician; Orpheus and his beloved Euridice; Helios the sun, crossing the heavens in his fiery chariot. . . these and other equally fabulous figures are featured here with their heroic deeds and petty squabbles illuminated in full dimension.
46. The Lightning Thief (Percy Jackson and the Olympians, Book 1) by Rick Riordan
Percy Jackson is a good kid, but he can't seem to focus on his schoolwork or control his temper. And lately, being away at boarding school is only getting worse-Percy could have sworn his pre-algebra teacher turned into a monster and tried to kill him. When Percy's mom finds out, she knows it's time that he knew the truth about where he came from, and that he go to the one place he'll be safe.
She sends Percy to Camp Half Blood, a summer camp for demigods (on Long Island), where he learns that the father he never knew is Poseidon, God of the Sea. Soon a mystery unfolds and together with his friends — one a satyr and the other the demigod daughter of Athena — Percy sets out on a quest across the United States to reach the gates of the Underworld (located in a recording studio in Hollywood) and prevent a catastrophic war between the gods.
48. Pegasus by Marianna Mayer and illustrated by Kinuko Y. Craft
Condemned by a jealous king, Bellerophon must win the trust of the legendary winged horse Pegasus or face certain death. From the poignant meeting the growing bond of friendship between horse and man to the dramatic slaying of the fearsome fire-breathing Chimera, this is an unforgettable adventure that will stir the imagination of young and old alike. Featuring glorious paintings that readers will want to savor again and again, here is a magnificent edition of a timeless Greek classic.
The new National Geographic Treasury of Greek Mythology offers timeless stories of Greek myths in a beautiful new volume.
Brought to life with lyrical text by award-winning author Donna Jo Napoli and stunning artwork by award-winning illustrator Christina Balit, the tales of gods and goddesses such as Zeus, Aphrodite, Apollo, and Athena and heroes and monsters such as Helen of Troy, Perseus, and Medusa will fascinate and engage children's imaginations.
50. Young Zeus by G. Brian Karas
From acclaimed illustrator and author G. Brian Karas comes a witty tale about navigating family and finding one's voice-based on Greek mythology!
This is the story of how young Zeus, with a little help from six monsters, five Greek gods, an enchanted she-goat, and his mother, became god of gods, master of lightning and thunder, and ruler over all. in doing so, he learned a lot about family. Who knew that having relatives could be so complicated, even for a god?
---
Want even more ancient mythology retellings and stories? Find suggestions in these posts: