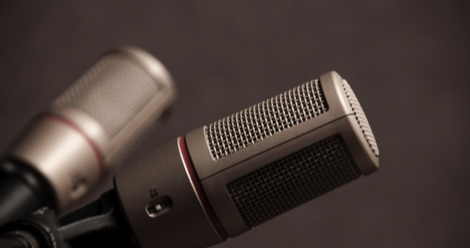 Audiobooks
The 10 Best Full-Cast Audiobooks To Fuel Your Holiday Roadtrips
This content contains affiliate links. When you buy through these links, we may earn an affiliate commission.
Obviously all audiobooks are awesome, but full-cast audiobooks are next level awesome. Also known as fully-casted audiobooks or dramatized audiobooks, full-cast audiobooks use multiple voice actors to play different roles, as opposed to one person only reading/performing the book. The best full-cast audiobooks also sometimes include theme or background music and onomatopoeic noises like a bang or smack, but otherwise they don't deviate from the book.
In other words, full-cast audiobooks don't change any of the words of the original work; but they feel more like the book is really happening because you have voice actors performing the roles of specific characters by speaking their dialogue and reading sections from their perspective.
(FYI, this makes full-cast audiobooks different from radio plays based on books, since radio plays are adaptations that make changes to the author's original words, such as replacing setting description or action with sounds or dialogue. I'm NOT including radio plays here.) Got it? Here are 10 of the best full-cast audiobooks. Don't miss them!
This 2015 winner of the Man Booker prize about the events surrounding an attempted assassination of Bob Marley in 1970s Jamaica is simply stunning in audio. James's 700-page novel is epic and complex, with a large cast of characters through whose first-person perspectives he alternatively tells the story. In other words, it's just ripe for a full-cast audiobook treatment. The cast of voice actors (Robertson Dean, Cherise Boothe, Dwight Bacquie, Ryan Anderson, Johnathan McClain, Robert Younis, and Thom Rivera) beautifully bring to life characters from American CIA agents and journalists to Jamaican gang members and police officers. One character is even a ghost! For non-Jamaican readers like me, the chance to get to hear the Jamaican accent and dialect as they're supposed to sound is a huge advantage the audiobook has over the print book. Warning that this novel is not for the faint of heart: as the title implies, there's plenty of violence, as well as ample swearing and drugs, although none of that is used for shock value.
Also known as the full-cast audiobook that is so high quality it may ruin all other audiobooks for you, the 10th anniversary edition of Gaiman's multiple award-winning classic is legendary. This version is somewhat of a "director's cut" because it's a performance of Gaiman's preferred version of the text, including additional material he was forced to edit out in the original publication. In case you don't already know the plot(ish): Shadow has just got out of jail and was looking forward to reuniting with his wife Laura. Unfortunately, he discovers she and his best friend have been killed in a car accident, leading him to accept a shady job as a bodyguard for the mysterious Mr. Wednesday. This job ends up taking him on a journey across America literally and mythologically. Voice actors Ron McLarty and Daniel Oreske in particular give remarkable performances as Wednesday (the lusty and crusty rich con man) and Shadow (the hero who doesn't quite know how to be one), although others like Oliver Wyman playing a 6 foot tall leprechaun give them a run for their money.
"In a world beset by amassing forces of darkness, one organization—the Regional Office—and its coterie of super-powered female assassins protects the globe from annihilation." Unfortunately, they are under attack by the only group that could possibly manage it: their own disgruntled employees. Harnessing a beautiful blend of humor, action, and feminism—think Buffy the Vampire Slayer, which is clearly referenced multiple times—The Regional Office is Under Attack! is possibly even more fun as an audiobook than in print. The performances by Sarah Scott, Natasha Soudek, Susan Hanfield, and Mike Chamberlain truly embody the wonderful rompiness and irony of it all; it's delightful to get to hear the voices of the two main women rivals, Sarah (defending the organization that took her in as a young orphan) and Rose (the deflector leading the attack). Rose's 17-year-old obnoxiousness is particularly awesome to hear performed.
There's nothing better to bring to life Neuvel's science fiction thriller than the full-cast audiobook treatment, because the story is told in interviews, journal entries, newspaper articles, and transcripts from the perspectives of various people. The prologue sets the stage: a girl named Rose is riding her bike when she falls through the earth and wakes up in the palm of a giant metal hand. Fast forward 17 years, and Rose is a physicist and among the many people dedicated to solving the mystery of the bizarre artifact. Is it an ancient relic? Did aliens make it? Is it an instrument of war or peace or something else entirely? Just as mysterious as the giant hand itself is the nameless interrogator who questions Rose but doesn't reveal their motivations. In addition to Rose and her interrogator, the voices of invested mathematicians, other scientists, and military pilots are also brought to life in such a way as to craft a deep sense of affection and loyalty to the characters while at the same time communicating the high geo-political stakes at hand.
Like Sleeping Giants, Stephenson and Gallant's epic novel is a masterful blend of thriller, science fiction, and paranormal, with an addition of history. When linguist Melisande Stokes accidentally meets military intelligence operator Tristan Lyons at Harvard, neither of them realize it is the catalyst that will change their lives forever. Their subsequent collaborative work on ancient documents reveals that magic did in fact exist in the past and was pushed out by science, industry, and technology. Thus is the Department of Diachronic Operations (D.O.D.O.), where their mission is to bring back magic, born. The full cast of narrators includes Robert Fass, James Foster, Tavia Gilbert, Arthur Morey, David Stifel, Charlie Thurston, and Kate Udall whose performances, at the risk of sounding cheesy, are as magical as the book. Again like Sleeping Giants this story is told through documentation, so the multi-cast audiobook format is perfect for making the documents come alive in different voices.
The first book (and the rest too, obviously) of Pullman's brilliant fantasy series His Dark Materials really shines in full-cast audiobook version which features Pullman himself as the narrator and a fabulous supporting cast of London stage actors taking on the voices of the now beloved (or hated) characters of Lyra Belacqua, Mrs. Coulter, Lord Asriel, and of course the daemon Pantalaimon (Pan). 12-year-old Lyra's carefree existence amongst scholars at Oxford is interrupted by the arrival of her scary uncle Lord Asriel, whose presentation Lyra and Pan spy on, only to witness a murder that eventually leads them on a dangerous adventure. When her uncle leaves Lyra in the care of Mrs. Coulter, Lyra is delighted that there's finally an adult around who takes her seriously. But as Lyra and Pan discover that children are disappearing at an alarming rate and being subject to tests to separate them from their daemons, Lyra is terrified to realize both Lord Asriel and Mrs. Coulter seem to be involved.
What a better way to dramatize a short story collection than employ a full cast of performers to read each story. All seven stories are told from the perspectives of girls who are daughters of Chinese and Taiwanese immigrants to New York City and are read by Asian Americans such as the author herself, Greta Jung, and others. The stories take place across time and continents, moving from Shanghai to Queens and from the 1960s Cultural Revolution in China to 1990s America. Many of the parents were once artists or intellectuals in their home countries, but were pushed out after being deemed counterrevolutionaries only to struggle to make ends meet and support their kids in the US. This short story collection does not sugar coat the complex, confusing truth about these families' existence, nor does it hide the sometimes gruesome and horrifying ways that the parents cope with their past trauma, in turn passing it on to their children.
Since there are seven complex characters who make up criminal prodigy Kaz Brekker's diverse, rag-tag crew of dangerous teenage outcasts (Kaz included), it's only fitting the full-cast audiobook employs one voice actor per crew member. The performances by Jay Snyder, Brandon Rubin, Fred Berman, Lauren Fortgang, Roger Clark, Elizabeth Evans, and Tristan Morris are stunning, pulling you into Bardugo's masterful world-building as well as her multifaceted, fascinating characters who are, thanks in part to the great voice actors, impossible not to love. Just what has brought these talented outcasts together? Well, a nearly impossible heist with gigantic possible gains but that is also very likely a suicide mission. First, they need to break into a never-breached military compound called the Ice Court; then, retrieve a dangerous, magically volatile hostage; and finally, stay alive long enough to make use of the reward. Not only that, can they survive each other? Look out for amazing queer and disabled characters!
The first book in Pierce's beloved Circle of Magic series is wonderfully done, in the same style as The Golden Compass: narrated by the author, with character voices provided by actors (almost 30 of them, to be exact, and child actors for the child characters!). Some well-chosen music also accompanies the story, which is the epic beginning of this quartet of books. The mage Niklaren Goldeye gathers four very different children—Sandry (the noble), Tris (the merchant girl), Daji (the trader), and Briar (the "street rat")—and brings them to Winding Circle Temple. All four kids possess magical powers they do not initially understand; Sandry's gift is "weaving silk thread and creating light," Tris has a connection with the weather, Daji is talented at metalcraft, and Briar has a magical green thumb. At Winding Circle they will learn how to control their magic, and also how to trust each other. Both skills are essential when disaster strikes and it's up to Sandry to bring together her and her friends' different kinds of magic to save them, herself, and the only place where all four of them have ever been accepted.
Taking place during the Gwangju Uprising/Massacre in 1980 in South Korea, Human Acts is one of those novels that, like Marlon James's A Brief History of Seven Killings, tells the story of a particular event by circling around it and examining it from the perspectives of multiple implicated parties. The central event in this novel is the death of a young boy named Dong-ho, but it is only one of many deaths that take place during the student uprising and subsequent brutal massacre. Kang writes sections from the perspectives of Dong-ho's best friend, a journalist fighting censorship, Dong-ho's distraught mother, a prisoner, and a factory worker. These characters are brought to life by the likes of Sandra Oh, Greta Jung, Jae Jung, Jennifer Kim, Raymond J. Lee, and Keong Smith; collectively, their voices are a cry of heartbreak and hopelessness and a cry for justice and peace. The audiobook also includes an introduction read by the translator Deborah Smith.
One last note: If you're looking for the best full-cast audiobooks for kids specifically, check out my list of the 25 best children's audiobooks, many of which are noted in the descriptions as being full-cast.