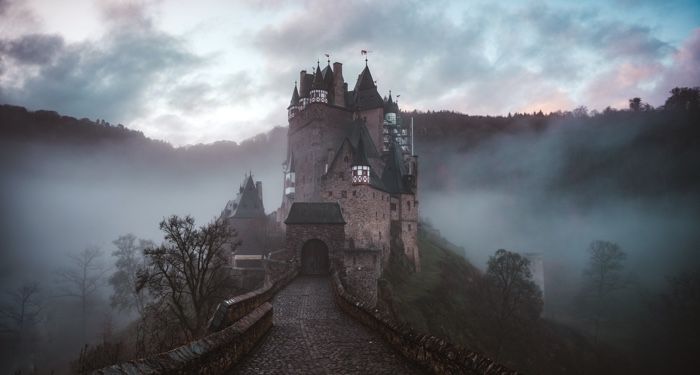 This content contains affiliate links. When you buy through these links, we may earn an affiliate commission.
While there are stories we adore for characters that we fall in love with, or plots we can't stop thinking about, there's another element to storytelling that always draws readers in: worldbuilding. As any fan fiction readers (or writers) know, an intriguing fictional world can be something to explore for years, or, in the case of some of the most famous fictional worlds, for generations. Fans immerse themselves in fictional worlds in myriad ways, not only by reading and rereading, but by creating fan fiction and fanart, visiting immersive exhibitions, or decorating their personal spaces with inspiration from their favourite worlds. In some cases, the world at large gets in on recreating these fictional worlds, sometimes in a way that misses the point of the original work – let's never forget the ultra-capitalist Capitol Chic that came out alongside the height of The Hunger Games' popularity.
Why do some fictional worlds grab our attention in this way, while others never gain the same level of engagement? In many cases, it can just be a matter of luck and timing (I will always hold that the world of Jill Murphy's The Worst Witch series was years ahead of its time, and in a parallel universe, Miss Cackle's Academy for Witches has its deserved place as everyone's go-to magical school). Fictional worlds can find a place in people's hearts because they fill a particular need of the time (like Suzanne Collins's scathing take on the worst extremes of excess, inequality and media exploitation in her creation of Panem). They can also become popular if they provide enough of a hook but leave plenty of room for readers to develop their own fanon – many beloved fictional worlds are not canonically fleshed out in the same overwhelming detail that Tolkien gave us with Middle Earth.
Worldbuilding, consistency, and enough believability for the reader to feel grounded are important, but the best fictional worlds, whatever their genre, have a hook, something unique to them that piques a reader's interest and pulls them in. Here are some of the best fictional worlds in a variety of different SFF niches – so flick to those maps at the front of the books, and get ready to set out into our favourite bookish realms.
Magic All Around Us: Fully Fantastical Worlds
Tortall
Discworld
Orléans
Five Lights
While there are deep themes that make fictional worlds compelling, the surface is also important; we love fantasy worlds for the magic systems and fictional societies that hook our attention, or the magical objects and locations that we can imagine interacting with ourselves. In the Morrigan Crow books, readers can immerse themselves in the city of Nevermoor, which is full of talking animals, magical hidden markets, and secret buildings that seem to defy the laws of reality, as well as imagining themselves attending this fictional world's delightful winter festivals or new year celebrations. Diana Wynne Jones' Chrestomanci stories, particularly Charmed Life, take place in equally magical worlds; while Charmed Life is set mainly in one location, the castle where Chrestomanci and his family live, it's still a magical (and sometimes dangerous) place where readers can picture themselves joining in the characters' adventures. The hook that pulls us in and makes fictional worlds popular often seems to be a world that we'd love to imagine ourselves being a part of – even when that world is perilous.
Hidden in Plain Sight: Magical Underworlds
High fantasy fictional worlds are fun to explore and engage with, but I've always had a particular soft spot for hidden magical underworlds, which exist alongside our real, contemporary world, and the ways that these are explored in fiction. Whether the story deals with a parallel world that the protagonist can hop into from our own, or a community that exists alongside, but is unknown by, the everyday world, hidden fictional worlds are fascinating not only because of their fun and interesting quirks, but the excitement and tension caused by their secret status.
London Below
Wonderland
One of the most compelling things about hidden magical worlds is the need to preserve their secrecy, something that can make the reader feel like this is a secret they share with the characters in their favourite story. While McKinney's Alice tries to keep Wonderland hidden from her mother, this is more for personal reasons; she doesn't want her mother, who has already been bereaved by the death of Alice's father, to worry. However, in some "hidden society" fictional worlds, the protagonists don't just choose to keep the secret – they have to.
In Amari and the Night Brothers, Amari cannot reveal anything about the Bureau of Supernatural Affairs; not only would she be punished, but she'd pass up any chance of learning what has happened to her missing brother. In The Black Veins, young magician Blythe has grown up knowing that revealing the magical world to any non-magical people carries devastating consequences; magicians who let the secret slip will be erased from reality to protect the rest of the community.
But these magical worlds are worth the risk, which is what makes them so engaging; as she negotiates the Bureau, Amari learns magic, befriends a weredragon, and visits spectacular magical locations, while Blythe and her friends discover the terrifying (but very useful) fast-travel world of the Tempore, and shop at magical stores that have all the enchanted objects you could ever need. Secret magical worlds are a staple of fiction for a reason; we love feeling like we're part of something hidden and special, and the stakes are nail-bitingly high.
---
There are so many wonderful fictional worlds to explore that it's hard to say which ones are the best; readers have found so many different bookish realms to engage with and return to time and again. Some trends are clear, though – as well as having interesting worldbuilding, a society that makes sense (no matter how fantastical it might be), and a hook like a cool magic system or fun locations or institutions that we can imagine ourselves visiting. Additionally, a great fictional world will make the reader think about our own – and, ideally, not replicate the bigotry that exists in the real world. For a look at fantasy worlds that have avoided creating a cisheterosexist society, check out our article on Queernorm Worlds. For a deep dive into how fantasy worlds are created, try The Art of Worldbuilding.