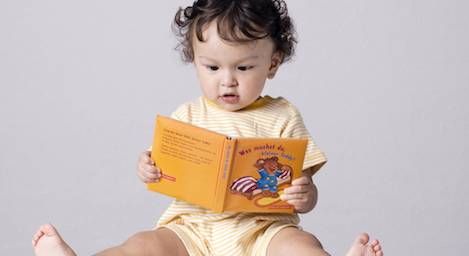 This content contains affiliate links. When you buy through these links, we may earn an affiliate commission.
Looking to stock a little feminist's first library? Check out these feminist baby books that are sure to teach children—girls and boys alike—the power and necessity in acknowledging and encouraging equal rights for women. With these primers lining their shelves, children will learn from an early age what it means to be little advocates and feminists in big ways.
This colorful board book, created by two-time Emmy winning author Loryn Brantz, showcases a character who refuses to be categorized even at a young age. The little feminist basks in her love of all colors and all types of toys that are often segregated by color-coded store aisles and marketing advertisements in efforts to make children become accustomed to gender stereotypes. Within the pages of Feminist Baby, cars and pink and blue and dolls collaborate together to create a beautiful baby landscape that embraces the very realistic whims of a baby. Brantz brings humor to the brightly colored pages of this feminist baby book that easily engage little learners.
The sequel to Feminist Baby follows the main character as she literally finds her voice—and the power that comes with using it. Brantz offers up another witty and charming baby adventure as she dispels the boundaries society sets forth for children. The charismatic baby leads a toy revolution where all babies can play with all toys without gender stereotypes hindering their choices. Again, Brantz creates a world full of color and charismatic characters that empowers little feminists to think, act, and use their words to further equal treatment for all.
Joan Holub's This Little Trailblazer is one of the best feminist baby books for beginning libraries! Depicting female pioneers from Florence Nightingale to Rosa Parks, this board book is intersectional and inclusive of races and ethnicities that are not often portrayed in children's books. Children are introduced to remarkable and resilient women who have paved the way in the fields of law, computer programing, civil rights, the arts, and more. Combined with captivating artwork that pops off the page, Holub's words embolden little feminists to dream big!
Author Emily Kleinman and illustrator Lydia Ortiz showcase an empowering set of four feminist baby books featuring females artists, pioneers, leaders, and activists. Highlighting women from diverse backgrounds, the board books are sure to keep little ones' attention with brief and bold one sentence summaries next to Ortiz's bright illustrations. Better yet, the board books feature women who aren't typically seen in books highlighting leaders: Indira Gandhi, Billie Jean King, Ella Fitzgerald and many more. This diverse set of books is sure to captivate all readers.
Featuring an African American female toddler, Karen Baicker's I Can Do It Too! is a must have for any beginning library and is most definitely geared toward raising little feminists. The texts upholds the idea that little girls can do anything they set their minds to: playing an instrument, riding a bike, or learning any other task she sees others take on. This encouraging message is further augmented by the fact that the pages are full of beautiful illustrations of African American characters; these images alone teach readers that true equality and feminism embraces all women and girls. Baicker does an impeccable job of making sure inclusive feminism is seen from an early age in this feminist baby book.
This stunning series details the lives of twelve feminist icons; each feminist leader is highlighted in an individual board book featuring a mini biography. Ranging from Marie Curie to Amelia Earhart, little readers are introduced to the trailblazing women who've cleared the path for children like themselves. They are encouraged by the acts of compassion from Jane Goodall and Mother Teresa; they are emboldened by the resiliency and bravery of Harriet Tubman and Rosa Parks; and they marvel at the talents of Frida Kahlo and Maya Angelou.
This beautiful text, written by Amy Maranville and illustrated by Tim Palin, is a breath of fresh air in its ability to showcase feminism while introducing readers to Hindu culture and the way feminism takes root in the everyday thoughts and actions of children. The main character, Padmini shows little readers that they too share characteristics revered across cultures. From being wise, generous, and energetic, Padmini realizes her immense power and sense of self lies in her mind, body, and heart.
This alphabet board book presents budding feminists with a bountiful vocabulary and bold visuals. Each page offers words every little advocate needs to learn: advocate, ally, rights. Each definition is brief enough for little ones and is accompanied by more elaborate social commentary for beginning learners so readers can grow with the book! This addition to a little feminist's library is guaranteed to teach children that feminism is intersectional and demands justice for all.
Want more? Check out the best feminist picture books for early readers! And hit the comments to share your favorite feminist baby books.