This content contains affiliate links. When you buy through these links, we may earn an affiliate commission.
We live in a new golden age of speculative short fiction, and fantasy short stories are part of that. The hardest part is often knowing where to look or where to start, since there's just so many good fantasy short stories out there! Here's some places to start…but this is definitely not an exhaustive list. We could go into a part two or three or ten, there's so much good stuff out there.
Fantasy Short Story Anthologies
Anthologies are a great place to find fantasy short stories, and since they're often themed, you'll know you've got a good chance of getting at least a few stories that really tickle you on a topic you're interested in. Some anthologies are fantasy short stories only, others will have a mix of sci-fi and fantasy because honestly, the border between the genres gets really fuzzy sometimes.
While anthologies run by major publishers with pretty big name editors are still what you're most likely to find in your local book store, in recent years there have been quite a few anthologies who have gotten their funding on Kickstarter. (Two recent examples are the upcoming Do Not Go Quietly and Unlocking the Magic. Full disclosure, I've got a story under consideration with the latter.) It's worth paying attention to speculative fiction Twitter or Facebook to jump in on these anthologies if one tickles your fancy!
A few currently available fantasy short story anthologies you might want to check out
Fantastical fables about why things are the way they are, like Just So Stories…but without all the British Colonialism.
If you love fantasy, you no doubt recognize Peter S. Beagle's name. In this anthology, he (and co-editor Weisman) have highlighted nineteen new writers to the genre.
When you combine George R.R. Martin and Gardner Dozois as editors, you know you're going to get something pretty cool on the other side. It's a mix of a lot of genres, from crime to fantasy, all about women wreaking havoc.
One of those cool, weird anthologies that got its funding via Kickstarter, the stories here are short, and lyrical, and sometimes surreal. It's a great example of just how far fantasy short stories can go.
Just what it says on the tin. So it's half sci-fi, half fantasy, and entirely genre-mixing fun as each author makes their own argument over whose cuisine will reign supreme, so to speak.
Fantasy Short Story Collections
Collections are a go-to for fantasy short stories if you have an author whose work you particularly love. A lot of times for speculative fiction writers, you'll get a mix of science fiction and fantasy short stories in a collection. Personally, I regard this as a feature, not a bug. But you can find single-genre collections as well, particularly if the author just really prefers to write fantasy.
N.K. Jemisin's first collection is as much of a powerhouse as you'd expect after reading her novels. A mix of genres, all of the stories have grit, teeth, and a hell of a lot of heart.
Sarah Pinsker has gotten a lot of well-deserved award recognition for her short fiction, and it's all collected here.
Ken Liu made me cry in public with the title short story, and I may never forgive him for it. (Or rather, I will respect him until the end of my days and be jealous of his beautiful prose.)
The only all-fantasy short story collection on the list, because Patricia A. McKillip is an absolute dynamo for the genre. It's full of absolutely gorgeous stories.
Carmen Maria Machado's collection doesn't really believe in those pesky lines between genres, it's darkly fantastic all the same—and unapologetically about women.
Magazines
What really places us in this new golden age of short speculative fiction is the number of amazing magazines out there for science fiction and fantasy short stories. Some magazines will also be a mix of genres—again, thanks to the fuzzy border that exists between them. Others are solidly focused on fantasy. All of them will bring you something delightful.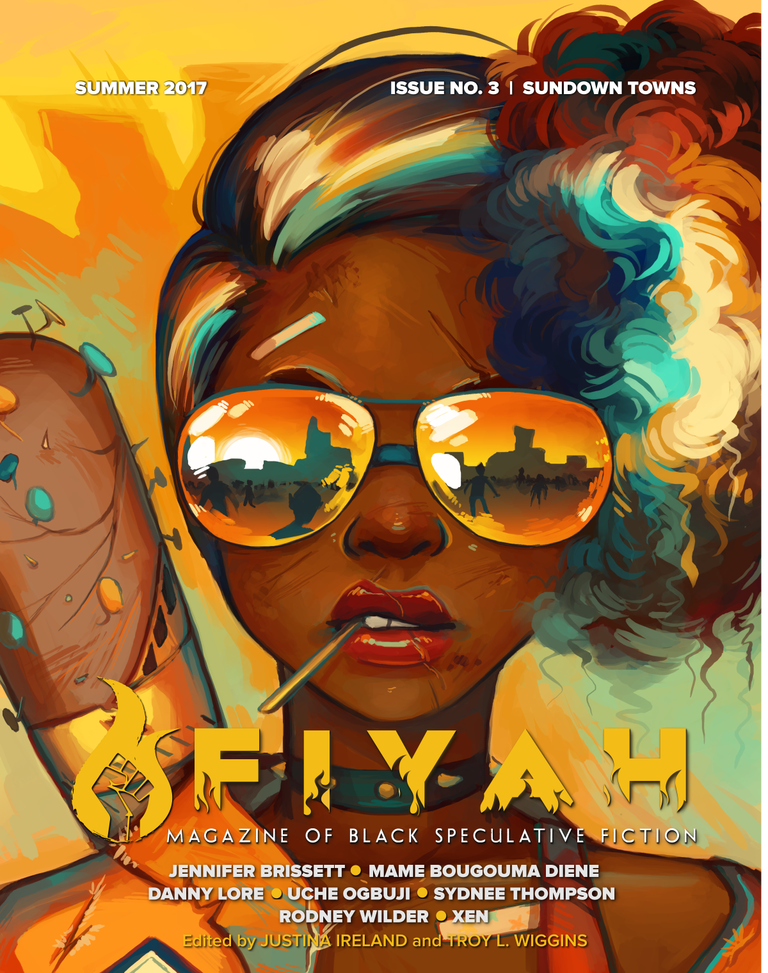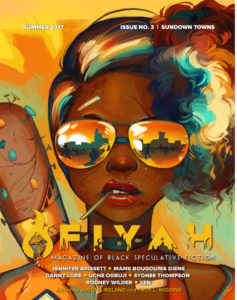 The magazine of Black science fiction and fantasy. They've aimed squarely to be the future of the genres and publish a mix of such good, deep, different, chewy (hey, if you're me, a story being chewy is A+++), and fun stories. They are well worth subscribing to.
Try:
Furious Girls by Juliana Goodman
Magician's Trial by Sarah A. Macklin
Anathema publishes science fiction and fantasy short stories from queer people of color. Expect different perspectives and stories that aren't going to let you just go about your day without finishing them.
Try:
Paper Magic by Kerry Truong
Death is Only the Beginning by K.R. Diaz
PodCastle is the fantasy portion of the Escape Artists podcast family. They do an audio podcast version of every story they publish, and also put the stories up for free online.
Try:
The Last Exorcist by Danny Lore
For the Removal of Unwanted Guests by A.C. Wise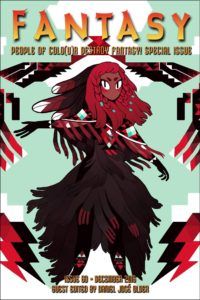 In 2012, the online magazine Fantasy merged with John Joseph Adams's Lightspeed magazine, so you get both science fiction and fantasy short stories every month. The old Fantasy website is still up as an all-fantasy archive, along with a few newer things like the People of Colo(u)r Destroy Fantasy special issue from 2016.
Try:
gezhizhwazh by Leanne Betasamosake Simpson
Black, Their Regalia by Darcie Little Badger
A magazine of "literary adventure fantasy," they specialize in fantasy short stories set in a "secondary world," meaning a world that's significantly different from our own in some way. This is the place to start if you want your fantasy removed entirely from the real world setting (so no urban fantasy).
Try:
The Crow Knight by Bonnie Jo Stufflebeam
Ruby, Singing by Fran Wilde
Other magazines to check out for fantasy short stories (a non-exhaustive list):