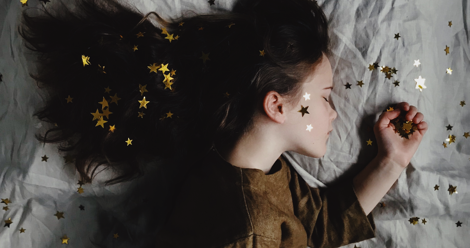 This content contains affiliate links. When you buy through these links, we may earn an affiliate commission.
Fantasy is my jam so of course now that I have a child, I want her to have all the fantasy things. Thankfully, there are plenty of fantasy books for kids out there. But that can also be overwhelming. My time as the young adult and middle grade shelver at work and as a middle school reading tutor showed me how hard it is for parents to find age-appropriate material for their kids. And publishers are rarely helpful with their age delineations: 6–10 years, 1st grade–7th, etc. Those are pretty big age ranges for kids. So what I've done is organized books by age and grade. However, publishers give such broad ranges for a reason. A child's reading level is as varied as the child. Thus, use the categories more as a flexible guide to reading levels vs a hard line.
Descriptions are from Goodreads.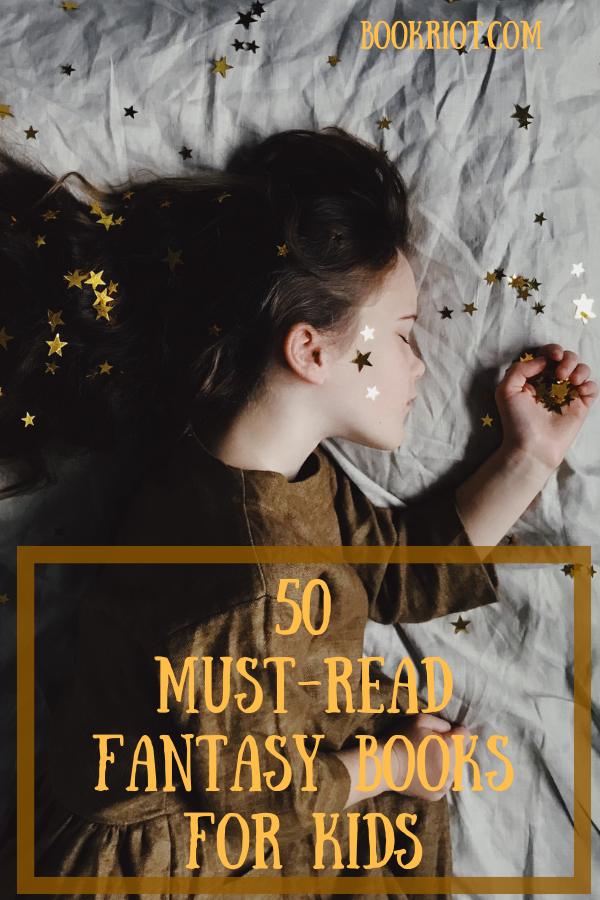 Fantasy Books For Babies and Toddlers (0–3)
My Mom Is Magical by Sabrina Moyle, Illustrated by Eunice Moyle
"My Mom Is Magical, featuring a magical unicorn, and My Dad Is Amazing, featuring a mythical yeti, are joyful tributes to just how amazing parents (and their kids!) are."
"A classic fairy tale gets a fresh twist in this vibrant Caribbean spin on the Little Mermaid!
The Little Mermaid longs to know about the world above the ocean. When she's finally old enough to visit, she falls in love with a prince! A sea witch agrees to give the mermaid a potion that will make her human—but the spell will be broken if the prince doesn't love her too! Set in the Caribbean, with beautiful illustrations by Puerto Rican illustrator Nivea Ortiz, this fifth book in the Once Upon a World series is the same beloved fairy tale but it's totally reimagined.
Once Upon a World offers a multicultural take on the fairy tales we all know and love. Because these tales are for everyone, everywhere."
Goodnight, Dragons By Judith L. Roth, Illustrated By Pascal Lemaitre
"Everyone needs a cuddle. Maybe dragons more than most. These fire breathers are no match for the daring dragon tamer who arrives at bedtime to put them to sleep. Destined to become a classic bedtime story, Goodnight, Dragons is as warm and comforting as a steaming mug of hot cocoa."
If I Had A Gryphon By Vikki Vansickle, Illustrated By Cale Atkinson
"Sam just got a hamster for a pet. She's not really impressed. The hamster isn't very exciting—he mostly eats and sleeps and gets his shavings wet. BORING!
After reading a book about mythological creatures, Sam gets some ideas for more exciting pets. But she soon realizes that taking care of these magical beasts might not be as wonderful as she though. Unicorns are shy, gryphons scare the dogs at the dog park and having a fire extinguisher handy at all times makes dragons seem like an awful lot of work.
Maybe the hamster really is the best pet for her. A nice, safe pet…right?"
Where's The Unicorn By Nosy Crow, Illustrated By Ingela P. Arrhenius
"Lift the felt flaps to discover four hidden magical creatures (a mermaid, a dragon, a fairy, and a unicorn), then find the mirror under the fifth and final flap! Parents love these books because they are stylish yet robust, and little readers adore them because they're fun and easy to play with."
Day Dreamers By Emily Winfield Martin
"Emily Winfield Martin shows readers that letting their imaginations run free will lead them into fantastical day dreams. Whether cloud-gazing or wandering through a museum, reading a book or playing in a tide-pool, the children in this picture book find themselves in places inhabited by magical creatures such as dragons, unicorns, griffins, and jackalopes. A whimsical rhyme accompanies the dream-worthy illustrations."
"In this charming, super-sparkly board book, the stars of Phoebe and Her Unicorn celebrate the magical and enchanting world of being a unicorn, along with reminding young readers that being yourself is pretty great, too.
Who wouldn't want to be a unicorn? You get to trot majestically through meadows, perch high up on rainbows, and wear tiaras made of starlight. Phoebe lists all the wonderful things she'll get to do and can hardly contain her excitement about having a tail and magic horn. That is, until she learns that unicorns like to eat hay instead of pizza. Maybe she'll be a unicorn tomorrow instead!"
Fantasy Books For Preschoolers And Kindergartners
"Can knights and dragons ever be friends?
When a strange-looking creature splash lands in the lake, a kind young boy rushes to the rescue. But this is no ordinary boy, he's a knight in training! And the strange creature is a young dragon, on his very first hunt for a nibblesome knight…"
The Magician's Hat By Malcolm Mitchell, Illustrated By Joanne Lew-Vriethoff
"Super Bowl champion and literacy crusader Malcolm Mitchell presents the story of a magician who reveals an awe-inspiring treasure from his bag of tricks—books that make every kid's dream come true!
This is not your typical afternoon at the library—a magician invites kids to reach into his hat to pull out whatever they find when they dig down deep. Soon—poof!—each child comes away with something better than they could've imagined—a book that helps them become whatever they want to be, and makes their dreams come true through pages and words, and the adventures that follow. But each child can't help but wonder, What's really making the magic happen?"
"In the tradition of Uni the Unicorn and Gaston, this heartwarming and adorable debut picture book tells the story of a young unicorn who was born under the sea to a family of narwhals.
Growing up in the ocean, Kelp has always assumed that he was a narwhal like the rest of his family. Sure, he's always been a little bit different—his tusk isn't as long, he's not as good of a swimmer, and he really doesn't enjoy the cuisine. Then one night, an extra strong current sweeps Kelp to the surface, where he spots a mysterious creature that looks just like him! Kelp discovers that he and the creature are actually unicorns. The revelation leaves him torn: is he a land narwhal or a sea unicorn? But perhaps, if Kelp is clever, he may find a way to have the best of both worlds.
Told with heartwarming illustrations and spare, sweet text, Jessie Sima's debut picture book is about fitting in, standing out, and the all-encompassing love of family."
"A gorgeous picture book that tells a whimsical origin story of the phases of the moon, from award-winning, bestselling author-illustrator Grace Lin
Pat, pat, pat…
Little Star's soft feet tiptoed to the Big Mooncake.
Little Star loves the delicious Mooncake that she bakes with her mama. But she's not supposed to eat any yet! What happens when she can't resist a nibble?
In this stunning picture book that shines as bright as the stars in the sky, Newbery Honor author Grace Lin creates a heartwarming original story that explains phases of the moon."
"Opposites Mei and Wei may be small, but when they work together they are mighty enough to face a dragon.
When a fearsome dragon takes over their village bridge, twin sisters Mei and Wei have opposing views of how to fix the problem. Wei wants nothing more than to confront that stinky old dragon head on, but Mei favors a more thoughtful approach. With Wei's confidence and gumption plus Mei's creativity and diligence, it's only a matter of time before everyone can be happy again.
This empowering sibling story is about celebrating differences and finding that what makes us different is also what makes us a powerful team."
Drawn Together by Minh Lê, Illustrated by Dan Santat
"When a young boy visits his grandfather, their lack of a common language leads to confusion, frustration, and silence. But as they sit down to draw together, something magical happens-with a shared love of art and storytelling, the two form a bond that goes beyond words.
With spare, direct text by Minh Lê and luminous illustrations by Caldecott Medalist Dan Santat, this stirring picture book about reaching across barriers will be cherished for years to come."
Ta-Da! By Kathy Ellen Davis, Illustrated By Kaylani Juanita
"What makes a good story? One little girl thinks it's a princess with magical powers that can—ta-da!—overcome any obstacle. Her friend thinks it's—dun dun duh!—a combination of dragons, pirates, and fire that cause total chaos. But as their stories intertwine, these two young storytellers soon learn that a good story needs both conflict—dun dun duh!—and resolution—ta-da! An irresistible celebration of imaginary play, storytelling, and the joys of collaboration, this gorgeous picture book features two strong voices throughout, making it the perfect read-aloud."
"Franklin the dragon loves stories and loves reading stories to people too, but everyone is too scared to even talk to him. One day, he meets a girl named Luna who, rather than being afraid, is fascinated to meet Franklin, having recently read all about dragons in one of her books. They instantly become friends and talk nonstop about what they've read: books about roller-skating, King Arthur, spiders, and how to do kung fu. Together they hatch a plan to share their love of books with others by opening a bookshop―a flying bookshop, that is―right on Franklin's back!
Franklin, a well-read and peace-loving dragon, and Luna, a young girl with an independent spirit and an insatiable love of reading, make fantastic role models for young children. Franklin's Flying Bookshop brings the magic of classic fairy tales into the twenty-first century through exquisite illustrations, and will enchant children as well as anyone who loves books."
I'm A Unicorn By Mallory Loehr, Illustrated By Joey Chou
"A magical Little Golden Book for little unicorn lovers!
I am moonlight white.
I have a magical horn.
I look a lot like a horse, of course. . .
So begins this charming Little Golden Book that introduces the magical unicorn to the littlest readers! In this sweet story, gorgeously illustrated by Disney artist Joey Chou, a unicorn tells the readers all about herself ("My horn can make water clean, or heal a hurt") and her magical life ("I frolic in the forest, I prance in the fields"). Sure to delight little ones who love the magic of fairy tales and beautiful creatures!"
Fantasy Books For First Graders
How to Trick the Tooth Fairy By Erin Danielle Russell, Illustrated by Jennifer Hansen Rolli
"Kaylee loves pulling pranks: from dropping water balloons on passers by to even tricking Santa Claus, she's a prize-winning prankster!
But is she the Princess of Pranks? No! That title is held by none other than the Tooth Fairy. But when Kaylee loses a tooth and the Tooth Fairy goes about her usual tooth-taking business, Kaylee pranks her with a fake frog. As Kaylee and the Tooth Fairy try to out-prank one another, things get way out of hand, until the two finally see eye and eye and decide to share the crown!"
The Princess in Black By Shannon Hale And Dean Hale, Illustrated By LeUyen Pham
"Who says princesses don't wear black? When trouble raises its blue monster head, Princess Magnolia ditches her flouncy dresses and becomes the Princess in Black!
Princess Magnolia is having hot chocolate and scones with Duchess Wigtower when…Brring! Brring! The monster alarm! A big blue monster is threatening the goats! Stopping monsters is no job for dainty Princess Magnolia. But luckily Princess Magnolia has a secret—she's also the Princess in Black, and stopping monsters is the perfect job for her! Can the princess sneak away, transform into her alter ego, and defeat the monster before the nosy duchess discovers her secret? From award-winning writing team of Shannon and Dean Hale and illustrator LeUyen Pham, here is the first in a humorous and action-packed chapter book series for young readers who like their princesses not only prim and perfect, but also dressed in black."
Dear Dragon by Josh Funk, Illustrated By Rudolfo Montalvo
"A sweet and clever friendship story in rhyme, about looking past physical differences to appreciate the person (or dragon) underneath.
George and Blaise are pen pals, and they write letters to each other about everything: their pets, birthdays, favorite sports, and science fair projects. There's just one thing that the two friends don't know: George is a human, while Blaise is a dragon! What will happen when these pen pals finally meet face-to-face?"
"Cinderella had a fairy godmother. Did you know that dogs have a fairy dogmother? From the author of Pupunzel and Dogerella comes another enchanting fractured fairy tale for beginning readers!
When a homeless little dog is adopted by Fairy Godmother, the scruffy pup gets to observe and learn magic firsthand! Before long, Ivy the dog is casting spells—with comical results. Something is missing…fairy dust! Once Fairy Godmother sprinkles fairy dust on her kindhearted dog, Ivy is able to help other dogs in need."
"DRAGON MASTERS has it all! Dragons, a Dragon Stone, a king, a wizard, and magic! In the first book in this fully-illustrated series, 8-year old Drake is snatched up by King Roland's soldier and taken to the castle. He is to be trained as a Dragon Master. At the castle, he is joined by three other young Dragon Masters-in-training: Ana, Rori, and Bo. The Dragon Masters must learn how to connect with and train their dragons—and they must also uncover their dragons' special powers. Does Drake have what it takes to be a Dragon Master? What is his dragon's special power?"
The Dragon's Scales By Sarah Albee, Illustrated By John Manders
"When a hot-tempered dragon seizes the local bridge, the people of Berryville are cut off from their supply of beloved strawberries until they can correctly answer three questions related to weight. The grownups of the town are stumped, but one very smart little girl saves the day with some facts she learned in school."
Fantasy Books For Second Graders
"Despite her name, Clover has always felt decidedly unlucky. So when she stumbles upon a mysterious cottage in the Woods, she can hardly believe her good fortune. It's the Magical Animal Adoption Agency, and it houses creatures of all kinds. Fairy horses, unicorns, and a fiery young dragon are just the beginning!
Mr. Jams, the Agency's owner, agrees to hire her as summer helper and Clover hopes her luck has finally changed. But when she's left alone to care for the Agency, a sneaky witch comes after the magical creatures! Will Clover outsmart her in time to protect the animals?
The first installment in a new illustrated chapter book series by Kallie George, featuring enchanting illustrations by Alexandra Boiger, will charm young readers as Clover learns that courage and heart can be even more powerful than good luck."
The Magic of Unicorns by Gina L. Grandi, Illustrated By Ximena Jeria
"A celebration of all things unicorn!
Rare and majestic, unicorns are powerful, graceful, and mysterious. The Magic of Unicorns is a beautifully illustrated celebration of these peaceful mythological creatures. Part field guide, part folklore, this charming book includes traditional tales of unicorns helping lost princesses, dazzling images of unicorns from around the world, and lots of information about what they eat, where they live, and which magical powers they have. Plus, readers will get tips for spotting unicorns today!"
(synopsis for book 1, Ruby the Red Fairy)
"The seven Rainbow Fairies are missing! Rachel and Kirsty search for one in each RAINBOW MAGIC book. Read all seven books to help rescue the fairies and bring the sparkle back to Fairyland!
Fairyland is home to seven colorful sisters. Together, they are the Rainbow Fairies! They keep Fairyland dazzling and bright. But when evil Jack Frost sends them far away, the sisters are in big trouble. If they don't return soon, Fairyland is doomed to be gray forever!
Rachel and Kirsty discover Ruby the Red Fairy in the pot at the end of the rainbow. Can they help find the rest of her Rainbow sisters…before it's too late?"
"Beyond the realms of time and space are lands that exist only in myths and legends. This is where the magic tree house is taking Jack and Annie on the mission of a lifetime! They will visit Camelot, a haunted castle, an island lost in mist, and the Land-Behind-the-Clouds. It is one unforgettable adventure!"
"The dastardly dragon burnt the castle to smithereens and it's up to our little wizard friend, Lil' Merl, to track him down. But sometimes the path is trickier than it seems. Through word puzzles, crosswords, coloring in, dot-to-dot, and mazes, we help Lil' Merl draw closer to the fiendish villain and meet some fantastical creatures along the way."
Dragons and Marshmallows (Zoey and Sassafras #1) By Asia Citro, Illustrated By Marion Lindsay
"With magical animals, science, mystery, and adventure—the brand new series Zoey and Sassafras has something for everyone! Easy-to-read language and illustrations on nearly every page make this series perfect for a wide range of ages.
In the first book of this series, Zoey discovers a glowing photo and learns an amazing secret. Injured magical animals come to their backyard barn for help! When a sick baby dragon appears, it's up to Zoey and Sassafras to figure out what's wrong. Will they be able to help little Marshmallow before it's too late?"
Fantasy Books For Third Graders
"Two girls. Two worlds. Only magic can bring them together, in this fantastical middle grade adventure for fans of the Descendants and School for Good and Evil series.
Halan is a powerless princess. She is heir to the Magi Kingdom, a blazing desert land ruled by ancient magic. But unlike every royal before her, Halan has no magical powers of her own.
Nalah is a powerful pauper. The glassblower's daughter, she lives in the land of New Hadar, where magic is strictly outlawed. But Nalah has a powerful force growing within her—one she can't always control.
One girl fears magic, one worships it. But when a legendary mirror connects them, Nalah and Halan finally meet—and must work together to save their two worlds, before everything they know is shattered forever."
"It's not easy for Danny Dragonbreath to be the sole mythical creature in a school for reptiles and amphibians?especially because he can't breathe fire like other dragons (as the school bully loves to remind him). But having a unique family comes in handy sometimes, like when his sea-serpent cousin takes Danny and his best iguana friend on a mindboggling underwater tour, complete with vomiting sea cucumbers and giant squid. It sure beats reading the encyclopedia to research his ocean report . . .Using a hybrid of comic-book panels and text, Ursula Vernon introduces an irresistible set of characters with a penchant for getting themselves into sticky situations. It's perfect for both the classroom and fans of Wimpy Kid and Bad Kitty."
"When Lana and her father return to their seaside hometown to help clear the debris of a storm, the last thing she expects is to discover a colony of Aquicorns—magical seahorse-like residents of the coral reef. As she explores the damaged town and the fabled undersea palace, Lana learns that while she cannot always count on adults to be the guardians she needs, she herself is capable of finding the strength to protect both the ocean, and her own happiness."
"Crusty dragon Miss Drake has a new pet human, precocious Winnie. Oddly enough, Winnie seems to think Miss Drake is her pet—a ridiculous notion!
Unknown to most of its inhabitants, the City by the Bay is home to many mysterious and fantastic creatures, hidden beneath the parks, among the clouds, and even in plain sight. And Winnie wants to draw every new creature she encounters: the good, the bad, and the ugly. But Winnie's sketchbook is not what it seems. Somehow, her sketchlings have been set loose on the city streets! It will take Winnie and Miss Drake's combined efforts to put an end to the mayhem…before it's too late."
"When a traveling minstrel foretells that he is to become a hero, Wiglaf sets out to fulfill his destiny: he signs up at the Dragon Slayers' Academy. But how can he ever hope to be a dragon slayer when he can't even stand the sight of blood?"
Upside-Down Magic By Sarah Mlynowski, Lauren Myracle, And Emily Jenkins
"From New York Times bestselling authors Sarah Mlynowski, Lauren Myracle, and Emily Jenkins comes the hilarious and heartfelt story of a group of magical misfits.
Nory Horace is nine years old. She's resourceful, she's brave, she likes peanut butter cookies. Also, she's able to transform into many different animals. Unfortunately, Nory's shape-shifting talent is a bit wonky. And when she flunks out of her own father's magic academy, Nory's forced to enter public school, where she meets a group of kids whose magic is, well, different.
This new, offbeat series from hit authors Sarah Mlynowski, Lauren Myracle, and Emily Jenkins chronicles the misadventures of Nory and her oddball friends, who prove that upside-down magic definitely beats right side up."
The Creature of the Pines (The Unicorn Rescue Society) By Adam Gidwitz, Illustrated By Hatem Aly
"Are you ready to protect the creatures of myth and legend? Then you belong in The Unicorn Rescue Society. HURRY–THE CREATURES NEED YOU!
Elliot Eisner isn't exactly thrilled with the first day at his new school. His class is going on a field trip to a creepy forest called the Pine Barrens. The trip is being led by Professor Fauna, the weirdest teacher Elliot has ever met. And the only kid who will talk to Elliot, Uchenna Devereaux, isn't afraid of danger. She likes danger.
Elliot and Uchenna are about to become part of a secret group of adventurers, The Unicorn Rescue Society, whose goal is to protect and defend the world's mythical creatures. Together with Professor Fauna, Elliot and Uchenna must help rescue a Jersey Devil from a duo of conniving, greedy billionaires, the Schmoke Brothers.
Join Elliot and Uchenna on their very first quest as members of the Unicorn Rescue Society in this brand-new fantasy-adventure series from Adam Gidwitz, the beloved bestselling and Newbery Honor-winning author of The Inquisitors Tale and A Tale Dark & Grimm. Illustrated throughout, this is the perfect fit for newly independent readers looking for a story full of adventure, fun, and friendship."
Fantasy Books For Fourth Graders
"In the valley of Fruitless mountain, a young girl named Minli lives in a ramshackle hut with her parents. In the evenings, her father regales her with old folktales of the Jade Dragon and the Old Man on the Moon, who knows the answers to all of life's questions. Inspired by these stories, Minli sets off on an extraordinary journey to find the Old Man on the Moon to ask him how she can change her family's fortune. She encounters an assorted cast of characters and magical creatures along the way, including a dragon who accompanies her on her quest for the ultimate answer.
Grace Lin, author of the beloved Year of the Dog and Year of the Rat returns with a wondrous story of adventure, faith, and friendship. A fantasy crossed with Chinese folklore, Where the Mountain Meets the Moon is a timeless story reminiscent of The Wizard of Oz and Kelly Barnhill's The Girl Who Drank the Moon. Her beautiful illustrations, printed in full-color, accompany the text throughout. Once again, she has created a charming, engaging book for young readers."
"Open this entrancing book and meet Shakespeare's Queen Titania, springing up with her silver wings aflutter. Further on, a crystalline elfin castle rises into the clouds, not far from some scary hobgoblins and trolls. And on a truly stunning spread, a humanoid magical tree spreads its branches to reveal a face within its foliage, while flowers unfold and rearrange their petals, turning into flower fairies. Visiting mythical beings around the world, from household brownies to the merfolk lurking deep below the sea, this breathtaking 3-D book, brimming with facts and fancy, will hold humans of all ages in its spell."
"A trio of friends from New York City find themselves trapped inside a mechanical board game that they must dismantle in order to save themselves and generations of other children in this action-packed debut that's a steampunk Jumanji with a Middle Eastern flair.
When twelve-year-old Farah and her two best friends get sucked into a mechanical board game called The Gauntlet of Blood and Sand—a puzzle game akin to a large Rubik's cube—they know it's up to them to defeat the game's diabolical architect in order to save themselves and those who are trapped inside, including her baby brother Ahmed. But first they have to figure out how.
Under the tutelage of a lizard guide named Henrietta Peel and an aeronaut Vijay, the Farah and her friends battle camel spiders, red scorpions, grease monkeys, and sand cats as they prepare to face off with the maniacal Lord Amari, the man behind the machine. Can they defeat Amari at his own game…or will they, like the children who came before them, become cogs in the machine?"
"The dragon's out of the bag in this diverse, young urban fantasy from an award-winning author!
When Jaxon is sent to spend the day with a mean old lady his mother calls Ma, he finds out she's not his grandmother–but she is a witch! She needs his help delivering baby dragons to a magical world where they'll be safe. There are two rules when it comes to the dragons: don't let them out of the bag, and don't feed them anything sweet. Before he knows it, Jax and his friends Vikram and Kavita have broken both rules! Will Jax get the baby dragons delivered safe and sound? Or will they be lost in Brooklyn forever?"
"The first kidnappings happened two hundred years before. Some years it was two boys taken, some years two girls, sometimes one of each. But if at first the choices seemed random, soon the pattern became clear. One was always beautiful and good, the child every parent wanted as their own. The other was homely and odd, an outcast from birth. An opposing pair, plucked from youth and spirited away.
This year, best friends Sophie and Agatha are about to discover where all the lost children go: the fabled School for Good & Evil, where ordinary boys and girls are trained to be fairy tale heroes and villains. As the most beautiful girl in Gavaldon, Sophie has dreamed of being kidnapped into an enchanted world her whole life. With her pink dresses, glass slippers, and devotion to good deeds, she knows she'll earn top marks at the School for Good and graduate a storybook princess. Meanwhile Agatha, with her shapeless black frocks, wicked pet cat, and dislike of nearly everyone, seems a natural fit for the School for Evil.
But when the two girls are swept into the Endless Woods, they find their fortunes reversed—Sophie's dumped in the School for Evil to take Uglification, Death Curses, and Henchmen Training, while Agatha finds herself in the School For Good, thrust amongst handsome princes and fair maidens for classes in Princess Etiquette and Animal Communication.. But what if the mistake is actually the first clue to discovering who Sophie and Agatha really are…?"
"With a lonely boy named Ben on board, the brave young dragon Firedrake sets out on a magical journey to find the mythical place where silver dragons can live in peace forever. Flying over moonlit lands and sparkling seas, they encounter fantastic creatures, summon up surprising courage — and cross the path of a ruthless villain with an ancient grudge who's determined to end their quest. Only a secret destiny can save the dragons in this enchanting adventure about the true meaning of home."
"Welcome to Miss Qiunzella Thiskwin Penniquiqul Thistle Crumpet's Camp for Hardcore Lady Types. The five scouts of Roanoke cabin—Jo, April, Molly, Mal, and Ripley—love their summers at camp. They get to hang out with their best friends, earn Lumberjane scout badges, annoy their no-nonsense counselor Jen…and go on supernatural adventures. That last one? A pretty normal occurrence at Miss Qiunzella's, where the woods contain endless mysteries.
Today is no exception. When challenge-loving April leads the girls on a hike up the TALLEST mountain they've ever seen, things don't go quite as planned. For one, they didn't expect to trespass into the lands of the ancient Cloud People, and did anyone happen to read those ominous signs some unknown person posted at the bottom of the mountain? Also, unicorns.
This hilarious, rollicking adventure series brings the beloved Lumberjanes characters into a novel format with brand-new adventures."
"Claire Martinson still worries about her older sister Sophie, who battled a mysterious illness last year. But things are back to normal as they move into Windermere Manor…until the sisters climb a strange ladder in a fireplace and enter the magical land of Arden.
There, they find a world in turmoil. The four guilds of magic no longer trust each other. The beloved unicorns have gone, and terrible wraiths roam freely. Scared, the girls return home. But when Sophie vanishes, it will take all of Claire's courage to climb back up the ladder, find her sister, and uncover the unicorns' greatest secret."
Fantasy Books For Fifth Graders
"In a heartbreaking parting, a man gives his wife and daughter a last kiss and boards a steamship to cross the ocean. He's embarking on the most painful yet important journey of his life—he's leaving home to build a better future for his family.
Shaun Tan evokes universal aspects of an immigrant's experience through a singular work of the imagination. He does so using brilliantly clear and mesmerizing images. Because the main character can't communicate in words, the book forgoes them too. But while the reader experiences the main character's isolation, he also shares his ultimate joy."
Witch Boy by Molly Knox Ostertag
"In thirteen-year-old Aster's family, all the girls are raised to be witches, while boys grow up to be shapeshifters. Anyone who dares cross those lines is exiled. Unfortunately for Aster, he still hasn't shifted…and he's still fascinated by witchery, no matter how forbidden it might be.
When a mysterious danger threatens the other boys, Aster knows he can help—as a witch. It will take the encouragement of a new friend, the non-magical and non-conforming Charlie, to convince Aster to try practicing his skills. And it will require even more courage to save his family…and be truly himself."
"MEET KIRANMALA:
INTERDIMENSIONAL DEMON SLAYER
(Only she doesn't know it yet.)
On the morning of her twelfth birthday, Kiranmala is just a regular sixth grader living in Parsippany, New Jersey…until her parents mysteriously vanish and a drooling rakkhosh demon slams through her kitchen, determined to eat her alive. Turns out there might be some truth to her parents' fantastical stories-like how Kiranmala is a real Indian princess and how she comes from a secret place not of this world.
To complicate matters, two crush-worthy princes ring her doorbell, insisting they've come to rescue her. Suddenly, Kiran is swept into another dimension full of magic, winged horses, moving maps, and annoying, talking birds. There she must solve riddles and battle demons all while avoiding the Serpent King of the underworld and the Rakkhoshi Queen in order to find her parents and basically save New Jersey, her entire world, and everything beyond it…"
"Twelve-year-old Aru Shah has a tendency to stretch the truth in order to fit in at school. While her classmates are jetting off to family vacations in exotic locales, she'll be spending her autumn break at home, in the Museum of Ancient Indian Art and Culture, waiting for her mom to return from her latest archeological trip. Is it any wonder that Aru makes up stories about being royalty, traveling to Paris, and having a chauffeur?
One day, three schoolmates show up at Aru's doorstep to catch her in a lie. They don't believe her claim that the museum's Lamp of Bharata is cursed, and they dare Aru to prove it. Just a quick light, Aru thinks. Then she can get herself out of this mess and never ever fib again.
But lighting the lamp has dire consequences. She unwittingly frees the Sleeper, an ancient demon whose duty it is to awaken the God of Destruction. Her classmates and beloved mother are frozen in time, and it's up to Aru to save them.
The only way to stop the demon is to find the reincarnations of the five legendary Pandava brothers, protagonists of the Hindu epic poem, the Mahabharata, and journey through the Kingdom of Death. But how is one girl in Spider-Man pajamas supposed to do all that?"
"Twelve-year-old September lives in Omaha, and used to have an ordinary life, until her father went to war and her mother went to work. One day, September is met at her kitchen window by a Green Wind (taking the form of a gentleman in a green jacket), who invites her on an adventure, implying that her help is needed in Fairyland. The new Marquess is unpredictable and fickle, and also not much older than September. Only September can retrieve a talisman the Marquess wants from the enchanted woods, and if she doesn't…then the Marquess will make life impossible for the inhabitants of Fairyland. September is already making new friends, including a book-loving Wyvern and a mysterious boy named Saturday.
With exquisite illustrations by acclaimed artist Ana Juan, Fairyland lives up to the sensation it created when the author first posted it online. For readers of all ages who love the charm of Alice in Wonderland and the soul of The Golden Compass, here is a reading experience unto itself: unforgettable, and so very beautiful."
"Spunky, strong-willed eleven-year-old Mirka Herschberg isn't interested in knitting lessons from her stepmother, or how-to-find-a-husband advice from her sister, or you-better-not warnings from her brother. There's only one thing she does want: to fight dragons!
Granted, no dragons have been breathing fire around Hereville, the Orthodox Jewish community where Mirka lives, but that doesn't stop the plucky girl from honing her skills. She fearlessly stands up to local bullies. She battles a very large, very menacing pig. And she boldly accepts a challenge from a mysterious witch, a challenge that could bring Mirka her heart's desire: a dragon-slaying sword! All she has to do is find—and outwit—the giant troll who's got it!
A delightful mix of fantasy, adventure, cultural traditions, and preteen commotion, Hereville will captivate middle-school readers with its exciting visuals and entertaining new heroine."
"Leonora Logroño's family owns the most beloved bakery in Rose Hill, Texas, spending their days conjuring delicious cookies and cakes for any occasion. And no occasion is more important than the annual Dia de los Muertos festival.
Leo hopes that this might be the year that she gets to help prepare for the big celebration—but, once again, she is told she's too young. Sneaking out of school and down to the bakery, she discovers that her mother, aunt, and four older sisters have in fact been keeping a big secret: they're brujas—witches of Mexican ancestry—who pour a little bit of sweet magic into everything that they bake.
Leo knows that she has magical ability as well and is more determined than ever to join the family business—even if she can't let her mama and hermanas know about it yet.
And when her best friend, Caroline, has a problem that needs solving, Leo has the perfect opportunity to try out her craft. It's just one little spell, after all…what could possibly go wrong?"
---
What are your favorite fantasy books for kids?
Whether you're looking for fairytale retellings for kids, or big ol' middle-grade fantasy lists, Book Riot has plenty of reading suggestions for children.