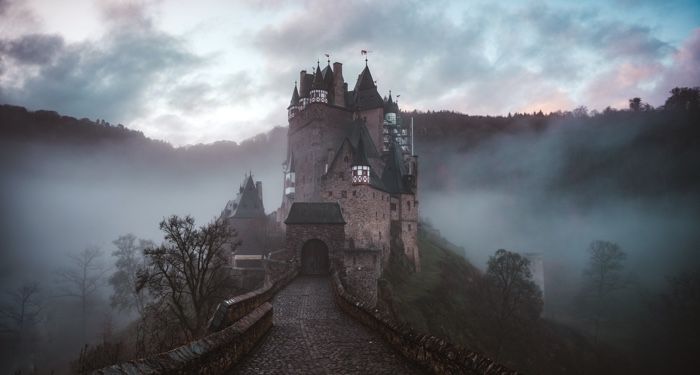 Audiobooks
6 of the Best Fantasy Books to Listen to Again and Again
Since I was a kid, fantasy books have been my first love. So I LOVE to re-listen to my favorites over and over again. There's just nothing like returning to my favorite worlds. Here are a few fantasy audiobooks that are especially close to my heart.
Sabriel by Garth Nix, Narrated by Tim Curry
One of my ALL TIME favorite books is Sabriel narrated by the one and only Tim Curry. Sabriel has spent most of her life in Ancelstierre attending an all girls school, which lies south of her family's home in the Old Kingdom. What her teachers and classmates don't know is that she is a descendant from a long line of Abhorsens, a position in the kingdom that helps protect the land from necromancers. But when her father disappears unexpectedly, she must cross the border and venture into the Old Kingdom to try to find him.
Alanna: The First Adventure by Tamora Pierce, Narrated by Trini Alvarado
When I was a girl, I felt continuously annoyed when adults told me to be ladylike and boys told me, "girls don't do that!" So when I found Alanna, a young girl who switches places with her twin brother so she can become a knight of Tortall, I immediately requested all of Tamora Pierce's audiobooks from the library. Alanna is persistent, independent, and a stellar knight. After her quartet of books, Pierce expands the Tortall universe and writes so many more series that focus on different women around the kingdom.
The Fifth Season by N.K. Jemisin, Narrated by Robin Miles
A long epic series is just the thing I need, especially in the summer when I'm looking for more epic reads. One of the best fantasy series I have ever read is The Broken Earth trilogy. It starts with The Fifth Season when Essun's husband has just murdered their son and abducted their daughter. Oh, and the end of the world has just begun. Robin Miles, with all of her all-star talent, brilliantly narrated the series. With Jemisin's storytelling and Miles's performance, this series is just perfect.
The City of Brass by S.A. Chakraborty, Narrated by Soneela Nankani
S.A. Chakraborty recently became a favorite of mine with her Daevabad trilogy, starting with The City of Brass. Nahri is an orphan from the streets of Cairo who has survived by conning the rich out of their money. But when she accidentally calls upon a djinn warrior, he whisks her away to the djinn capital city where she becomes immediately enveloped by political machinations and secrets. Soneela Nankani also became a favorite of mine with this series, and I have enjoyed her work ever since.
Aru Shah and the End of Time by Roshani Chokshi, Narrated by Soneela Nankani
I adore a middle grade fantasy novel, and Roshani Chokshi's Aru Shah series is just a delight. When Aru accidentally wakes the sleeper, she's whisked into a new world where she learns that she is a reincarnation of one of the legendary Pandava brothers. She and the other girls, who are the reincarnations of the other pandava brothers, must try to stop the sleeper and save the day. This series is also narrated by Soneela Nankani, and she's just as great in this series as she is in the City of Brass series!
Charmed Life by Diana Wynne Jones, Narrated by Gerard Doyle
Diana Wynne Jones is the author that I wish I had discovered as a kid. Her magical world of the Chrestomanci series is the perfect retreat from the world. In the first book in the series, Charmed Life, Cat and his sister Gwendolen move into the house of the mysterious Chrestomanci, a man with a wealth of magic. But how does he have his powers? And what does he actually do anyway? Gerard Doyle is the perfect choice to narrate this fantastical British story. And there are six books in the series!