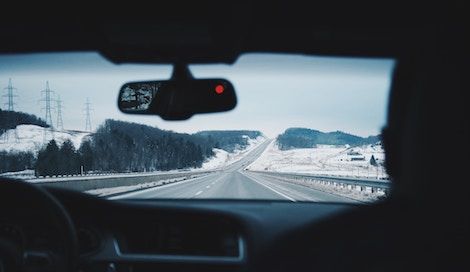 Audiobooks
25 Of The Best Family Audiobooks To Listen To In 2018
This content contains affiliate links. When you buy through these links, we may earn an affiliate commission.
Last year, I completed an epic road trip with my kids. And while I think the trip was a complete success (I even returned with the same three kids—didn't lose a single one along the way), there was one thing I forgot: a collection of the best family audiobooks. *groan*
We drove 2500 km (1500 miles) from Sydney to Townsville (Australia). And then we drove back again. All with three kids: 10 yo, 7 yo, and 3 yo. It was a nightmare trying to find something to appease all three at the same time. We were pretty lucky with how we broke up the trip but it made me realise how hard it is to find books, and audiobooks at that, to keep all passengers happy at the same time.
Luckily, 2018 has had some pretty good offerings and I am feeling a little more confident in managing our medium-level road trips over the next few months. So here are some of the best family audiobooks, listed in order of 'listening time'. Mainly because I lost count of how many times we had to stay in the car to listen to another 30-minutes just to finish the chapter.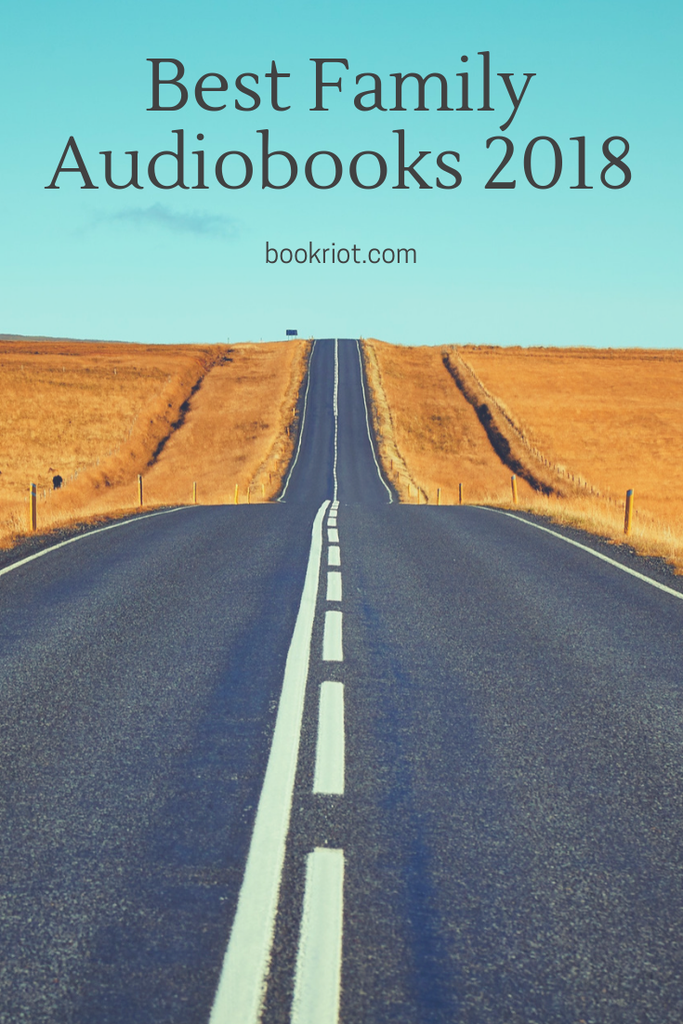 Length: 16mins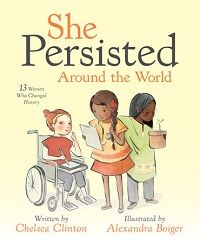 She Persisted Around the World is the shortest of all my recommendations here. It's the type of audiobook perfect for breaking up the bigger books suggested below. It is also a lovely book for the younger kids. Even the audiobook itself is broken up for neat bite-size enjoyment, with 13 short stories of women from all around the world. Each story has a quick introduction for the woman and her dream. Then we learn how someone said no…then she persisted. Each story provides an opportunity to be inspired by how they overcome their adversity. I especially like the singing between each story. Again, it is really short but very enjoyable.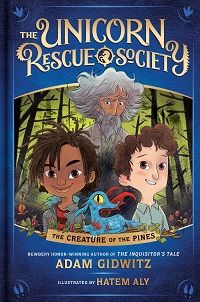 Length: 2 hours 12mins
From the enthusiastic voice (with great pacing) to the short, engaging chapters, this is a great audiobook that is entertaining for all. You may have to keep track of how often you laugh out loud, at the risk of laughing over the next joke! New kid at school starts the first day with a field trip and trips into the Unicorn Rescue Society. Think of it as a younger kids version of Fantastic Beasts and Where to Find Them.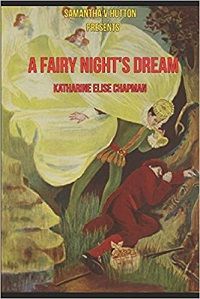 Length: 3 hours 3 minutes
For any Shakespeare fans, particularly those who love A Midsummer's Night Dream. This story was first published in 1900 and has only been made into an audiobook this year. The language of this is as dreamy and romantic and mystical as the source material itself. Aimed at the older kids who appreciate the flowery prose, A Fairy Night's Dream extends upon the realm of Puck and Oberon and takes us on a gorgeous adventure of magic, mirth, and mischief.
The Boy Who Grew Dragons, written by Andy Shepherd, narrated by Ewan Goddard
Length: 3 hours 8 minutes
If you are traveling anywhere that has dragon fruit, you MUST read this book! The kids will love it—both the book and the fruit. While the real-life dragon fruit gives you a bright red tongue (like a dragon), the other dragon fruit hatches dragons! Or at least that's how Tomas tells the story. The dragons are adorable, the relationship between the kids and the dragons is adorable, and the pacing for the storytelling is also adorable.
Lumberjanes: The Good Egg, written by Mariko Tamaki, narrated by Amanda Leigh Cobb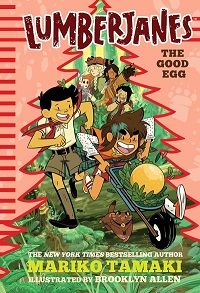 Length: 3 hours 22 minutes
I'll be honest: I love Lumberjanes as a comic book. So the idea of listening to any Lumberjanes as an audiobook just seems…weird. And yet it works. Lumberjanes: The Good Egg is the third installment in the series and personally, I think it is the best. If you are not familiar with the Lumberjanes series, then you are better off starting at the beginning. However, for an audiobook, I think this one is the best. It really captures the diversity of the characters while bringing a really strong Goonies feel. We're talking high-stakes adventures with a taste of supernatural. And while it is a very fun book, it will also bring out some great conversation about friendship.
Dragons in a Bag, written by Zetta Elliott, narrated by Ron Butler and Zetta Elliott
Length: 3 hours 25 minutes
This book slowly sucks you in, with its typical urban environment and its typical family dealing with your typical real-life problems. And then you meet Ma. Ma is a witch. Ma has baby dragons. And Ma needs Jaxon's help finding a new home for them. Sounds easy but that wouldn't be good storytelling, wouldn't it? If you're driving from one city to the next, this is a great story for opening your eyes to a new urban adventure; pesky squirrels are an added bonus.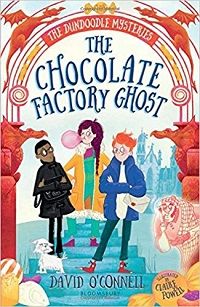 Length: 3 hours 31 minutes
A sweet and fun book for kids (but like any good candy, it appeals to all ages). A young boy suddenly inherits a very well-known confectionery company from his great uncle. However, the factory isn't simply handed to him. Oh no, Archie can only claim the reward after he completes The Quest. There is plenty of adventure and plenty of magic, with an extra handful and vivid imagery gained from the storytelling. This one is moderately short and sweet but I hear there are more books coming in the series.
Length: 3 hours 51 Minutes
Dream big, little mouse. That is the moral of this beautiful and sweet story. It is the perfect audiobook for gazing out the window and dreaming of all the possibilities. A lot of detail and research has been given to the theatre environment and it really comes across in the storytelling. As we follow Lulu and her adventures to the big stage, it is hard not to feel invested in her dreams and friendships. Be prepared for some thoughtful silence afterward.
Lucky Luna, written by Diana Lopez, narrated by Frankie Corzo
Length: 3 hours 53 minutes
Is your road trip to visit family? You may empathise with Luna—she loves her family but there are simply too many of them. Lucky Luna is a coming of age book, managing family relationships with personal growth. I especially love the cultural and language elements; having spent many holidays driving long distances to visit my Maltese family, I could totally relate to this book. Wish I had this audiobook when I was 11 years old.
Swing, written by Kwame Alexander and Mary Rand Hess, narrated by Kwame Alexander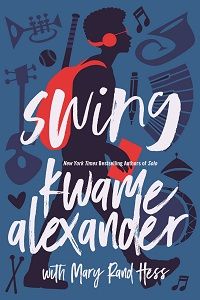 Length: 4 hours 8 minutes
This book is gorgeous. Swing is aimed at the older kids, focused on the lives of 17-year-old Noah and his best friend Walk (aka Swing). All they want is to make the baseball team, get the girl, and be cool. The rhythm of Alexander's voice swings through the source material with compelling emotion. He has all the desperation of the characters wrapped up in hope and innocence. This is the audiobook that captures your family's attention and encourages you to think.
Smoke and Mirrors, written by K.D. Halbrook, narrated by Katie Schorr
Length: 5 hours 6 minutes
It's always good to have a wide selection of books to choose from; you never know what mood you are going to be in. If the mood is a little more sombre, Smoke and Mirrors may help bring some perspective. While the story has plenty of mystery and magic involved, it is essentially about two siblings coming together to find their parents. The wistful storytelling takes nothing away from the emotional undergrowth. However, it is a beautiful story and one that will rest with you over the long drive.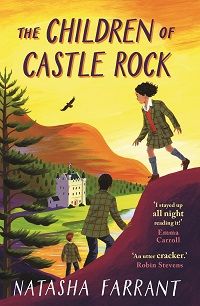 Length: 5 hours 8 minutes
Imagine a voice with the lilting loveliness of Scotland, sharing a story of boarding school adventures and mayhem. The opening paragraph is filled with that exact feeling. If you like Enid Blyton's books, you are going to love sharing this with your family. The main character has her own personal burdens to bear but the nostalgia of the storytelling leads to admiration for the characters rather than pity. Let me know if you listen to this while road-tripping around Scotland.
Hello, Universe, written by Erin Entrada Kelly; narrated by Ramon de Ocampo and Amielynn Abellera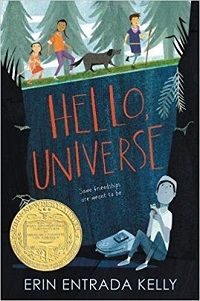 Length: 5 hours 17 mins
When you're looking for some quiet, low-key entertainment, just say Hello, Universe. It is a strong friendship novel with a brilliant team of characters who are diverse in their nature without making diversity The Thing in the book. Instead, friendship is The Thing, and it is done so well. Four kids are brought together after a bullying attack ends with one of them down a well. There is a bit of drama and a dash of adventure but more important is the tight plot development and management, which holds your attention right to the end. No day-dreaming out the window and worrying about how many chapters you have missed. You won't miss a thing here.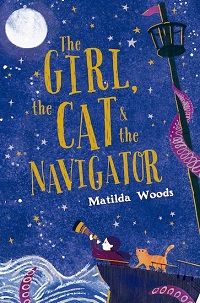 Length: 5 hours 22 minutes
Road trips are adventures, to be savoured and enjoyed! What better way to do that than with a book about stowing away on a ship in search of grand adventures!! The Girl is Oona, who wants to explore and does not want to 'settle down'. The Cat is Barnacles the ship cat, with wisdom to entertain. The Navigator is Haroyld, who is sweet, kind, and clever. It is easy to be caught up in the fairytale-esque storytelling, as we follow Oona's journey to find the mythical Nardoo. Amazing world-creating…Read: Good for everybody but the driver. *sigh*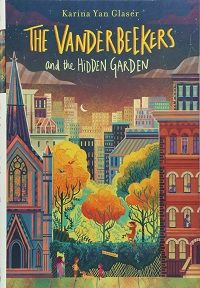 Length: 5 hours 32 minutes
Ever since I found this series from fellow Book Rioter Karina Yan Glaser, I have been raving about it to everyone. It is the sweetest storytelling with the most entertaining family (and considering what I have in my home, that is something). If you haven't been introduced to the Vanderbeekers, then you are probably better off checking out the first book in the series. Personally, I really like this second book. The plot progresses just as fast as the first, and the characters jump out at you even more! Do not be afraid to hit pause and talk about a few ideas. The Vanderbeekers are desperately trying to build a garden to help a neighbour, and this is sure to provoke some deep consideration. And once you're done, check out our quiz to see which Vanderbeek sibling you would be! (P.S. I'm book-loving, peace-keeping Oliver. No surprise there!)
The Magic Misfits: The Second Story, written by Neil Patrick Harris, narrated by Neil Patrick Harris and Christina Hendricks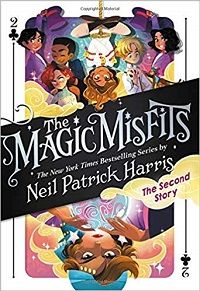 Length: 5 hours 33 minutes
Yes, it is a 'Book 2' but it is a really good Book 2!! And it is very different to book 1—okay, there are some elements that carry over but none of that stops this book from being a really pleasurable read during a long road trip! This book is focused on Leila, the adopted daughter of Dante Vernon and his husband. Filled with puzzles and riddles and some magic tricks at the end, Hendricks and Harris balance the role of narrator and encourage you to dive into their storytelling.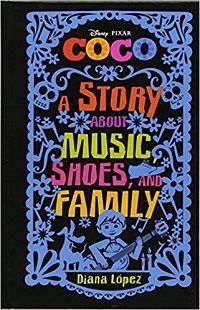 Length: 5 hours 36 minutes
If you loved the movie, then you will adore the retelling of the story within this novel. There is enough original content to ensure you are not just revisiting the movie but expanding on the rich and vibrant world. If you close your eyes, you can imagine yourself immersed in the family celebrations, with all their love and character. You don't have to see the movie to enjoy the book; both of them will have you hugging your family at the next pit-stop.
Blended, written and narrated by Sharon M. Draper
Length: 5 hours 42 minutes
Blended is an easy-listening book with some much deeper thought-provoking elements. Draper's voice carries both elegance and enthusiasm, complimenting the dreamy hope of the 11-year-old protagonist. Her pace is lovely with the patience of the characters. It is comforting as the book delves into serious issues: divorce, separation, race, and police.
Length: 7 hours 9 minutes
Another great book to help prepare for the family onslaught behind most family road trips. Merci Suarez, our main star, is facing a lot of change in her life. Merci's story invites us into her multi-generational family, including her Abuelo who is showing early signs of Alzheimer's Disease. This is a great story about balancing the personal needs of your own identity with the love and responsibility of being in a family. A good book if you are preparing for any heavy-going family issues at your destination.
Length: 7 hours 18 minutes
Just listening to this audiobook can transport you to a whole other literary world…and isn't that what audiobooks should be doing on long road trips? I am so jealous of Tilly and her ability to travel amongst the novels in her grandparents' London bookshop. This is the ultimate adventure through Anne of Green Gables, Alice in Wonderland, Treasure Island, and so many more literary classics. It is sweet and charming, and definitely written for all of the bookworms out there!
Have Sword, Will Travel: Book 1, written by Garth Nix and Sean Williams, narrated by Oliver Hembrough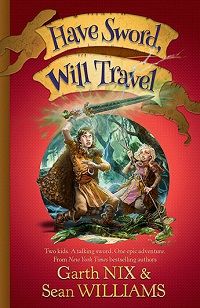 Length: 7 hours 44 minutes
If you're looking for an easy-going fantasy story with plenty of wit and charming characters, then load up this audiobook and prepare yourself for a talking sword. While aimed at the younger kids, the rest of the family will have a little chuckle (especially with some well-placed dad/mum-jokes). The story is supposed to be about Odo and Eleanor, and their magical quest to save their kingdom…but let's be honest—the talking sword is the star of the show.
One Wish, written by Michelle Harrison, narrated by Nicky Diss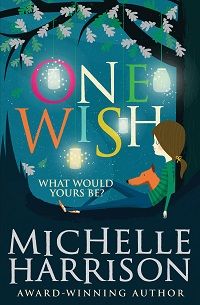 Length: 8 hours 35 minutes
One Wish is the prequel to Harrison's Thirteen Treasures series. Consider this a taster of a whole new series to discover. This a slightly darker and mysterious story about fairies. Less Tinkerbell and more Labyrinth and the faeries that bite. There is still plenty of magic but the strength of the storytelling lies in the choice Tanya makes to use her one wish. It's a great introduction to the world of the fey and one that can be spread over many legs of your trip.
Batman: Nightwalker, written by Marie Lu, narrated by Will Damron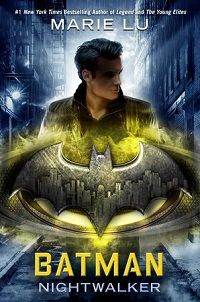 Length: 8 hours 39 minutes
I honestly cannot remember if I heard him say "I'm Batman." I was too caught up in the story itself! Okay, so this story is less about Batman and more about Bruce Wayne; specifically, 18-year-old Bruce Wayne who is doing community service cleaning up at Arkham Asylum (as believable as any other DC story arc, so just go with it). If you have any DC fans in the family, then you will enjoy this perspective on Bruce's character.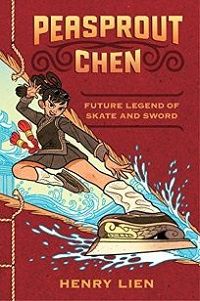 Length: 9 hours 8 minutes
Nancy Wu is the perfect narrator for this book; her voice really captures the fierce dreamy nature of Peasprout Chen, student of the legendary wu liu—martial arts figure skating. There are plenty of moments where you will want to close your eyes to picture the flying kung fu across the glistening ice; please refrain if you are the person holding the steering wheel. Instead, enjoy the excitement and the adventure as politics bleeds into the special academy. This is a great book to listen to as a family; to laugh and gasp and splutter the "WHAT?!?"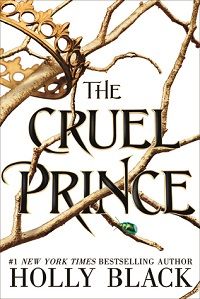 Length: 12 hours 36 minutes
This one is for the fantastical and mystical fans of faeries. It is a little slow to start but it doesn't take long to enthrall you in the subterfuge and world building politics of the fae. Definitely for the older kids as it delves into some pretty dark issues, starting with the overwhelming sensation of everything. Every sensual experience is described in great details; from the taste of faerie fruit to the feel of rich fabrics, and the smell of every room you step into. The intrigue as the mortals battle for survival will have you sitting in the car long after you have reached your destination. Definitely one to listen to with your older kids.
---
What would you add to our list of best family audiobooks?