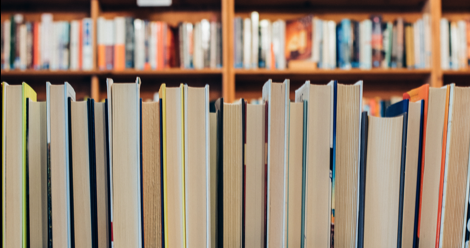 Lists
Best Epigraphs of 2017
This content contains affiliate links. When you buy through these links, we may earn an affiliate commission.
Well, 2017 sure was something. Let's take a look at the best epigraphs of books published this year! An epigraph is an introductory quote to a book or chapter, generally to give a feel for the theme. And 2017 gave us some gems.
Idea brought to us by one of my favorite people on the internet, Austin Kleon:
Listicle I would read: "The Year's Best Epigraphs"

— Austin Kleon (@austinkleon) November 20, 2017
Let's get to the good stuff.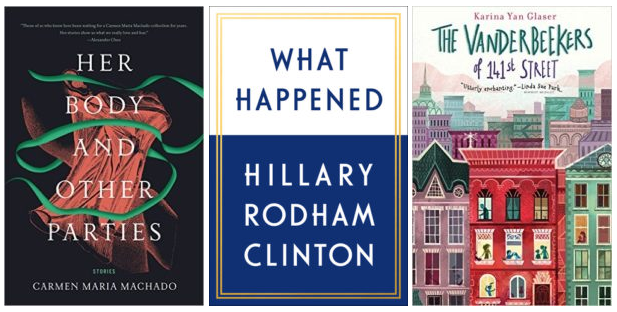 "God should have made girls lethal when he made monsters of men."
—Elisabeth Hewer
(From Her Body and Other Parties by Carmen Maria Machado)
"That which does not kill us makes us stronger."

—Friedrich Nietzsche (and Kelly Clarkson)
(From
What Happened
by Hillary Clinton)
"Home and I are such good friends."
—L.M. Montgomery, Anne of Green Gables
(From The Vanderbeekers of 141st Street by Karina Yan Glaser)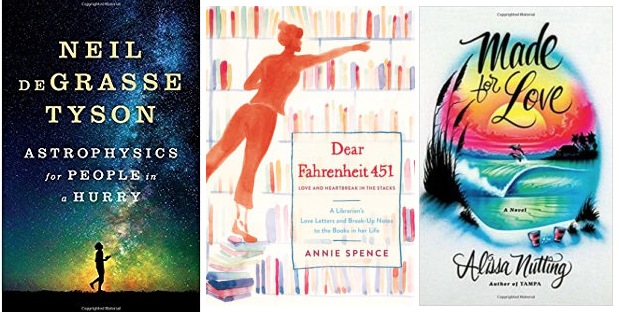 "The universe is under no obligation to make sense to you."
—NDT
(From Astrophysics for People in a Hurry by Neil deGrasse Tyson)
"Good friends, good books, and a sleepy conscience: this is the ideal life."
—Mark Twain
(From Dear Fahrenheit 451: A Librarian's Love Letters and Break-Up Notes to the Books in Her Life by Annie Spence)
"The goals we pursue are always veiled. A girl who longs for marriage longs for something she knows nothing about. The boy who hankers after fame has no idea what fame is. The thing that gives our every move its meaning is always totally unknown to us."
—Milan Kundera, The Unbearable Lightness of Being
(From Made for Love by Alissa Nutting)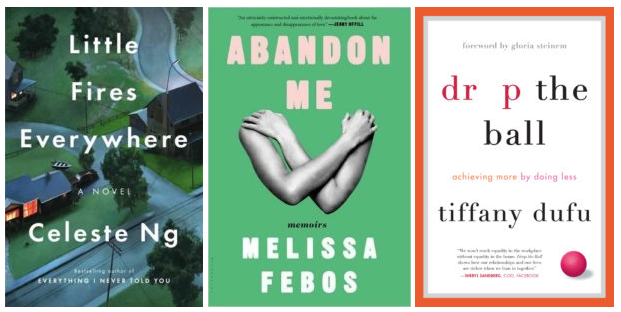 "Actually, though, all things considered, people from Shaker Heights are basically pretty much like people everywhere else in America. They may have three or four cars instead of one or two, and they may have two television sets instead of one, and when a Shaker Heights girl gets married she may have a reception for eight hundred, with the Meyer Davis band flown in from New York, instead of a wedding reception for a hundred with a local band, but these are all differences of degree rather than fundamental differences. 'We're friendly people and we have a wonderful time!' said a woman at the Shaker Heights Country Club recently, and she was right, for the inhabitants of Utopia do, in fact, appear to lead a rather happy life."
—"The Good Life in Shaker Heights," Cosmopolitan, March 1963
(From Little Fires Everywhere by Celeste Ng)
"It is a joy to be hidden and a disaster not to be found."
—D.W. Winnicott
(From Abandon Me by Melissa Febos)
"Webster's Definition: Drop the ball: to make a mistake, especially by failing to take timely, effective, or proper action
My Definition: Drop the ball: to release unrealistic expectations of doing it all and engage others to achieve what matters most to us, deepening our relationships and enriching our lives"
(From Drop the Ball: Achieving More by Doing Less by Tiffany Dufu)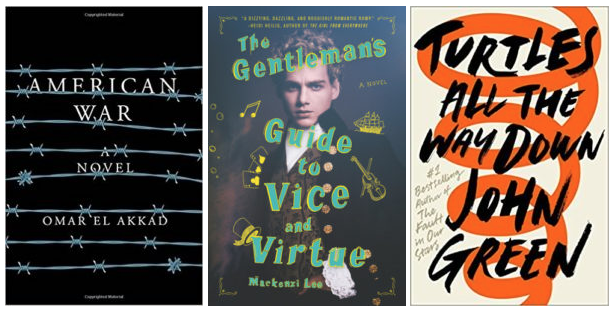 "Mine heritage is unto me as a speckled bird, the birds round about are against her; come ye, assemble all the beasts of the field, come to devour."
—Jeremiah 12:9
(From American War by Omar El Akkad)
"He saunter'd Europe round,
And gather'd ev'ry vice on Christian ground; …
The Stews and Palace equally explored,
Intrigued with glory, and with spirit whored; …
Tried all hors-d'oeuvres, all liqueurs defined,
Judicious drank, and greatly daring dined."
—Alexander Pope, The Dunciad
(From The Gentleman's Guide to Vice and Virtue by Mackenzi Lee)
"Man can do what he wills, but he cannot will what he wills."
—Arthur Schopenhauer
(From Turtles All the Way Down by John Green)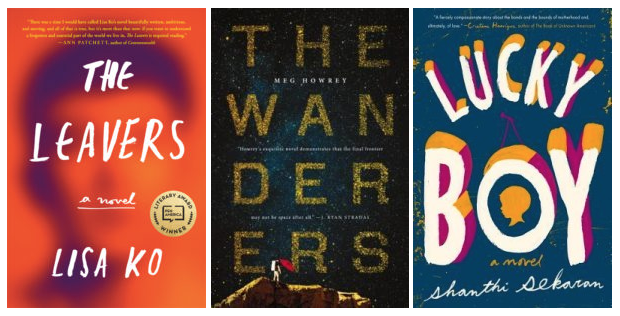 "Like the sea, I am recommended by my orphaning.
Noisy with telegrams not received,
quarrelsome with aliases,
intricate with misguided journeys,
by my expulsions I have come to love you."
—Li-Young Lee, "The City in Which I Loved You"
(From The Leavers by Lisa Ko)
"We feel that even if all possible scientific questions be answered, the problems of life have still not been touched at all. Of course there are then no questions left, and this itself is the answer."
—Ludwig Wittgenstein, Tractatus Logico-Philosophicus
(From The Wanderers by Meg Howrey)
"But leave me a little love,
A voice to speak to me in the day end,
A hand to touch me in the dark room
Breaking the long loneliness.
In the dusk of day-shapes
Blurring the sunset,
One little wandering, western star
Thrust out from the changing shores of shadow.
Let me go to the window,
Watch there the day-shapes of dusk
And wait and know the coming
Of a little love."
—Carl Sandburg, "At a Window"
(From Lucky Boy by Shanthi Sekaran)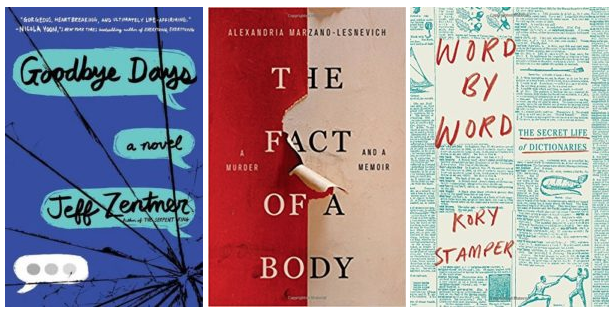 "Death steals everything except our stories."
—Jim Harrison
(From Goodbye Days by Jeff Zentner)
"It is always possible that the solution to one mystery will solve another."
—Truman Capote, In Cold Blood
(From The Fact of a Body: A Murder and a Memoir by Alexandria Marzano-Lesnevich)
"It may be observed that the English language is not a system of logic, that its vocabulary has not developed in correlation with generations of straight thinkers, that we cannot impose upon it something preconceived as an ideal of scientific method and expect to come out with anything more systematic and more clarifying than what we start with: what we start with is an inchoate heterogeneous conglomerate that retains the indestructible bones of innumerable tries at orderly communication, and our definitions as a body are bound to reflect this situation."
—Philip Babcock Gove, Merriam-Webster in-house "Defining Techniques" memo, May 22, 1958
(From Word by Word: The Secret Life of Dictionaries by Kory Stamper)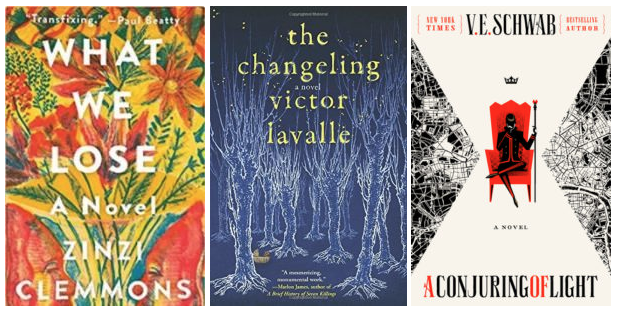 "I want to write rage but all that comes is sadness. We have been sad long enough to make this earth either weep or grow fertile. I am an anachronism, a sport, like the bee that was never meant to fly. Science said so. I am not supposed to exist. I carry death around in my body like a condemnation. But I do live. The bee flies. There must be some way to integrate death into living, neither ignoring it nor giving in to it."
—Audre Lorde, The Cancer Journals
(From What We Lose by Zinzi Clemmons)
"When you believe in things you don't understand then you suffer."
—Stevie Wonder, "Superstition"
(From The Changeling by Victor LaValle)
"Pure magic has no self. It simple is, a force of nature, the blood of our world, the marrow of our bones. We give it shape, but we must never give it soul."
—Master Tieren, head priest of the London Sanctuary
(From A Conjuring of Light by V.E. Schwab)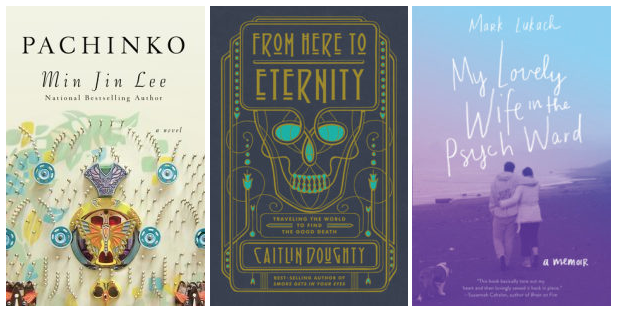 "Home is a name, a word, it is a strong one; stronger than magician ever spoke, or spirit answered to, in strongest conjuration."
—Charles Dickens
(From Pachinko by Min Jin Lee)
"Adults who are racked with death anxiety are not odd birds who have contracted some exotic disease, but men and women whose family and culture have failed to knit the proper protective clothing for them to withstand the icy chill of mortality."
—Irvin Yalom, psychiatrist
(From From Here to Eternity: Traveling the World to Find the Good Death by Caitlin Doughty)
"I can see a lot of life in you
I can see a lot of bright in you
And I think the dress looks nice on you
I can see a lot of life in you"
—Sufjan Stevens, "The Dress Looks Nice on You"
(From My Lovely Wife in the Psych Ward by Mark Lukach)
What's your favorite? Is there any we left out? Let us know in the comments!