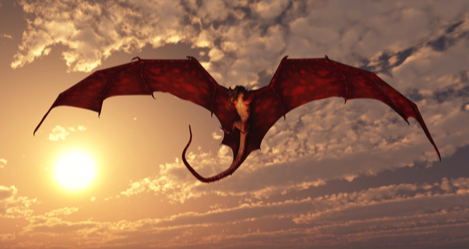 This content contains affiliate links. When you buy through these links, we may earn an affiliate commission.
When I started searching for dragon shifter romance novels for this list, I figured I'd find a few. A hundred, maybe a couple hundred—after all, shifter romances are popular and dragons easily straddle the Urban Fantasy Romance/Paranormal Romance/Fantasy Romance nexus. I thought it would be no problem to pick 20 or so that screamed "read me" and presented a good cross section of the subcategory.
I laugh in the face of past Jessica.
Oh I found dragon shifter romance novels alright. HUNDREDS OF THEM. Very possibly over a thousand! I don't know! I had to finally give up flipping through the pages of results on Goodreads. That search alone turned up over 600 prospective titles. Now, maybe all of those weren't actually dragon shifter romance novels, but from what I saw a lot of them were. And the diversity of plots, sub-genres, and reoccurring tropes I encountered was nothing short of amazing.
I did finally land on 20 titles to include here, but if 20's not enough to sate your dragon hunger, keep in mind that most of these titles are the first in their respective dragon-related series. So make like a dragon and start hoarding!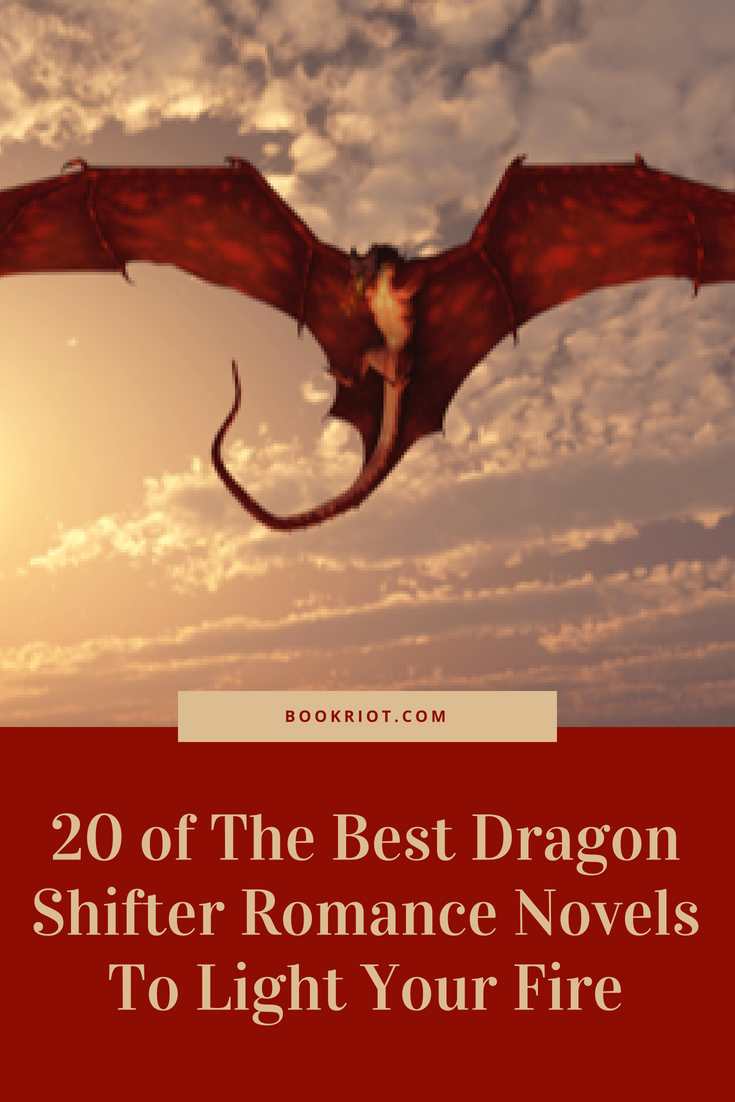 DRAGONS ARE SCOTTISH
These dragon shifter romance novels take place among the heather and the heath…and the kilts. The heroes are heated and the heroines are all really freaking rocking their career paths.
I wasn't joking about this section featuring heroines with epic careers. Denae Lacroix of Darkest Flame, the first book in Donna Grant's Dark Kings series, is an MI5 agent! She's been sent to spy on a mysterious business in the Scottish Highlands, only to find out she'd been arranged as human bait for one very hungry dragon king. Kellan has managed to avoid humans for over 1200 years (a talent I sometimes wish I possessed), but he's not going to be able to avoid his attraction to Denae.
Hero Dylan MacLeod is king of his dying race of dragon shifters (which might be dying out because they can only have babies when they do the do with their fated mate…not a great repopulation strategy). When a sickness starts picking off the dragons that remain, Dylan seeks out Phoebe Quillum, biochemist extraordinaire, for help. Phoebe who just so happens to be his one and only. Dark Embers is the first book in Tessa Adams's Dragon's Heat trilogy.
Taking it back in time now with the first book in Cooper's Dawn of the Highland Dragon series! It's the 14th century in Scotland and hero Laird Cathal MacAlasdair is looking for one good warlock to help protect his clan. What he gets is alchemist Sophia Metzger, on a quest for knowledge that plops her right in the middle of dragon country. This series serves as a prequel to Cooper's popular Highland Dragon series (Legend of the Highland Dragon), set in the late 19th century.
This first novel in McKinnon's Clan MacCoinnach series (say that three times fast) is one of those novels with mixed reviews, so you'll probably either hate it or love it. But I wanted to include it because it's the only time travel plot I found in among the dragon shifter romance novels! Heroine Faith McAlpin is an archaeologist in training who comes in contact with a magical ring that whisks her away to 16th century Scotland. There she runs into clan chief Bren MacCoinnach who has been waiting for his legend-foretold fated mate. Guess who!
Caveat emptor: Survey says McKinnon may have fallen back on that most controversial of tropes, the forced seduction. Consent might be an issue. So, dragon lover, if that is not your plot of choice, adjust your flight plan and miss this particular romance.
BLATANTLY OBVIOUS DRAGON NAMES
These are the dragon shifter romance novels in which everyone involved really ought to realize that the hero is a dragon without having to be told. Seriously people. Seriously. Subtlety is not a thing with these heroes.
The Blatantly Obvious Dragon Name group may be my favorite among the many dragon shifter romance novels. Why? The hero of this first novel in Lopez's Dragon Heat series? His name is Stig Wyvern. WYVERN. Why not just tape a notecard to his forehead that says "I'm a Dragon, ask me about my tail"! But I supposed Stig's got other things to worry about, like his friend's attractive little sister, Cora Cardenas, who just showed up at his door. On the run. Temptation, mysterious basement noises, and fated mates galore!
Draken by Solease M. Barner
Are you ready for another BODN? This hero's name is Draken Draglen. Just read that a couple of times and let the gloriousness set in. Draken. Draglen. Draken is an obnoxious neighbor, and heroine Cess Lamil is definitely not attracted to him. At all. Not a bit. Good thing Draken is also not the slightest bit attracted to her and besides, he never sleeps with human women. Except he just can't seem to keep away from her.
The first book in Harrison's Elder Races series, this book contains what is probably my favorite plot trope for dragon shifter romance novels: the thief. Everyone one knows you don't steal from a dragon, but someone probably should have reminded Pia Giovanni. Then again, she was blackmailed to steal that coin from the fearsome Dragos Cuelebre (there's your BODN)—so maybe she's not entirely to blame. A dragon's wrath is a scary thing, but owing said dragon a debt for sparing your life (and because you tried to rob him) might be even scarier, and much more exciting.
Firefighter dragon! I mean why not? "Fire cannot kill a dragon" right? (Did you really think this post was going to pass without at least one GoT reference?) Drake Cameron, whose name in no way makes it obvious that he's the dragon shifter in question, is the last of his clan. But when he pulls Bliss Russo from her burning building and she's more interested in flirting with him than in the imminent loss of all her worldly possessions, well, he just might have found a women who can handle being in love with a dragon. At least she's not afraid of fire. This is the second book in Chase's Flirting With Fangs trilogy, each book of which features a different fangy love interest.
EVERY DRAGON WANTS TO RULE THE WORLD
I present to you two dragon shifter romance novels in which dragons live peacefully alongside humans…and one in which they really, really don't.
In the titular novel of Christensen's Never Deal with Dragons series, dragons rule the world. And it's not all bad! Unless you're Myrna Banks who works for a mediation firm trying to make sure humans get recompense for the damages caused by living side by side with dragons. Being one of the few humans who can understand dragonspeak isn't all that great—in particular when it means she gets stuck working with her traitorous ex-lover, Trian. But it's appease the dragon lords or start a war, so what choice does she really have? Mediators really don't get paid enough.
In a more lighthearted look at human/dragon cohabitation, dragons don't rule the world in the first book of Nicholas's Not This series. But they—and a number of other shifter species—do live side by side with humans. Not that either lead in this novel is particularly human. Territorial dragon, and aspiring artist, Eoin Grant is shocked to find another dragon in his city, and even more shocked to discover that Angie Weldon has no idea that she is a dragon. Now Eoin's talking about mates, and Angie mostly just wants to get back to her shifter-oriented back-scratching spa. This dragon guy is a bit intense.
Say it with me: Post-Apocalyptic Dragon Shifter Romance Novels! This is the first in Ruby Dixon's Fireblood Dragon series about a world burnt to cinders years ago. Once again we have a heroine who ends up as dragon bait (which I find more entertaining than maybe I should)! Claudia tweaked the nose of the law that governs survivors, and now that she's been thrown out of their good graces she's going to have to make nice with the other side if she wants to survive. That means taming a dragon. Too bad the dragon that finds her is more interested in mating than taming. I absolutely had to include this one, not only because I love a post-apocalyptic plot but also because I adore Ruby Dixon's strangely blunt, over-the-top style. She is a really talented world-builder and I have no doubt this will be every bit as good as Ice Planet Barbarians.
A HOARD OF OTHER DRAGON SHIFTER ROMANCE Novels
A selection of dragon shifter romance novels that I couldn't squeeze into my other categories but couldn't bear to leave out. There's a little bit of something for everyone here, from an LGBT romance and a fiery ménage, to a dragon in exile in Australia and dragons falling from the sky. Historical, fantasy, and contemporary settings abound!
What's a dragon without his scale? A businessman, apparently. Balthazar Andal long ago lost the dragon scale that allows him to shift into his other form and control his unruly dragon spirit. When archaeologist Eva Haraldssdóttir finds an interesting artifact on a dig in Iceland, she also finds herself with Balthazar's full attention. This is another "what are those strange noises in the basement" novel—an unusual trope I keep coming across that makes me laugh. It's usually attached to novels like this one, in which the heroine doesn't know about the hero's other identity.
This is one of two connected dragon novels lumped under a loose series grouping of "Jade Lee Romantic Fantasies," and make no mistake, Dragonborn is definitely a fantasy romance. Full stop, capital "F" fantasy. In a world in which dragons and their bonded humans have been hunted nearly to extinction, Kiril will stop at nothing to destroy the very last dragon egg. Unfortunately for him, it's a queen egg, and Natiya will do whatever it takes to protect the last dragon, and her one ticket out of poverty and obscurity. (Also? So much love for this retro-fantasy cover. So much.)
Smolder by Penelope Fletcher
The hero is actually a dragon when he meets the heroine! It's adorable. He's a grumpy dragon, and kind of an asshole. But he's also been badly wounded, so even though he rather freaks her out Marina is determined to save his life. Things get a bit wild though when a bunch of other dragons show up to finish what they started, and Marina finds herself plunged into a new, miraculous, and dangerous world. (I assume that at some point Marina's dragon becomes a more man-shaped, not-an-actual-dragon…but no promises.)
This time it's the heroine who is the dragon shifter, hiding deep in the abandoned tunnels of Manhattan. Lyssa's family was murdered over a decade ago, and those responsible will hunt Lyssa until they have destroyed her as well. Former car thief and pyrokinetic, Eddie works for the Dirk & Steele Agency (Within the Flames is the 11th novel in the Dirk & Steele series) and his newest assignment is to rescue Lyssa before she can be found, and her kind wiped out for good.
Dragon Down Under makes a very good point about dragon shifters that I'd never considered before: how the heck do they survive in freaking Scotland?! Kaden knows better. When he gets exiled to the human realm he heads straight for the driest, hottest, and emptiest place he can find. Thankfully, Terrie Holbrook is looking to sell her family's cattle station in the far (VERY far) north of Australia, before a greedy mining company can get their hands on it. It's a win-win for both of them. But as Terrie and Kaden deal with the attraction blazing between them, events take a dangerous turn.
This one I am really excited about. Set in the 18th century, the first book in Abé's Drakon series is one of the few historicals I was able to find. It also features the return of the "steal from the dragon" trope! Jewel thief and drákon halfling Clarissa "Rue" Hawthorne has been plucking jewels from under the noses of the London elite with ease. Too bad Christoff, Marquess of Langford and the alpha of the drákon, has come to put an end to her fun and ensnare his fated mate. He dangles a sparkly bit of bait she can't refuse and Rue finds herself at his mercy when she gets caught with her hand in the jewelry box.
What would a list of dragon shifter romance novels be without at least one ménage romance? Two dragons are always better than one! Unless you're Jasmine who has already been sacrificed to the dragons once and is on the run. She takes shelter with the super sexy Kylan and his partner Dillon, only to find herself once again in the hands of dragons. And these two have something far less deadly than sacrifice on their minds.
Gena Showalter is something of a Paranormal Romance queen, and given her diverse backlist I was hardly surprised to see her turn up in my search for dragon shifter romance novels. The first book of her Atlantis series drops heroine Grace Carlyle deep in the jungle, searching for her missing brother. What she finds is something else entirely. Atlantis, land of legend, and home to mythical creatures of all shapes and sizes. Including Darius en Kragin, the dragon tasked with guarding Atlantis and killing anyone who finds their way there. He can't seem to make himself kill Grace, though…
The dragon hero in this one? He hoards knowledge! By which I mean that Philbert "Bertie" Jones is a history nerd who has piled his house so high with books and historical bric-a-brac that he now needs an assistant to keep it all straight. Enter Arthur MacArthur (did you laugh at his name? It's okay, so did I) who needs a job to support himself and his younger sister, and whose dreams of someday becoming an archivist mean that he's almost as excited about the dragon's hoard as the dragon himself. Trouble sparks when Arthur realizes that not only is he attracted to Bertie, but Bertie seems more than willing to add Arthur to his collection of treasures.
Whew! Okay.
Take a break. Get a drink. It's getting a bit warm in here with all these dragons, yes? And remember, this list represents only a small portion of a vast treasure trove of dragon shifter romance novels available for your delectation and delight!**
If this is all a bit much, and you're thinking "Jessica, I just can't. People raising dragon eggs in their navels? All this fire breathing? Your excruciatingly lame dragon jokes?"—it's okay! If dragons aren't your thing, maybe you're more of a cuddly bear shifter kind of reader. Or maybe you dig Fated Mates but not the risk of third degree burns on your sensitive bits if your partner hiccups!
You can also check out these great lists:
**Book Riot is not responsible for any ereader fires resulting from excessive consumption of dragon shifter romance novels.