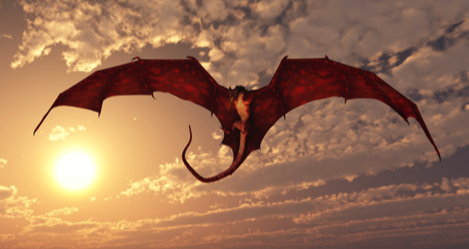 This content contains affiliate links. When you buy through these links, we may earn an affiliate commission.
Remember that other post about fantasy series? This is going to be more specific for you all! It's all about the dragons today: dragons as main characters, dragons featured in the whole series, etc. They don't have to be the protagonists, but they have to be in the story throughout the whole series (as companions, evil creatures, shifter love interests, etc.) so this was quite hard to find. We know about The Hobbit and Game of Thrones, so I wanted to shine a light on dragon book series specifically.
Most fantasy series you pick up come with creatures and monsters. They include sort of a level of out-of-this-world type of wonder. They can also be some sort of dangerous enemies, and more. Dragons can appear in this genre but not all the time. This was a hard list because not a lot of fantasy book series include dragons or feature them as main characters. Or if they are featured, they aren't featured in the entire series, just a plot for the first book maybe! So it didn't work for this list in that way.
What I also came to realize while writing this post is that we don't have a lot of fantasy dragon series featuring people of color or written by people of color, which, you know…sucks big time.
This list is categorized with young adult dragon series and adult dragon series. Inside these two categories you'll find each book series categorized as well, into still-running series and completed series, so you can choose which ones to start or just wait for them to be completed so you can read them all in one go!
Adult Dragon Book Series
Start with: Sorcerer to the Crown
Finished? No. The True Queen, book #2, comes out 2019.
Such an acclaimed novel, Sorcerer to the Crown mixes magic and the British elite inside its pages. It tells the story of Zacharias, magician and Sorcerer Royal of the Unnatural Philosophers and how he met a woman with inmense power. Their meeting will alter the threads of the world…
Dragons in Regency England. What more could you ask for?
2. Heartstone series by Elle Katharine White
Start with: Heartstone
Finished? No. An untitled book #3 is scheduled for 2019.
I have talked about this series a lot I can feel it. But it's basically Pride and Prejudice with dragons? An historical fantasy series that takes on the classical Pride and Prejudice and gives it a little twist: they ride dragons!
Start with: The Invisible Library
Finished? No. The author announced there will more books to come. It currently has five books out.
Spy librarians, I tell you. The Invisible Library is a fascinating story that holds at the center a library that takes you to different realities. Irene is one of its librarians, and with her assistant Kai, they both go on this adventure to retrieve a dangerous book.
Start with: Cast in Shadow
Finished? No, but there are over 14 books out right now.
Kaylin has been running from her past. Seven years ago she escaped the crime-riddled streets of her childhood. But now she has been ordered back to find out who is killing these children with the same pattern that appeared seven years ago. By her side? A Dragon lord who she knows she can't trust.
Start with: His Majesty's Dragon
Finished? Yes.
From the Goodreads synopsis: "Aerial combat brings a thrilling new dimension to the Napoleonic Wars as valiant warriors ride mighty fighting dragons, bred for size or speed. When HMS Reliant captures a French frigate and seizes the precious cargo, an unhatched dragon egg, fate sweeps Captain Will Laurence from his seafaring life into an uncertain future – and an unexpected kinship with a most extraordinary creature."
Start with: Dead Sexy Dragon
Finished? The author has said she has plans for more books, but currently there are only four out.
Stig is a dragon shifter and he is currently on his mating phase. Fate will bring him his dead friend's kid sister to his doorstep at the exact moment he is entering the phase. But she has nowhere to go and she needs help. Both will try their hardest to not succumb to the attraction that is obviously between them.
Start with: The Second Mango
Finished? As far as I know, yes.
A Jewish inspired fantasy series, the Mangoverse has all the things you are searching for: female friendship, a Queen who loves women, her bodyguard and her dragon companion and so much humor.
Start with: Dragon Bound
Finished? As far as I know, yes. Nothing has been announced for upcoming releases.
Pia, a half-human and half-Wyr, has been blackmailed to steal a coin from the hoard of a dragon. She then is caught by the most feared and respected of the Wyrkind, Dragos, but he spares her life, claiming her as his own.
Start with: A Natural History of Dragons
Finished? Yes.
From the Goodreads synopsis: "All the world, from Scirland to the farthest reaches of Eriga, know Isabella, Lady Trent, to be the world's preeminent dragon naturalist. She is the remarkable woman who brought the study of dragons out of the misty shadows of myth and misunderstanding into the clear light of modern science. But before she became the illustrious figure we know today, there was a bookish young woman whose passion for learning, natural history, and, yes, dragons defied the stifling conventions of her day."
Start with: Of Cinder and Bone
Finished? No.
Imagine Jurassic Park but with dragons.
After dragons were hunted to extinction, Dr. Jack and Dr. Kamala resurrect the first dragon anyone has seen alive since the 15th century. The only problem? Someone has stolen it. Caught between two clans who want to clone the dragon, these two characters will have to race against time to get their dangerous creature.
11. Dragonborn duology by Jade Lee
Start with: Dragonborn
Finished? Yes.
Two epic love stories starring dragon shifters. In Dragonborn, we find ourselves with a dragon hunter chasing the woman who carries the last golden dragon egg. He has promised to erase the dragonkind, but he did not foresee love.
Young Adult Dragon Book Series
Start with: Prophecy
Finished? Yes.
Filled with dragons, demons and magic, Prophecy is the start of Kira's journey to save her kingdom. She's the greatest warrior in all the Seven Kingdoms, but she's feared and hated in her own village. After treason, Kira is on the run with the young prince to find out if he truly is the one written in the prophecy.
Start with: Xiao Xiao and the Dragon Pearl
Finished? Yes.
Xiao Xiao is the daughter of an imperial courtesan. What happens when her mother adopts a baby? This lovely story features a dragon, some magic, traditions, and a fantastical historical Qing China.
Start with: The Girl at Midnight
Finished? Yes.
The Avicen, bird-like people, have been fighting the Drakharin, dragon-like people, for a while now. In the middle of it all lies Echo, a pickpocket who survives the streets by selling stolen treasures in the black market. But when her family is threaten, she takes action: legend says that if you find the firebird, this mythical entity, the conflict will end once and for all.
Start with: Tess of the Road
Finished? No.
Rachel Hartman is gracing us with a new duology set in her fascinating world from Seraphina. She introduces a new character, Tess, who is a troublemaker. She sets out into the wild world after upsetting her family and finds friends (dragons!!) along the way.
---
Which dragon book series did I miss? Share your favorites in the comments!