Educational
15 of the Best Dictionary Apps for Your Every Nerdy Need
Languages are hard. As soon as you think you've mastered one grammar rule, a dozen exceptions pop up. When you think you've learned the definition of a word, you find out it has seven other connotations. Luckily, there are plenty of superb dictionary apps that are here to help. (And there's no shortage of word game apps to keep you entertained, too!)
We've compiled fifteen of the best dictionary apps so you can brush up on your vocabulary on the go. Whether you're learning English as a foreign language or a native speaker looking to impress your friends with the latest jargon, we've got the perfect app for you.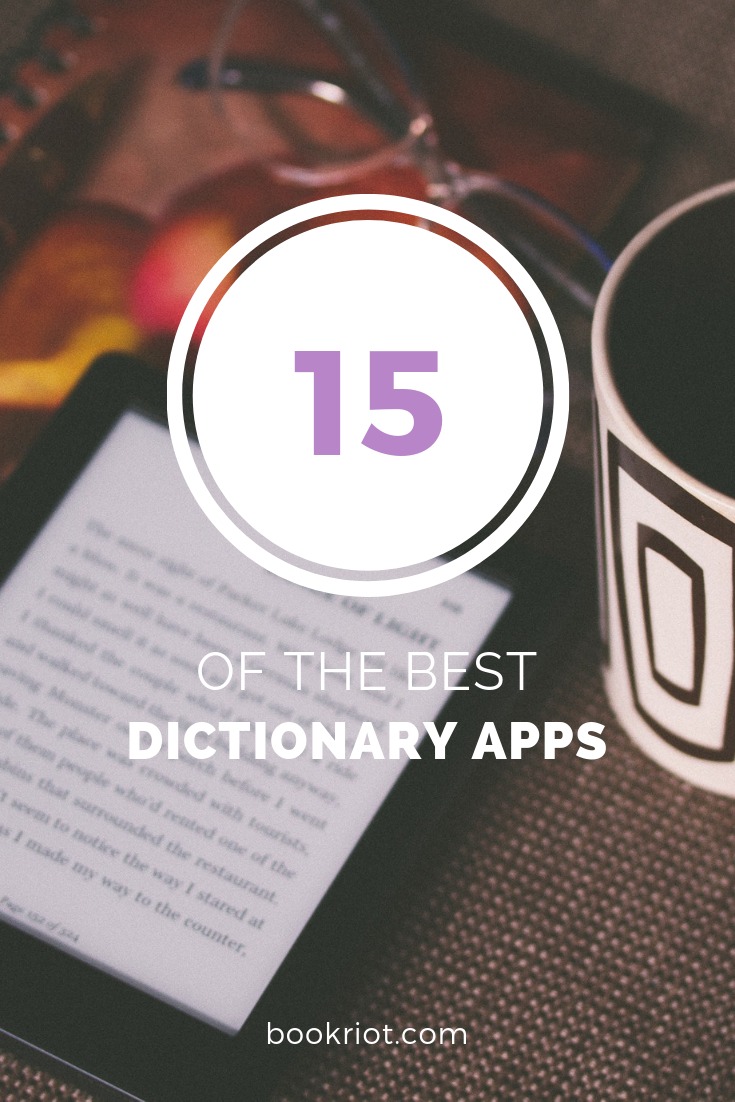 1. Wordreference Dictionary
Type: English, multilingual
Price: Free
Why you'll love it: This is one of my favourite apps ever as a language student. If you're learning a foreign language, WordReference—with its whopping 18 languages—is truly the holy grail of free dictionaries. Not only does it provide translations, it also offers definitions in the target language and helps you navigate those tricky conjugations. It also boasts several non-English language combinations, so you're bound to find a dictionary that suits your needs.
2. Merriam-Webster
Type: English
Price: Free, with in-app purchases
Why you'll love it: Merriam-Webster is perhaps one of the best known dictionaries in the English-speaking world, having been founded in 1828. Almost 200 years on, the team has kept up-to-date, especially with the voice search option. Now, you can look for a word just by saying it, even if you can't quite spell it. Plus, the app has bonus features like Word of the Day and quizzes to help build your vocabulary.
3. Nglish
Type: Spanish, English
Devices: Android
Price: Free, with in-app purchases
Why you'll love it: Remember when you said you'd definitely learn Spanish this year? Well, Nglish is definitely an app to add to your arsenal. You can take personalised quizzes that save your errors so you can review them later and brush up with daily words and phrases. It's also a perfect app for Spanish-speakers looking to build on their English skills! With its advanced tools, you can prepare for proficiency exams like TOEFL and TOEIC.
4. Kids Picture Dictionary
Type: Kids
Price: Free, with in-app purchases
Why you'll love it: If your tiny tot is starting to move beyond 'mama' and 'dada', this is a great app to build their vocabulary. There are more than enough vivid pictures to capture and keep your child's attention, and the wide range in words allows siblings to learn together. To top it all off, kids can have some extra fun by recording their own pronunciation guides.
5. Urban Dictionary
Type: Slang
Price: Free
Why you'll love it: We all like to think we're hip, cool and modern, but nobody can always keep up with the evolution of languages. Urban Dictionary now offers an app version of their popular website so you can freshen up your slang on the go. It's also a vital tool for anyone learning English as a foreign language, since sometimes words don't mean what we think they mean.
6. BBC Learning English
Type: English as foreign language
Price: Free
Why you'll love it: The BBC Learning English website is brimming with resources for every level of English, and now it's available in app form. The programmes vary widely, so whether you want to brush up on business English or improve whilst keeping up with the news, this app has you covered. As a bonus, there are even some lessons that appear on the app before the website.
7. Arabic English Translator, Dictionary & Learning
Type: Arabic, English
Devices: Android
Price: Free, with in-app purchases
Why you'll love it: Gone are the days of flipping through the giant encyclopaedias on your gran's shelf, but Encyclaepedia Brittanica continues to educate. Aside from their depository of general knowledge, the company have teamed up with Merrriam-Webster to create this reliable dictionary that translates from Arabic to English and vice versa. You can translate full texts and learn from themed quizzes, all while knowing the app is constantly updated with the latest jargon.
8. Scrabble Dictionary
Type: English
Price: $4.99
Why you'll love it: Look, we've all gotten a litte too heated during a game of Scrabble, because that is definitely not a word. Or is it? You'll be able to double check whether a word is accepted in the game with the official Scrabble Dictionary. It's been approved by Hasbro and endorsed by the North American Scrabble Players Association, so you know you're in good hands.
9. Giant Picture Dictionary
Type: Kids
Devices: iOS | Android | Windows
Price: Free, with in-app purchases
Why you'll love it: It's a children's dictionary with giant pictures, just like it says on the tin. Kids can easily navigate this dictionary that contains more than 1800 words. They can learn to take initiative with the simple search function. That said, the free version only includes words up to F, so if you'll have to pay for the full experience.
10. Chinese English Dictionary & Translator Free
Type: Chinese, English
Devices: Android
Price: Free, with in-app purchases
Why you'll love it: This app is most notable for its use of Traditional Chinese rather than Simplified Chinese. A lot of Chinese-language content is in Simplified because it's far more widespread, which can leave users of Traditional Chinese at a bit of a loss. So if you're, say, Taiwanese and looking to improve your English vocabulary, this is a solid choice that'll save you the extra step of translating from Simplified to Traditional. It includes both Mandarin and Cantonese.
11. SAT Word Slam
Type: Test prep
Devices: Android
Price: Free, with in-app purchases
Why you'll love it: Back when I took the SAT in the olden days, I had to lug around giant test prep books. But now, you can sharpen your skills with this app specifically geared towards people taking the SAT. It offers catchy examples to help you remember tricky words, complete with the best puns you could ever think of. While the app probably won't banish your stress dreams entirely, this will definitely alleviate them somewhat. The website has an iOS button, but the iTunes Store tells us that the app isn't available.
12. Dictionary Linguee
Type: English, multilingual
Price: Free
Why you'll love it: Translating is always tricky. You have to take into account both lingustic and cultural differences, and often there's no complete equivalent. But with over 400 lexicographers and professional speakers on the team, this app is as reliable as they go. Bonus points for the super clean, streamlined look, of course!
13. English Persian Dictionary – Dict Box
Type: Persian, English
Price: Free, with in-app purchases
Why you'll love it: Looking through page after page of multilingual dictionaries, you'll find that there aren't that many options outside of the few most common languages. Luckily, whether you're an English-speaker learning Farsi or the other way around, this app is a dependable choice. It offers definitions in both languages, translates text in other apps, and even has a picture dictionary for more visual learners.
14. GRE Vocabulary Builder – Test Prep
Type: Test prep
Price: Free
Why you'll love it: Different tests have different requirements, and sometimes general dictionaries just don't cut it. This app from Magoosh is tailored for all your GRE needs. The vocabulary is broken up into sections, and you can unlock more advanced words as you beat each level like a video game. Despite its name, this app also prepares you for the SAT and TOEFL.
15. Legal Dictionary – Law Definitions and Thesaurus
Type: Legal
Price: Free
Why you'll love it: Adulting can be a massive headache, which certainly isn't helped by the legal jargon you may come across. So here's an app that helps break down those obscure words and opaque definitions, clearing up any confusion so you can make time for other pesky errands. Alternatively, it's a great way to boost your legal knowledge for some sophisticated small talk over hors d'oeuvres.
---
Share your favorite dictionary apps in the comments! Looking to fulfill your inner dictionary nerd even more? Then definitely check out this episode of Annotated, where Rebecca and Jeff break down the details of the Dictionary War (yes, you read that right).