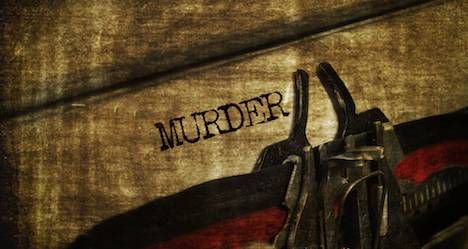 This list of some of the best crime series is sponsored by Mulholland Books.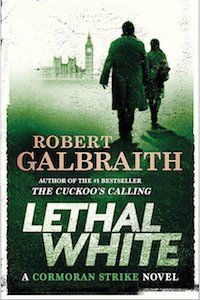 When Billy, a troubled young man, comes to private eye Cormoran Strike's office to ask for his help investigating a crime he thinks he witnessed as a child, Strike is left deeply unsettled. Trying to get to the bottom of the story, Strike and Robin Ellacott—once his assistant, now a partner in the agency—set off on a twisting trail that leads them through the backstreets of London, into a secretive inner sanctum within Parliament, and to a beautiful but sinister manor house deep in the countryside.
---
Sometimes you're not in the mood for a standalone book but rather are looking for a crime series to marathon. Or something to return to with familiar setting, characters, and writing. For those times I've got a list of best crime series for you!
For Noir Fans!
Follow Her Home (Juniper Song #1) by Steph Cha
Cha has created a fantastic character with Juniper Song! Song is a a mid-twenties Korean-American with a fixation on Philip Marlowe. She is broken from the past but relentless and views the world as it is, with a bit of a dark stain. She starts the series off just helping a friend look into whether his father is having an affair but works her way up to PI in the third book. An excellent modern noir where each book gets better than the last.
A Fantastic PI Series!
IQ (IQ #1) by Joe Ide
Ide has brought to life East Long Beach, an ethnically diverse community, by creating layered characters with backstories where no one is necessarily all good, but everyone is human. Isaiah Quintabe, aka IQ, uses his deductions skills to help solve cases around his neighborhood and takes payment in the form of anything they can pay. But when he has to take cases to pay his bills he usually ends up in seriously dangerous situations and begrudgingly drags his friend Dodson along. And, yes, Dodson does rhyme with Watson. If you're a fan of modern PIs this is a series not to miss.
Excellent Police Procedural Series!

In the Woods (Dublin Murder Squad #1) by Tana French
These are the kind of mystery novels where you sink into the story and characters' lives. The writing is just *chef's kiss*. And technically you can read them in any order you like because while they're all part of a series they're mostly held together by the same squad but follows a different character each time. If you've yet to discover French I can't recommend her writing enough, especially if you love Irish crime fiction. And there's 6 books published so far, so not a too-fast marathon nor an overwhelming number of books to try and tackle. Win-win!
Another Excellent Police Procedural Series (Told You These Were BEST!)
The Unquiet Dead (Rachel Getty & Esa Khattak #1) by Ausma Zehanat Khan
The police department in this series is set in Ontario, Canada, but the series tackles mysteries and social topics that travel us around the world and it's just my favorite thing about the series. Following two detectives, Khattak being Getty's boss, Khan tackles complex topics brilliantly without ever flattening or reducing the issues or characters. As her main characters lives evolve, they take on mysteries tied to the Bosnian War, terrorism, and Syrian refugees in Greece. If you've already read all of Tana French, I recommend you pickup Khan next.
Great Character Driven Crime Series!
The Missing File (Avraham Avraham Series) by D.A. Mishani
This is a unique series in that there really aren't many crime novels coming from Israel—something discussed by the fictional character in the book. Inspector Avraham Avraham also takes issues with fictional detectives since he thinks they get the wrong person. The series focuses on Avraham, and on the victims/suspects, so it's perfect for fans of character driven crime that explores human nature and behavior.
Delightful Historical Mystery Series!
A Curious Beginning (Veronica Speedwell, #1) by Deanna Raybourn
This series hits the spot for my love of historical feminist mysteries (1800s London) while also being fun and funny. It's wildly entertaining and I adore Speedwell who is a lepidopterist: a person who studies and collects butterflies. In between her studying the flying beauties she's usually very busy trying to solve a murder with Stoker Templeton-Vane, a grumpy historian. And the sexual tension is so perfectly delicious you can cut it with a knife!
Delightful Graphic Novel Series For Nancy Drew Fans!
Goldie Vance Vol. 1 (Goldie Vance #1-4) by Hope Larson, Brittney Williams
Goldie Vance is a teen working as a valet in a Florida beach resort that has an in house detective. Of course she wants to be the detective! Her dad also works at the hotel and is always trying to reign her in, and her mom is a performing mermaid; I'm telling you, this comic is delightful and perfect. From racing "borrowed" cars to solving mysteries in the ocean, I will follow Goldie anywhere on a mystery adventure! And the artwork is perfectly retro.
For A Super Marathon Session!
A is for Alibi (Kinsey Millhone, #1) by Sue Grafton
There are 25 books in this Alphabet murder mystery series because each book is a letter of the alphabet—except for Z because Sue Grafton passed away after Y was published. The series takes you back to the '80s, when it was started, and follows Kinsey Millhone: a twice divorced, childless ex-cop turned California PI. She's mouthy, a great liar, very observant, and a great character to follow through the years—especially if you're looking for those comfort reads that are good mysteries from beginning to end.