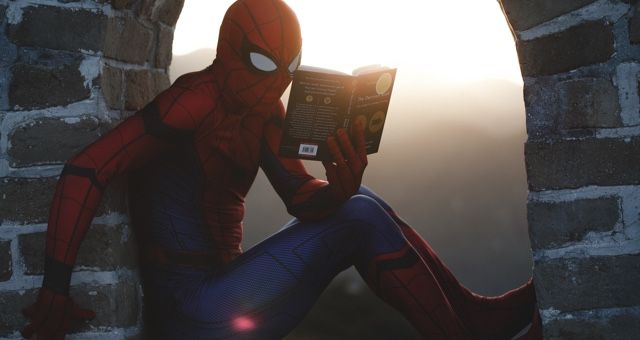 This content contains affiliate links. When you buy through these links, we may earn an affiliate commission.
We asked our contributors to share the best comic book, graphic novel, or webcomic that they read from July to September, and it made a great list ready to meet your TBR! There is detective noir meets superhero and detective noir meets fantasy, food, adventure, memoir, a vampire cult and more!
Abbott by Saladin Ahmed, Illustrated by Sami Kivelä, Colorist Jason Wordie
This gorgeous, sepia-toned graphic novel combines so many things I love. In early 1970s Detroit, tough-as-nails journalist Elena Abbott refuses to back off reporting stories of police brutality and grisly crimes ignored by the authorities. Two of Abbott's old flames help provide the supporting cast—a male cop and a female mobster—as she works to follow a trail of familiar crimes and hunt down the dark forces that killed her husband, battling sexism and racism on the way. A fun, dark, and gorgeous series. I look forward to seeing what happens next.
—Leah Rachel von Essen
The Adventure Zone is the podcast version of comfort food for me, and the second volume in its graphic novelization of the Balance arc did not disappoint. I was impressed by how naturally the McElroys' humor translated into comic form and loved seeing the official character designs as well as the fan art included in the back of the book. Plus, who doesn't love a good trainside murder-mystery? If you're a fan of Dungeons & Dragons, fantasy podcasts, or stories with equal amounts of humor and heart, I highly recommend picking this one up.

—Andy Winder
The Black Ghost by Monica Gallagher, Alex Segura, George Kambadais
Detective noir starring a reporter meets superhero comics = a big fat YAY to this new comic. The first issue is fun, smart, darkish, and introduced a new character, reporter Lara Dominguez, which I'm equally intrigued by and rooting for. I look forward to all the avenues the story and characters have to explore.
—Jamie Canavés
This graphic novel—about a debutante desperate for adventure, a narcissistic poet, and a bounty hunter who team up against a vampire cult—was random and ridiculous in the best possible way. I loved how McGovern poked fun at romantic tropes and gender stereotypes, letting the story spin out with a dry sense of humor that had me snort-laughing on every page.

—Steph Auteri
Food Wars! is about a teenaged boy named Soma who has grown up cooking with his father at their small family restaurant. Out of the blue, Soma's father enrolls Soma at the prestigious culinary school, Totsuki Institute. At first Soma is dumbfounded—he can't imagine what cooking school could teach him that he hasn't already learned or could learn at his family's restaurant. Very quickly Soma discovers that he has much to learn and he finds other students who are as passionate about cooking as he is.
I can't underscore how much I love this series. In 2016 I read a manga for the first time. I very much enjoyed it, but it didn't compel me to pick up another one right away. Then I discovered Food Wars! and have been steadily working my way through the 30+ volumes ever since (I am currently on volume 15). Soma is the kind of kid who doesn't know what it means to give up. For him every loss, and even every win, is a learning opportunity. He is confident and cocky but in the best way possible. He is friendly and helpful towards fellow students, even as they are threatening to throttle him. And most of all, there is the food. How the food looks, tastes, smells, and feels is vividly described in words and pictures. The story also captures how a food can make a person feel—how it can take you back to your mother's kitchen or a picnic with your first love. Bonus, there are recipes in some of the books!

—Tiffani Willis
Author and illustrator Maia Kobabe is a graduate of the Comics MFA program at California College of the Arts and uses e/em/eir pronouns. This is a really terrific graphic memoir about Maia's own journey coming to understand and articulate what it means to be a nonbinary and asexual person. It's a very candid, honest, sensitive book and would be helpful for anyone who wants to learn more about gender identity and sexuality. I have a nonbinary child myself and so many of Maia's thoughts and feelings echo the comments I've heard from my own kid. I've already passed the book onto them and cannot wait to discuss it together.
—Heather Bottoms
The House by Paco Roca (Fantagraphics, Nov 9, 2019)
The House is a really beautiful graphic novel that follows three adult siblings who return to their family's old vacation house after their father's death in order to get it ready to sell. As they work on the house, they are each visited by memories of working on it with their father as kids, both good and bad. It is a moving exploration of family dynamics in the face of loss, and of the importance of place. Roca's illustrations, particularly in the way the characters' memories are visualized and seamlessly woven into the story, bring it to a whole other level and make The House the gorgeous piece of art that it is.
—Patricia Thang
Morimoto is perfectly happy with her life as a young professional, living in urban Japan, with nothing to tie her down. Her parents, however, think it's time for her to settle down with a nice boy. Her best friend from college, a bit down on her luck, had a solution that will suit both Morimoto and herself: a sham same-sex marriage that will allow her to live with Morimoto and Morimoto to convince her parents to stop trying to run her life.
Of course, Morimoto finds herself unexpectedly falling in love with the friend who once had a crush on her. What happens next? Well, you'll just have to read I Married My Best Friend to Shut My Parents Up to find out.
—S.W. Sondheimer
Wylesol has basically invented a new language of comics here. Internet Crusader takes all the detritus of '90s Internet—the pop-up ads, the arcane chatrooms, the mystifying chain emails—and uses this visual clutter to tell a story of teenage dirtbags getting sucked into something big. You have to train yourself to read this narrative, because that clutter is either delightful or the means of telling the story, or both. The book ends a bit abruptly, but it's a fun ride.
—Christine Ro
Mooncakes by Suzanne Walker and Wendy Xu (Lion Forge, October 15, 2019)
This adorable, sapphic, supernatural graphic novel is perfect for fall. It's got reunited childhood best friends, werewolves and witches, a coffee shop/magic books store, and, of course, mooncakes. It's sweet with just a dash of spooky, and I can't recommend it enough.
—Rachel Brittain
I only recently started reading comics and was recommended this series because I generally love sci-fi. The space opera focuses on the struggles of two warring races and a family torn apart in an interplanetary war. As a disclaimer, I don't really enjoy stories about children, but I really loved the daughter and her interaction with her parents. It's that touching and hilarious. Those with families will love it. Saga: Compendium One contains the entire first half of the Saga series—the second half will come out after Vaughan and Staples finish their hiatus. I almost wish I had waited until the end of the hiatus is announced before reading the first half of the series.
—Linh Anh Cat
Spider-Gwen: Ghost-Spider, Vol 1: Spider-Geddon by Seanan Macguire, Rosi Kampe, Takeshi Miyazawa, Alti Firmansyah, Ian Herring and Andres Mossa
Gwen Stacy is just a high school girl who wants to eat a burger and play in her band. Spider-Woman is a super-shero in an elusive hooded spider suit that saves her friends. To be honest, I fell in love with Ghost-Spider (her new chosen alias) because of her costume. It's badass that she can fly, fight and beat up bad guys without showing off her feminine curves. Another bonus is that Spider-Ham is featured in this comic, who I also fell in love with after watching Into the Spider-Verse. Black Panther and Captain Marvel got me into Marvel movies, but Gwen Stacy got me into comics. I can't wait to read the latest sequel in the series, Spider-Gwen: Ghost-Spider, Vol 1: The Impossible Year.
—Shireen Hakim
I smiled so hard while reading this book. I did not have friends like Moon or Christine in middle school, or a good experience at all during those years, yet I felt nostalgic while reading. It's what I would like to imagine middle school is like for most children, and it let me remember my inner child. Moon and Christine are both Chinese immigrants but are very different. They become best friends when Moon and her mother move into Christine's rented guest house. This is a sweet, fast read, great for middle schoolers or adults. Jen Wang's graphic novels always make me feel so happy.
—Margaret Kingsbury
---
Here's to finding your next favorite comic read! Come tell us your favorite recent comic book, graphic novel, or webcomic read on Twitter and Facebook.