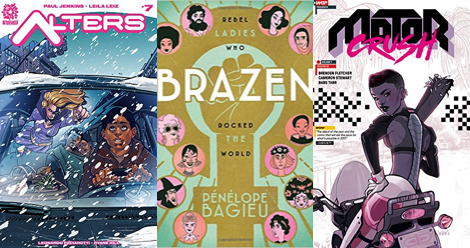 This content contains affiliate links. When you buy through these links, we may earn an affiliate commission.
Here's the best comics we were loving in November!
Brazen by Pénélope Bagieu
When this book floated into my consciousness, I saw "graphic novelist" and I saw "rebel ladies who rocked the world" and I raised my hand and I said, "Me me me me me!" This book doesn't come out until March of next year, but I'm excited for you to see it because you're going to meet so many amazing ladies you've probably never even heard of before.
—Steph Auteri
Alters #7 by Paul Jenkins and Leila Leiz
This book blows me away every time I pick it up. Jenkins continues to write compassionately and intelligently about sometimes fraught and emotional subjects, including: gender transition, homelessness, being the "other," and the darker side of superheroics (one of the powered individuals, for example, was injured during a fight and now has to decide if he's going to remain quadriplegic and live a long life or shapeshift and have a month of full mobility that will end in his death) while Leiz's art is equally as honest and deep. The through story is both mysterious and engaging and integrates social commentary deftly and seamlessly. Kudos to Aftershock for running with this one and for gifting us with it.
—S.W. Sondheimer
Motor Crush Vol. 1 by Brenden Fletcher, Cameron Stewart, Aditya Bidikar, and Babs Tarr
I picked this one up because it looked like a fun sci-fi/action comic featuring a badass female lead—I was not mistaken, but oh boy did I get so much more than that! We're talking illegal motorcycle races, constant reality show–like surveillance from "the Producers" who run things, strange tech-enhancing drugs, and queer girls who drive/fix motorcycles, not to mention there are some heavy robot/cyborg implications! If that hasn't already convinced you, consider this: it's basically The Fast and the Furious meets Orphan Black (maybe, it's still pretty early but I'm getting that secret/dangerous past kind of vibe), but with less cloning/genetic manipulation and a lot more motorcycles. Basically, it's just a great action-y sci-fi read and so much fun from start to finish.
—Rachel Brittain
I wrote about Building Stories as soon as I finished it, because I needed as many ways to digest it as possible. When it comes to digestion, Building Stories is a massive Thanksgiving feast of a reading experience, whose many components are barely contained in their oversized box. I mean, even the box itself is a part of the "book." Ware is pushing the boundaries of what a comic is, with a sprawling work that takes on loneliness, disability, relationships, and talking bees, but doesn't dictate how the work should be read. It's occasionally frustrating but always impressive.
—Christine Ro
Paper Girls, Vol. 1 by Brian K. Vaughan, Cliff Chiang, and Matthew Wilson
I'd heard positive word-of-mouth about this story. Several newspaper delivery girls, who get harassed by their male counterparts and grouchy customers, find trouble when everyone in their neighborhood disappears on Halloween. It's a clever bait-and-switch, making us think monsters are afoot. Instead, we encounter aliens and time travelers. The only adults that appear wear strange clothing and wear guns—guns aimed at the girls. They have to figure out why time travel is involved, and what happened to their families.
—Priya Sridhar
Saga, Vol. 6 by Brian K. Vaughan and Fiona Staples
I've been sloooooowly making my way through this series because I never want to catch up and have to desperately wait for the next volume or issue. It just never disappoints, from the characters, to the humor, to the gorgeous art—it is literally everything plus the kitchen sink stuffed into a comic in the most perfect way. Now to keep staring at Vol 7 while forcing myself to pace myself!
—Jamie Canaves
The Unstoppable Wasp, Vol. 1 by Jeremy Whitley, Elsa Charretier, Megan Wilson, and Joe Caramagna
Oh Marvel, what are we going to do with you? Add Unstoppable Wasp to the long, long list of delightful books canceled before they had time to find their market (in this case, 8 issues). Knowing the series had already been canceled, I'd put off reading the issues on Marvel Unlimited until now to stave off heartbreak. Five issues of joyful science and friendship later, I'm mourning this bright, funny book, its diverse cast of teenage girl scientists, its stunning, stylish art, and its utterly charming heroine. I'm looking forward to savoring the last three issues, and gifting the first trade to about half a dozen people on my holiday shopping list. (And hey, Marvel? STOP CANCELING BOOKS SO FAST.)
—Jess Plummer
What were the best comics you read in November?