This content contains affiliate links. When you buy through these links, we may earn an affiliate commission.
Here's what we were loving in August!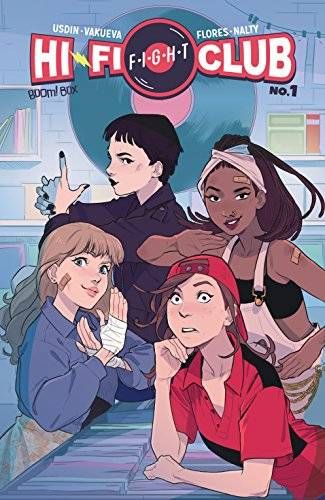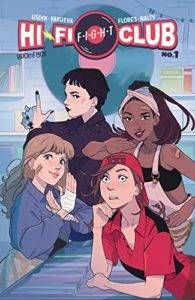 Hi-Fi Fight Club #1 by Carly Usdin, Nina Vakueva, Irene Flores, Rebecca Nalty, and Jim Campbell
I'd been waiting with bated breath for this comic ever since it was first announced. It was compared to Empire Records, one of my favorite movies growing up and, well, that's all I needed to know. About a teen girl working her dream job with unspeakably cool coworkers at a local record shop that's actually a front for a secret teen girl vigilante fight club (whew!), this comic was so much fun, and I instantly fell in love. Bonus points for the nostalgia! I felt like I was back in high school again. But in a good way.
-Steph Auteri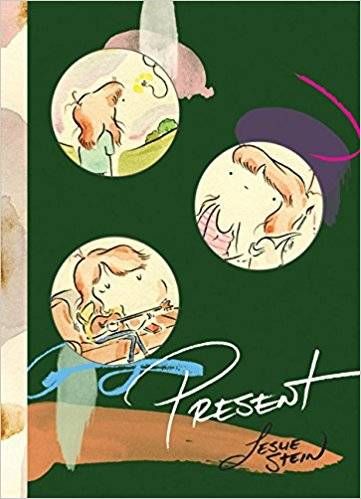 Present by Leslie Stein
This graphic memoir from Drawn + Quarterly comes out in October, and it's just beautiful. The art and writing are colorful commentaries on Stein's life stories, and she manages to evoke waves of emotion from a somewhat minimalist style. The watercolor art is dreamy and vivid, a perfect complement to her insightful text.
-Jaime Herndon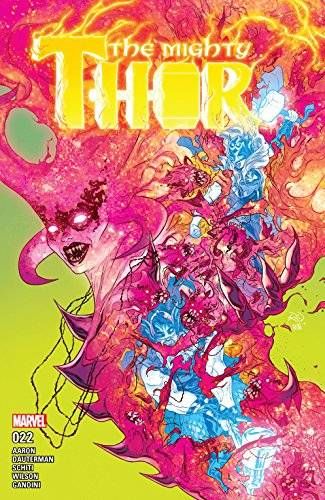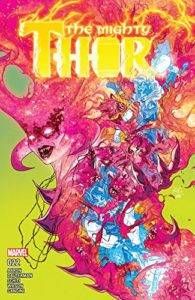 The Mighty Thor #22 by Jason Aaron, Russell Dauterman, Valerio Schiti, Matthew Wilson, and Veronica Gandini
War Thor vs. Jane Thor! If it sounds a bit like the Doctor Who 50th anniversary special, well, unlike the gathering of Doctors this meeting of thunder gods isn't at all friendly. The being formerly known as Volstag wants revenge for the deaths of innocents who were murdered on his watch, while Jane is desperate to protect the innocents who still live. The violence of the tale is in sharp contrast to the beauty of the book's art, making both all the more affecting for the juxtaposition. A stand-out issue in Aaron's consistently stellar run on The Mighty Thor.
-S.W. Sondheimer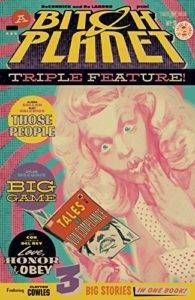 Bitch Planet: Triple Feature! #3 By Kelly DeConnick, Valentine De Landro, Alissa Sallah, Alec Valerius, Dylan Meconis, Kit Cox, Vanesa R. Del Rey, and Clayton Cowles
I love the triple features. I hate the triple features. This is the third Bitch Planet triple feature that has come out while DeConnick and De Landro get caught up on the main story line. As with the other triple features, it includes three stories that take place in the Bitch Planet universe from different creators. They are well-crafted and very difficult to read in the current political climate. Where Bitch Planet proper offers hope, the triple features are vignettes of the world where Bitch Planet exists. The hope that I usually cling to is not here in these stories and it is emotionally hard, but worth the read.
-Patricia Elzie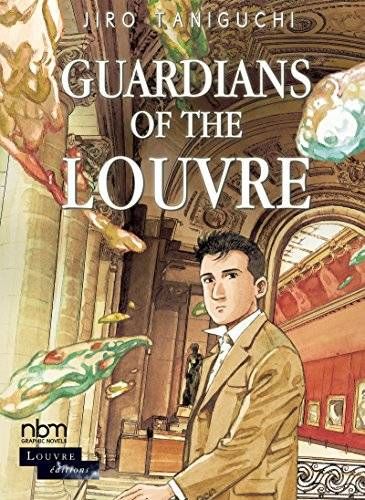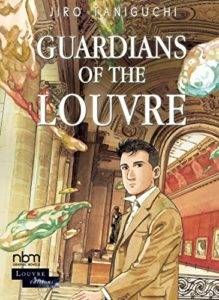 Guardians of the Louvre by Jiro Taniguchi
Back in 2013, the Louvre commissioned several respected comics creators to create comics inspired by the museum's legendary collection, and Japanese master Jiro Taniguchi was among those who answered their call. (It turned out to be his last book; Taniguchi passed away this February, at the much-too-young age of sixty-nine.) Guardians of the Louvre's meandering plot leaves something to be desired, but the tremendous watercolor illustrations are the perfect medium: a curious prism by which our experience of viewing art is refracted through reproduction. It's a love letter from one artist to several others and, like modern comics themselves, a fascinating intersection of Japanese and European culture.
-Megan Cavitt
The Dam Keeper by Robert Kondo and Dice Tsutsumi
This book does a marvelous job balancing both light and dark on each page, creating a sense of danger and mystery. The job of the Dam Keeper is what I imagine a lighthouse keeper would be, only instead of warning ships with light the Dam Keeper is charged with keeping a dangerous black fog away. Pig's father originally built the dam, a windmill contraption that pushes the fog from the village. But when Pig's father succumbs to the fog itself, walking into it and never being seen again, Pig becomes the dam keeper. He juggles these responsibilities while also going to school and dealing with bullies. But when a tidal wave of black fog rolls in, Pig has to face the world on the other side of the dam. A gorgeous book perfect for middle grade audiences and above.
-Karina Glaser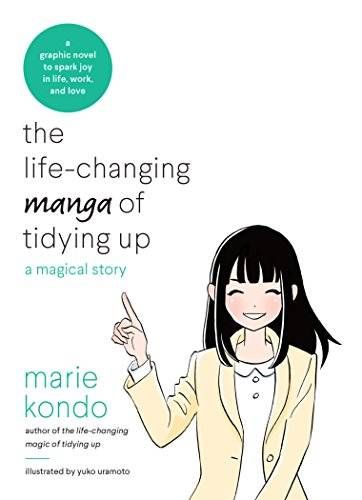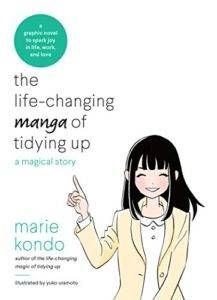 The Life-Changing Manga of Tidying Up by Marie Kondo and Yuko Uramoto
I know what you're probably thinking because I was thinking the same thing: a manga now, really? What's next, a line of storage containers? A reality TV series? But I am a fan of Kondo's The Life Changing Magic of Tidying Up (even if I haven't exactly finished tidying up yet… ahem), and who doesn't like manga, amirite? So I decided to give it a try, and I'm glad I did. The art is clean and elegant, the story is super duper cute, and there are even a few new tidying tips. This manga is a delight from start to finish. If you KonMari'ed your house–or just attempted to–you will enjoy this manga! My only complaint is that the publisher flipped the book to read from left-to-right instead of the original right-to-left. Not cool, Ten Speed Press.
-Tasha Brandstatter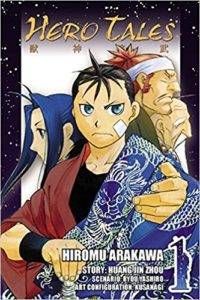 Hero Tales by Hiromu Arakawa, Huang Jin Zhou, Ryou Yashiro, and Kusanagi
Not all heroes wear capes. Most of them aren't even born into power. But Taitou doesn't want to be a hero; he just wants to pass his coming-of-age test in his village. Things change, however, when he's gifted with a sword he can't draw, and a thief makes off with it. His sister Laila, an outspoken sweetheart, insists on going with Taitou to recover the blade. This story is a lot of fun, and flows naturally.
-Priya Sridhar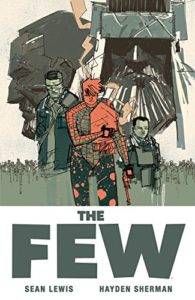 The Few by Sean Lewis and Hayden Sherman
The world might feel like it's going to hell in a handbasket, sure, and the deluge of media focusing on possible dystopian near-futures isn't really helping, I get it. The Few, however, is a haunting and surprisingly inspiring exception. With rich thematic examinations of forgiveness and morality, Lewis and Sherman deliver a harrowing work that dares to ask: what are you willing to fight for? Set in an ominously believable future where the flyover states have been cutoff from the coasts to wallow in a chaotic free-for-all existence of survival while their resources are simply taken by the powerful, we follow one woman and a baby entrusted into her care on a journey of reflection and learning how to move forward. Hayden Sherman's art is reason enough to buy this recently collected series, a savage display of inks and slashing pencils result in a stunning serenity akin to wood carvings or ukiyo-e pastorals. Thought-provoking, heartbreaking, and utterly beautiful, The Few triumphs the ideas of hope and forgiveness as a call to revolution.
-Alex Mansfield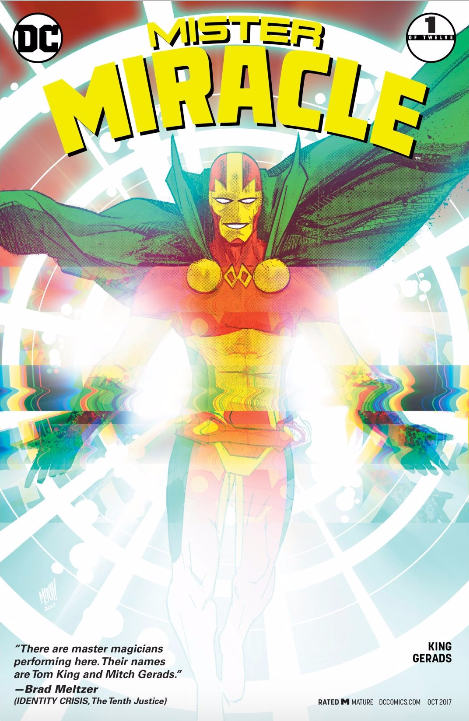 Mister Miracle #1 by Tom King, Mitch Gerads, and Clayton Cowles
I've talked about this much-lauded debut before – and I'm not the only Rioter to do so – so I won't belabor the point. Suffice to say this is the powerful, timely, thought-provoking return of one of superhero comics' most unique characters, and one that uses the the medium of comics to its full, beautiful potential. And it's being reprinted! Pick this one up, gang.
-Jess Plummer