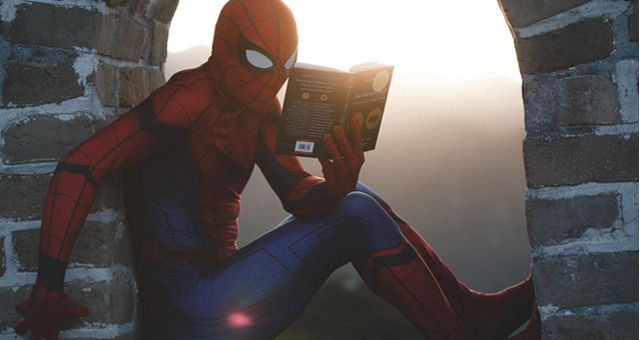 This content contains affiliate links. When you buy through these links, we may earn an affiliate commission.
We asked our contributors to share the best comic book, graphic novel, or webcomic that they read April–June, and it made a great list sure to have your next favorite read! There is fantasy—including gentle—food, memoir, horror, an homage to bibliophiles, heartbreak, and more!
From the author (and artists) of Princess Princess Ever After and The Tea Dragon Society, Aquicorn Cove is another adorable middle grade fantasy comic with queer characters. The illustrations are beautiful, captivating, and comforting. In O'Neill's author bio, she says that she writes "gentle fantasy stories," and I think that's the perfect description. There is some melancholy beneath the surface of this cute story: the main character has lost her mother, and she's still processing that grief. There's also an environmental message that plays out in the f/f romance between Lana's aunt (who relies on fishing for her livelihood) and the fantastical protector of the coral reefs, who lives in the ocean. It definitely lives up to her previous books, and is a must for any middle grade comic collection.
—Danika Ellis
Are You Listening? by Tillie Walden (First Second, September 10, 2019)
I've only read a few things by Walden, but I gobbled up this advance copy of her forthcoming graphic novel in one night. While Walden's graphics are often visually arresting, it's her sparse but strong words that land punches, and this book doesn't disappoint. Bea is on the run and ends up with Lou, a distant friend of the family. The book veers in and out of magical reality, but underneath is a story about trust, grief, friendship, and identity. The two women must learn to trust each other to navigate the literal journey they've embarked on, but also to navigate their larger lives, as well. At its heart, the story is about connection, and Walden is a master at capturing this. (CW: sexual assault).
—Jaime Herndon
Bloom by Kevin Panetta
Not every LGBTQ person is a role model. But neither are we monsters in the night. Sometimes we happen to be people, that are irresponsible goofs, and we are floundering through life. Ari is such a person. He wants to ditch his job at the family bakery to tour with his band. Things don't go according to plan; his band dumps him because he's been skipping practice, and he falls for his replacement. It's not an easy story but it's a fun one.
—Priya Sridhar
This black and white watercolor illustrated book is a love letter to all bibliophiles and booknerds that I suspect Rory Gilmore owns—and is probably gifted all the time. If you love books, reading, and that magical feeling you can't describe that both makes you feel, curl yourself up with this book and enjoy!
—Jamie Canaves
Farmhand, Vol. 1 by Rob Guillory, Taylor Wells, Kody Chamberlain, and Burton Durand
I've felt lost since the endings of such fantastic horror comics as Victor LaValle's Destroyer, Infidel, and Wytches, so when I snagged a 2019 catalog from the Image Comics booth at the recent BookExpo America conference, I began systematically going through all the horrors I hadn't yet read. Farmhand was the standout for me. This comic is about a farmer who grows human organs, and about the secrets he's hiding. But beyond creepy corporate espionage, the heart of the story lies with the family caught in his web of secrecy. The story is kooky and fun, and so is the artwork. I can't wait for the second volume, which releases in September.
—Steph Auteri
This is definitely one of the best graphic memoirs I've read. Jacob manages to fit so much inside it. It's about her struggles with explaining racism to her young son, her own history with racism growing up as an Indian American, and the repercussions of being a person of color after the 2016 election. And despite these weighty topics, it's often funny. The art is a really interesting collage style. Despite its 400 pages, I read it in a single sitting.
—Margaret Kingsbury
Frederica Riley is in love with Laura Deen but Laura keeps breaking up with her, only to burst back into Frederica's life just when Frederica is ready to move on. But who, Frederica wonders, is she without Laura? Does she like that girl better than who she is with Laura? A gorgeous coming of age story about discovering what's important in life and about oneself.
—S.W. Sondheimer
This semi-autobiographical graphic novel explores the dating life of an endearingly neurotic recent divorcee. It's wise about so many things: gender, immigration, sex, and more. And it's damn funny too.
—Christine Ro
Meal by Blue Delliquanti with Soleil Ho
Yarrow moves half-way across the country to take part in what she things will be the next big culinary movement: entomophagy, which entails raising, cooking, and eating insects. She meets with Chanda, the head chef of a new restaurant that specializes in bug cuisine. Chanda's people have been eating insects for centuries and she is suspicious of Yarrow's intentions. Is Yarrow interested in entomophagy because it might become the next avocado toast? Chanda gives Yarrow a challenge to create the best bug infused taco that she can. With her crush Milani's help, Yarrow attempts to create the perfect taco and learns a lot more about sourcing and cooking with insects. Recipes are included at the end of the book for dishes using mealworms, bee larvae, and even tarantulas. This book just might convince you to try mealworm curry the next time you find it on a menu!
—Katherine Willoughby
Something is wrong with Rachel. Her eyes are a different color, there are marks around her neck, animals are afraid of her, and she can fall from tall buildings without sustaining any major injuries. It all started when she woke up one morning in a shallow grave. Is Rachel dead? Is she an angel? A zombie? Terry Moore has crafted a brilliant horror comic with strong female characters, great writing, and chilling black and white illustrations. I've read volumes 2 and 3 as well, and I can assure you, the story only gets better! It's like The Chilling Adventures of Sabrina, but better. I love this comic so much!
—Sarah Ullery
This first volume was published in March by Titan Comics and is part of an ongoing series that takes place in the Red London of Schwab's popular Shades of Magic series. It follows a young Prince Maxim Maresh, who is sent by his father, King Nokil, to a lawless port city to gain military experience and, his father hopes, overcome his arrogance. Maxim becomes embroiled in a battle for the soul of the port city when a vastly-powerful pirate queen returns to seek control. The artwork is stunning, the characters complex and compelling, and if you're a fan of Schwab's work, this is another way to discover and admire her epic storytelling skills. The next volume, The Steel Prince: Night of Knives comes out this October!
—Lyndsie Manusos
Gwen Stacy's reality is complicated enough, but when interdimensional trouble rocks the spider-verse (and all of Gwen's spider-friends) she has to set her day to day troubles aside to save the day—again. But when she gets stuck in an alternate dimension where her best friend Peter Parker is still alive and their Gwen Stacy is wreaking havoc as the Gwen Goblin. How is she supposed to save her friends if she can't even save this alternate version of herself? I knew I had to read this comic because hello, Spider-Gwen meets Seanan McGuire, but the comic itself was even more delightful than I expected. Alternate dimensions, all the spider-people, Gwen Stacy vs Gwen Stacy…what more could a comic fan want?
—Rachel Brittain