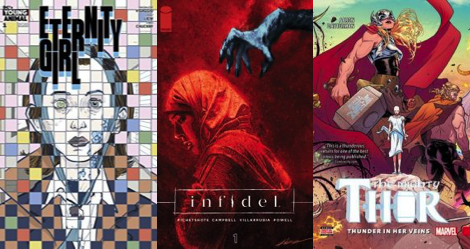 This content contains affiliate links. When you buy through these links, we may earn an affiliate commission.
We asked our contributors to share the best comic book, graphic novel, or webcomic that they read last month. Read on to see what the Rioters had on their nightstands the past four weeks, and maybe one of these will find its way to your bedside in the coming weeks. Enjoy and tell us about the highlight of your March 2018 reading in the comments.
I was sent an ARC of this graphic memoir, and I couldn't put it down. It's not a graphic memoir in the traditional sense, but it's Andrew's drawings and sketches, intermingled with little essay bursts about her life. Her drawings say so much, and this is a book about growing up, young adulthood in your 20s and 30s, and finding your way. Super relatable, whether she's drawing about dating, finding friendships, family, job and money woes, and feeling like a failure or an imposter. I really loved this book, and it was a reminder that we're never really DONE becoming who we want to be.
—Jaime Herndon
Black Bolt #11
by Saladin Ahmed and Christian Ward
Our dear king's penultimate issue. Poisoned, robbed of his voice, torn away from his beloved queen, and depending on his estranged son for salvation, things look grim for Black Bolt. Narratively speaking, Ward's art continued to awe and enthrall. I considered not reading this issue in the hopes it would stave off the end of this run, but alas, the draw of the story was too great. I'm going to miss this one.
—S.W. Sondheimer
This character-driven two-volume exploration of the Boxer Rebellion is an accessible take on a fascinating historical period. The "saints" story feels a bit underdeveloped compared to the "boxers" volume, but together they show the complications of colonialism and cultural influences that drove the conflict between the amazingly named Society of the Righteous and Harmonious Fist and the forces supporting Christianity and the spread of European and Japanese influence. And the artwork is bright, imaginative, and delightful.
—Christine Ro
Chast's memoir about her parents' old age and death is not a pretty, nice, or easy read, but it's a good and necessary one. Chast is absolutely blunt and straightforward and doesn't shy away from the hard truths of death and dying, both physical and emotional. It's an intimate look at everything that goes into caregiving; Chast's honesty makes it a refreshing, if sobering, read. But for all its bluntness, there's a lot of tenderness, love, and warmth in it, too. It's an open and moving exploration of Chast's complicated relationship with her parents, of truths we sometimes don't want to face, and the many ways we do and do not take care of one another.
—Laura Sackton
Eternity Girl #1
by Magdalene Visaggio, Sonny Liew (DC's Young Animal)
Caroline Sharp was a superhero but has been put on probation as she tries to manage her depression and regain control of her powers. She's not doing well at either. She is both suicidal and immortal. Eternity Girl is a six-part series that explores mental illness in a very raw and visceral way. Visaggio's character-building is nuanced and smart and while the story is not uplifting (so far), it's a great read and I look forward to the rest of the series.
—Patricia Elzie-Tuttle
Infidel #1
by Pornsak Pitetshote, Aaron Campbell, José Villarrubia, and Jae Lee
I have a thing for horror. And I've been on a personal quest of sorts to find some horror comics to add to my pull list. When I saw this gorgeous cover, I knew I had a contender. The story itself—in which an American Muslim woman, her husband, and her stepdaughter move into her intolerant mother-in-law's apartment complex—is set up beautifully. I'm immediately invested in all of the characters. And then the woman starts seeing terrifying entities. The horror in this story is multilayered, mixing the supernatural with commentary on our heightened culture of intolerance. And that cliffhanger…I can't wait for the next issue.
—Steph Auteri
I've never been a huge Thor fan in the comics (although Thor: Ragnarok was totally my jam), but The Mighty Thor might just change that. Mild (two-year-old) spoiler alert: Jane Foster, scientist, senator in Asgardia, and former flame of the Odinson, now wields Mjolnir. Not that anyone knows that—and really who would suspect Dr. Jane Foster, when everyone knows she's dying of cancer? I love the premise of Thor losing the hammer and Jane taking up the mantle of Thor, and I love the juxtaposition of Jane's real-world difficulties with the insanity of her superhero life trying to keep peace in the Ten Realms. I know there's a ticking time bomb on this storyline, but I'm going to enjoy it while I can.
—Rachel Brittain