This content contains affiliate links. When you buy through these links, we may earn an affiliate commission.
Here's what we were loving in July!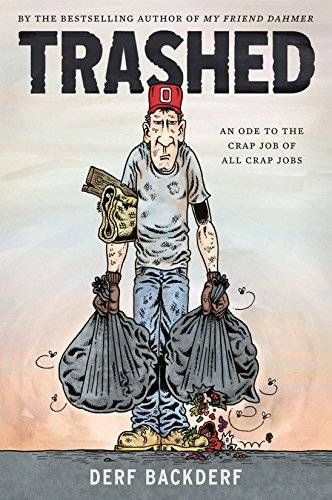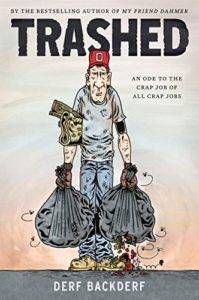 Trashed by Derf Backderf
Trashed deftly melds memoir with commentary. (Isn't "deftly melds" the kind of phrase you only ever see in writing, but never hear in speech?) It's a semi-autobiographical account of the author's stint as a garbage collector in a small town, and wrings humor out of the indignities of this experience. It also provides stats and explanations about our addiction to producing trash. The drawings of gargantuan landfills stuffed with waste of all descriptions are a sobering reminder of the harms of excessive consumerism.
-Christine Ro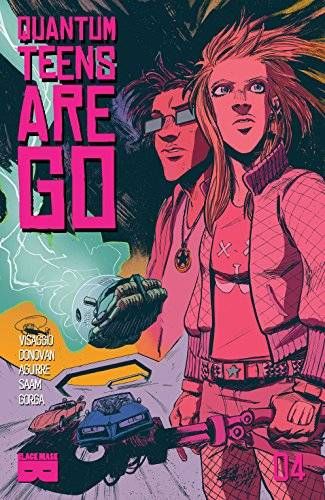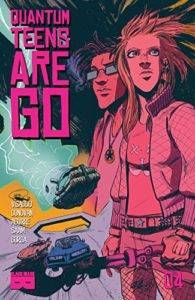 Quantum Teens Are Go #4 by Magdalene Visaggio, Eryk Donovan, Claudia Aguirrem
I loved Kim & Kim so much that I automatically add any comic Visaggio's name is on to my pull list so I was thrilled for this new series. The thing that I love about Visaggio's comics are the characters, friendships, and relationships which are once again excellent in QTAG. In issue #4 all the buildup of their science-y experiment comes to an explosive moment that leads away from adventure and into danger. Fun, unique, and entertaining!
-Jamie Canaves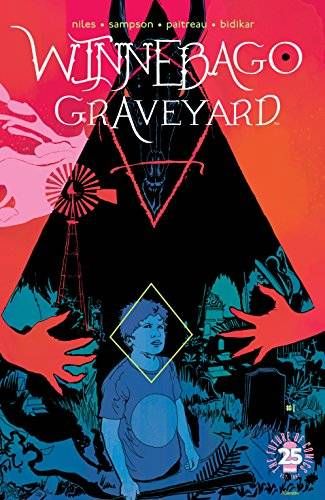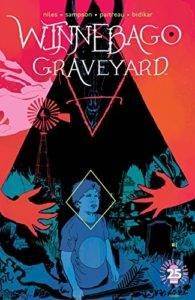 Winnebago Graveyard #1 and #2 by Steve Niles, Alison Sampson, Stéphane Paitreau, Aditya Bidikar
While there are a lot of really good, well told horror comics out there, very few of them classify as actually being "scary." Winnebago Graveyard, however, legitimately creeped me right the hell out. More than anything, it succeeds at making you feel so acutely uncomfortable, so not…right, because it toys with perception and perspective like some sort of Escher meets Bosch hellspawn architect. Alison Sampson deserves the bulk of the credit for this with unsettlingly thin, wavering line work, hefty inks, and distorted dream physics on every page. Niles' script smartly keeps dialogue to a minimum and the combined effort of the entire creative team understands the key to truly great horror tension: an urgency to simply get out! If you're a horror fan that has yet to feel truly and joyfully disturbed by a comic, Winnebago Graveyard's got you covered. *insert maniacal Vincent Price laughter as you please*
-Alex Mansfield
Everyone's a Aliebn When Ur a Aliebn Too by Jomny Sun
I've seen so many of my friends and Twitter users gush over this comic and I thought, "Enough is enough. I need to read this." I'm so happy I did because I devoured it in a day despite the crowded morning commute. Jomny Sun perfected the balance of intense life truths with an optimism that provides comfort to readers. I found myself in this book countless time and in that same moment, washed over with calm thanks to Sun's insightful words and animated art. I'm shouting this from the rooftops, "READ THIS COMIC." Oh and when you look up the comic, you can type in the title the correct way (Everyone's an Alien When You're an Alien Too) and still find it.
-Ardo Omer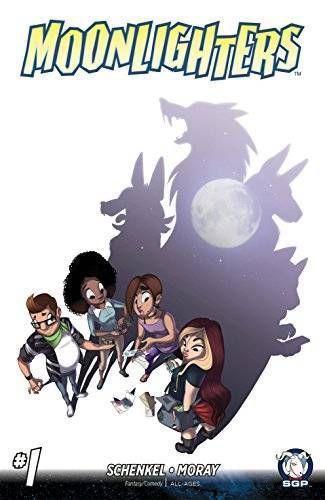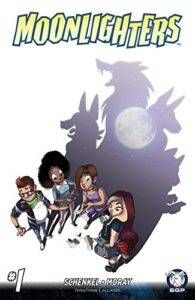 Moonlighters #1, 2 and 3 by Kate Schenkel, Cal Moray, Tom Napolitano, and JD Boucher
Being turned into a werewolf should be tragic! Angsty! Dramatic! Unless you're in a fantasy comedy comic. Renee becomes a werewolf after a mysterious person bites her, and she turns to the Moonlighters for help. They take her under their wing as fellow werewolves, to help control her transformations, adjust to magical creatures, and find out why someone bit her. Renee so far hasn't learned control, but she is learning more about this hidden magical world. I love the art for this, and the storytelling.
-Priya Sridhar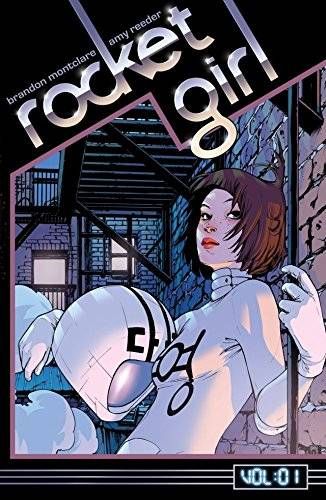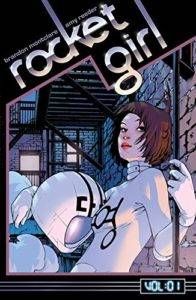 Rocket Girl, Volume 1 by Brandon Montclare and Amy Reeder
I read a lot of great comics in July, but the one that was most fun was definitely Rocket Girl by Brandon Montclare and Amy Reeder, which follows Officer DaYoung Johansson of the New York Teen Police Department as she travels back in time to 1986 to stop the nefarious Quintum Mechanics—which seems to control everything in the book's futuristic take on 2013—from messing up the timeline in the first place. Reeder makes DaYoung look like an actual teenage girl, albeit one who can do amazing flips and fly around in a jet pack, and Montclare and Reeder create a truly believable supporting cast around her. The series had a long, unplanned hiatus after issue 7, but is now back. Hopefully we'll have many more adventures of DaYoung and the NYTPD to look forward to in the future.
-Charles Paul Hoffman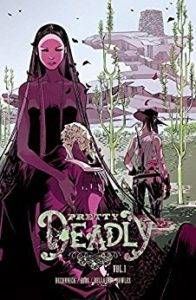 Pretty Deadly, Volume 1 by Kelly Sue DeConnick, Emma Rios, and Jordie Bellaire
I know, I know, I'm late on this one. But I loved this surrealist, dreamlike Western about mythmaking and storytelling. Set against a gorgeously wild landscape, a little girl named Sissy and her blind guardian Fox travel the frontier, telling the story of Deathface Ginny, Death's daughter – but as the story unfolds in unexpected ways and characters' allegiances shift and change, the truth about Sissy, Fox, and their connection to Ginny is gradually revealed. Looking forward to picking up Volume 2!
-Jess Plummer