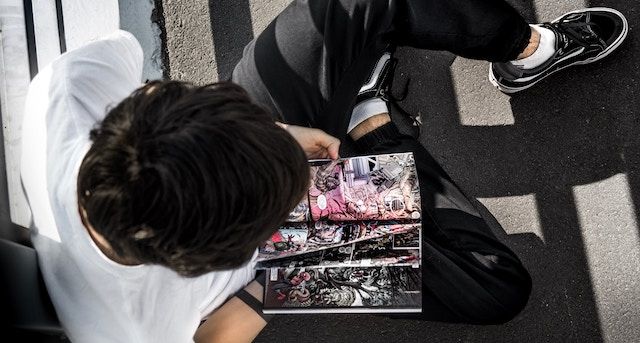 This content contains affiliate links. When you buy through these links, we may earn an affiliate commission.
We asked our contributors to share the best comic book, graphic novel, or webcomic that they read from October to December, and it made a great list certain to have your next favorite read on it! There are witches, an exploration of mental health, horror, sports drama, memoir, and more!
In this collection of four-panel comics, Chuck Mullin explores anxiety and mental health with both vulnerability and humor. The book is split into three sections ("Negativity," "Relationships." and "Positivity"), depicting the multi-faceted experience of living with anxiety. I love Mullin's choice to depict her characters as pigeons—animals that are widely disdained but continue to quietly live their lives—and found that it not only brought some lightness to a potentially heavy topic (the illustrations are just so dang adorable!), but was also somehow extra profound.
—Patricia Thang
A webcomic about witches in modern-day Chicago. Akiva Stein can see spirits. When her abilities are discovered by a local coven, she's recruited to be their Death Witch and aide in their quest to create the Elixir of Life. Along the way, Akiva finds strange spirits, the dangers of the Astral plane, and the truth behind something she's lost. Now Akiva must delve into the past to confront her future. Beautiful artwork, an incredibly compelling magic system, one of the queerest casts ever, and an adorable romance that'll give you secondhand embarrassment in the best way. Read it now, then read it four more times.

—Nina Grauer
The Dollhouse Family #1 written by Joe Hill and Mike Carey, art by Peter Gross and Dan McDaid
This is the first bite in a series from Joe Hill's new DC imprint Hill House Comics. It checks all my boxes for a good horror story: creepy house (or doll house), an ensemble cast of characters, and an expanding mythos. When Alice turns 6 years old, her distant aunt sends her a 19th century dollhouse. The house becomes Alice's escape, quite literally, from the horrors and heartbreak she experiences in her own home. Soon, the dollhouse offers to help Alice, leading her to make a choice. Prepare for a brutal ending to a first issue. It's a heavy story, so please note the content warnings: Domestic violence and murder.
—Lyndsie Manusos
Fence, Vol. 3 by C.S. Pacat, Johanna the Mad, and Joana LaFuente
I'm a sucker for a good sports drama, and volume 3 of Fence wrapped up the current series arc so well. High school fencer Nicholas Cox has one chance at obtaining a spot at a prestigious boarding school and honing his athletic talents: win a scholarship and spot on the team at tryouts. While Nicholas has natural talent, he's never received professional training and is the clear underdog against fencing prodigy Seiji Katayama. In the third volume of the series, Nicholas faces off against his rival Seiji and gives his all to prove that he belongs on the team.

—Andy Winder
Grimoire Noir by by Vera Greentea and Yana Bogatch
A comic about a lonely teenage boy in a town where all the girls are witches and none of them can leave. When his little sister is kidnapped because of her incredible powers, Bucks begins digging into the town's complicated history with witchcraft to figure out who took her. I loved the story (mystery, teen detectives, witchcraft, need I say more?), but the art was what really won me over. I mean, Bogatch's sepia-toned artwork with splashes of color for emphasis is just stunning. STUNNING.
—Rachel Brittain
Ghost-Spider (2019) #3 by Seanan McGuire, Jorge Molina, Takeshi Miyazawa
I happily plunk down my money every time the next issue of Ghost-Spider (2019) is released on Amazon. So far issue #3, which dropped October 23, 2019, has been my favorite. Maybe because I'm a diehard school nerd and Gwen crosses spider-verses to join Peter Parker at Empire State University in the actual Marvel Universe. She has fun in a pro-superhero environment, and makes some study buddies. Then she dashes home for dinner with her dad and to fight a few jerks (i.e. Man-Wolf). The complete Ghost-Spider graphic novel will drop February 2020. Until then, enjoy each issue as it comes out as I do!

—Shireen Hakim
I went into this with pretty high expectations based on people whose taste I explicitly trust having loved it and recommended it and it still managed to exceed my expectations. I knew, felt, and questioned so much of what is in these pages that it was nice to be seen but the level of humor, heart, originality, and kindness really elevated this into an all-time favorite read for me.
—Jamie Canaves
I admit that while I thought this graphic memoir was incredible it also scared the crap out of me. Knisley had a pretty brutal time with both pregnancy and birth: two miscarriages, all day nausea that lasted the whole first trimester, preeclampsia symptoms (which her doctor ignored), a c-section, and then full on eclampsia. I marvel at how she presents all of this extremely vulnerable material in such a matter-of-fact way. She even has her husband do the parts where she was unconscious! As always, she widens the scope of her personal experiences by including pieces of research like facts and misconceptions about pregnancy and random historical tidbits about obstetrics.
—Casey Stepaniuk
Okay. Technically, this is a comic cookbook. But never has a cookbook been this delightful. Before getting into the nitty-gritty of how to make ramen, Amano and Becan share the history of this popular cuisine, give instructions on how to enjoy it, and share lists of essential pantry items and equipment, all accompanied by the most charming comic-format illustrations. Then? It gets complicated. I dog-eared just about every other page in this book and it will likely take me eons to work my way through all of the recipes. But still, I suspect it will have been worth it.
—Steph Auteri
Mooncakes by Suzzane Walker and Wendy Xu
This is such a perfect feel-good read. It's about Nova, a witch, teaming up with her best friend Tam, a werewolf, to fight evil with the help of Nova's badass witch grandmothers who also own the dream witchy bookstore. There's some great disability representation with Nova's use of hearing aids and lots of LGBTQ+ representation: Tam uses they/them pronouns, there may or may not be a romance that develops between Tam and Nova, and Nova's grandmothers have a loving relationship with each other. This book will leave you smiling.
—Margaret Kingsbury
This was my first manga, so it took a few minutes to get accustomed to reading from right to left, but I adjusted quickly and enjoyed this lovely story. Yaichi works at home and is father to a young daughter Kana in Tokyo. Out of the blue, a friendly, burly Canadian appears on their doorstep, introducing himself as the husband of Yaichi's estranged brother, Ryoji. Ryoji has died, and Canadian Mike has traveled to Japan to learn more about his late husband's past. What follows is a compassionate, gently-told story of how Yaichi opens up to examining his prejudices against LGBT people in a culture that is still largely unaccepting.
—Heather Bottoms
New World by David Jesus Vignolli
Wonderful depiction of Amazonian tribes of Brazil in the beginning of European colonization. The book follows a historical narrative mixing in both real people and events and its fictional main character, the fearless young warrior Iracema. It is full of cultural exchange and magical realism as well, which I loved! I hadn't seen anything quite like this in English and I was very pleasantly surprised when I found it.
—Giovanna Centeno
Before his adventures on the Final Frontier, Takei was like every American kid…until Pearl Harbor. Per President Roosevelt's Executive Order 9066, Japanese Americans were forced to move into internment camps, as they were now the enemy. Takei takes us back to the 1940s and shows his story through the lens of his innocent 4-year-old self and his reflections years later. Takei grabbed my attention by showing the story of his family—how his mother tried to make a home for her sons in impossible circumstances and how his father advocated for other families while looking out for his own. I learned about the internment camps in high school, but Takei's story brought the experience to life. His candid reflections, from his rightful rage at the internment as a teenager to his activism as an adult, are thoroughly human and timely.
—Neha Patel
---
Here's to finding your next great comic read!