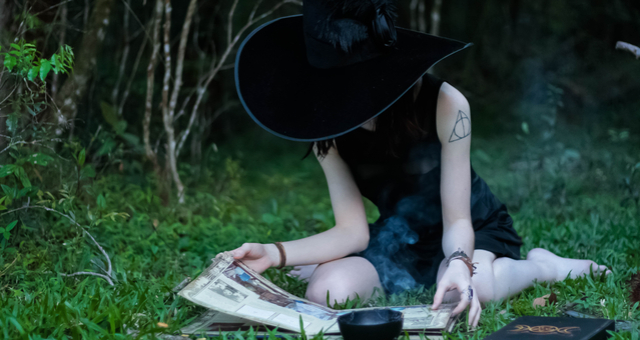 This content contains affiliate links. When you buy through these links, we may earn an affiliate commission.
We're fully in the midst of the witching season now. And if you're not already reading some appropriately Halloween-themed reads, it's high time to start. And if Hocus Pocus taught me anything, it's that nothing's spookier or more Halloweeny than witches. And these comics about witches for Halloween are sure to cast a spell on you.
Ahem. I mean, these witchy comics for Halloween are sure to be just the things for a cool autumn night full of tricks or treats.
Spell on Wheels by Kate Leth, Megan Levens, Marissa Louise, Jen Bartel, and Nate Piekos
Stealing from witches? Always a bad idea. And when Claire's nonmagical ex breaks in to steal an important artifact from the home she shares with two other witches, well, it's pretty much on. Road tripping down the East Coast to track down the thief forces the friends to confront their pasts and remember what really matters: their sisterhood of witches.
Most children would think twice about applying for a position as Baba Yaga's assistant. The fearsome witch of folklore is as canny as they come. But Masha is looking for an adventure, and if it takes doing chores for a witch to make that happen then sign her up. She's more than happy to cook dinner—as long as she's not the one on the menu.
Grunhilda inherited her magic and her big black cauldron from a long line of witches in her family. But no one believes in magic anymore. Fortunately there's one job listing that might just do the trick: lunch lady. The foul brews she cooks up are perfect for the job. But when she meets a timid girl in need of help at school and at home, the witch's icy heart might finally have met its match. Maybe Grunhilda can do more than brew up disgusting potions—even if it goes against everything she thinks it means to be a witch.
Being the world's oldest and most powerful witch is no easy gig. Especially when a lovesick ghost is trying to win your hand by unleashing destructive forces unlike anything the universe has ever seen. All in a day's work for an all-powerful witch. But first, she's going to have to survive long enough to defeat the evil forces and smack some sense into a certain ghost.
Zatanna Zatara has the best act in Vegas. And her stage magic is no illusion—the Mistress of Magic can create an incredible show with just a few backward words. But in the wrong hands, magic is a deadly powerful force, so when some magic users with bad intentions start causing trouble, Zatanna has to step in to stop them. Nightmare demons are easy enough, but when the one she has to stop is the ghost of someone she loves, things get tricky.
Spend some time with the original teenage witch in this collection of classic Sabrina comics. The black and white panels depict all of Sabrina's early witchy hijinks alongside the Archie characters.
The Magic Order by Mark Millar and Olivier Coipel
Never come across a monster under your bed. You have the Magic Order to thank for that. But when magicians find themselves being picked off one by one, the Order has to fight against an invisible enemy trying to take them out. By day, they're neighbors and coworkers and everyday citizens, but by night they're the sorcerers, magicians, witches, and wizards who keep the world safe from evil.
The boys in Aster's family are meant to become shapeshifters while the girls study to be witches. But 13-year-old Aster knows deep in his heart he's meant to be a witch—even if his family refuses to see it. So when someone—or something—starts kidnapping the boys in his family, Aster knows it will take all of his forbidden knowledge of witchcraft to save them and maybe, just maybe, prove his family wrong in the process.
Rowan Black is a detective with Portsmouth PD. She's also a witch. She's always worked hard to keep her magical abilities far away from her police work. But now someone is targeting her—someone who seems to know her secret—and it will take all of her skills as a witch and a detective to keep them from exposing her to the world.
Can't get enough of the Netflix show? Check out the comic that inspired it. In this horror reimagining, Sabrina Spellman has to decide between her mortal boyfriend and her unholy destiny as a Spellman witch. But a dark foe from her family's past has arrived in town just in time to wreak havoc on her already complicated life. Good thing Sabrina has all the powers of the occult on her side.
This anthology all about queer witches of color is full of fantasy, witchy drama, humor, and romance. Inside, you can find compelling work from creators behind comics like Curb Stomp, Misfit City, Bitch Planet, and the Unbeatable Squirrel Girl.
Mooncakes by Suzanne Walker and Wendy Xu
This adorable webcomic turned graphic novel is all about witches, werewolves, family, friendship, and first love. Nova has learned a lot working in her grandmothers' bookshop—not only about books and customer service, but magic too. None of that knowledge prepares her for Tam Lang to show back up in her life one night. The childhood friends find themselves reunited in a quest to stop a dangerous force intent on claiming the power of wolves like Tam. But with Nova and her grandmothers there to help, Tam realizes they're not as alone as they think.
Toil and Trouble by Mairghread Scott, Kelly Matthews, and Nichole Matthews
The witches of The Scottish Play come to life in this retelling of Macbeth from their point of view. The three fates, the weird sisters, the witches. Whatever you want to call them, Riata, Cait, and Smertae, have always been guiding and protecting Scotland. A disagreement over a prophecy foretelling the next king leads to disaster and Smertae outcast to the oceans. But when she returns on the eve of war, the magical conflict continues as the witches use humans as pawns in their supernatural game, with Smertae guiding Macbeth to a crown he was never meant to have.
A brand new Sabrina series from the writer behind Hawkeye: Kate Bishop and Jem and the Holograms. Balancing burgeoning magical powers with being the new girl is no easy task—especially when you're juggling two possible love interests, an insta-rivalry, and a couple of misfits with serious BFF potential. Not to mention saving the world from supernatural doom. But that all in a day's work for a teen witch like Sabrina.
Akko Kagari has always wanted to become a witch just like her childhood hero, and the best place to do that is Luna Nova Witchcraft Academy. When she's accepted into the school, Akko feels like all her dreams are coming true. But as the only student from a nonmagical family, Akko has a lot of catching up to do if she wants to become a real witch.
Hex Wives by Ben Blacker and Mirka Andolfo
A coven of reincarnating witches and a group of misogynists known as the Architects have been waging a secret war over the fate of the world for centuries. But when the men, who fear the witches' power, curse them into life as suburban housewives with no memories of their true identities or powers, the real struggle is on. Isadora may think she's a happy homeowner at the end of a sunny cul-de-sac, but it's only a matter of time before the memories start leaking through.
Blackwood by Evan Dorkin, Veronica Fish, and Andy Fish
Blackwood College is no normal school. Instead of science or humanities, it trains its students in the occult. And a new group of incoming teens with troubling pasts are forced together in Blackwood's haunted halls to fight mutant insects, ghosts, a two-headed mummy chimp, and, of course, ancient evil. Their crash course in the occult starts now.
Moth loves all things witchy. Turns out, there's a reason for that: she's a real-life witch! The only problem is her mom has no interest in teaching her how to control her powers or why she's against any and all magic. But when Moth uncovers an old diary detailing her mother's ancient history (literally—she's hundreds of years old) in a coven run out of Founder's Bluff. Only that ancient history might not be so ancient anymore. Especially when a school play about Founder's Bluff's witch hunts has Moth determined to present witches as they really were—and are.
Spellchecked by Quinton Miles and Mauricio Campetella
The Davenports are a family of magical mages. Dawn and her little brother Dwayne Jr. are working hard to protect their hometown alongside Allied PD. Their dad Dwayne is one of the most powerful mages in the world, not that he's around enough for Dawn and her brother to notice. But in their own ways, they're each trying to find their place in the family legacy.
---
If you're looking for even more Halloween reads, you might like these 8 comics to creek you out until Halloween, these spooky comics to get you in the Halloween spirit, the best horror books from 2018, and kid-friendly comics books for Halloween.