This content contains affiliate links. When you buy through these links, we may earn an affiliate commission.
They say you shouldn't judge a book by its cover. Clearly, they weren't talking about comics. As a very visual person, comic book art has a huge impact on my enjoyment of a comic. If I don't like the art, I'm probably going to hate the work. Mostly.
I've put together a list of my top 20 current comic book artists. That means I've kept off the list the past greats: Jack Kirby, Steve Ditko (RIP), and even Hergé. I also don't have any manga artists on this list because I haven't read a lot of manga. (I'm open to suggestions!) These are artists doing astonishing things with the art form and I can't wait to see what they'll do in the future. And there might be a little Chicago bias…just saying.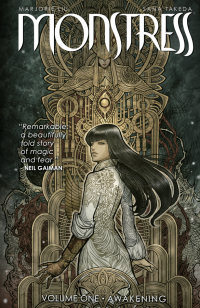 Sana Takeda's artwork for Monstress is the best of all comics I've ever seen. Yes, I've said it. I've been wanting something this detailed and gorgeous to come out, and Takeda manages to do that and more. Takeda's attention to detail and character rendering is unrivaled. I could just stare at her works all day long. This appears to be her first work, at least in English. Monstress won many Eisners this year, including Best Painter/Multimedia Artist, Best Cover Artist, and more.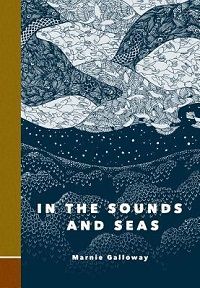 I've talked about Marnie Galloway and In the Sounds and the Seas before, but it is worth mentioning again. This wordless comic about a sea voyage beautifully renders the scenes of the sea and music. The work is almost Escheresque at times. Galloway had a recent show of this work and others at the Harold Washington Library in Chicago, which was amazing. Once upon a time, she even performed In the Sound and the Sea at Brain Frame, an incredible literary performance event. Other works include Burrow, and Particle/Wave.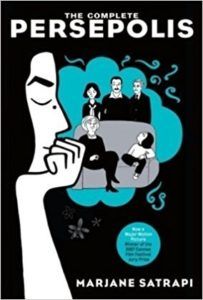 Not only is Persepolis one of my favorite all time graphic novels, Marjane Satrapi's drawings are lovely with their bold lines and dual tones. The animated version of the comic won the Jury Prize at Cannes Film Festival in 2007. The rest of her works have a similar feel. Satrapi's other works include Chicken and Plums, Embroideries, and more.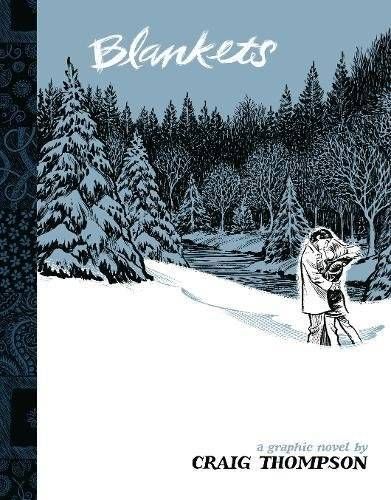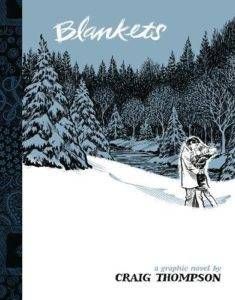 Simply put, Thompson is a genius. Blankets captures the beauty and heartbreak of teenage first love in swirling, astonishing drawings. Plus it's got awards aplenty: 2004 Eisner Awards for Best Graphic Album, Best Writer/Artist, 2004 Ignatz Awards for Outstanding Artist and Outstanding Graphic Novel or Collection, and more. I haven't gotten around to Habibi, which is supposed to be even more beautiful. Also, it won the Eisner for Best Writer/Artist in 2012. Carnet de Voyage is a nice travelogue of his time in France and Morocco.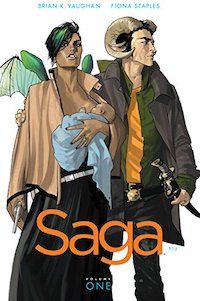 Saga is up there as one of the best comics out there today. Fiona Staples is part of the magic. Not only are her characters well thought out, she (and Brian K. Vaughn) take incredible visual risks that work. I counted at least 9 Eisner awards for Saga including Best Penciller/Inker, Best Cover Artist, and much much more. She's worked on interiors for Archie, North 40, Jonah Hex, and covers for War Machine, The Wicked and the Divine (variant cover), Rat Queens (variant cover), and much more.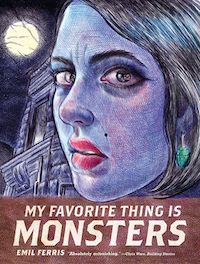 My Favorite Thing is Monsters is a heck of a book. Both in size and ambition. Her pencil sketches of '50s monsters feature strongly in the book. I am extremely excited about seeing part 2 come out next month. Her work also won several Eisners this year!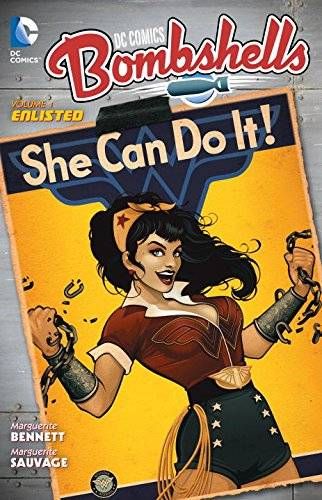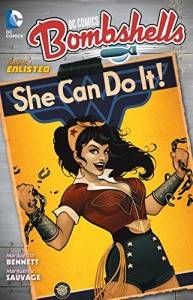 I hold Ant Lucia responsible for my recent love of superhero comics. His covers for DC Bombshells were the catnip I needed. WWII propaganda posters repurposed with superheroes? Yes, please.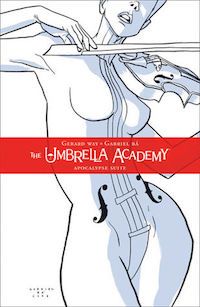 I love Gabriel Bá's work in The Umbrella Academy. A glorious subversion of the superhero/super family trope. Bá won an Eisner in 2008 for Umbrella Academy. And the third volume is coming out later this year after a long wait. I also have loved his work with his twin brother Fabio Moon, including DayTrippers, which won a 2011 Eisner for Best limited series.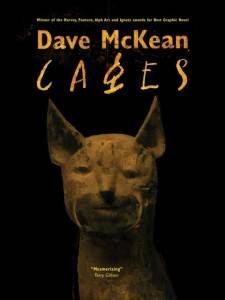 I know McKean's work mainly from his collaborations with Neil Gaiman. His wildly imaginative covers, that are kinda like a steampunk collage, are my ideal of book covers. Of course, when I first started reading Sandman, I was disappointed that he only did the covers. But what covers they are! He has worked on so many projects in so many mediums including his own award-winning comic, Cages.
Lieske's Wormworld Saga is one of the best webcomics out there. Each chapter is composed of a single panel that you have to scroll to get the story. He has come up with some beautiful visuals, such as a mushroom forest.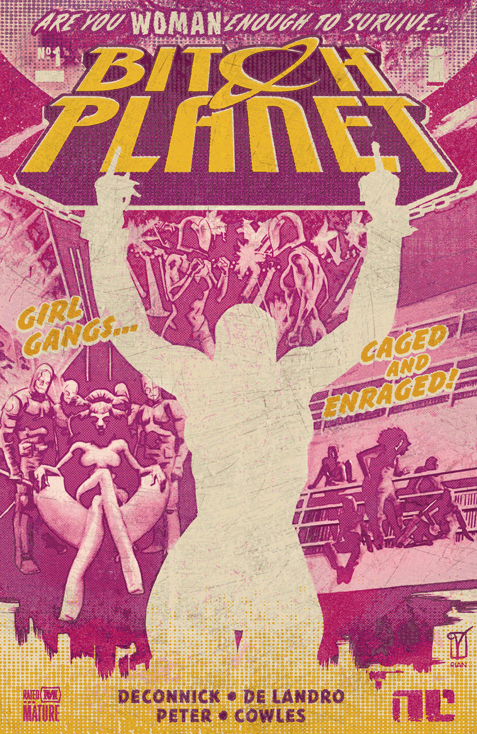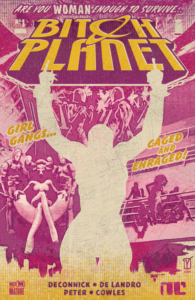 Bitch Planet has this beautiful retro look that reminds me of the golden age of comics. Of course, there's a heck of a twist. Valentine De Landro's work is quite extensive. Here's a great Book Rioter take on his work.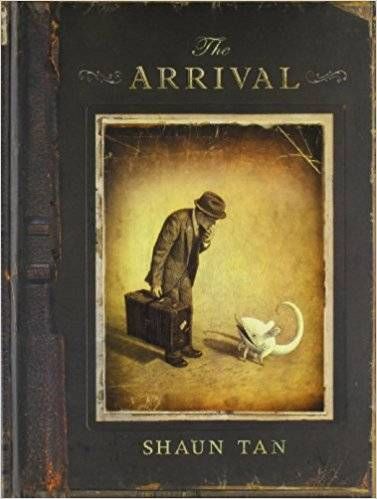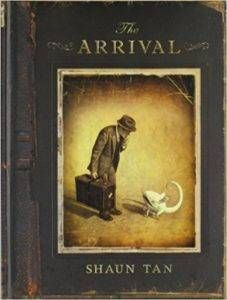 Tan's The Arrival is a wordless comic of a migrant coming to a new land and learning how to live. The style is very much unlike other comic styles I've seen save maybe McKean. Surreal, fantastical, muted colors. Definitely worth checking out. Also he did work on Wall-E so that should be reason enough to check his work out. His animated short The Lost Thing, based on his picture book of the same name, won an Academy award in 2011.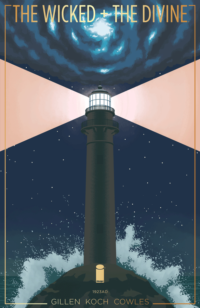 The Wicked + The Divine presents some pretty impressive challenges for McKelvie. Gods and rockstars. And he's done an incredible job with it. You can feel the sheer power of godliness and rockstar bravado with his images. Each god/character really has their own distinctive feel and look—even their speech bubbles are different. He has also worked on Young Avengers and Phonogram.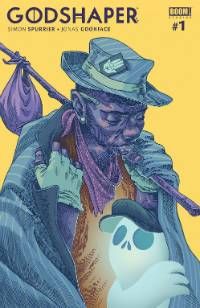 Godshaper is absolutely stunning. I love how his work differentiates between the gods and the humans. The color palette is unlike other comic book coloring; it's almost pastel with some bright contrasting colors. I can't wait to see what else Goonface has in store. Check out his comic Follow the Leader here.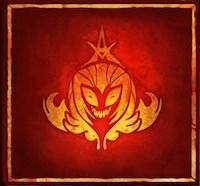 I've talked about Czajkowski's Ava's Demon on my list of Best Webcomics but it deserves a place on this list. The drawings are beautiful with the occasional animations.
Sanjay Patel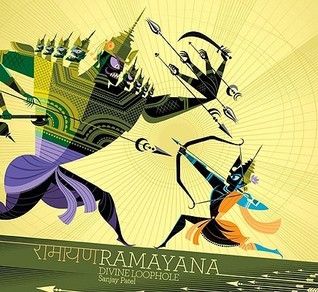 Patel's Ramayana: Divine Loophole is a marvel. Bold colors, abstract shapes making up the wonderfully fantastic characters of the Indian myth? Yes, please. He's an animator for Pixar and has worked on The Incredibles and the Toy Story films. He also directed and wrote behind the amazing Pixar short Sanjay's Super Team. He even had a show at the Asian Art Museum in San Francisco.
Marc-Antoine Mathieu
I know Mathieu's work from a delightful series of comics commissioned by the Louvre Museum in Paris. Each one brings the museum to life with very interesting and different narratives. I love Mathieu's The Museum Vaults: Excerpts from the Journal of an Expert. All grays, blacks and white colors with very detailed and at times cavernous drawings of storerooms of the Museum. He has also published extensively but I think Dead Memory is the only other title translated into English.
I became acquainted with Daniel through the recent Clue series. His covers are fantastic nods to the original game and movie. The interiors are great; I love how he's captured the detailed interior of the mansion and the very distinctive characters. He's also done work for Judge Dredd, Road Rage and more.
I'm a Chicagoan so it would be a crime not to include the great Chris Ware. I came across his work for the very first time as the Museum of Contemporary Art. I love how incredibly detailed his work can be. Each panel feels like entire worlds within worlds. There are keys, cutaways, and so much more. Also, Building Stories has such a fascinating structure—it's a box with loose comics that you can read in any order. Other works include Acme Novelty Library and Jimmy Corrigan, the Smartest Kid on Earth. He's won many Eisners, shown at the Whitney, and earned many other accolades.
I was recently recommended Crawl Space by a fellow Rioter. Holy cow. It's beautiful and surreal and wacky. He alternates between these wild swirls of rainbow color and black and white. The color is the story. I can't wait to check out By This Shall You Know Him, Safari Honeymoon and his many other works.
This is my top 20 list of comic book art creators, but I'm sure there are many folks I have yet to discover who are doing amazing art right now. Want more comic book art? Check out these Rioter posts like Jamie Canaves about reading comics for art and Alex Mansfield's post about what makes a good comic book cover.