Humor
The Best Comedy Books That Can Save Us from 2018
This content contains affiliate links. When you buy through these links, we may earn an affiliate commission.
Friends, I wont lie…this year has been a slog. I've found myself flailing for all the self-care opportunities I could find. I've strayed from my previously beloved dark literary fiction. I've found myself spending most of my time listening to podcasts and watching Netflix instead of dutifully working my way through my TBR list. 2018 has been a tough one. But in the moments I finally hit pause on Sabrina or turned off Pod Save America, I find myself gravitating towards comedy books that will give me a moment of respite from this hellscape in which we all live.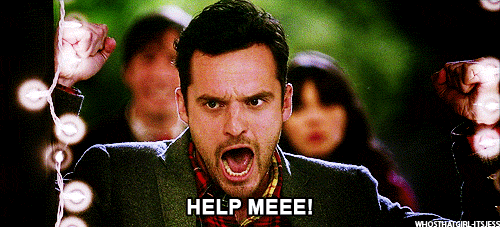 Here is a list of the best comedy books, both new releases and classics. All are guaranteed to give you a moment of laughter and levity. There's really no rhyme or reason…these are just some books that have given me a desperately needed minute of joy this year.
As a fan of 2 Dope Queens, I was so excited to read this book. Robinson's hilarious take on her experience with black culture, her ode to Lisa Bonet, and her funny-yet-heartfelt advice to her young niece gave me joy for days!
I laughed. I cried. I learned about the history of Canada. Branum is that wonderful combination of brain and humor. He educates his readers on world events while employing his excellent comedic timing. But the moments I really loved were when he sincerely spoke about his difficult relationship with his father and his complicated love of his mother.
Irby's genius is in how she can speak about very serious topics (her childhood, her own ghosts) while also being irreverent and invoking pop culture references to make them more relatable. Her book leaves her as someone the reader wants to know.
The audiobook adds a special something to this story of Noah's childhood as a mixed race child in South Africa during Apartheid. Amidst his tales of growing up with his very existence being considered illegal, Noah treats us all to the most amazing impersonations of his mother. This book has heart and taught me more about this dangerous time in South Africa's history.
Stay Hungry by Sebastian Maniscalco
In this collection of essays, stand-up comedian Sebastian Maniscalco shares with us his days breaking into the business and his rise to fame. The reader learns how his ambition saw him through his journey in a cynical business.
If you enjoyed New York Times bestseller I Was Told There'd Be Cake, you'll love this collection of essays on difficult subjects like infertility or more light-hearted fare like the time she played herself on Gossip Girl.
Once beloved diva Donna Meagle on Parks and Recreation, Retta shares with readers her childhood and career with her brash, infectious wit and humor. This book is especially good on audio as she narrates and I feel like I would've lost some of her hilarity if I wasn't hearing it in her own voice.
Former Saturday Night Live writer Simon Rich regales us with his time in Hollywood and his absurd experiences with fame.
This collection of essays is a witty and sharp insight into what it's like to be an LGBTQ man of color in a society that regular tries to reject his personhood. Arceneaux's outspoken nature and humor both color your understanding and soothe your soul.
Saturday Night Live and 30 Rock alum Tina Fey tells of her time as a geek and growing into herself and into her current fame. Fey is always good and always smart and this book is a delight.
Learn about Poehler's origins in Upright Citizens Brigade and watch as she finds her voice and ultimately her way to Saturday Night Live. Her writing is funny as hell and bitingly honest.
From son of a drug addict to a comedian who can sell out stadiums all over the world, Kevin's voice is one we very much need right now. His memoir is truthful, sincere, but in no way lacking in humor.
If you loved Haddish in Girl's Trip, she's pretty much that person in real life. She's loud and confident and always the funniest person in the room. Her tale of her journey from an impoverished childhood has one constant: laughter. We have Haddish now because she navigated all situations by making those around her laugh.
A father of five, Gaffigan fully understands the absurdity in his home life. And then he's good enough to share those tales with us. His patented self-deprecating humor comes through loud and clear in this book.
One of The Daily Show's most famous alums, Bee takes us on an in-depth ride through her Canadian childhood. The sharp humor we've come to know and love from Full Frontal is woven throughout this entire book.
Maron has a knack for being able to take the most depressing situations and mining them for their inherent humor. He is an excellent storyteller who makes you feel like you were by his side, experiencing the same things.
Tyler takes us through her life and shares with us all the mistakes, large and small, that brought her to where she is today. She reveals herself to us while never losing her trademark humor.
Regardless of the title, this book is for parents and the childless alike. For those without children, you'll feel truly seen. And for those who insist that everyone should procreate, maybe you'll think twice before you speak to the childless.
A hilarious treatise on what society expects from men and what those men grapple with as they become fathers and husbands themselves. Webb gives a hilarious and painful recount of what he's learned along the way.
Izzard's comedy will take you from world history to absurb stories of the every day. His recount of his childhood and discovery of his sexuality would be a worthwhile read even if Izzard wasn't also so singularly funny.
Silverman doesn't disappoint those who have come to love her smart and dirty humor. She weaves personal tales of growing up and all the comedy within those stories.
Ephron is beloved and it's because of her witty humor combined with her accessibility. In this book, she delves into all the ways our bodies and worlds fail us as we become women of a certain age.
Gurwitch gives us essays on the indignities of aging that are relatable, while also lending an air of hope.
Beloved Kaling takes her readers on a tour of her life, her experiences in Hollywood, her thoughts on romance, and what makes a great best friend. And she does so with her usual adorable humor that makes you want her to invite you to a sleepover.
An analysis into all the dangers and dreads in life, coupled with her experience as a woman of color, Koul gifts us a poignant-yet-funny look into her life and view of the world.
The famed writer and director shares with us conversations he's had with comedy legends such as Jon Stewart, Jerry Seinfeld, Mel Brooks, etc. His interview style is comfortable while also revealing much about the subject.
With a book that contains monologues, short pieces of fiction, and poetry, Odenkirk's book appears to be a written sketch show…jumping from one subject to another while retaining the comedy.
A self-proclaimed klutz, Hart takes her readers on a tour of all the ways she's heaped humiliation upon herself over the years. But instead of coming across as someone to be pitied, her readers feel seen and heard…and maybe slightly less awkward.
What comedy book has given you the will to live in this never-ending year? Want more funny books? We got you.