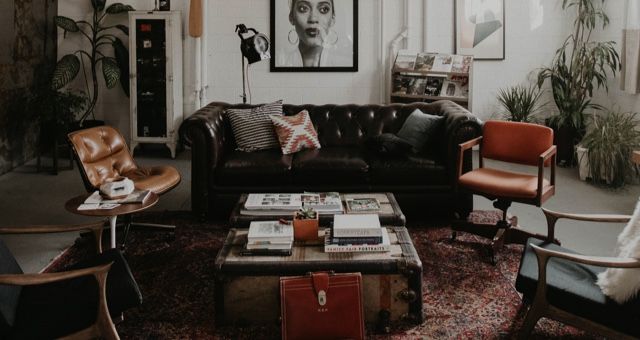 Lists
16 of the Best Coffee Table Books of 2019
This content contains affiliate links. When you buy through these links, we may earn an affiliate commission.
Here at Book Riot, we're big fans of every book imaginable. We read them, we listen to them, and we scoop our jaws off the floor at the amazing visual storytelling. But books aren't just treasure troves of information and new worlds—they can be a cute addition to your decor. While conventional wisdom tells us not to judge a book by its cover, let's be real: attention-grabbing coffee table books can really spice up your tiny apartment.
Coffee table books can be great conversation starters and icebreakers as well, encompassing a wide range of topics from the weird and wacky to haute couture.
Whether you're collecting them for the aesthetic or using them to avoid awkward small talk, here are some of the best coffee table books from 2019, with a few to look forward to in the next few months.
American Boys by Soraya Zaman and Buck Angel
As you can probably tell right from the cover, American Boys is a collection of portraits of trans-masculine Americans across the country. Through this series of photos, the book chronicles the fluidity and ever-evolving nature of gender. Pride month may be over, but Pride itself never is.
Weed is a no doubt tricky subject, what with the racism entangled in the way the media covers the topic. But as debates rage on and cannabis use becomes more mainstream, you might have a million questions in your head. If you want a look into the weed scene and expert input, this witty book has everything you need.
The bright red cover and intricate pattern are sure to catch any guest's eye, but the contents are just as enticing. Chock-full of 550 Turkish recipes, The Turkish Cookbook is a great addition to any foodie's home. To top it off, Dağdeviren has been featured on Netflix's Chef's Table, giving you some extra small talk material.
Kwame Brathwaite's photography celebrates Black beauty and excellence, popularising the slogan throughout the 1950s and '60s. This book memorialises a key figure of the second Harlem Renaissance, compiling studio portraits and behind-the-scenes pictures to bring the art of Harlem to life.
Art After Stonewall, 1969–1989 by Jonathan Weinberg, Tyler Cann, Anastasia Kinigopoulo and Drew Sawyer
2019 marked the 50th anniversary of the Stonewall Riots, one of the most significant events in Western queer history. Needless to say, the riot against police brutality led by trans women of colour heavily influenced the social fabric of NYC. But it also had a large impact on artistic movements. Art after Stonewall, 1969–1989 chronicles the visual history of queer America.
Graciela Iturbide captures the nuances of Mexico in her newest collection. Famed for her portraits of indigenous Mexican women, she captures everything from political protests to Mexican art to celebrations, never shying away from the complexities and contradictions of her homeland.
The Studio Museum in Harlem is known for showcasing artists of African descent throughout the diaspora. This pioneering institution deconstructs the myth of a singular Black artistic movement, highlighting the diverse and wildly varying voices of Black artists. If a visit to NYC isn't in your calendar this summer, this volume gives you a taste of the rich artistic history of Harlem.
There's a running joke about how recipes are always preceded by seven droning paragraphs about the cook's life story, but while Indian-ish also contains personal anecdotes, they're sure to entertain and enlighten. Krishna shares her mother's Indian American hybrid dishes, quick recipes that can please even the pickiest of palates.
So many things in life are arbitrarily gendered, from clothes to hobbies to literary tastes. But Libby Edelman is here to show off women who love all things automotive, challenging the notion that cars are for macho manly masculine men. The book chronicles stories and cars that are just as unique as the women who own them.
Mary Ellen Mark is best known for her photojournalism, capturing marginalised communities with unflinching honesty. The Book of Everything includes some of Mark's most iconic works as well as stories from her friends and colleagues. A perfect gift for the photography lover in your life, this book is proof that pictures truly can be worth a thousand words.
Award-winning writer and cook Salma Hage has put together 500 easy recipes that capture the cuisine of Lebanon. Whether it's salads, meats or drinks, you'll find your new favourite dish right here. Have a friend with dietary restrictions? Not a problem—the cookbook includes a treasure trove of vegetarian, dairy-free, and gluten-free dishes.
Perfect for young readers, The Book of Flight offers a glimpse into the wonders of the animal kingdom, complete with full-colour illustrations that catch and keep every toddler's attention. It's sure to be a hit with grown-ups too, especially those with an appetite for trivia and fun facts to share by the office water cooler.
Bedtime stories are a staple for countless children, from epic adventures about kickass princesses to awkwardly improvised tales about talking veggies. Now little readers can also dip their toes into art history with this collection of sleep-related art. The cute cover art also makes My Art Book of Sleep a simple yet gorgeous addition to your bookshelf.
Stan Lee's passing late last year broke hearts all across the globe. However, his legacy lives on in this updated version of the Marvel Encyclopedia. With an introduction from Lee, the encyclopedia has over 1200 entries to keep you up-to-date with the countless. As the Marvel wave continues to grow, this guide will help both die-hard fans and newcomers alike.
Coffee table books are also perfect at capturing breathtaking views both natural and human-made. Ballpark tells the story of America's favourite pastime through photos of stadiums and the cities in which they're built. Pulitzer-winning architectural critic Paul Goldberger provides accessible insight into how baseball has influenced America as we know it today.
This collection of Margaret Kilgallen's work will be published in conjunction with her first posthumous museum exhibit. Each page showcases her highly diverse body of work, including folk art, mural painting and typography. Charged with feminist ideologies, Kilgallen's art continues to resonate in modern times.