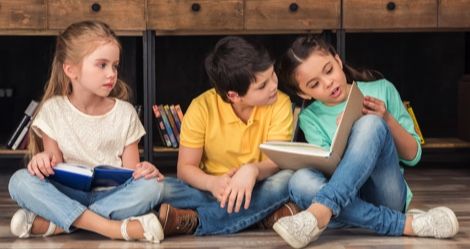 This content contains affiliate links. When you buy through these links, we may earn an affiliate commission.
This list of the best children's book series is sponsored by The Adventures of Phatty and Payaso by Marie Unanue.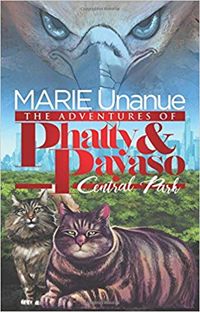 Marie Unanue's debut Early Reader Chapter Book encourages kids and their families to take the #LetsAllBeKind Challenge. Learning about kindness through The Adventures of Phatty and Payaso: Central Park could not be more entertaining—we love how this motley crew of cats and their friends must band together to save the day! Children see the important character values of curiosity, gratitude, grit, self- control, social intelligence, and zest modeled by these fun new friends who show one another about loving others who may be different. A Latinx and Autism spectrum main character each help kids learn to be inclusive.
---
I have been a reader as long as I can remember. But what I have never really been is a rereader. As an adult, I can count on one hand the number of books I can reread over and over, and even as a kid, I definitely enjoyed more variety in my reading than most. For me, being able to read a children's book series was the perfect balance of getting brand new stories while still being able to revisit the characters and/or worlds I loved.
There are tons of children's book series out there, but sometimes it's hard know where to begin other than with the most obvious ones we hear about on a regular basis (looking at you, boy wizard). Here are 50 children's book series suggestions, split up by (approximate) age group, to serve as a starting point.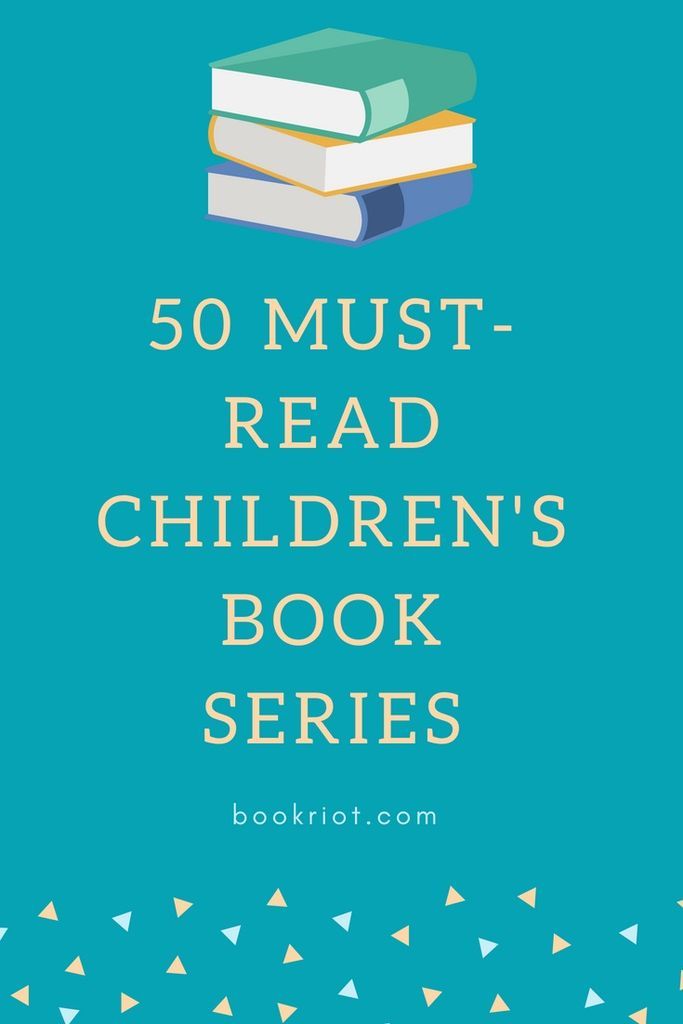 5 and Under
Carl is a protective, loving Rottweiler who takes care of a baby girl named Madeleine. These board books are mostly wordless, with the story being told through detailed art. Not only are these books beautiful, but I also love Day's positive depiction of a breed that is often portrayed in a more negative light.
This picture book, with Eric Carle's distinctive illustration style, helps young children learn to recognize colors and various animals. Three spin-offs are also included in the series: Polar Bear, Polar Bear, What Do You Hear? (about the sounds different animals make), Panda Bear, Panda Bear, What Do You See? (about endangered animals and the idea of conservation), and Baby Bear, Baby Bear, What Do You See? (about North American animals and the parent-child bond).
Miffy by Dick Bruna, translated by Tony Mitton
A children's classic from the Netherlands. Dick Bruna's simple, graphic illustration style makes Miffy instantly recognizable to readers around the world.
Guri and Gura by Rieko Nakagawa, illustrated by Yuriko Yamawaki, translated by Peter Howlett and Richard McNamara
This series about a pair of anthropomorphized field mice is a classic of Japanese children's literature and has been translated into many languages around the world.
If You Give…series by Laura Numeroff, illustrated by Felicia Bond
Beginning with the popular If You Give a Mouse a Cookie, this series presents stories that follow a simple circular format following a chain of events.
This comic style picture book series follows the adventures of two friends, Gerald the elephant and Piggie the pig.
Ages 5-8
Mouse Books series by Kevin Henkes
Including such titles as Chrysanthemum and Lilly's Purple Plastic Purse, this series features charming mice as the main protagonists. Though each book focuses on a different character, they all live within the same universe and will appear in the periphery in each other's stories.
Letters from Felix by Annette Langen, illustrated by Constanza Droop, translated by Laura Lindgren
After Sophie loses her beloved stuffed rabbit Felix at the airport, she begins receiving letters from him (that the reader can actually remove from envelopes attached to each page) chronicling his amazing adventures around the world. This series was one of my favorites as a kid, and I still have the copy that was half-eaten by my childhood dog.
A baby polar bear named Lars gets separated from his father when the ice breaks while they are sleeping. Lars finds himself on adventures in new places and meets many new friends who help him find his way back home to the North Pole. Throughout the rest of the series, Lars goes on many more adventures with many more new friends.
Madeline by Ludwig Bemelmans
Madeline is a courageous seven-year-old girl attending boarding school in Paris. The beloved series follows her day-to-day adventures.
A series of biographies of notable figures in history—from Martin Luther King Jr. to Lucille Ball—in picture book form.
This series introduces children to mindfulness and positivity from an early age in order to foster an awareness about maintaining mental health. The books include access to free resources for educators and parents as well.
"The first adventure in this highly popular series tells how the little monkey Curious George, caught in the jungle and brought back to the city by a man in a yellow hat, can't help being interested in all the new things around him. Though well meaning, George's curiosity always gets him into trouble."
Amelia Bedelia by Peggy Parish, illustrated by Fritz Siebel
Amelia Bedelia's habit of taking everything literally makes for hilarious hijinks in this series, but I also remember that it helped me learn a lot about the different uses of various words and phrases.
Doraemon by Fujiko F. Fujio
Doraemon is a robot cat from the future who has been sent to guide Nobita, a deeply flawed, but good at heart, young boy who is frequently bullied. This children's manga has been adapted into a long-running anime series and movie franchise, and the character of Doraemon has become an icon of Japanese culture.
The Princess in Black by Shannon Hale and Dean Hale, illustrated by LuUyen Pham
"Who says princesses can't wear black? When trouble raises its blue monster head, Princess Magnolia ditches her flouncy dresses and becomes the Princess in Black."
The deep friendship between Frog and Toad, despite their different personalities, is what makes these books resonate to this day. The stories come from very normal, quiet moments in their lives as opposed to wild adventures, making them relatable and allowing their bond to stand out.
Ivy and Bean by Annie Barrows, illustrated by Sophie Blackall
"The moment they saw each other, Bean and Ivy knew they wouldn't be friends. But when Bean plays a joke on her sister, Nancy, and has to hide quickly, Ivy comes to the rescue, proving that sometimes the best of friends are people never meant to like each other."
The Magic School Bus by Joanna Cole, illustrated by Bruce Degen
Ms. Frizzle takes her class on impossible, fantastical adventures in their magic school bus to teach them about various scientific phenomena up close.
Alvin Ho series by Lenore Look and LuUyen Pham
"Alvin Ho is an Asian American second grader who is afraid of everything—elevators, tunnels, girls, and, most of all, school. He's so afraid of school that, while he's there, he never, ever, says a word. But at home he's a very loud superhero named Firecracker Man, a brother to Calvin and Anibelly, and a gentleman-in-training, so he can be just like his dad."
Tiny Titans by Art Baltazar and Franco Aureliani
This delightful comic book series stars alternate, elementary school–aged versions of various DC Universe characters.
Ages 8-12
"Hector, Terrence, and Dee have always wondered about their school lunch lady. What does she do when she isn't dishing out the daily special? Where does she live? Does she have a lot of cats at home? Little do they know, Lunch Lady doesn't just serve sloppy joes—she serves justice! Whatever danger lies ahead, it's no match for LUNCH LADY!"
"Franny K. Stein is not your average girl—she's a mad scientist. She prefers poison ivy to daisies, and when Franny jumps rope, she uses her pet snake. The kids in Franny's class think she's weird, wacky, and just plain creepy."
"Meet Weir Do. No, that's not a typo, that's his name! Weir Do's the new kid in school. With an unforgettable name, a crazy family and some seriously weird habits, fitting in won't be easy…but it will be funny!"
Whistle! by Daisuke Higuchi
In honor of this year's World Cup, here's a soccer-themed manga about a middle schooler who strives to improve his skills enough to make the team at his new school.
Ramona by Beverly Cleary
Ramona is a curious and imaginative young girl, and this series follows her and her family as she grows up and is affected by various experiences typical among middle-class American families.
As a young reader who loved nature, I was obsessed with this series about a young boy who runs away to the Catskills to live in the wilderness with his peregrine falcon, Frightful. These books are also what sparked my unrealistic lifelong dream of having a pet bird of prey.
Molly Moon lives in an orphanage in England with her best friend Rocky. One day, she finds a book about hypnotism and learns how to hypnotize others. With the help of these newfound powers, she embarks on an adventure to find Rocky, who has been adopted and taken away to America. In later books, Molly learns to use various other powers as well.
Roll of Thunder, Hear My Cry is the most well-known book from this series following an African American family living in Mississippi. The series explores racism and the family's struggles to survive in the period during and around the Great Depression.
This series follows a young Ojibwa girl, Omakayas, and her family as they navigate life as Native Americans in nineteenth century America.
Grace Lin's Where the Mountain Meets the Moon, Starry River of the Sky, and When the Sea Turned to Silver are companion books that make up this children's series. All three are beautifully illustrated fantasies rooted in Chinese folklore.
14-year-old Nikki Maxwell chronicles her daily middle school life in her diary, alongside illustrations and comic strips.
"A spine-tingling tale rooted in Caribbean folklore about an ordinary girl who must use her extraordinary bravery—and a bit of magic—to save her island home from jumbies, the scary spirits that haunt the forest."
Lumberjanes by Shannon Watters, Grace Ellis, Brooklyn A. Allen, and Noelle Stevenson
Lumberjanes follows a group of five girls at summer camp who witness supernatural phenomena and take it upon themselves to investigate the mysteries behind them.
"Twelve-year-old September lives in Omaha, and used to have an ordinary life, until her father went to war and her mother went to work. One day, September is met at her kitchen window by a Green Wind (taking the form of a gentleman in a green jacket), who invites her on an adventure, implying that her help is needed in Fairyland…"
From Book Riot's own Karina Yan Glaser comes this heartwarming story about a family in Harlem coming together to save their home from a curmudgeonly landlord who doesn't want to renew their lease. The second book in the series is set to be out in September of this year.
Friends Sophie and Agatha are sent to The School for Good and Evil, where children receive training to become fairytale heroes or villains. Although it seems at first that Sophie would be perfect for the School for Good, and Agatha a shoe-in for the School of Evil, the two end up in opposite places, and begin to discover who they really are.
"Ash Mistry hates India. Which is a problem since his uncle has brought him and his annoying younger sister Lucky there to take up a dream job with the mysterious Lord Savage. But Ash immediately suspects something is very wrong with the eccentric millionaire. Soon, Ash finds himself in a desperate battle to stop Savage's masterplan—the opening of the Iron Gates that have kept Ravana, the demon king, at bay for four millennia…"
The three novels in this series each focus on a different member of an elite middle school track team, following their experiences and struggles both on and off the track.
"For generations, four Clans of wild cats have shared the forest according to the laws laid down by their warrior ancestors. But the ThunderClan cats are in grave danger, and the sinister ShadowClan grows stronger every day. Noble warriors are dying—and some deaths are more mysterious than others. In the midst of this turmoil appears an ordinary house cat named Rusty…who may turn out to be the bravest warrior of them all."
"After Soren, a young owlet, is pushed from his family's nest by his older brother, he's plucked from the forest floor by agents from a mysterious school, the St. Aegolius Academy for Orphaned Owls. When Soren arrives at St. Aggie's, he suspects there is more to the school than meets the eye…"
Hilary Westfield has always wanted to be a pirate, but The Very Nearly Honorable League of Pirates does not allow girls to join. Hilary decides to embark on her own seafaring adventure, and finds herself on an amazing quest.
This series of graphic novel trilogies continues the story from the Avatar: The Last Airbender animated television series. The next installment of the series, to be released later this year, will the be first written by Faith Erin Hicks, with artwork by Peter Wartman.
This laugh-out-loud series written in a hybrid format of comic panels and text follows the adventures of Danny Dragonbreath and his friends.
Redwall by Brian Jacques
This fantasy series covers various time periods in the history of Redwall, a world reminiscent of medieval England and inhabited by anthropomorphic animals.
The Incorrigibles are three mysterious children with dog-like behavior who were found in the forest around Ashton Place. It becomes the job of the governess, Miss Penelope Lumley, to care for them.
Aru Shah and the End of Time is the first book from the imprint "Rick Riordan Presents", which focuses on publishing ownvoices fiction based on diverse mythologies. Chokshi's story draws from Hindu mythology, and has been planned as a series.
Kiranmala believes she's an ordinary sixth grader, until her parents disappear on her twelfth birthday and she is suddenly hurtled into another dimension to fight demons and save the world. The second book of this series inspired by Bengali folk tales is set to come out early next year.
Inkheart by Cornelia Funke
Meggie and her father Mo possess the incredible power to read characters out of books, bringing the chaos and adventure of fiction into the real world. This is a series made for readers, for those who love getting lost in a book.
Hilo by Judd Winick
"D.J. and his friend Gina are totally normal kids. But Hilo isn't! Hilo doesn't know where he came from, or what he's doing on Earth. (Or why going to school in only your underwear is a BAD idea!) But UH-OH, what if Hilo wasn't the only thing to fall to our planet?"
What are your favorite children's book series?