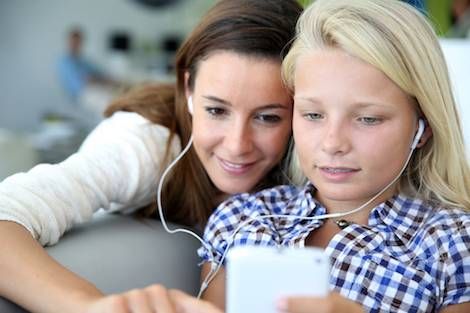 Audiobooks
The 25 Best Children's Audiobooks, From Preschool To Middle School
This content contains affiliate links. When you buy through these links, we may earn an affiliate commission.
Whether you're going on a long family car trip or you want to introduce some children's audiobooks at home, there are a ton of great options of audiobooks for kids. But which kid's audiobooks are the best? How do you sort through them all? Don't worry, I've done the work for you! I've selected (what I think are) the best children's audiobooks, including audiobooks of children's classics, as well as contemporary stories.
Don't forget: your public library is a great source for free audiobooks for kids, especially new ones! Free children's audiobooks, especially classics—in other words, older books that are in the public domain and not subject to copyright—can also be found on the many websites that offer free audiobooks. If you're still craving more after this list, be sure to check out fellow Rioter Molly's list of 100 family friendly audiobooks.
25 Of The Best Children's Audiobooks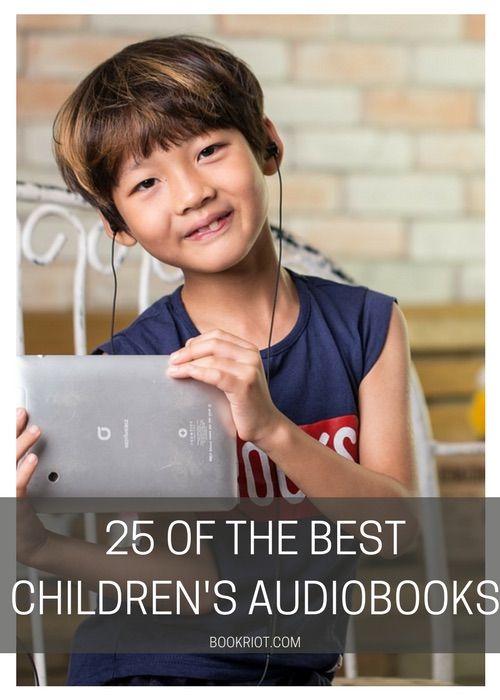 1. Ghost by Jason Reynolds
Supremely talented audiobook actor Guy Lockhart nails the different voices in this uplifting story about 13-year-old urban Black kid Castle Crenshaw, aka "Ghost," as he stumbles into joining a track team. More than just a sports story, it's a sensitive, realistic look at a young person dealing with trauma and trying to avoid the crushing effects of racism and poverty. Lockhart especially excels at the loving but tough coach.
It's impossible not be charmed by David Tennant's reading of the How to Train Your Dragon series. It's obvious he's having a blast reading the books, infusing them with his sense of fun as he narrates—in delightful Scottish accents—"the adventures and misadventures of Hiccup Horrendous Haddock III as he tries to pass the important initiation test of his Viking clan by catching and training a dragon."
Vividly set in the summer of 1968, One Crazy Summer is about the three Gaither sisters as they go to visit the mom who abandoned them and become unwittingly involved in the Black Panther movement. Voice actor Sisi Aisha Johnson does a great job embodying the voice of narrator 11-year-old Delphine, who's the classic responsible oldest child.
Although audiobooks read by authors can be dry, Tim Federle is clearly up for the job, since he's a self-described "grown up theater kid" telling the story of a theater kid. The main character Nate Foster is a small-town kid who has big dreams of starring in a Broadway show, so he and his BFF Libby plan an overnight escape to New York City. Nothing could go wrong, right?
The well-loved story of Nobody Owens, aks Bod, who lives in a graveyard and is being raised by ghosts, got the royal audiobook treatment in 2015, including a full cast, atmospheric music, sound effects, and a special behind-the-scenes scoop read by Gaiman. Not only are there adventures in the graveyard for Bod, if he leaves he risks being murdered by the man Jack, who has already killed his family…
This story of space-obsessed 11-year-old Alex Petroski and his dog Carl Sagan on am episodic journey to launch Alex's golden iPod into space has been translated excellently to audiobook, with a cast of five voice actors playing the roles of important characters, including Kivlighan de Montebello as the main narrator. The resulting story is funny, inspirational, joyful, and full of heart.
Since Glenn Close starred as Sarah in the 1991 TV adaptation of this classic set in the 1800s, it's only fitting that she narrates the audiobook of the beloved tale of two kids, Anna and Caleb, whose lives are changed forever when their widowed papa advertises for a mail-order bride to come live with them on their farm in the US plains. Will she decide to stay?
8. Save Me a Seat by Sarah Weeks and Gita Varadarajan
This dual perspective story is really brought to live by two voice actors personifying the two main characters, Josh Hurely voicing Joe and Vikas Adam voicing Ravi. Joe and Ravi are two boys who don't think they anything in common. Except they find out they have a common enemy in the big bully in their class and, more importantly, that they both need a friend.
The epic story of Redwall is beautifully done in the full cast audiobook, with voice actors reading the dialogue of their respective characters and Brian Jacques himself reading the narration. It's a fantastic way to experience the story of Matthias, the young mouse who must rise above his fears to save his friends at Redwall Abbey from the dreaded Cluny the Scourge, most evil rat of all time.
Trini Alvarado is the perfect bilingual actor for this historical novel dotted with Spanish about Mexican-Americans working on farms in the Depression. The story focuses on Esperanza as she goes from young daughter of wealthy landowners to Mexico to farm worker. A fabulous book that deals with a lot of issues (racism, migrant workers, workers' strikes, class, sexism) in an authentic, fascinating way.
Any list of great audiobooks for kids would be amiss if it failed to mention Rob Inglis's warm, rich narration of the classic tale of Bilbo Baggins, the hobbit who dares to leave the Shire to go off and have adventures all over Middle Earth encountering dwarves, trolls, dragons, giant spiders, wizards, and more! Inglis clearly has great fun trying on different voices for Tolkien's epic characters.
It always makes sense for a memoir to be read by the author and Jacqueline Woodson does a splendid job reading this memoir in verse that makes up her unusual story detailing her childhood spent in both New York and South Carolina. It's a rare accessible book of poetry, and Woodson's dreamy, easy-going style is embodied perfectly by her mellow, carefree voice.
It's an absolute treat to have Series of Unfortunate Events read by Tim Curry, whose expressive voice exemplifies the dry, dark, self-referential humor of the series. He's especially chilling as the sinister Count Olaf, the enemy to the Baudelaire children, who fight back against Olaf using books. The first book, The Bad Beginning, has a full cast (including Curry) version with brooding orchestral music and excellent sound effects, but Curry is more than adequate on his own for the remainder of the books.
The unusual structure of this novel—told through the poems of 18 kids in a grade five class during an especially transformative year—thrives in audiobook format. Performed by seven different voice actors, The Last Fifth Grade of Emerson Elementary tells the everyday stories of fifth graders as well as how the class as a whole is dealing with the impending closing of their school.
If you don't already know Bahni Turpin's name, a foray into audiobooks will soon change that, since she is a masterful and prolific audiobook voice actor who reads Shetterly's information book. This non-fiction title adapted especially for younger readers is a gripping, amazing true story about four African American female mathematicians who were instrumental in some of the greatest moments in NASA's space program.
Stockard Channing brings every single book starring Ramona Quimby (Ramona and Beezus, Ramona Forever, Ramona Age 8, etc.) to cheery entertaining life in this epic audiobook edition that is over 19 hours long! All eight books are there unabridged, as Ramona goes about her wacky adventures, gets into lots of trouble, and deals with all the stuff of growing up.
If you were in any doubt as to where the main character is Listen, Slowly grew up, voice actor Lulu Lam clears things right up with the best California accent possibly ever done. But there's a lot more to this story about Mai, who learns the true meaning of family and her cultural when she travels to Vietnam with her grandma to find out what happened to her grandpa in the Vietnam War.
One thing that never really pops in print books are songs; luckily, in the full cast edition of The Princess Academy series includes plenty of singing. Laura Credido narrates while other actors provide character voices in the first book of this fantasy series about Miri, whose mountain home is turned into a "princess academy" which all girls must attend in order to have a chance at being the prince's chosen one.
Jayne Entwhistle is the voice actor who compellingly tells the story of nine-year-old Ada whose life is changed for the better when she follows her brother who is sent away from London because of the war. Ada's cruel mother has kept Ada inside because of her disability, so she seizes the chance to escape and have adventures. But will she and her brother be forced to go back to their mom when the war ends?
Mirron Willis is pitch perfect for this powerful story about 11-year-old Elijah, who is the first kid born into freedom in the Black community of Buxton, Canada in the mid-1800s. Willis excels at the cultural and historical dialect while telling the story of Elijah and his community as he eventually learns firsthand about the horrors of slavery that the adults in his life have left behind.
There are many audiobook versions of this beloved 1890s Canadian classic (including free ones) but the performance by Rachel McAdams is especially stellar. Her light, easy delivery effortlessly communicates Anne's charisma and dreaminess, as well as the familiar quirks of all the characters in this tale of an orphaned girl finding a home (although she was not the boy her foster parents wanted) and getting into one hilarious misadventure after another.
Kate Winslet is at her finest in this audiobook edition of the cherished story about six-year-old Matilda, a sweet, exceptional girl whose horrible, ignorant parents are matched only by the children-hating headmistress of her school, the Trunchbull. Matilda has to use her magic powers and the support of her favourite teacher Miss Honey in order to give the Trunchbull what she deserves.
When's the last time you read a novel about basketball told in poetry? Corey Allen shines in his reading of The Crossover, which is not only a novel in verse, but also one told in many different poetic styles. 12-year old Josh Bell is a talented basketball player, as is his twin brother Jordan, but he's got "mad beats" too. As Josh and Jordan grow up on and off the court, they realize breaking the rules can come at a terrible price.
Jenny Sterlin's performance of this very popular fantasy novel is just excellent. The story features Sophie, a girl who gets changed into an old lady by a witch and must journey to the ever-moving castle in the hills that is the title of the book. She learns more about herself (and Howl) than she ever thought possible as she struggles to break the strange enchantment.
Aha! You probably thought I forgot Rowling's immensely popular fantasy about the Boy Who Lived, but of course this list of best children's audiobooks wouldn't be complete without mentioning both the Stephen Fry and the Jim Dale audiobook versions. Both have their pros and cons: Dale's women voices tend to be not great (Hermione can sound whiny) but he's also considered the more dynamic reader by some.
What do you think are the best children's audiobooks? Hit the comments to share your absolute favorites.