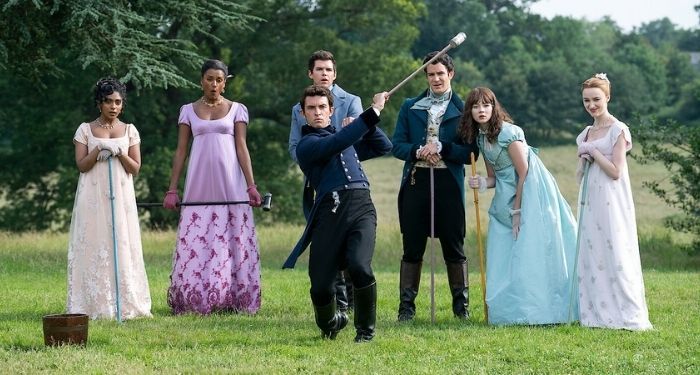 Lists
The Best Bridgerton Fan Fiction
This content contains affiliate links. When you buy through these links, we may earn an affiliate commission.
Netflix's Bridgerton series is so hot that it reignited sales for Julia Quinn's beloved series of books AND set the internet alight with some of the best Bridgerton fan fiction (more than is humanly possible to consume). Okay — so some artistic license is allowed in this statement; however, it is not as big an exaggeration as you may think. Season 2 was even more popular than the first season, sitting in the Top 10 series on Netflix across 91 countries. The Netflix series differs very much from the original books, especially with Season 2. Some might even consider the series to be fan fiction itself. Whatever it is, it is fanning the flames, and we cannot get enough of the characters.
The great news is seasons 3 and 4 already have the green light, but it is a long wait until the next season starts. We have the best Bridgerton fan fiction to help scratch your itch if the books aren't enough for you.
Warning: there is a lot. There are eight (8) Bridgerton siblings, which gives enough material to work with. Add additional side characters, alternative love pairings, modern vs. canon period timing, and the ever-popular full-blown family saga. Better put the kettle on and make yourself a nice pot of tea. We could be here for some time yet.
A quick note about fan fiction: fan fiction will never take away from the source material and original copyright. It is a way for fans to explore more profound concepts, new relationships, or alternate settings. Yes, there can also be a lot of smut. If you are new to the fan fiction scene, get started with A Beginner's Guide to Reading Fan Fiction here and the Best Fan Fiction Apps and Sites here. And if all of this Bridgerton fan fiction has you thinking about your own storytelling, here are some tips on How to Start Writing Fan Fiction here.
---
I will warn you again: the pool for the best Bridgerton fan fiction is more like an ever-growing swirling ocean that will drag you down to the bottom, never to be seen again. Each day, more stories are added, and it will only get worse/better when the next season drops. So embrace it and enjoy your guilty pleasure. And always remember: the original characters and story ideas belong to Julia Quinn and her books.