Lists
The Best Books You've Never Heard of
This content contains affiliate links. When you buy through these links, we may earn an affiliate commission.
Being a reader can feel like a never-ending struggle to keep up with the must-read books that everyone and their grandma's book club has already read. But those are only the books that get the best marketing push. Every year, tons of books get buried, and some truly excellent stories languish in obscurity. In the Best Books You've Never Heard of series, we try to rescue these little-known gems and give them a second chance! It's not just the bestsellers that are worth reading.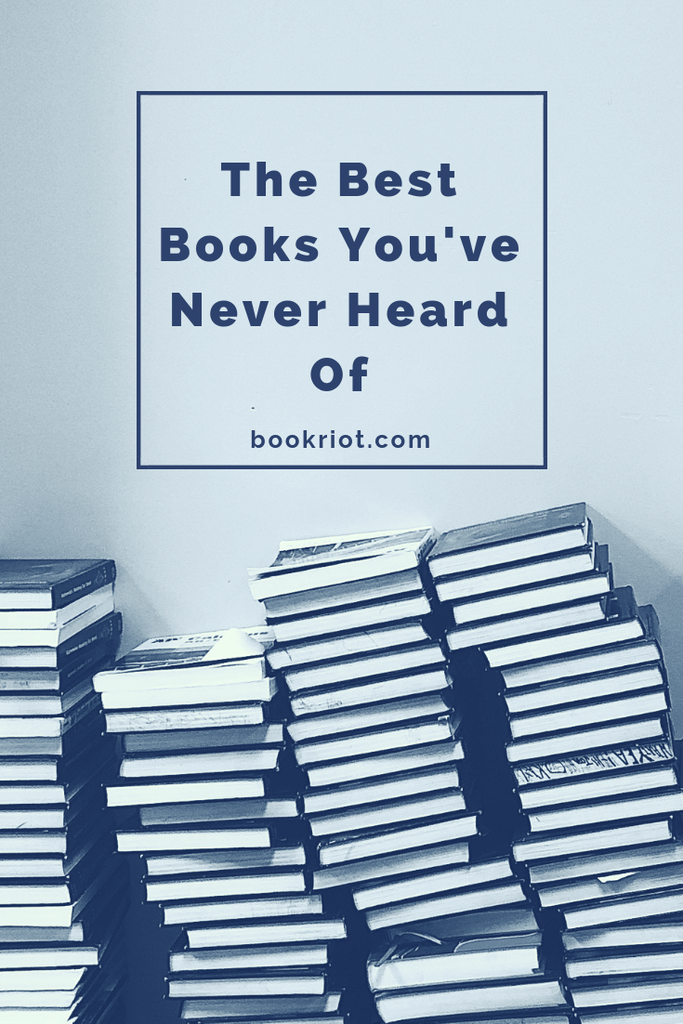 I encourage you to check out your own favorite little-known books! Click on your Goodreads Read shelf and select sort by "Num ratings" on the white bottom bar, then switch to "Ascending". You might be surprised by which books get the most and least attention. For our purposes, we stuck pretty close to books that have 100 or fewer ratings. Here's what we found!
This book, along with With His Pistol in His Hand, is Americo Paredes's seminal work. This book is set in Deep South Texas in the early part of the twentieth century. It details the struggles of Mexicans and Mexican Americans along the Texas-Mexico border. They fought against Anglos, particularly the Texas Rangers, to preserve their identity, their land, their culture and their heritage. I loved this book because although it is written as a work of fiction, Paredes does an amazing job of detailing the actual struggles of Mexicans and Mexican Americans along the Texas-Mexico border in the Rio Grande Valley around 1915. Américo Paredes is generally recognized as one of the seminal Mexican American scholars of the 20th century. —Romeo Rosales, Jr.
I know this looks like a textbook and it kind of is, but don't let that stop you from grabbing a copy. Whether you work with children or have children, Storytimes for Everyone is a fantastic resource too few people know about. Ghoting, a leading thinker in the field of early literacy, and Martin-Diaz propose the five "vital practices" of early literacy and explain the mechanics of language and literacy development. Use this book to design storytimes for an audience or for just you and your little one while finding great activities to incorporate in everyday life to boost your child's abilities. —Abby Hargreaves
Wild Beauty was the first poetry collection I'd read of Shange's, and it's an excellent introduction to her work. Shange's direct approach to poetry often packs a gut punch, and she navigates the lines between the personal and political in such a way as to show that there are no lines, no boundaries, between the two. She translates each poem into Spanish, so this is a dual language book.
i am the voice of my selves who have
not/learned to speak
my mute & deaf dreams come thru
here
my silent daughters
why i speak at all
—Margaret Kingsbury
Wolves and Witches
by Amanda C. Davis and Megan Englehardt
Published a year after Cinder and during a heyday of fairytale retellings (though isn't every day a heyday for fairytales?), Wolves and Witches should've been more widely read than it was. It's a fun collection of short stories and poems that retell fairytales from the perspectives of the voiceless. The wolves and witches, yes, but also the princes who don't like to quest, the babies who narrowly escape, the cobbler who makes all the shoes for the dancing princesses. It's both light and dark, moody and playful. It's a collection anyone who enjoys fairytales will love. And it's written by sisters! —Margaret Kingsbury
This is a queer Swan Lake retelling, and honestly, it just had to live up to that premise to win me over. Add to that the beautiful cover and the promise of a positive polyamorous relationship, and I was sold. So I was surprised to find that not only did I love the queer-positive fairytale world, but that is only the backdrop for a subtle story about trust, betrayal, and new possibilities that reimagines the original story with added depth and complexity. I highly recommend A Lake of Feathers and Moonbeams, even if you're not familiar with the original! —Danika Ellis
The Little Homo Sapiens Scientist
by S.L. Huang
This is a dark, queer, reversed retelling of The Little Mermaid, from the point of view of a human scientist who acts in an anthropological capacity studying the atargati (definitely not "mermaids"). The atargati don't have gender, but instead of having nonbinary characters only exist in a non-human species, there is also a nonbinary human character (who uses hir/zie pronouns). One of the aspects that most appealed to me in this novella is its exploration of identity. The main character has fought hard to come out as a lesbian and takes a lot of pride in that identity, so she is shaken to fall in love with one of the atargati, which seems to conflict with her conception of her sexuality. Unfortunately, this was a limited run, and it's no longer in print, making it pretty difficult to get a hold of, but it's well worth it if you can! —Danika Ellis
This is a beautifully written memoir that focuses equally on Torregrosa's experiences as a newspaper editor and reporter overseas in the '80s, as well as her almost decade-long love affair with a woman named Elizabeth. The interplay between politics and an intense, often destructive relationship makes this an engrossing read. The push and pull between these two women is at the heart of the story, and the entire narrative revolves around that age-old breakup question: what went wrong? The strength of this book is in the lyrical writing, and its ability to establish place and mood in a nuanced, compelling way. If you are okay with a memoir that is more of a contemplation of a passionate, deeply flawed relationship than it is a progression from point A to point B, I highly recommend this one. —Danika Ellis
Hillary Chute was one of the first scholars to take underground comics and graphic narratives super seriously (in the academic sense), and it shows in her other books Graphic Women and the recently released Why Comics? From Underground to Everywhere. In this collection of interviews, her easy rapport with the artists foundational to the genre leads to illuminating and hilarious conversations. Getting famously visual thinkers like Aline Kominsky-Crumb and Chris Ware to put their cartooning style into words is no easy task, and Chute draws out wonderful stories from her subjects. It is both a tour through the artists' brains and Chute's many years of research into comics and graphic narratives. The collection also includes interviews with Phoebe Gloeckner, Alison Bechdel, Adrian Tomine, and more.