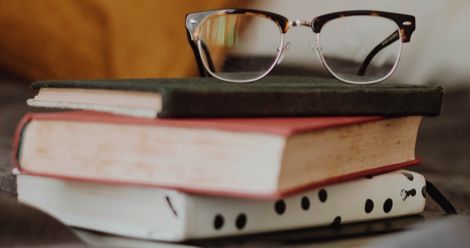 Lists
The Best Books You've Never Heard of, April 2019
This content contains affiliate links. When you buy through these links, we may earn an affiliate commission.
We love gushing over new releases here at Book Riot. It's so exciting to keep up with the big books that everyone's talking about! But there are so many books being published every week, it's easy for amazing titles to fall through the cracks. We want to take a little time to recognize the backlist books that haven't gotten the attention they deserve. To make sure they're actually obscure, we have picked an arbitrary cut-off point of under 250 Goodreads ratings. (For context, The Girl On the Train has 1.6 million ratings. In Watermelon Sugar has 11 thousand ratings.) I highly recommend checking out your own underrated reads! You can sort your read Goodreads shelf by number of ratings to see how obscure your book taste is!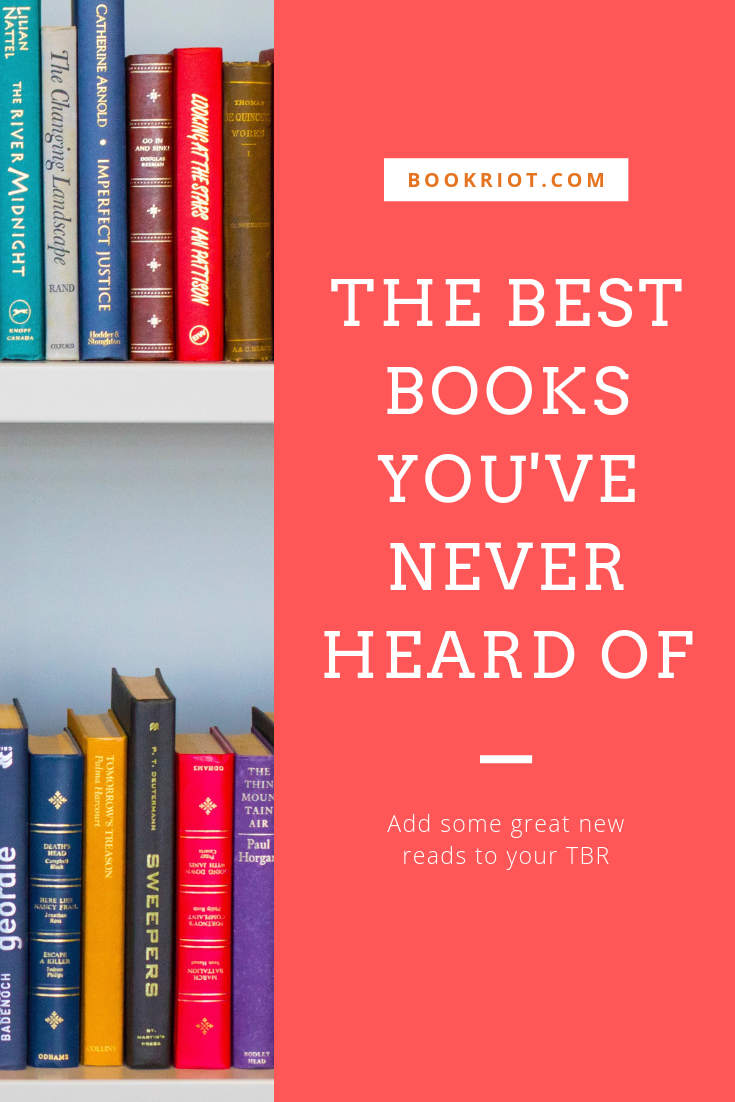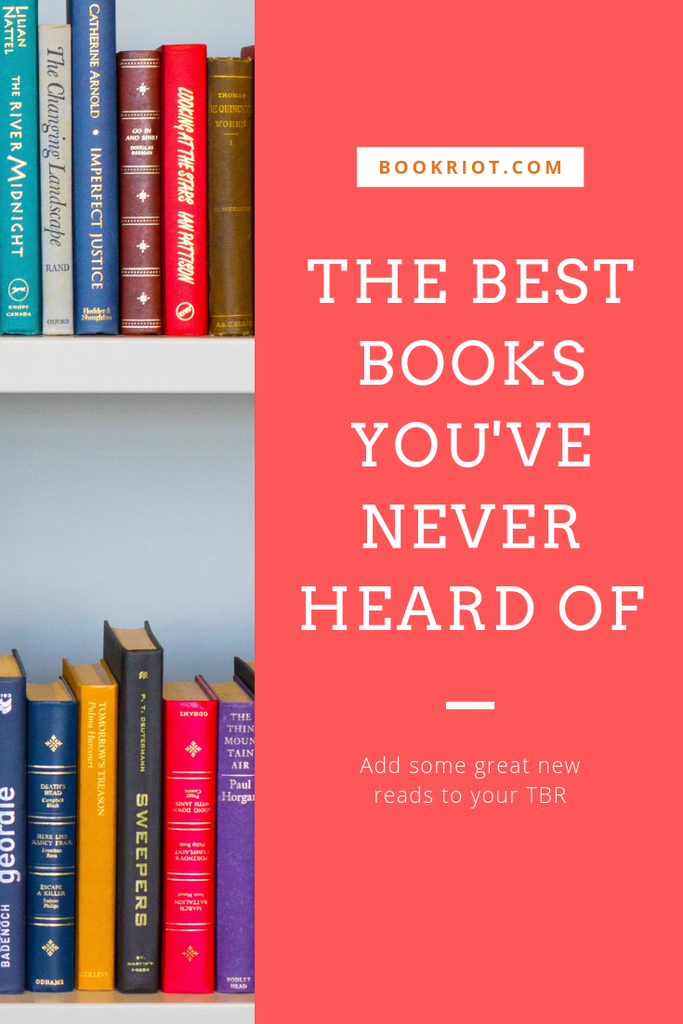 So, let's get into it! Here are some of our favorite books that you (probably) have never heard of.
Simon Says
by Elaine Marie Alphin
This YA novel came to my attention when I was a teen, fortunately enough. It's moody and deals head-on with mental health among other darker topics. Perhaps one of the most interesting themes of this book is the idea of your idols not living up to your expectations. When Charles enters a private high school for the arts, he's convinced meeting Graeme will change his life—and it will, but not in the way he expects. With pressure from his father and now the angst of the reality of Graeme, Charles is just barely holding on. Some of the representation may now be considered problematic, but if you head in for the story and consider the relative lack of knowledge around mental health at the time of its publication, Simon Says is riveting. —Abby Hargreaves
It is hard to believe that this book has less than 100 ratings on Goodreads. This book is not only amazing, but it won the 2016 Pura Belpre Honor Book Award for Narration. Bowles is a prolific writer and his works stay true to the Latinx culture in which he was born and raised in Deep South Texas. The Smoking Mirror is about Carol and Johnny Garza, 12-year-old twins, whose lives in a small Texas town are forever changed by their mother's unexplained disappearance. Shipped off to relatives in Mexico by their grieving father, the twins soon learn that their mother is a nagual, a shapeshifter, and that they have inherited her powers. In order to rescue her, they will have to descend into the Aztec underworld and face the dangers that await them. Although the audience for this book is classified as YA and Juvenile, this is a great read for readers of all ages. Bowles is an assistant professor at the University of Texas—Rio Grande Valley and is the recipient of awards from the American Library Association, Texas Institute of Letters, and Texas Associated Press. —Romeo Rosales
A is for Awesome
by Eva Chen, Illustrated by Derek Desierto
This board book is, you guessed it, AWESOME. It's an alphabet book that features an iconic woman for each letter of the alphabet: "U is for Ursula K. Le Guin, prolific and prize-winning science fiction author." The illustrations are big and bold and fun. What I like best are the quotes from speeches the women have given (and that it includes Ursula K. Le Guin, one of my favorite writers). What my daughter likes best is the big, child-friendly mirror on the last page (the link goes to a blog post with a picture of my daughter gazing at herself in the mirror). This is one of our favorite board books. —Margaret Kingsbury
An uptight banker and a free-spirited loudmouth go on a road trip together. Evaristo more than delivers on the awkward tension and humour this premise promises, while also delivering a crash course in European black history. But she's also a prize-winning poet and wizard of words who takes Stanley (the banker), Jessie (the loudmouth) and the reader on a breathtaking trip. —Beulah Devaney
Percival Everett gives an absolutely hilarious and very clever retelling of the story of Medea and Jason from multiple points of view. Yes, I realize this story is a tragedy. Yes, I said hilarious. An article from May 2018 in the Los Angeles Review of Books titled "The Unavoidable Percival Everett" says, "You may have not heard of Percival Everett, and he would probably prefer it that way." I'm here to say that I had the pleasure of being in his presence a few times while I was an undergrad, and both the man and his writing are an absolute delight. —Patricia Elzie-Tuttle
Graves isn't read much outside of Texas literary circles. If he's known nationally for anything, it's for his travel book Goodbye to a River, which earned him comparisons to Thoreau and the first of two National Book Award nominations. The second came for this collection of articles originally published in Texas Monthly. Graves is on fire in every single piece here. In "Meat," he wrestles with his carnivorous eating habits. Even if the essay doesn't convince you to go vegan, it'll certainly make you think long and hard about the next steak you eat. "Blue and Some Other Dogs" is the most touching piece of writing about animals I've ever come across; have tissues on deck. "Tobacco Without Smoke," a two-part essay covering "dippers" and "chewers," is dead-on social observation on why people use the drug. Graves died in 2013, and the Lone Star State lost one of the great chroniclers of its land, people and animals. —Michael Herrington
Anwen is a remarkable writer; I recommended this book last year on Book Riot, and yet it has only about 93 ratings as of this post. She takes the myth of Medusa and points out how the monster was once a girl, and a girl who never wanted to hurt anyone. Rather than Perseus being the hero that slays her to save a girl, it's men being dicks to get the power they seek, with the pawns hurt in the crossfire. Medusa can't have her old life back, but she can hide from the people that think they can help her, or want her dead. And ultimately, the only way to move forward is to trust someone who is totally not trustworthy. —Priya Sridhar
What a (pardon my language) fucking amazing collection! The New Fuck You is a queer, diverse, feminist selection of poems, short stories, essays, and more that packs an incredible range of experiences and voices into one small volume. Reading it feels like stepping into a very cool, queer, '90s punk party. I love the sense of queer history and community in this collection. I'm not sure how exactly I found my way to this book, but I'm so glad I did. —Susie Dumond
Oola
by Brittany Newell
Written by an (at the time) 21-year-old debut author, Oola is edgy, lyrical, and full of heart. It is a story of obsession gone wrong, but it's not a thriller. At first, it almost reads like a love story when young couple Leif and Oola move into an isolated cabin on the coast of California. It's easy to miss the madness that slowly seeps in as Leif builds a shrine around Oola. Observing her every move, capturing fallen strands of hair and used tissues—his actions somehow seem charming under the guise of Newell's writing. It isn't until you set the book down that you realize the disturbing reality built by the two lovers. It's such a unique and intense story that I'm not quite sure how this one slipped under the radar! —Sophia LeFevre
I am, frankly, really frustrated that this is under 250 ratings, because although it is fairly new (it came out in October), it deserves to be in every public or school library and to be assigned in classes. I'll admit that I know a lot less about disability activism than I should, so this book was operating about 6 levels above where I am. In essays varying in topic and tone, Leah explains the joys and difficulties of living a life of disability justice: disability activism that leads from the most affected, which means centring queer, trans, black, indigenous disabled/Mad/Crazy people of colour. Disability justice sees ableism as intertwined with colonialism, capitalism, heteropatriarchy, and all of the other ways that bodies are policed and evaluated. This book absolutely blew my mind, and I'll have to read it many more times to feel like I'm just scratching the surface. It's complex and honest and much needed. —Danika Ellis
I love this book. Love, love, love. I recommend it to everybody. Formatted as a jumble of non-sequential short stories, this memoir describes the coming-of-age of a Latina lesbian who finds herself in punk and Suicide Girls. It's raw, it's unsparing, it's not afraid to feel rage and pain. If you're already a Scandal fan, here's a chance to get to know the big heart beneath the tattoos. If you're not, then this is what it's like to be a woman defining herself outside of all social expectations, yet still dragging those expectations like IVs full of poison in the midst of a hospital escape. Content warnings for suicide and rape. —Anna Gooding-Call
There are so many beautiful board books by Native American illustrators, and Paul Windsor is one of my favorites. I consider this one to be an essential for a newborn's library. On each page, Windsor depicts an animal using Haisla and Heiltsuk artistic traditions—his native tribes. The page then says good morning to the object illustrated: "Good morning eagles flying high in the sky." One of the hardest parts of being a new parent is learning how to rise early in the morning, and to be in a passably good mood at that. While much is made of reading a book together as part of a night time routine, I actually find it more helpful for myself to read a book with my daughter in the morning. This book helps me feel more positive about the day. On nice mornings, my daughter and I will go outside and say good morning to everything we see, following the tradition in this book. I'm surprised to see that all of his books have under 50 reviews. —Margaret Kingsbury
Zachery shares his own experiences of struggling to find true spiritual rest, and through that vulnerability, he gives us permission and encouragement to examine our own lives. He reminds us of our identity in Christ, and the ways Jesus can empower us when we rest in Him. The reader is encouraged to remember that seasons of crisis can be times of healing and sharpening in the hands of a loving God. I enjoyed this so much reading it on my own, but it would also make a great book for study and discussion within a small group setting. —Heather Bottoms
Can't get enough? Check out the other best books you've never heard of.