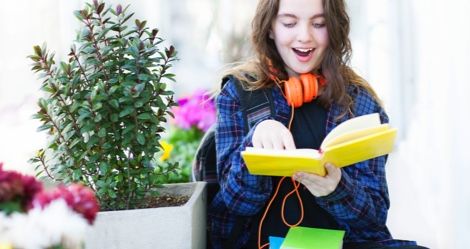 Lists
Riot Roundup: The Best Books We Read In October 2018
This content contains affiliate links. When you buy through these links, we may earn an affiliate commission.
We asked our contributors to share the best book they read last month, so reinforce your TBR shelves because we've got literary with a dog, a food critic's memoir (yum!), romance, sci-fi, and so much more! There's backlist, new releases, and not-even-out-yet reads. And remember to tell us in the comments what your favorite read of October was!
After the Winter by Guadalupe Nettel, translated by Rosalind Harvey
I took my time with this sharp and stunning novel and I absolutely loved it. In parallel and entwining narratives that move from Havana to Paris to New York City, After the Winter is a novel ultimately about the human impulse to love, and yet it's unlike any other love story. The writing, in Rosalind Harvey's brilliant translation, is nothing short of transcendent—subtle and dark but also surprisingly funny. Going forward, I want all of my love stories to have this many cemeteries in them.
—Pierce Alquist
With everything surrounding the confirmation of Brett Kavanaugh, I read a few books recently that focused on women's right to choose. This book follows Genesis, a seventeen-year-old student who makes the decision to terminate her unwanted pregnancy. When she leaves the operating room she discovers that her loving boyfriend, Peter, has abandoned her at the Planned Parenthood. Not only does Genesis have to move on from their relationship, but with her feelings surrounding her abortion and the pursuit of her dreams in the aftermath.
—Kate Krug
I'd never read Ross Gay before, and Algonquin sent me an ARC of this book. The premise immediately drew me in: on his birthday, he set out to write short essays about delights. He goes further into what constitutes something delightful, and quickly realizes it won't be a daily undertaking as he originally planned. But what he does come up with is something beautiful and much needed right now. Short essays that are full of observations on humanity, beauty, the mundane, the obscure, and the unexpected. His warm, rich prose was a balm for my soul.
—Jaime Herndon
I could read queer historical romance all day long, and K.J. Charles is one of my favorite romance writers, so this book was pretty much tailor-made for me. It still exceeded even my wildest dreams. This m/m story takes a whole heap of Regency romance tropes (a virgin hero, rakes galore, enemies-to-lovers, forced proximity in a manor house…) and gently subverts/teases/pokes fun at them, but in a loving, good-natured way. There's a female character (the sister of one of the MCs) who gets to be her own person and doesn't exist solely for the betterment of the hero. There's a swoon-worth queer family and a beautifully diverse cast, including black, Jewish, gay, bi, and trans characters. There are richly drawn non-traditional relationships, witty banter, and so much sexy consent. There's an HEA in which the MCs do not have to give up any parts of themselves. In a month full of seemingly endless misogyny, sexism, and transphobia in the news, this was the book I didn't know I needed. It's everything I love about romance rolled into one beautiful queer package.
—Laura Sackton
I had never read Sigrid Nunez before The Friend, but I kept seeing it recommended all over the place and I loved the cover, so I picked it up. I was hesitant, because I sometimes find pet stories too sentimental. This is not a cutesy pet story. It's a story about friendship, writing, grief, and what can be found in loss. It's about remembering a real person and not a perfect obituary version of a person. It's about the boring, inconvenient details that come with death. Nunez's prose is original, sharp, and will smack you right in the feelings.
—Vivienne Woodward
It is difficult to find a good YA about art, having a crush on your best friend, and family troubles. The main character here is a talented artist, who is worried because she has a crush on her best friend and her grandmother is in a coma in Puerto Rico. Mercedes has the potential to go to art school, but she feels like her art has been inadequate for a year. She frets as she receives an invitation to a mysterious estate, where for some reason outsiders cannot see the work. Mercedes has to reconcile her grief, love, and battle with maturity to keep her sister safe and recover her creative spirit.
—Priya Sridhar
I read this immediately after reading Delicious!, the novel by Reichl published in 2014. I loved that book and needed more so searched out her backlist. Garlic and Sapphires is her memoir of her time as the restaurant critic for the New York Times and it was just as delightful and wonderful. I loved stepping into New York of the '90s, seeing the behind-the-scenes life of a restaurant critic, and best of all, Reichl's writing about food. Her writing in general is a pleasure to read but her writing about food is even better. I now need to go and read everything else she has ever written.
—Jen Sherman
I can't even properly explain how much this book means to me right now. I was shedding proud, angry, righteous tears while listening to the audiobook in my car. Rebecca Traister tracks the abundance of rage and anger that a lot of us are feeling in this political moment by looking back at past feminist movements, exploring intersectionalism, and comparing representations and interpretations of male vs female anger. I feel like I'm better equipped to interpret the world around me and how we've gotten to this moment and I also feel part of a much bigger picture. There's so much to learn here and it's presented in such an accessible way that I hope tons of people pick up this book as a way to help them interpret this extraordinary time. I could definitely talk about Good and Mad all day, but mostly what I'm hearing between my ears is Traister's parting message for this moment: "Don't forget how this feels."
—Dana Lee
Harbor Me by Jacqueline Woodson
After reading 2016's Another Brooklyn, I knew I would follow this woman anywhere—even to middle grade fiction, which I don't typically dip into. As dazzlingly lyrical as ever, Woodson's latest tells the story of a group of students in an alternative classroom who are given the opportunity to spend one hour each day just…chatting. No adults listening in. At the beginning of the book, they don't know each other well, and are slow to open up. But by the end—after having shared stories of family heartbreak and various feelings and fears—they consider themselves a harbor for each other. Just beautiful. Woodson skillfully tackles a variety of tough topics without being heavy-handed.
—Steph Auteri
Jemisin's collection of 22 stories about destruction, rebirth, and redemption blew me away. In one story, Death and other deities struggle to find fulfillment after humanity has been destroyed. In another, a black girl refuses to underachieve even though becoming valedictorian will have dire consequences. A man fights for post-Katrina New Orleans alongside dragons; a woman keeps glimpsing subway lines that don't exist. I couldn't get enough of Jemisin's superb tales—I want to read everything she's ever written, everything she will write. How Long 'Til Black Future Month? is a stunning short story collection from one of the best science fiction/fantasy writers of all times, let alone ours.
—Leah Rachel von Essen
This novel's details, both the emotional ones and the historical ones, are astonishing. It's set during and after the Korean War, as three friends grapple with the compromises they had to make to endure. Alternating chapters are told from the perspectives of those three core characters, as well as the younger generation dependent on them. While at least one of the plot's tragedies feels unnecessary, If You Leave Me is luminous and heartbreaking.
—Christine Ro
Months ago I saw this debut romance novel on a "If you liked The Wedding Date by Jasmine Guillory, then read…" list, and I instantly booked marked the book. It was worth the wait and lived up to the hype, with equal parts swoons and laughter. Marlee Harper vows never to date an athlete after a humiliating break up with an NFL player. But all-star quarterback Gavin Pope will do anything to change Marlee's mind and win back an old fling. Sports romance novels aren't always my jam, but this was delicious from beginning to end.
—Alison Doherty
I picked up this book about a Welsh girl's David Cassidy obsession because I wanted a light, funny read. I should have known the author of I Don't Know How She Does It would give me more than that. She portrays main character Petra and her friends with affectionate respect, which is also how she treats Cassidy (with whom there is a real interview after the novel's conclusion). I learned much more about Welsh culture and language from this novel than I expected, and I was satisfied by the surprising second half. This is a fun book to read, but it's also a meaningful exploration of art, friendship, and culture.
—Stacy Pratt
Ellie Kemper's memoir My Squirrel Days is quirky and vivacious and not unlike the Ellie Kemper we see on TV and IRL. She writes about growing up in St. Louis, MO, trying to befriend squirrels, and pursuing comedy. In between those chapters, she smatters anecdotes about her competitive side (which resonated with me!), days on The Office, her nerve-wracking audition for Saturday Night Live, and the meeting with Tina Fey that landed her a role on Unbreakable Kimmy Schmidt. When I say My Squirrel Days is laugh-out-funny, I literally mean it made me burst out in sudden laughter on crowded trains. Feel-good, warm, and inspirational, Kemper's memoir shows her taking life by the horns, smiling through the pain, embarrassment, and obstacles, and seizing every day with passion. If you're trying to tune out the difficult news cycle, tune into this book instead.
—Kamrun Nesa
In what can best be described as one of those slapstick auction scenes from film and television, brothers Caleb and Bobby Gene accidentally trade their baby sister for a bag of fireworks. (One of them lifts her up to check if her diaper is dirty during the bidding, and she is instead thought to be an offer.) Punished with chores for the rest of the summer break, and still upset their father wouldn't sign permission slips to visit the museum in the city, things turn around when they meet Styx Malone, a cool, smooth-talking teen a few years older than the brothers. He talks the boys into a plan to bring fortune and wealth their way, and the brothers eagerly go along, wanting to impress the older, cooler kid. This is a wonderful story about trying to belong, but it also deals with more important issues, such as race (you get the impression the boys father won't let them leave their small town for fear of something happening in the city) and foster care (Styx has lived in several homes.) It's equally parts funny and heartbreaking, and wholly original.
—Liberty Hardy
This was a pick for my book club and probably the best book I read over the whole of October (and I read a lot). It's a sequel, but honestly this book can stand up on its own. It's about two women, Bhima and Parvati, who meet in the strangest circumstances and slowly become friends. Both Bhima and Parvati are from a poverty-stricken neighborhood of Mumbai and everyday is another day for survival. Will they have enough food for themselves and their family? Will they make the daily rent payments? Will anyone give them a helping hand in a world where your caste dictates otherwise? You get to see all of this unfold, but also see them coming to terms with the modernization of their city. When these two women meet, you know that they will eventually become friends and you get to see that happen throughout the story. It's such a moving and beautiful story of two women supporting each other during their most difficult times. If you're a fan of female friendships, empowerment for women, and learning more about the life of two older Mumbai women trying to make it in a new and slowly modernizing world, then this is the book for you.
—Simone Jung
The girl in a power stance on top of a snake's head on the cover was definitely one of things that caught my eye about this book. The story starts with Kiranmala's parents disappearing from their home in New Jersey, being replaced by two princes (one surly, one fanciful) and a murderous drooling rakshasa demon. I loved the humor, the themes of family, and the way that DasGupta introduces the breadth of Hindu cosmology in a way that blew the doors off my ideas about fantasy settings. The pacing is perfect, the adventure is utterly delightful and satisfying. I listened to the audiobook read by DasGupta herself and I highly recommend it. I am SO ready for next year's Game of Stars.
—Aimee Miles
The cover of this book (yellow background with large, bold, red and black letters for the title and author) caught my eye time and time again at the bookstore and library. I finally picked it up and the story is just as enticing as the cover. Tracy and the unnamed narrator grow up together in North West London. Both girls attend a dancing school, where one shows promise as a dancer and the other merely a passion for all things associated with dance. As the novel progresses, the girls develop a complex friendship that finally ends when the girls are in their 20s. There is so much more I could share about this book—the beautiful writing, the focus on the relationships between parents, children, and women in general, and the way that Smith transports the read effortlessly from tower blocks in London to a West African village. I have giant, dark circles under my eyes from staying up way too late reading this book!
—Katherine Willoughby
Thick: And Other Essays by Tressie McMillan Cottom (The New Press, January 8, 2019)
This book is essential for anyone who wants to think deeply about race, feminism, and culture. Anyone who loved Brittney Cooper's Eloquent Rage needs to get this book ASAP. McMillan Cottom draws on personal experience and her academic work in sociology to look closely at the fraught place of black women in American culture. She moves from healthcare to beauty to social networking to who gets to write opinion pieces, and is devastatingly smart every step of the way.
—Rebecca Hussey
Because it starts out with a murder and a disappearance set an alternate history (Palestina is a nation in Africa, with familiar colonialist issues but in a world that evaded the Holocaust), I didn't immediately know what to expect from this one. Its intriguing and atmospheric beginning blooms into a magnificent trip through the multiverse—or through efforts to repair rifts in the multiverse, basically, since pulp writer Tirosh's presence in Palestina bespeaks significant tension between worlds. This is fantastic science fiction. I hadn't read Tidhar's work before, and immediately picked up Central Station when Unholy Land concluded. New fan. Major kudos.
—Michelle Anne Schingler
I had been waiting for this young adult book to come out (earlier this month, on my birthday as a matter of fact!) since Tahereh Mafi had announced it months ago. The moment I read it, I knew this would stay with me for years to come. Set a year after the 9/11 attacks, it follows the painful—at times horrific—ordeal of Muslim American life that Shirin, a 16-year old girl who wears hijab, goes through. Mafi's prose is blunt, unapologetic, and heartbreaking. The love that Shirin discovers is as powerful and poignant as the hateful prejudice she faces is devastating. This book is revelatory for those unaware of how traumatic American life can be for demonized minorities. But it also features breakdancing! So that makes the book, Shirin, and Mafi (who really does breakdance) unabashedly awesome too.
—Alya Hameed
The Weight Of Our Sky by Hanna Alkaf (Salaam Reads, February 2019)
I will be the first to say that I know nothing about 1969 race riots in Kuala Lampur, Malaysia. This book, though, lays it out bare—unflinchingly and honestly. It centers around Melati, a young schoolgirl with OCD who believes that there is a djinn inside of her. She thinks that doing what the djinn tells her will keep her mother safe. But when violence breaks out all around her, Melati has no way of protecting her mother—she doesn't even know where her mother is! What follows is Melati trying to survive, to understand herself and this sudden violent world around her, all while searching for her mother. It's a brilliant novel that not only introduced me to a period of history and tension that I had little knowledge of, but did so with nuance and depth, through a character who is both vulnerable and tough.
—Adiba Jaigirdar
Toby Hennessy is a regular dude living a regular life until a violent burglary changes his life for good. Frustrated by the physical limitations and memory gaps caused by his injuries, he agrees to his cousin's suggestion that he keep his dying uncle company in their beloved family home. Everything's dandy until someone goes and finds a skull in the garden at Sunday lunch, kicking off a murder investigation that kept me gripped until the very actual last page. Some readers have taken issue with the pacing of French's first standalone mystery, but I found the revelations about each character perfectly timed. You may think you've figured it out, but keep going—it explodes right when you've settled in for the denouement. This book raises the question and flays it bare & bloody: do you ever really know a person, including yourself?
First off, let's start with what a total badass S.L. Huang is. She has a math degree from MIT (whoa, ok), she's a weapons expert (what??), and she's a professional stuntwoman (SERIOUSLY???). And in this case, she's channeled her own badassery into Cas Russell, the protagonist I feel like I've been waiting my whole life to read about. Cas doesn't have a superpower, she's just really good at math. Like, predicting the trajectory of bullets and using physics to run up walls good at math. When she encounters a secret organization with the ability to control minds, though, it gets a lot harder to keep her numbers straight. Full of amazing characters and edge-of-your-seat moments, Zero Sum Game had me totally hooked.
—Susie Dumond