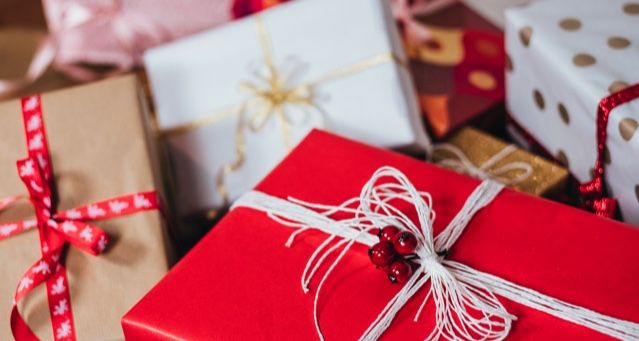 Lists
24 of the Best Books to Gift to Your Loved Ones in 2019
This content contains affiliate links. When you buy through these links, we may earn an affiliate commission.
Gift-giving season is also books season. Books are easy to wrap and non-perishable and often smell nice, and if you buy them in your local bookstore they also put money back into your local community. Plus, they're shareable. Win, win, win. But it can also be hard to choose the best books to gift someone else. Never fear! That's why you have Book Riot.
Below is a list of some of the best books to gift in 2019. Bonus tip: for the person who you might think has read everything, try something British. UK books often fly under the radar somewhat over here, even if they're big across the pond.
Gifts For Readers of Fiction
All the talk of the controversy about splitting the Booker prize has, frustratingly, obscured the achievement of Bernardine Evaristo's win. That means that even the most up-to-date fiction readers might not have rushed out to buy it, and its November U.S. publication date means that they might have held off anyway, hoping someone will hide it in their stocking. That someone could be you.
The British Queen of Literary Fiction, as I think of her, has her first collection of short stories out this year. It would make a great holiday gift.
Speaking of Zadie Smith, she has glowing praise for this novel, calling it "a sublime reading experience: delicate, restrained, surpassingly intelligent, uncommonly poised and truly beautiful". It's the story of Midhat Khamal, who returns home to Ottoman Palestine after studying in France to find his country under British rule. Over the course of the story, he and his nation strive for identity and independence – a great gift for someone who appreciates thoughtful fiction.
Never trust an outsider; never do anything to jeopardize your brother's political aspirations; and never, ever, defy your family: Trisha has broken all three rules and now seeks to redeem herself in this Indian American retelling of the Jane Austen classic. A great read to curl up with over the winter holidays.
Best Books To Gift the Child In Your Life
Parker Looks Up by Parker Curry, Jessica Curry, and Brittany Jackson
I picked this up in the bookstore where I work and was tearing up two-thirds of the way through. It's the beautifully illustrated story of the little girl who visited the National Portrait Gallery and became entranced with Michelle Obama's portrait there, and it's just a lovely book.
I loved B.J. Novak's The Book With No Pictures a few years back, and now kids can make up their own words in this fill-in-the-blanks version – complete with a sheet of stickers, and who doesn't love stickers?
For slightly older kids with a creative bent, look no further than Raina Telgemeier's Share Your Smile. She's a huge favourite among middle grade readers, but in the excitement of Guts coming out they may have missed this other book of hers – an interactive journal to help them tell their own story.
Best Books To Gift The Reflective Types
Older teens and adults have their own book to help them tell their own stories this year, and it's a good one! This is a quality gift for the reflective person in your life. This cream-papered journal is beautiful and inspiring, featuring prompts to help you write about your own history, reflect on your goals and dreams, and put into words what is it that brings you hope. In the words of Michelle Obama in the introduction, "I hope you'll use this journal to write down your experiences, thoughts, and feelings, in all their imperfections, and without judgment.…We don't have to remember everything. But everything we remember has value."
This is a great gift for anyone who's had a rough 2019 and wants to start afresh in 2020. There are prompts for making lists, song lyrics to help you feel less alone, fun illustrations – the whole thing adds up to a roadmap for getting over a heart that's been broken by romantic love or any of the other ways life can be rough. It can help someone start their new year unencumbered and free – a really thoughtful present for someone close to you.
Dad Books
Dad books, of course, are not just for dads. They're also for Book Riot's Amanda Nelson, and myriad others. Dad books are nerdy, interesting, full of fun facts, and often heavily researched.
Ballpark by Paul Goldberger
This book is hefty and beautiful and will look great on a bookshelf – but it's not just wonderful illustrations: it's a cultural and architectural history of cities through the prism of American's favourite sport. Someone in your life will find this fascinating.
This book takes a deep dive into the ways that technology has changed the way we communicate. It's nerdy to the extreme and may be a good gift for the prescriptivist in your life whom you want to gently challenge.
Billed as "an indispensable resource for people of all genders interested in the fight for a more liberated future", this book is also beautiful – making it an ideal gift for the aesthetically oriented history nerd in your life.
This one sounds utterly fascinating. Pulitzer Prize winning journalist Gene Weingarten chose a date completely at random – 28th December 1986 – and turned his investigative journalism to the ordinary events that took place throughout the U.S. on that day. Except, in the end, a lot of those events weren't so ordinary, especially when they deeply affected lives of everyday people. This promises to be a delightful slice of life – with a dash of '80s nostalgia thrown in for good measure.
Gifts for Liberals in Need of Cheering Up
This book will look great on any shelf that already boasts last year's Hugs From Obama. It's filled with wonderful, joy-giving photos of Book Riot's favourite President mid-laughter, and some of his funniest quotes.
Award-winning photographer Callie Shell followed the Obamas from their Chicago home to their White House years, and became close to them in the process. here she presents over 100 photos of the iconic couple, many of them previously unpublished, and paired with quotes from them that remind us of all the things we love about the Obamas.
Gifts for Readers of Memoirs
This graphic memoir was written by Mira Jacob in response to her 6-year-old son's myriad questions about his half-Jewish, half-Indian identity in the wake of the 2016 election — questions that led her to think hard about race, colour, sexuality, love, and where she got her own answers. Celeste Ng calls it "exactly the book America needs at this moment".
This is a memoir about chess, but also about obsession and the drive to win (or at least not to lose), so you don't have to be into chess per se to be interested in it. But for the chess enthusiast in your life, it's bound to be a winner of a gift.
Gifts for (Wannabe) Cooks and Bakers
Here's a book that's really a gift to yourself – because you might get to taste some delicious treats from this! It promises easy-to-follow recipes for all kinds of cakes, from the classics to the more extravagant.
This is a book of recipes of "unfussy food for having people over" – just the thing for the younger adult in your life finally getting their first grown-up apartment, or anyone resolving to be more hospitable in 2020.
Little Women turns 150 this year, and certainly for many in my generation it was a seminal childhood text. Four contemporary writers write of their own takes on each Meg, Jo, Beth, and Amy and how the book has both reflected and impacted them. A great gift for a childhood friend who grew up reading Louisa May Alcott with you.
Less old but arguably just as seminal as Little Women is the TV show Friends. If you're in your 30s, chances are you grew up with it, and many of your own memories are tangled up in memories of the show. For me, it brings to mind Friday nights with my housemates, dreaming of the impossible sophistication of Jacob's Creek wine, who sponsored Friends in the UK. Maybe the friend you watched it with would appreciate the gift.
Quirky Stocking Fillers
I love this book: it's creative, witty, pretty, and insightful. Head to @michellerial's account on Instagram for a taster.
I have been really enjoying Nathan Pyle's daily cartoons about small aliens who inhabit a planet that is strange yet eerily recognisable. "Let us store irregular shapes inside shapes with flat surfaces," one says to another as they wait for friendly beings to visit. "We own things but we have hidden them," they explain later, when complimented on their home. I know I'd love to own this book to flick through when I need a lighter moment – and who doesn't have moments when they do?
I'm not sure there's much I can say about this book that the title doesn't already tell you. For animal lovers, or really anyone having a tough time, this could be just the thing to make them smile!
---
Hopefully that's given you a good start on your holiday shopping! If you're still looking for further ideas, check out our posts on some of our favourite 2019 books and how to gift a Kindle book.