Lists
11 of the Best Books on Organization
This content contains affiliate links. When you buy through these links, we may earn an affiliate commission.
When I first moved out on my own, I discovered all the glorious books about nesting at my library and went nuts. I learned all about keeping a home (well, apartment) comfy and clean. Here we are, three years later, and I'm still fascinated by these books on organization.
I could have just done a list entirely of the best books on organization, but I've found that having an organized home is so much more than just decluttering. It starts off with the decluttering and organizing, sure, but it also needs maintenance and love. Just like every other part of our lives. Many of the books listed here focus on not just the physical messes in our lives, but on the emotional messes, too.
Oh, and this list is very white. Please let me know in the comments what I've left out! Because I can *always* use (read: drool over) more of the best books on organization.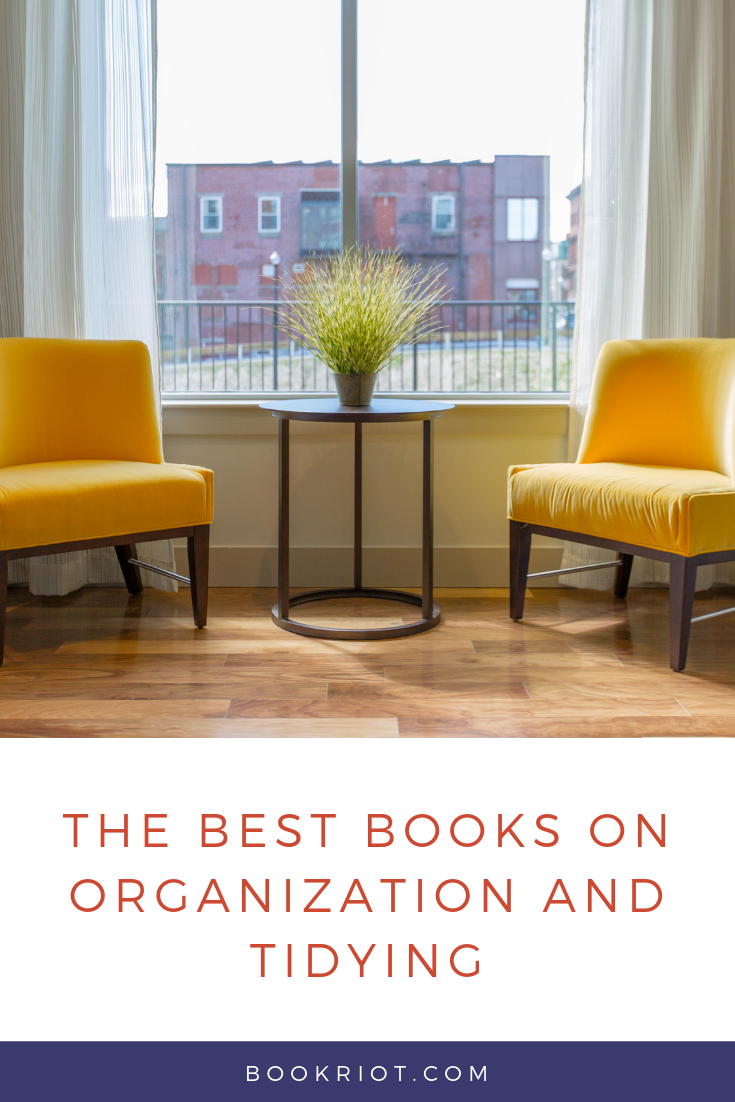 Organizing Your Home
You know the book. You love it or hate it (or don't care about it). But if you're looking to get a handle on your home, you really can't mess up by reading this book or any of its companions (an illustrated guide! a manga!). Then watch the show on Netflix for extra inspiration. Bonus: Kondō is subtly tackling sexism in household chores.
The book is broken up into four sections of things to remove from your life: your home life, work life, mental messes, and the plans for your new, uncluttered future. It's a very no-nonsense guide to decluttering.
This charming little book is all about clearing the junk from your home to save your loved ones from having to dig through mountains of your life's memorabilia after you die. One interesting tidbit I love: Making a throw-away box. It's the box of things that are only interesting to you, like old love letters and mementos. Label it "throw away" and save your loved ones the time they'd have spent going through it and deciding if anything is worth their while. Also: Contain it to *just* one box.
The inspiration behind The Life-Changing Magic of Tidying Up! The focus here is on the importance of getting rid of your stuff, for yourself and for the environment.
"Life will become more pleasant and comfortable if we get rid of some of the abundance."
—Margareta Magnusson, The Gentle Art of Swedish Death Cleaning
The introduction to this has a really striking line that I can't stop thinking about: You have to treat your home like you do your body and your bank account. You have to nourish it and live within your space's means. Once she lays down the ground rules, she goes into every room of the house, offering new ways of organizing. Like turning the inside of a kitchen cabinet into a bulletin board, or keeping all your socks rolled up happily together. There are also so, so many swoon-worthy organizing photos throughout the book.
If you're the type of person who needs someone yelling at you to clean your home, this is the one of the better books on organization for you.
Based on the beautiful Instagram, The Home Edit is all about the beauty of home organization. The goal is simple: group things into categories and make your home a place you enjoy looking at. Everything in the photos is sorted by type and color, and it is so soothing to flip through.
This book is not a how-to book on decluttering, but a really moving memoir about what happens when you realize your consumeristic habits really infringe on your happiness. Cait Flanders cleared out her junk and stopped buying new things for a year (excluding things like toothpaste, but only when she throws away the previous tube) and found a new respect for the things she kept.
Cleaning Your Home
I cannot recommend Jolie Kerr enough. She takes a snarky approach to cleaning, but boy, does she take her cleaning seriously. She has Capital R Rules for cleaning each room of the house (and how often you should be cleaning them!), and also answers weird questions that end up in her inbox. Like how to get red wine puke out of a white rug.
If you need a schedule for cleaning every day, this is your book. Rapinchuk also gives lots of recipes for natural cleaning products to make your home a more sustainable one, too.
Y'all, just look at this cover. It is amazing and what I aspire to be. Also, this book is a great one for cleaning reference. It's chock full of funny chapter titles (like "Leather Report" and "Are Pets Turning Your Home into a Barnyard?") and cute illustrations to take care of the daily messes that appear in every room of your house.
Whew. Are you ready to get cozy and organized and clean in your home yet?
If you need more, we got you with even more life-changing tidying books.