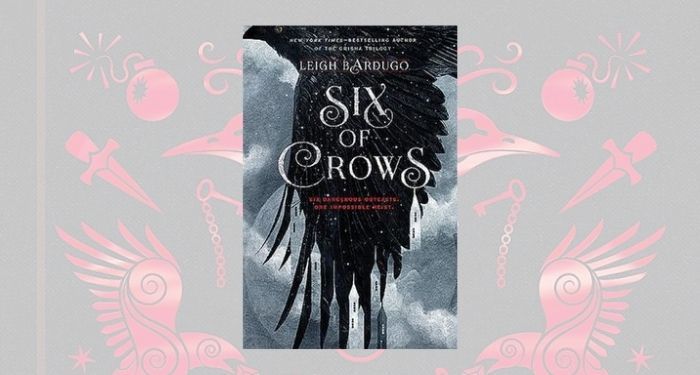 This content contains affiliate links. When you buy through these links, we may earn an affiliate commission.
Welcome to a list of books like Six of Crows. In these cities, promises pave the streets, leaders assemble ragtag crews, impossible heists become possible, and the ruling class doesn't stand a chance. It is chaotic, thrilling, and we are all along for the ride.
Six of Crows: A Brief Summary
Six of Crows by Leigh Bardugo was the start of a fantasy heist duology. A crew of damaged rogues work together to steal the impossible and save the world in the process. Between explosives, sleight of hand, magic, and brute force, our lovably deadly Crows break into an unbreakable ice prison and discover friendship along the way.
After walking through the world in the Shadow and Bone series, Bardugo was set to sprint through Ketterdam. Complex characters maneuver through brilliant political mechanicians in a novel with an impressive expansion of prior worldbuilding. When you finish the series, you need books like Six of Crows to fill the void. In short, you can have your waffles and eat them too.
Fans Flocking From Netflix
As a reader, I have always adored the duology more than the Grisha trilogy. So, I was unsurprised to see fans flock to the books after seeing the Crows in Shadow and Bone, the hit Netflix TV show. Now that Netflix has confirmed season 2, viewers can expect to see more of the crows (and Milo the goat) in the future. As a holdover, I hope you enjoy these books like Six of Crows.
Selecting My Crew
I pulled mostly YA novels with a few adult novels thrown in to mix things up. I have always found the books straddle YA and NA. A list of books like Six of Crows had to be similarly mixed. Broken down by time period we have: Too Fantastical to Date, Medieval, Late Modern, and Dystopian Future. I couldn't resist including a quote from the duology that applies to each of the books like Six of Crows. Without further fanfare, I hope you have a bunch of fun with these bastards outside the barrel.
Books Like Six of Crows Too Fantastical to Date
Books Like Six of Crows: Medieval Edition
Late Modern Books Like Six of Crows
Books Like Six of Crows Set In A Dystopian Future
What Next After These Books Like Six of Crows
In 2015, when I hopped off Leigh Bardugo's thrilling series I was hungry for more, so I continued to reread the duology and pick up similar titles. These books like Six of Crows also explore the battle between darkness and light, desire to escape, new overcoming old, power and corruption, and will to survive. They might not be set on the streets of Ketterdam, but they will do in a pinch.
Say you need another set of read-alikes or targeted recommendations. TBR, Book Riot's Tailored Book Recommendations Service is for you. TBR is a book recommendation service that pairs you with a qualified book nerd who finds specific-to-you book recommendations. So, whether they are books like Six of Crows, A Court of Thorns and Roses, or Gideon the Ninth, TBR will find the next book for you.