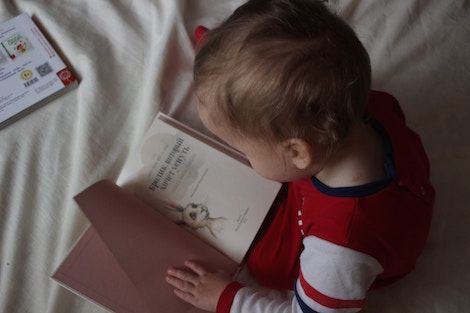 Children's
Toddle Tales: 30 Of The Best Books for Toddlers
This content contains affiliate links. When you buy through these links, we may earn an affiliate commission.
Picking the best books for toddlers can be daunting, and they can be a tough crowd for storytime. Sitting? Not their favourite. Listening? Also not an activity that they are known to excel at. Still, there are ways to get toddlers involved in a book: specifically, they love bright, bold illustrations and interactive writing. In fact, get those kids engaged and you'll experience the single greatest thing about reading with toddlers: how they will blankly and happily imitate whatever actions you are doing as part of the story. It's so great, 2–3 year olds really make me laugh.
Just keep in mind, there's some classic toddler-rific books that I'm steering away from recommending. Those are fantastic, but have been suggested a million times before (The Hungry Caterpillar, for instance), and can be easily Googled. I chose these because they aren't ones that I've seen recommended elsewhere. You can also read some other Book Riot posts for different suggestions: Bilingual (English-Spanish) and holiday books for toddlers.
Penguin goes searching for love and instead finds a mitten. He goes to visit friends, looking for the mitten's missing partner. Simple, colourful and very adorable. Yoon has a whole series of Penguin books and they are all worth checking out.
2. Bear Moves by Ben Bailey Smith (Doc Brown) and Sav Akyüz
This dancing bear will get kids grooving, with sweet moves like Furry Breaking and Running Bear. Bold colours and exciting illustrations will make this one to read again and again.
This book's theme can be distilled to Hands: An exploration. Answers include helping a baby walk, playing peekaboo, picking up toys and petting an animal. I really love Yoo's artwork (done through a mix of linoleum block printing, pencil and digital work) and the bright but gentle colour palate.
Jeffers has a series of 'The Boy' books which are delightful for any age, but simple and silly enough for toddlers to really enjoy.
When a young boy tries to go to bed one night, he discovers a bear has beat him to it. He tries to tell his mom, who assumes that he means his teddy bear. Ahh, what to do! Good for some pre-sleep giggles.
Cabrera always puts a new spin on popular children's songs and rhymes. There's an eco-saving bent to this adaptation, and her illustrations are cute as ever.
A baby gets a big box-shaped present, then finds imaginative ways to incorporate that box into play.
You know who loves birthdays? Me. You know who else loves birthdays? Toddlers. This gorgeous-looking book is a simple celebratory ode to birthday goodness.
Help this tree get ready for each season. Blow kisses at this book, jiggle it, turn the pages wibbly-wobbly. Interactive books are so fun and any toddler would be happy to play along with this one.
10. I Got the Rhythm by Connie Schofield-Morrison and Frank Morrison
A young girl and her mother go to the park, and the girl hears rhythm in everything around her.
A beautiful yet selfish fish learns how to share in this colourful classic. It's a series, so our shiny underwater friend will keep kids busy for awhile.
12. Every Little Thing by Bob Marley, Cedella Marley, and Vanessa Brantley-Newton
Bob Marley's oldest child, Cedella, adapted his love song 'Three Little Birds' for this lovely, happy book. I loved the illustrations, partially done as mixed media, and the simplicity of the story set to lyrics. Maybe I'm just a nerd, but this book did actually cheer me up when I read it on a bummer of a day. It's nice to think that Marley's child could reconnect with her father through adapting his work.
The colours in this cute mole-based story are gorgeous. Mr. Mole can't find his glasses and keeps burrowing into the wrong homes, meeting owls, penguins and crocodiles along the way.
A bilingual book here, as Maya and her stuffed animals dress, play, and eventually go to bed. Bright illustrations and vivid writing make this one fun for a variety of ages.
Big Brown Bear and his super cute bear friends notice that the trees are blooming with spring cherry blossoms, so they decide to have a picnic.
16. Lion's Lullaby by Mij Kelly and Holly Clifton-Brown
A sweet bedtime read. A little girl says good night to each of her stuffed animals before tucking them in.
17. Pete the Cat (series) by Eric Litwin and James Dean
My personal favourite Pete the Cat is I Love My White Shoes, where our laid-back feline hero strolls around the city and takes things as they come. Groovy Pete is always super chilled out, and he teaches lessons for bonus good times.
A bunch of silly night animals keep startling each other and getting increasingly worked up. If you like switching voices, this one is for you.
Nick Bland's books are great to read aloud, and this one is extra rad because you can throw some fake sneezes in there. Kids love a good fake sneeze. True story.
An energetic little girl dances her way through her bedtime routine — something that I can certainly relate to. I pace when brushing my teeth, which can sometimes turn into a bit of a dance. The illustrations by Caldecott Honor winner Brian Pinkney are perfectly matched with the energy of the narrative.
Another interactive one. Using circles and the word 'oh', Tullet encourages children to trace, pop, and tap their fingers against the pages.
Jan Thomas's books always go over well – colourful with wild, vibrant illustrations and the stories are interactive and ridiculous. Be warned: the kids can get a bit crazy after you read them a Thomas book.
Kids love pirates and colourful clothing, and this book has plenty o' both. Pirate Jack needs to pick an outfit for his swashbuckling high-sea adventures, but something is missing…A read aloud that will get kids interacting and excited about telling you their favourite shades.
Can you tell the difference between a horse wearing a hat and a unicorn? This whimsical book has the answer. Maybe.
A board book intro primer to rad women.
26. Baby Feminists by Libby Babbott-Klein and Jessica Walker
This board book is another option for your budding feminist. You can never have enough books about badass women, I say.
A third board book, containing introductions to trail-blazers such as Neil deGrasse Tyson, Maria Sibylla Merian, Jane Goodall, etc.
Unless you're English, you'll need to explain to your toddler what is meant by 'posh', but it's otherwise a simple story about a young girl who wants a dog, but not a fancy kind. She expresses it in short, rhyming phrases paired with dog illustrations in Dodd's signature style.
A mischievous take on "It Ain't Gonna Rain No More", our young protagonist paints all over the house and his own body until Mom notices. The downside: the song will absolutely end up trapped in your head, echoing until the end of time.
A funny story about being yourself, staring a little girl who decides to live like a penguin when she's given a penguin costume.
What are some of your favourite books for 2–3 year olds? It can be a tricky age for sure, so let me know in the comments if you think I missed something amazing.