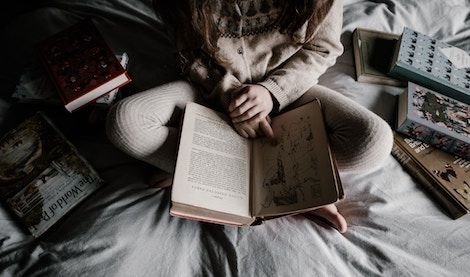 Children's
50 Must-Read Books For Beginning Readers
This content contains affiliate links. When you buy through these links, we may earn an affiliate commission.
If you are reading this post, you are probably a teacher, parent, or someone else who spends time with beginning readers. You know the beautiful sound of hearing a young child successfully read a book out loud. At the same time, you know how painful and frustrating it is to listen to a primary student struggle through a book that is too hard or uninteresting to the child.
To help you and your beginning reader, I put together a list of 50 picture books, book series, and chapter books for readers who are figuring out consonant/vowel/consonant words, bossy r words, magic e words, sight words, and all of the other words that find themselves in books for early readers. These books for beginning readers are fun (and easy!) to read.
How To Find Good Fit Books
When helping a young reader pick out a book, look for "good fit books." Follow these simple guidelines:
Find books that interest your child, whether they are about Darth Vader, hedgehogs, trucks, animal friends, or anything else that your child loves.
Use the "five finger rule." Open a book to the second page, have your child read the page to you. If your child cannot read five words on that page, it is not a "good fit" and your child should choose another book.
After reading a page, ask your child some questions about the book. If he or she cannot comprehend what was read, pick a new book.
If you would like to read more about helping young readers choose "good fit books," take a look at The Daily 5: Fostering Literacy in the Elementary Grades by Gail Boushey and Joan Moser.

Picture Books for Beginning Readers
"I need a hug. Will you cuddle me, Lou?' 'What? With those spikes? Get away from me! Shoo!' All this little porcupine wants is a hug. But with such prickly spikes, will she ever get the cuddle she craves?"
"Monster's having a fun time at the park—swinging and sliding, swirling and twirling, and riding the whirly-whirl. When it's time to go, though, Monster says "NO!" But all's okay because Monster can return another day. A monstrous-ly enjoyable follow-up to Annie Bach's delightful Monster Party!"
"There's only one rule in Larry's book: don't push the button.
(Seriously, don't even think about it!)
Even if it does look kind of nice, you must never push the button. Who knows what would happen?
Okay, quick. No one is looking… push the button.
Uh, oh."
"A lovely metaphor teaches valuable lessons in how to treat others and make friendships blossom! Making a friend takes patience, care, and room to bloom—just like growing a flower. Soon your little gardeners will have their very own green thumbs for this most important of life skills."
5. Good Dog By Cori Doerrfeld
"When a puppy in need of a friend follows a kind girl into town, he lands himself into all sorts of trouble. He gets lost. He's nearly run over. And he gets chased out of a bakery for being a "bad dog."
But when the pup and the girl reunite in the park and she leaves behind her favorite doll, the puppy has a chance to prove just what a good dog he really is!"
"Jimmy Fallon, one of the most popular entertainers in the world, was on a mission with his first children's book to have every baby's first word be DADA. And it worked! A lot of babies' first words were DADA. However, everything after that was MAMA."
"Welcome to Sunny Hills Mice School where the first lesson is recognizing DANGER! And that means CAT. So Miss Mouse shows her students pictures of things that are, and are not, a kitty. But the kids are a bit restless…until something enters the classroom that makes them all sCATter. But, is their unwelcome guest really a cat?"
"But it turns out there's a a whole lot more than just a log on the bottom of this lake! A cumulative text featuring repetition and tongue-twisters combine with gorgeous illustrations from New York Times bestselling illustrator Loren Long for a book kids will clamor for at story time."
This beautiful, innovate picture book from an enormously talented new creator will make you laugh out loud. The search for a true friend is something everyone can relate to—from the very young to the very old.
I just ate my friend. He was a good friend. But now he is gone. Would you be my friend?
A hilarious story about the search for friendship and belonging…and maybe a little bit about the importance of impulse control…from an amazing new creator.
Two fuzzy creatures can't agree on who is small and who is big, until a couple of surprise guests show up, settling it once and for all!
The simple text of Anna Kang and bold illustrations of New Yorker cartoonist Christopher Weyant tell an original and very funny story about size — it all depends on who's standing next to you.
"Yikes! Eddie's in for the surprise of his life when he discovers that his teddy bear has grown much too big to cuddle! But there's fun in store when Eddie meets up with a real bear who's got just the opposite problem—his lost teddy bear has shrunk to a size that's much too small for such an enormous bear to cuddle. Could it be a case of mistaken identity? This fast-paced comedy of errors, illustrated with Jez Alborough's quirky artwork, is guaranteed to have children—and bears alike—reaching for their teddies!"
"Triceratops has an itch…so does Pterodactyl…and Brontosaurus…and T-Rex! But Dino-Mo reminds them all of the BIG rule: Dinosaurs do not scratch! What's an itchy dinosaur to do?"
One dot can make a sun, two dots can make the eyes of a fox, and three dots can make a snowman's face. And that's just the beginning in this unique counting book!
"Put on your life jacket, hop in the boat, and raise your binoculars—it's time to go on an adventure!
In Daniel Bernstrom's follow-up to the critically acclaimed One Day in the Eucalyptus, Eucalyptus Tree, a fearless little girl takes off in search of a giant gator—but she's not going into that swamp alone! No way! She wants YOU, the reader, to come along.
Off you go, peering through the lush landscapes, looking for that gator! But each time you think you see it? Oops! Just a fox. Or some ducks! Or a snake. Maybe you'll never find the gator, gator, gator…"
15. Yo! Yes? By Chris Rashka
"An effective, unusual 34-word story of the beginnings of a friendship, accompanied by wild and wonderful illustrations. Against pastel backgrounds, in vibrant, colorful images, an African-American boy and a white boy meet on the street. [Their] one- and two-word exchanges on each spread lead to a tentative offer of friendship, sealed as both boys jump high in the air and yell Yow!" With a beautifully balanced, economical style, the book illumines the peaks and pitfalls of getting acquainted, and puts in a good word for brotherhood as well."
"Four friends. Three cookies. One problem.
Hippo, Croc, and the Squirrels are determined to have equal cookies for all! But how? There are only three cookies…and four of them! They need to act fast before nervous Hippo breaks all the cookies into crumbs!"
"Bug! Rug! Mug! Hug! These dust bunnies love to rhyme. Well, except for Bob. Much to the other bunnies' frustration, Bob can never get the rhythm right. Then he saves everyone from a big, scary monster wielding—gasp!—a broom, and they all breathe a sigh of relief. But can Bob save them from the big, scary monster's next attack? Vrrrrrroooommm…"
"Charles wants to find a wish tree. His brother and sister don't believe there is such a thing, but his trusty companion Boggan is ready to join Charles on a journey to find out. And along the way, they discover that wishes can come true in the most unexpected ways."
"Hello! ¡Hola! Some people speak Spanish. Some people speak English. Although we may not speak the same language, some things, like friendship, are universal!
Follow two young giraffes as they meet, celebrate, and become friends. This bilingual tale will have readers eager to meet new friends and amigos."
"This lyrical beginning-reader by multi award-winning artist Bryan Collier turns the closet on its heel and redefines what it means to be a pair. Beautifully rendered art paired with rich, rhyming dialog creates a powerful reading experience."
"In this Norwegian folktale, three billy goats, each one a different size but all named "Gruff," are on a path to the top of a mountain. Their hike takes them to an old stone bridge, guarded by a great and ugly troll who tends to gobble up whomever crosses his path. The first billy-goat Gruff manages to get across the bridge without being eaten. The second Gruff does, too! Each convinces the troll that the next billy goat across the bridge will be even bigger than itself, and that if the troll has any kind of appetite, why not wait to gobble up the biggest Gruff of them all?
The greedy troll can hardly believe his luck and sure enough, when he sees the last, and biggest, billy-goat Gruff on his bridge, he roars, "Now I'm coming to gobble you up!" But the last and biggest Gruff is too big even for the troll. With his mighty horns and hooves he destroys the evil troll, and the three billy goats continue their journey to the top of the mountain."
"Bestselling author Audrey Wood and artist son Bruce create a cumulative concept book about colors, with more of the vivid imagery that has made their alphabet books so successful!
Readers will love learning their colors with this brightly illustrated, cumulative picture book by bestselling author Audrey Wood and her dynamic, digital-artist son, Bruce. Starting with a rock, a red rock, in the middle of the deep blue sea, the story takes a closer look at this tropical locale. The simple, repetitive text makes for a fun read-aloud for story time or sharing, and identifying the vivid images and strong colors provides an exciting concept learning experience for young readers."
"Short, simple sentences in large print tell the story of a week in the life of Cookie, a black-and-white cat…de Paola has deftly captured Cookie's personality in his large, appealing watercolor illustrations that feature bright pastel splotches…"
"I be boy. All bliss boy. All fine beat. All beau boy. Beautiful. "This stunning volume celebrates all things boy." —Publishers Weekly, starred review
"Famed author bell hooks brings us a tight, exuberant story that captures the essence and energy of what it means to be a boy. Chris Raschka's soulful illustrations buzz with a force that is the perfect match for these powerful words."
"An effervescent city child dances through a hot summer day until a thunderstorm brings welcome relief. Executed in collages made from color photographs, imaginatively redefined in unexpected juxtaposition…A wonderful concept book, grounded in ordinary events yet touched with magic, that will strike a familiar chord with preschool audiences while enlarging their perceptions. An auspicious debut!"
Books in a Series for Beginning Readers
26. Today I Will Fly (Elephant and Piggie Book #1) By Mo Willems
"Gerald is careful. Piggie is not.
Piggie cannot help smiling. Gerald can.
Gerald worries so that Piggie does not have to.
Gerald and Piggie are best friends.
Today, I Will Fly! is the funny introduction to the characters. Piggie is determined to fly. But Gerald the elephant knows that's impossible—isn't it?"
"From writing letters to going swimming, telling stories to finding lost buttons, Frog and Toad are always there for each other—just as best friends should be. These five adventurous tales are perfect for Level 2 beginning readers."
28. Little Bear By Else Holmelund Minarik
"Enter the world of Little Bear. Children will be entranced by Little Bear's trip to the moon, his birthday party, and his wishes and adventures.
This is the first of the five classic books about Little Bear, introducing the funny and strikingly childlike bear cub and his friends. The combination of Else Holmelund Minarik's simple, yet eloquent, stories and Maurice Sendak's warm, tender illustrations have made this beloved character an enduring favorite among beginning readers."
"Ballet Cat and Sparkles the Pony are trying to decide what to play today. Nothing that Sparkles suggests—making crafts, playing checkers, and selling lemonade—goes well with the leaping, spinning, and twirling that Ballet Cat likes to do. When Sparkles's leaps, spins, and twirls seem halfhearted, Ballet Cat asks him what's wrong. Sparkles doesn't want to say. He has a secret that Ballet Cat won't want to hear. What Sparkles doesn't know is that Ballet Cat has a secret of her own, a totally secret secret. Once their secrets are shared, will their friendship end, or be stronger than ever?"
"For Katie Woo, school is one big adventure. Join the stylish schoolgirl as she learns how to be a great classmate and friend. From the school play to the class pet, Katie knows how to rule the school! Katie Woo books are the perfect transition from picture books to chapter books."
"Spend some time with Pedro, Katie Woo's fun-loving friend. From a buggy disaster to a run for class president, Pedro has what it takes to be the hero of first-grade. No matter what he's doing, Pedro is always good for some laughs and adventure."
"Curious George meets Mr. Bean in this adorable new picture book series from author-illustrator Jeff Mack that follows the loveable Mr. Monkey on his wacky adventures.
Mr. Monkey bakes a cake. He can't wait to win a ribbon! But first he has to carry it to the contest. What could possibly go wrong?"
"All new, easy-to-read riddles by Jean Marzollo are paired with fun photographs culled from previously published I Spy books to create an I Spy easy reader. With rhythm, rhyme, and picture clues, this book is written to support the newest reader."
"Big Duck likes to boss around her younger brother, Little Duck, and she fancies herself the leader of their trio—when joined by their gentle friend Porcupine. Little Duck doesn't speak yet, but through his expressions and his actions, he shows that he has a better grasp on any situation than his older sister. Told entirely through dialogue and visual storytelling with subtle humor throughout, Little Duck ends up getting the trio out of whatever jam they are in."
"Juana loves many things — drawing, eating Brussels sprouts, living in Bogotá, Colombia, and especially her dog, Lucas, the best amigo ever. She does not love wearing her itchy school uniform, solving math problems, or going to dance class. And she especially does not love learning the English. Why is it so important to learn a language that makes so little sense? But when Juana's abuelos tell her about a special trip they are planning—one that Juana will need to speak English to go on—Juana begins to wonder whether learning the English might be a good use of her time after all. Hilarious, energetic, and utterly relatable, Juana will win over los corazones — the hearts — of readers everywhere in her first adventure, presented by namesake Juana Medina."
"9 Stories in 1! What Should Danny Do? is an innovative, interactive book that empowers kids with the understanding that their choices will shape their days, and ultimately their lives into what they will be. Written in a "Choose Your Own Story" style, the book follows Danny, a Superhero-in-Training, through his day as he faces choices that kids face on a daily basis. As your children navigate through the different story lines, they will begin to realize that their choices for Danny shaped his day into what it became. And in turn, their choices for themselves can shape their days, and ultimately their lives, into what they will be."
37. Popcorn Behind the Bush (The Gracie Series) By
Grace LaJoy Henderson
"A delightful little mystery about a tin of popcorn. When Grandma sends popcorn in the mail and Gracie does not receive it, Gracie goes on a hunt to find out if her family members can help her decipher a note left by the mailman. Gracie is just about to give up hope when she finally solves the mystery!"
38. Pets at the Party (Pet Club series) By Gwendolyn Hooks
"Lucy is throwing Ajax a birthday party. She remembers balloons, games, and cake. But something is missing. Will the party be ruined?"
"In the style of Mo Willems, Jonathan Fenske tells three humorous stories of two friends, Pig and Fox, and their shenanigans with a cardboard box (all of which involved Pig accidentally crushing Fox in the box). With comic art and simple language, this Level 2 reader is sure to have kids rolling with laughter."
"The first book in the acclaimed Ready-to-Read series from Newbery Medalist Cynthia Rylant featuring Henry and his lovable 180-pound dog, Mudge.
Henry, feeling lonely on a street without any other children, finds companionship and love in a big dog named Mudge."
"All Rookie Readers actively engage young readers, encouraging language development, building fluency, and promoting independent reading. By targeting a skill, like learning about rhymes, young readers are building fundamental reading skills with the help of fun, lively, colorfully illustrated stories."
Based on the popular "Old Lady Who Swallowed…" series, these books for beginning readers highlight short and long vowel patterns, repetition, and hilarious text to help readers build fluency and comprehension.
Chapter Book Series for Beginning Readers
"In his first solo adventure, Judy Moody's younger bother stars in this funny, homespun saga that reflects the familiar voice of a kid who pictures himself with super powers to deal with the travails of everyday life."
"Keena Ford doesn't mean to be a troublemaker, but sometimes things get out of hand. Lucky for her, it's the beginning of the second grade and Keena's got a clean slate. So when her new second-grade teacher, Ms. Campbell, mistakenly thinks it's her birthday and brings in a huge chocolate cake, Keena realizes that she's gotten herself into a sticky situation. She knows she has to tell the truth, but it's not easy to turn down her very own birthday cake and a chance to wear a sparkly crown. How will Keena get out of this mess?"
"Brought to you by Newbery Honor author Derrick Barnes, eight-year-old Ruby Booker is the baby sis of Marcellus (11), Roosevelt (10), and Tyner (9), the most popular boys on Chill Brook Ave. When Ruby isn't hanging with her friend, Theresa Petticoat, she's finding out what kind of mischief her brothers are getting into. She's sweet and sassy and every bit as tough as her older siblings. She sings like nobody's business; she has a pet iguana named Lady Love; her favorite color is grape-jelly purple; and when she grows up, she's going to be the most famous woman animal doctor on the planet. She's the fabulous, oh-so-spectacular Ruby Marigold Booker!"
"Meet Nikki and Deja, who live next door to each other and are best friends. They do everything together—watch Saturday morning cartoons, play jacks, jump double dutch at recess, and help each other with their homework for Mrs. Shelby's third-grade class. But when an arrogant new girl arrives and Nikki and Deja form a club that would exclude her, the results are not what they expect. This warm, easy-to-read chapter book from an award-winning author captures all the joys and complexities of elementary school life—particularly friendships and cliques—with finesse and humor."
"Ugly Cat is dying for a paleta, or ice pop, and his friend Pablo is determined to help him get one by scaring a little girl who is enjoying a coconut paleta in the park. Things go horribly wrong when, instead of being scared, the little girl picks Pablo up and declares that he would make a great snack for her pet snake. Oh and there's also the small problem that Ugly Cat may have inadvertently swallowed Pablo in all of the commotion!
Ugly Cat and his impeccably dressed mouse friend, Pablo, are an unlikely and dynamic duo who will win young readers over with their ridiculously silly antics and their search for tasty treats."
48. Plum Fantastic
(Sugar Plum Ballerinas Series Book 1)
By Whoopi Goldberg
"Alexandrea Petrakova Johnson does not want to be a beautiful ballerina, and she does not want to leave her friends in Apple Creek. Unfortunately, that doesn't stop her ballet-crazy mother from moving them to Harlem, or from enrolling Al at the Nutcracker School of Ballet. Life is hard when you're the new ballerina on the block, and it's even harder when you're chosen to be the Sugar Plum Fairy in the school recital!"
"If there's one thing 10-year-old Texan Sophie Washington is good at, it's spelling. She's earned straight 100s on all her spelling tests to prove it. Her parents want her to compete in the Xavier Academy spelling bee, but Sophie wishes they would buzz off. That's until her irritating classmate, Nathan Jones, challenges her. There's no way she can let Mr. Know-It-All win. Studying is hard when you have a pesky younger brother and a busy social calendar. Can Sophie ignore the distractions and become Queen of the Bee?"
"Alvin Ho is an Asian American second grader who is afraid of everything—elevators, tunnels, girls, and, most of all, school. He's so afraid of school that, while he's there, he never, ever, says a word. But at home he's a very loud superhero named Firecracker Man, a brother to Calvin and Anibelly, and a gentleman-in-training, so he can be just like his dad."
---
I hope your beginning reader will find a book from this list that makes him or her realize, "I can read!" When they are ready, peruse this list of 52 Awesome Children's Books from 2018 and this list of the 20 Best Children's Authors.
What are your favorite books for beginning readers? Share your picks in the comments!