Fiction
10 Books Centered Around A Wedding
This list of books about weddings is sponsored by We Are Gathered by Jamie Weisman from HMH.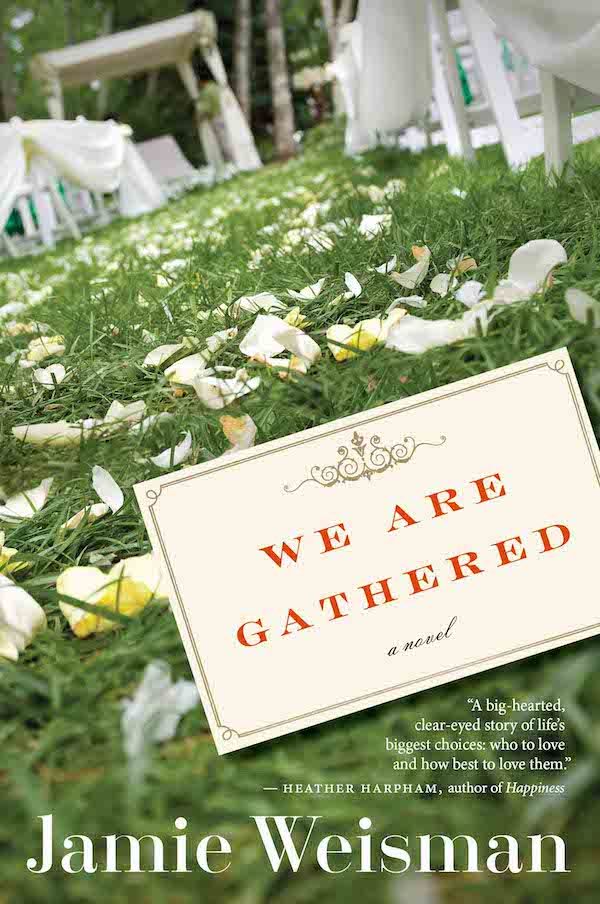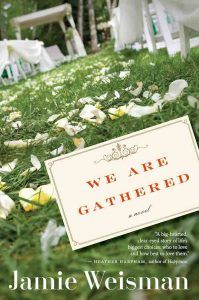 Humor and sorrow join together in Jamie Weisman's captivating debut novel—the story of an interfaith wedding from the perspectives of its (adoring, envious, resentful, hilarious) guests.
---
It's wedding season! Well, at least it is in the northern hemisphere, where summer weather means outdoor weddings and strapless gowns don't lead to collective frostbite. Weddings can bring out the best and the worst in us: family drama! fantasy locales! the politics of seating charts! chicken or fish (or tofu)! The heightened emotions associated with weddings makes them ideal fodder for novels. Below are ten books centered around a wedding for you to enjoy!
The Princess Bride by William Goldman
The Princess Bride has become a modern fantasy classic, thanks, in part, to the fan-favorite film starring Robin Wright as the titular bride-to-be, Buttercup, and Cary Elwes as her Westley. Goldman's romantic story is a race against the clock as Westley tries to prevent Buttercup from marrying the repugnant Prince Humperdinck. He'll only have to overcome assassins, ROUS*, and the Zoo of Death before he and Buttercup can ride off into the sunset together.
*Rodents of Unusual Size.
The Wedding Date by Jasmine Guillory
This book has the absolute most adorable meet-cute I've read in years: Alexa and Drew meet during a power outage, whilst stranded together in an elevator. Look, I know the only thing I would get out of a broken down elevator holding me hostage would be a panic attack and a dire need for a restroom; instead, Alexa gets a proposition from Drew—pretend to be his girlfriend and attend his ex's wedding as his plus-one! When Alexa agrees, despite their obvious chemistry, she never expects it to turn into a relationship. We all know she's wrong, though.
Seating Arrangements by Maggie Shipstead
Set on Waskeke, a fictional island off the coast of New England, Shipstead's tale is filled with the type of characters one would expect to appear on the playground of the Kennedys and their ilk. Winn Van Meter is the patriarch of the Van Meter clan, and through him we witness his family come together for his eldest daughter's wedding. The weekend and the wedding have been arranged with military precision, but the best-laid plans are no match for the messiness of humans. Van Meter must control his younger daughter, his social ambitions, and his rising lust for his daughter's bridesmaid if there's to be a happily ever after.
A Royal Wedding by Jeevani Charika
Did you watch the Meghan and Harry's wedding? If so, then Charika's inspiration for A Royal Wedding will be obvious to you; not that it makes this book any less delightful. Kumari describes herself as a "campaigner, feminist, doctor, [and] humanitarian," not as potential princess material. When her charity work brings her together with reformed royal bad boy, Prince Benedict, however, she can't help but give into her feelings of attraction. When the press catches wind of the burgeoning romance, they deem Kumari unsuitable for the prince. Is the love between Kumari and Benedict strong enough to weather the public opposition?
Brick Lane by Monica Ali
Ali's debut novel is set in the immigrant-rich East End of London and follows two Bangladeshi sisters, beautiful Hasina and the "plain" Nazneen. Hasina has defied convention and eloped in a "love marriage." Nazneen has been pledged to an older man through a traditional arranged marriage. While Hasina's love marriage burns fiercely and bright, it quickly runs out of fuel and dissolves into domestic abuse. Nazneen never experiences true wedded bliss, but a slow affection between her and her husband does develop, despite her suffocating existence. This is great examination of love and marriage, long after the actual wedding.
The People We Hate at the Wedding by Grant Ginder
Family gatherings really do bring out the worst in us all, and weddings are no exception. When Paul and Alice are forced to attend their elder half-sister Eloise's posh London wedding, we get to witness the comical results first-hand. It's not that Paul and Alice hate Eloise, but her life has been so very different than theirs since the start. And now, dealing with Eloise's fancy nuptials, Alice is forced to reckon with her dead-end job and her affair with her married boss, while Paul must confront his academic boyfriend's wandering eye. Family may be infuriating, but the love is real.
Crazy Rich Asians by Kevin Kwan
Before you see the movie (which looks freakin' amazing! Awkwafina in everything, from now on!) you've got to reach the book! Crazy Rich Asians is about what Rachel Chu, an ABC*, experiences when she travels to Singapore with her boyfriend Nick for a wedding. What Rachel doesn't know is that Nick hails from one of the three richest families in Singapore, and this is the wedding of the season. As Rachel experiences cultural shock, readers will laugh out loud.
*American-born Chinese
The Wedding by Dorothy West
West's last novel is set in Martha's Vineyard in the 1950s. The story follows the Coles family as they come together to celebrate the wedding of their favorite daughter, Shelby. The Coles are members of the Oval, the insular, bourgeoisie black community of of the northeast. The Oval, and the Coles, are reeling from Shelby's decision to marry a white jazz musician, Meade Wyler, instead of taking her pick of the best and brightest that The Oval has to offer. You may have seen the Oprah-produced mini series starring Halle Berry in 1998, too. (OMG! that was 20 years ago!).
Amuse Bouche by Anthony Bidulka
Russell Quant is cute, gay, and on his first case as a private detective: the case of the missing groom! When his groom, Tom, goes missing on the eve of their wedding, Harold Chevell commissions Quant to track him down—and money is no object. Quant, a former cop, soon finds himself travelling from Saskatchewan to Paris in search of the missing Tom. While this one may not have the happy ending you expect, it is an excellent mystery novel with a great lead. If you like this one, you should check out the other Russell Quant novels!
Girls in White Dresses by Jennifer Close
Depending on your background, sometime between 21 and 35 you will feel like everyone you know is getting married. Except you, of course. For Isabella, Mary, and Lauren this is exactly what their feeling. Weekend after weekend of bridal showers and weddings, pastel dresses, finger sandwiches, and champagne are consuming their social lives while their own romantic lives are a series of bad decisions, mixed signals, and uncertainty. We've all been here at least once in our lives—feeling like the world is moving on without us—which is what makes this book so enjoyable.
Bonus Picture Book: Worm Loves Worm by J.J. Austrian, illustrated by Mike Curato
When Worm and Worm fall in love and decide to get married, they face all sorts of questions from concerned friends. Who will wear the lacy dress? Who will wear the dapper tux? Questions that don't really matter at all, because, in the end, all that matters is Worm loves Worm!
What are your favorite books about weddings?