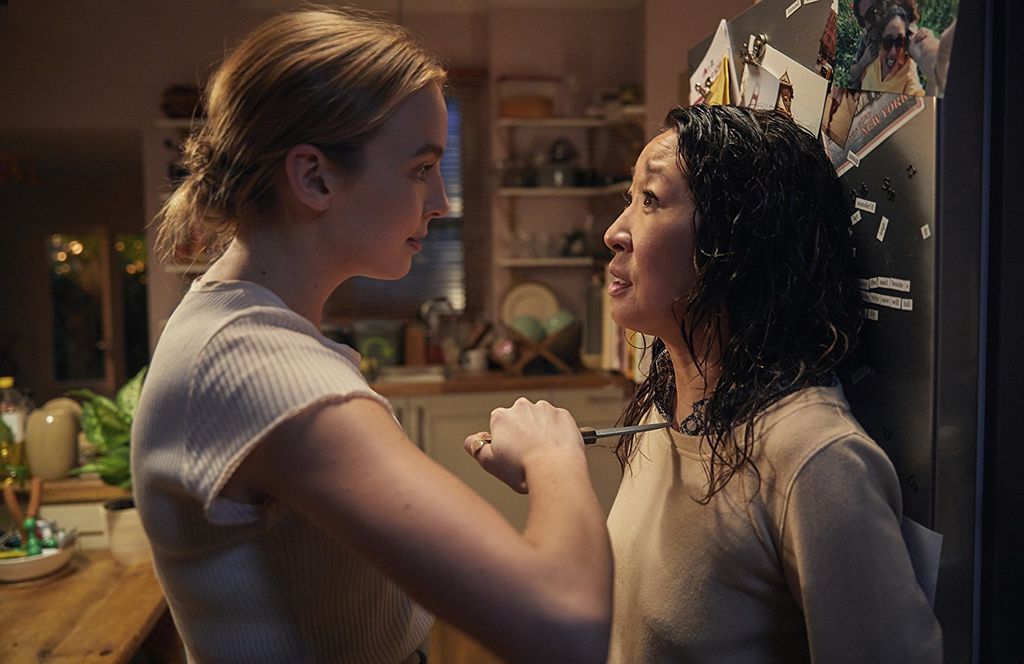 This content contains affiliate links. When you buy through these links, we may earn an affiliate commission.
Ever since I saw the 1999 movie version of Patricia Highsmith's The Talented Mr. Ripley, I've had a weakness for stories about obsessive friendship. Whether in the Ripley novels, or films and books like All About Eve, Rebecca, and Strangers on a Train, it seems I'm not alone in enjoying the tales of charming sociopaths and the vapid friends they become obsessed with. The recent hit TV series Killing Eve (based on Luke Jennings's Codename Villanelle) adds a crime procedural twist to the tale of obsessive friendship. As Tara Isabella Burton wrote in her essay Queer Friendship and the Psychological Thriller, "When it comes to psychological thrillers, the motif of an obsessive friendship—rooted in the unrequited love of a dangerous, queer-coded murderer—is one of the foundational tropes of the genre."
Burton, the author of the new thriller Social Creature, is one of many authors reimagining this classic plot line for the 21st century. Here are some of our favorite recent takes on the tale of obsessive friendship:
Louise has nothing. Lavinia has everything. After a chance encounter, the two spiral into an intimate, intense, and possibly toxic friendship. A Talented Mr. Ripley for the digital age, this seductive story takes a classic tale of obsession and makes it irresistibly new.
Tangerine by Christine Mangan
The last person Alice Shipley expected to see since arriving in Tangier with her new husband was Lucy Mason. After the accident at Bennington, the two friends—once inseparable roommates—haven't spoken in over a year. But there Lucy was, trying to make things right and return to their old rhythms. Then Alice's husband, John, goes missing, and Alice starts to question everything around her.
At their New England art school, Paulina and Fran both stand apart from the crowd. On a school trip to Norway, the girls are drawn together, each disarmed by the other's charisma. Though their bond is instant and powerful, it's also wracked by complications. When Fran winds up dating one of Paulina's ex-boyfriends, an incensed Paulina becomes determined to destroy the couple, creating a rift that will shape their lives well past the halcyon days of art school.
Amber is tired of being a nobody. She deserves more—a life of money and power like the one blond-haired, blue-eyed goddess Daphne Parrish takes for granted. Amber uses Daphne's compassion and caring to insinuate herself into the family's life—the first step in a meticulous scheme to undermine her. But a skeleton from her past may undermine everything that Amber has worked towards, and if it is discovered, her well-laid plan may fall to pieces.
Kit has risen to the top of her profession and is on the brink of achieving everything she wanted. She hasn't let anything stop her. But now someone else is standing in her way—Diane. Best friends at seventeen, their shared ambition made them inseparable. Until the day Diane told Kit her secret—the worst thing she'd ever done, the worst thing Kit could imagine—and it blew their friendship apart. Kit is still the only person who knows what Diane did. And now Diane knows something about Kit that could destroy everything she's worked so hard for.
Eileen by Ottessa Moshfegh
The Christmas season offers little cheer for Eileen Dunlop, a young woman trapped between her role as her alcoholic father's carer in his squalid home and her day job as a secretary at the boys' prison. When the beautiful, charismatic Rebecca Saint John arrives on the scene as the new counselor at the prison, Eileen is enchanted and unable to resist what appears to be a miraculously budding friendship. In a Hitchcockian twist, her affection for Rebecca ultimately pulls her into complicity in a crime that surpasses her wildest imaginings.
Bonus: YA tales of obsessive friendship
Imogen is a runaway heiress, an orphan, a cook, and a cheat. Jule is a fighter, a social chameleon, and an athlete. An intense friendship. A disappearance. A murder, or maybe two. A bad romance, or maybe three.
Blunt objects, disguises, blood, and chocolate. The American dream, superheroes, spies, and villains. A girl who refuses to give people what they want from her. A girl who refuses to be the person she once was.
Kate O'Brian's life has been a series of setbacks she's had to snake her way out of—but she's determined to change that. She's book smart. She's street-smart. Oh, and she's also a masterful liar. She befriends mega-wealthy yet deeply damaged Olivia Sumner as part of her ruthless plan. But a new teacher becomes an increasing threat to their friendship, and maybe to the girls themselves. But perhaps not as much of a danger as the girls are to each other.
Looking for more? Check out With Friends Like These, Who Needs (the word) Frenemies?