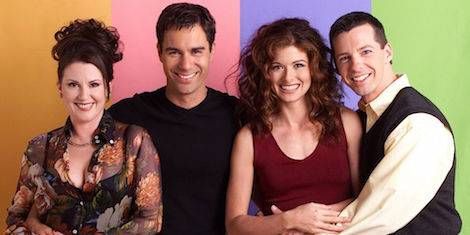 It seems television these days has a special place in its heart for the revival of old shows. Myself, I would be at my happiest if there was a Frasier reunion. I would be thrilled with an honest-to-God revival of Boy Meets World (not Girl Meets World – this is for me, not my nine year-old niece). But I have to tell you that my heart pitter-patters that on September 28, we get a new season of Will & Grace. And as I prepare to binge-watch all the original seasons in preparation, I couldn't help but share the best bookish moments from Will & Grace.
Will and Jack save the LGBT Bookstore. In the "Newlydreads" episode, Will and Jack discover that a neighborhood LGBT bookstore is in danger of shutting down due to rising real estate costs. They hold a fundraiser to save the store, only to find out that developers want to build a gym in its place (and books falling below bodies on the totem of priorities, Jack and Will abandon their efforts). This episode is chock full of literary jokes and gossip.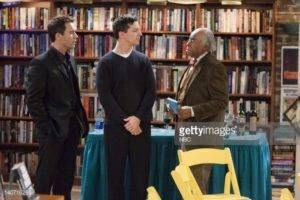 Will and Karen read the same book. In the "Wedding Balls" episode, both Will and Karen are reading the same book, a dramatic scandal of a book that has both of them thoroughly engrossed and bonding over the experience. But Jack feels left out and starts acting out. This episode has one of the funniest "at a reading" scenes in my memory.
Will reads in the nude. Ah, Will, in that gorgeous apartment, just relaxing and reading a book. In the nude. Until Grace interrupts to raid his fridge for some pudding. The "Guess Who's Not Coming to Dinner" episode just reminds us that, man, when we want to read and be alone, it is for real and for serious. And we will start fights over it.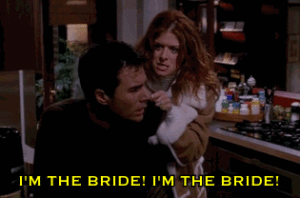 Leo uses Lord Byron for his wedding toast. When Leo and Grace have their impromptu wedding in the park, a reception follows to appease Will, who was upset at being left out of Grace's wedding. Leo quotes Lord Byron in his toast: "The light of love, the purity…of grace. The mind, the music breathing from her face, the heart whose softness harmonized the whole. That eye was in itself a soul." It's one of the sweetest moments of the episode, because "aw, weddings," but also particularly because Leo's Southern drawl reading Lord Byron is like syrup on hot waffles. It's like listening to Ann Patchett talk, which I could do all day. I digress. Either way, I am here for waffles, Southern drawls, and poetry by Lord Byron. And for all moments, bookish or otherwise, from Will & Grace.