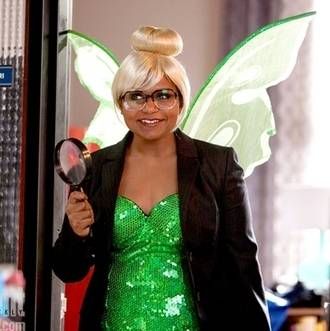 One of my favorite actresses at this moment is Mindy Kaling. I loved her book, Is Everyone Hanging Out Without Me?, which was frank and funny and made me want to be friends with her, which is pretty much the litmus test for being one of my favorite actresses.
And then I started watching The Mindy Project, which weaves romance and comedy in a way that brings me so much enjoyment. And even better than all that: The Mindy Project has quite a few fantastic bookish moments to warm this book nerd's heart. The show is full of great references to everything from Bossypants and Eat Pray Love to Sarah Palin's book and a novelization of Legally Blonde. Here's a collection of the best bookish moments of The Mindy Project.
(If you're not up to speed with the current season, there are spoilers.)
"Hiring and Firing"
In the second episode of the first season, Mindy meets a guy at a book store, where they exchange an adorable meet cute over books. Mindy expresses disgust at the price of books, and says she only buys books on the Internet, at 50% off, with free shipping – but she will buy books to get a free tote bag. The catch? She and the handsome book store guy will split the bag. When he suggests a bag with Shakespeare on it, she says, "I don't support Shakespeare. I heard a rumor that he didn't write any of his plays. He made his butler write them, and then he took all the credit."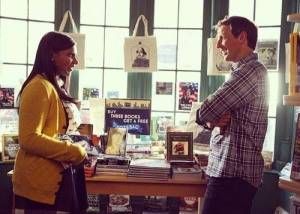 "Halloween"
When Mindy's boyfriend invites her to a Halloween party and tells her to bring her A game with costumes, Mindy freaks out a bit. And then she engages in a montage of fabulously witty literary-themed costumes, like Tinker Bell Tailor Soldier Spy, Dirty Harry Potter, and Lil' Wayne on the Prairie.
"Teen Patient"
Mindy's sees her young neighbor – who becomes her patient – on the elevator. Her neighbor is reading Jonathan Franzen's Freedom, while Mindy is reading a novelization of the movie Iron Man. She is disappointed because she thought Gwyneth Paltrow would be in it more.
"An Officer and a Gynecologist"
Mindy is engaging in a flirtatious exchange with a tough detective. Where are they doing this? On the sidewalk in front of the best Mindy Project Easter egg ever. They're having their flirtatious conversation in front of a pub called Kathleen Kelly's. (I don't have to tell you that Kathleen Kelly is the main character in You've Got Mail, undeniably one of the best bookish movies ever.) (Fun fact: Chris Messina, the actor who plays Danny, had a bit role in You've Got Mail, as the Fox Books employee who didn't know the author of the Shoe Books.)
"Indian BBW"
Mindy visits Danny, who is sick in the hospital, with the intentions of reading Bridget Jones's Diary to him. But when Peter discovers an incriminating video of her, she must spend her energy trying to get the video removed from the Internet so that Danny won't see it. Unfortunately, he ends up seeing it anyway, and Mindy ends up coming down with Danny's fever. When he comes to clear the air with her, he reads to her from Bridget Jones's Diary, doing the voices and everything.
"Danny and Mindy"
Mindy makes eyes at a guy on the subway who is reading a book by Salinger. When she responds to a missed connection that she believes is from that subway guy, he asks her out on a date, but then she gets stood up. In the meantime, Danny swoops in and engages in a very You've Got Mail-esque wooing of Mindy, seeing New York from her perspective and getting back in her good graces. But when she sees the subway stranger again – this time reading a book by Carson McCullers – she confronts him, only to find out he did not ask her out; it was Danny all along.
"Caramel Princess Time"
Tamara sets Peter up on a date with her best friend, Abby, who is a romance novelist – what she calls "porn you can read on the subway." But Abby isn't the type of girl (physically) that Peter usually dates, so he behaves badly on the date. When he goes to her book signing to apologize, he actually picks up her book and finds that she's talented, but she doesn't want to hear his apology. Peter then writes a romance of his own and shows up to her writers' group meeting to share it and ask for a second chance. (She says she'll go out with him again, but he can never return to the group.)
____________________
Get four of the best books of the year, plus four awesome bookish goodies in our exclusive Best of 2014 Box! Order yours now at the Book Riot Store.
Save