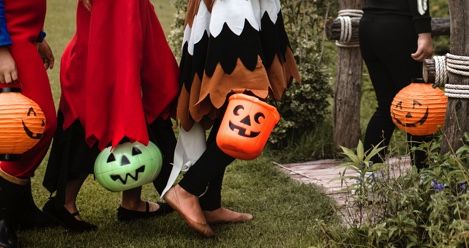 Pop Culture
The Best Bookish Halloween Costumes of 2018
This content contains affiliate links. When you buy through these links, we may earn an affiliate commission.
This Halloween was the best Halloween with the best bookish Halloween costumes. Take notes for next year, book nerds!
We're starting with the best. Lara Jean Croft:
Lara Jean Croft: To All The Tombs I've Raided Before pic.twitter.com/6rLBuzQGTf

— Nicole He (@nicolehe) October 27, 2018
Also, Jenny Han has a magical thread of every To All the Boys I've Loved Before costume she found. You must scroll through the whole thing:
https://twitter.com/jennyhan/status/1056367640778805248
This makeup Wonder Woman:
This adorable Thing 1 and Thing 2:
The cutest Ruth Bader Ginsburg you ever did see!
My daughter's wheelchair made the PERFECT foundation for her Halloween costume. pic.twitter.com/EUjuVylIw3

— Warriormom (@FightingForSB) October 27, 2018
This badass Okoye:
This fabulous Gamora:
This button-eyed Coraline nightmare:
"You know you can stay here forever. There's just one condition."

Other Mother and Father @LAIKAStudios puppet costumes for Halloween!@neilhimself thank you for creating Coraline and these absolutely horrifying characters. pic.twitter.com/LDjjig8xIg

— Gina @ FFXIV 💜 (@podgekinn) October 28, 2018
This mother-daughter Wonder Woman duo:
This cutie patootie on an Iron Throne:
This Lara Jean wearing her love letters:
This Dracula kitty:
https://twitter.com/AwwwwCats/status/1056207667105067011
These two Pennywises who bumped into each other:
THIS WONDER DOG!
This sad Eeyore pup:
Did you have a great bookish Halloween costume? Share it in the comments!