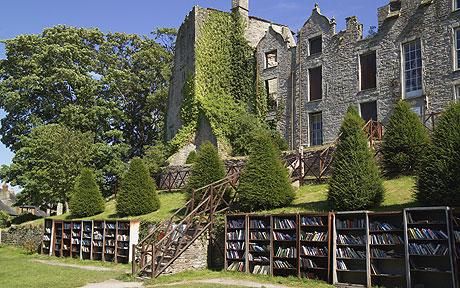 This content contains affiliate links. When you buy through these links, we may earn an affiliate commission.
This round-up of the best bookish events of the U.S., UK, and Ireland is sponsored by BookCon.

BookCon is a celebration of books happening June 1 & 2 in NYC! BookCon is jam-packed with authors you know and love, and new ones to discover! Have your books signed and hear from authors including Charlie Jane Anders, N.K. Jemisin, Adam Savage, V.E. Schwab and Jason Reynolds. Meet up with other book lovers and explore our Show Floor packed with bookish goods and Instagram-able moments.
---
While reading can be a very solitary act, there's something amazing about going to bookish events to celebrate our favorite pastime. I love seeing my favorite writers speak about their work and their new projects as well as seeing literary pieces performed. Here is a list of my top ten bookish events in the U.S., UK, and Ireland. I am definitely biased towards my hometown of Chicago. This list includes literary festivals, comic book conventions, literary performances and much more.
Located in Wales, Hay on Wye is a book lover's dream town; there are dozens of bookshops and the Story of Books Museum. To top it off, there is a giant literary festival held at the end of May each year with hundreds of events. President Clinton called it the "Woodstock of the Mind" in 2001. This year's festival includes Jeanette Winterson, Stephen Fry, and Amitav Ghosh, and many others.
As an avid comic book reader, I felt that comic book conventions needed to be included on this list. I decided to elect the biggest and baddest of all the comic book conventions. While it has turned into entertainment in general, not just comic books, this is the where the magic happens. Occurring in late July, this convention has it all for nerds everywhere. It's tricky to get tickets but well worth it if you want to be in the hub of entertainment action.
For the past 23 years, the New Bedford Whaling Museum has hosted the Moby-Dick Marathon in early January where the entire text is read. Other lectures and events related to this Great American classic are also scheduled. This was the inspiration for the Newberry's own Moby-Dick Read-a-Thon that I participated earlier this year. This past year's celebration included the "Portuguese-language reading of Tiago Patricio's abridged Moby-Dick, and a children's version by Classic Starts."
This is for all the Joyce fans out there. Bloomsday is celebrated on June 16th, the day that the events of Ulysses take place. Held in Dublin, people dress up as characters and may retrace/reenact scenes while Joyce-themed lectures and other performances take place. This year's event includes walking tours, interviews, pub crawls, and much more. But there may be a local celebration in your own town. Bloomsday Chicago has been celebrated at the Galway Arms; in the past, people have read excerpts from every chapter of Ulysses.
Held in early May, this week-long annual festival is held by the legendary PEN America, which "stands at the intersection of literature and human rights to protect free expression in the United States and worldwide." The PEN World Voices festival is "the largest international literary festival in the United States, and the only one with a human rights focus." Salman Rushdie started it after September 11, 2001.
As a Chicagoan, I would be remiss if I didn't include this incredible annual event. The Newberry Library, a private research library that is free with registration, has an annual book fair that raises funds for the library. It's a great selection of everything: history books, poetry, and even records. But that's not all. In honor of the long tradition of soap box speeches in the Washington Square Park across the street, they have the Bughouse Square Debates where people sign up to give 10 minute speeches on various topics. (My husband last year gave a talk about how the republic has failed and we need to return to Great Britain). Spectators are encouraged to heckle the speakers. It's held the last weekend in July with the debates on the Saturday.
As a murder mystery aficionado, I couldn't resist putting this September festival on the list celebrating the Queen of Crime. Held in the seaside town of Torquay, England, this festival is all things Christie, exploring her murder mysteries, her archeological work, and much more. This year's list isn't up yet, but it'll be a delight!
Again, it's a Chicago thing but this is seriously one of the best literary events anywhere ever. The festival occurs in late October/early November with spring programming. Each year focuses on a theme; this year's is Power. Incredible authors from all over the world come to Chicago for CHF including Elie Wiesel, Arundhati Roy, Salman Rushdie, Sigrid Nunez, and many more. There's theatrical productions and other performances as well. One was an interactive show about Federico García Lorca. And my first event was Roberto Benigni reciting and explaining the 2nd canto from Dante's Inferno.
The festival describes itself as "an eight-day literary party in November." Sign me up. There are nightly readings as well as a street fair with "50 authors reading and discussing their work, including the Latin American and Spanish authors who participate in the IberoAmerican Authors Program." This fair has it all.
Going strong for 35 years, this event is a wonderful celebration of western culture, notably poetry and writing. Held at the end of January and beginning of February in Elko, Nevada, this event "is six days of poetry, music, dancing, workshops, exhibits, conversations, food and fellowship, rooted in tradition but focused on today's rural West."
This is my list of best bookish events but I'll admit they are focused on the Western English-speaking world. What bookish events do you like?
Check this Rioter list of tips for getting the most out of a literary festival.