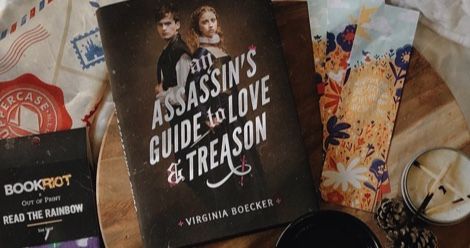 Lists
30 Of The Best Book Subscription Services In 2019
This content contains affiliate links. When you buy through these links, we may earn an affiliate commission.
Let's face it: you're not going to get everything you wanted this holiday season. Sometimes we just have to take matters into our own hands. And if you're anything like me, all you ever want is more books and book-related items in your mailbox. So without further ado, here are 30 of the best book subscription services that are available as of the end of 2018. Get what you really want and subscribe to one…or all 30. You do you.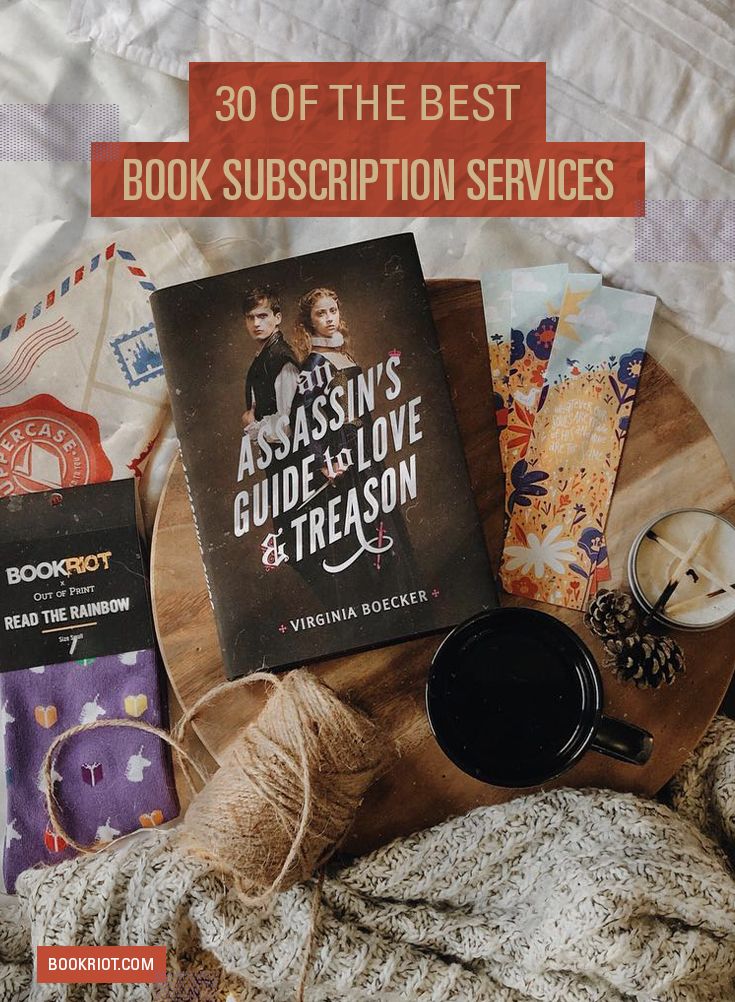 I would be remiss if I didn't start this list off with Book Riot's very own brand new subscription service, TBR. I've never seen a service this personalized, which is why it's my favorite on this list. Every quarter, you fill out a survey about what kinds of books you're wanting to read and your "bibliologist" carefully selects three books catered to your tastes.
You can subscribe to the recommendations only plan, or you can get three hardcover books delivered to your door. Both plans come with a personal letter from your bibliologist explaining why these books were chosen for you. On top of that, you can include your Goodreads profile in your account info so that your bibliologist doesn't send you books that are already on your radar.
Maybe I'm biased because I am (full disclosure) one of TBR's bibliologists myself, but I think this service is pretty top notch. It's like having your own personal Secret Santa delivering you gifts every quarter. And yes, not only do I work for TBR, I subscribe to this service as well. So far, my bibliologist Liberty has done an amazing job. You can also give the gift of TBR to the book lovers in your life!
Price: $15–75, depending on your plan

Second Star Books is a fairly new company, offering monthly subscription boxes featuring debut authors and quarterly subscription boxes that contain a new release and a classic book that ties into the seasonal theme. I'm a huge fan of unboxing videos, so I'm going to let one of my favorite Book Tubers Chelsea Palmer walk you through what was in the November 2018 box:
Price: $28.99–49.99, depending on your subscription
Oops, while I was doing my research into the best book subscription services, I accidentally subscribed to this one. Let me tell you why. My Lit Box says that their mission is to feature often overlooked authors and cultivate a thriving online community committed to celebrating the works of writers of color.
This subscription service delivers boxes quarterly, and you can sign up to receive just the book or a box including the book as well as curated goodies related to that quarter's title. There are also three subscription options: their standard adult literature box, their YA box, and their black women authors box. You can check out a full list of their past books here.
I love My Lit Box's dedication to diversity, and I ended up subscribing to their "Black Women Are Lit!" box. I'm really looking forward to getting my first order in December!
Price: $14.99–29.99, depending on your subscription
If you pay attention to book subscription services at all, you've probably already heard of this popular young adult book box. But in case you haven't, here's the deal. Each month, OwlCrate sends you a brand new Young Adult hardcover book and 3–5 other book-related treats. Their boxes are so cute, and I've been subscribing off and on for years. I love that they do custom book covers now. My neon pink copy of Ibi Zoboi's Pride that came in October's box is gorgeous.
Here's another Book Tuber favorite of mine Book Roast giving us the rundown of what was in the November box:
Price: $29.99
Every six to eight weeks, Powell's Books delivers the best new books, with special attention to independent publishers. Powell's promises signed first editions, exclusive printings, and tons of other exciting surprises. For a peek at what Powell's has featured in past boxes, check out the impressive list here.
Past books have included: The Mothers by Britt Bennet, Borne by Jeff VanderMeer, and There There by Tommy Orange. The next book, shipping out on December 18, is A Ladder to the Sky by John Boyne.
Price: $44.95
This is another book subscription service that seems to be a favorite of Book Tubers everywhere, so here's Book Tuber the wild Sasha going over what she received in her November box:
FairyLoot features a new fantasy young adult hardcover every month, as well as other curated goodies that the FairyLoot team hopes will "make you feel like you are opening a box of treasure taken straight from a fairy's lair." Check out their past boxes here.
Price: £26.00
Unplugged Book Box just launched in September, and it's already getting a lot of love on social media. Yes, I am subscribed to this one too, and I feel your judgment, and I don't care.
Let me tell you what I love about this one. Each monthly box features one new hardcover young adult or new adult book, published within 31 days of the shipment of the box. More importantly, Unplugged is focused on self-care and taking time out to unplug, read, and focus on yourself. So the rest of the surprises in the box are included with that goal in mind. Expect candles, tea, and other fun treats that get you away from your electronics and focused on quiet time with yourself. Each box is seasonally inspired to "help you live in the moment!"
Price: $34.99
If you're looking for a no-nonsense young adult subscription box, Uppercase is the best book subscription service for you. Each month, Uppercase includes a signed newly released YA title along with a few "high-quality, practical items (no trinkets or fandoms)." Cutting down on the extras also makes this subscription more affordable than some of its competitors.
Since this subscription service is another favorite among Book Tubers, I'm going to let the lovely Bookables break down November's Uppercase delivery:
Price: $13.99–23.00, depending on your subscription
If you're looking for a reading experience that's also a bit of an adventure, get yourself a subscription to Once Upon a Book Club. As you read the book of the month, you will find notes in the pages that correspond to different wrapped gifts you received along with your book. The idea is that you will not open those gifts into you get to that page in the book. I love this idea in theory, but I don't know that I would have the self-control to wait. What an amazing and unique reading experience, however, if you do have that kind of self-control!
Once Upon A Book Club offers two different subscriptions. Their adult box includes a newly released Contemporary, General, or Historical fiction title. They also have a YA box, which includes a newly released, young adult fiction book geared towards ages 14+. In addition to the gifts, Once Upon A Book Club has an online community with read-along dates for live discussions and gift openings with fellow Book Club members.
Price: $34.99
Illumicrate is a quarterly subscription box featuring a newly released YA title, often with an exclusive cover, and exclusive extras from independent companies such as jewelry, candles, and so on. In addition, Illumicrate offers special edition boxes, centered around different book fandoms, that you can buy as a one-off. Their most recent one is Magic and Mayhem: the V.E. Edition, which is unfortunately sold out, so at this point you'll just have to stare at it and ponder what could have been.
As of right now when I'm writing this, the November 2018 Illumicrate has not gone out yet, so here's what Book Tuber Iasmina Edina unboxed in her August 2018 Illumicrate:
Price: £27.00
Book of the Month is a really great book subscription service if you want to find out about the hottest new releases every month and also want complete control over what book is being sent to you. On the first of every month, BOTM picks five new releases that you can have shipped to you. If you don't like any of the books, you can skip a month easily; however, I always have trouble picking just one (yes, I subscribe to this one too. Help me). If you do want more than one, it's easy to add more books to your cart from this month or previous months.
Also, they have cute totes and socks you can add to your box if you want. Just so you know, their tote bags are really nice and I have bought two of them. I don't have a shopping problem. You have a shopping problem.
Price: $14.99 for a monthly book, and $9.99 for any add-ons
Do you love unicorns? I certainly do, which is why I've been toying with the idea of subscribing to Unicorn Crate for some time. What else does Unicorn Crate have to offer aside from cute unicorn graphics on all of its packaging? Let me tell you! Each month, Unicorn Crate promises to send you a brand new YA fantasy hardcover novel, released within six weeks of the box shipping, 5–6 handpicked book-related goodies, all from small business and often created exclusively for Unicorn Crate, and MOST IMPORTANTLY, there will always be some sort of unicorn-themed item included (this is the biggest selling point for me, in all honesty).
Here's Iasmina Edina yet again with an unboxing of not one, but two of the most recent Unicorn Crate boxes. Feast your eyes:
Price: $36.95
Happiness is a good cup of coffee and a good book. So says this book subscription service, and I 100% agree. Every month, My Coffee and Book Club will send you 12 oz of gourmet coffee and two newly released hardcover books. Because we all know nothing pairs better with reading than a delicious cup of coffee.
This service is also extremely customizable. Choose whether you'd prefer ground or whole bean coffee. You also get to choose your book genres—Acclaimed Fiction, Acclaimed Non-Fiction, Mystery, Thriller, Horror, Romance, Science Fiction, Fantasy, or Surprise Me. You can change your categories at the beginning of each month before they ship the box.
Price: $38.99 (free shipping)
The Bookish Box is a super fun subscription box that makes its own t-shirts related to the theme for each month along with including lots of other bookish goodies. I love how customizable this box is. You can opt to get the full subscription box with a book, shirt, and book-related treats; you can get the book and goodies box without the shirt; or, if your TBR list is getting a little too out of hand, you can get the shirt and goodies without the book. Just looking for more literary shirts? You can get a shirt-only subscription as well! But wait, there's more! You get to choose between their YA book box or their adult book box.
Here is The Bookish Box team unboxing their box for July. It's fun hearing why the subscription service picked the items they picked, and I love how often the Bookish Box team connects with their subscribers:
Price: $18–46, depending on your subscription choices
Hey, horror, mystery, thrillers, and suspense fans. Have you, like me, been lamenting the end of the Nocturnal Reader's Box? Have you been looking for the best book subscription service to full that horror-shaped hole in your heart? Look no further. My Thrill Club is here for you.
First, choose your favorite genre. Do you want Crime and Mystery? Thriller and Espionage? Horror? Do you want to be surprised? My Thrill Club has you covered. Your box will come with two hardcover books in the genre of your choice.
Price: $26.99
Shelflove is a YA Fantasy and Sci-Fi themed box. Each box has been specially assembled with a newly released Fantasy or Sci-Fi YA book and 3 or more themed-based items. Apparently December's box is going to have an "especially cuddly" item in it, which makes me think stuffed animal. Seriously, I wish all book boxes came with stuffed animals, but maybe that's just me.
You can choose to buy a subscription with the book only, or you can get the book box with the added surprise items. In addition, Shelflove has started a second box called Shelflove Reads, for the YA book fans who are 21+.
Here's Book Tuber Jennifer Kelly with an unboxing on November's Shelflove Reads box:
Price: $17.99–37.99, depending on your subscription choice
This book subscription service is unique in that it focuses on self-help books and personal growth. Go Love Yourself promotes itself as the #1 personal growth subscription box for women. They write, "We remind you to prioritize YOU with a monthly self-help book, implementation resources, and self-care items."
Each month, you'll receive a new self-help book, along with the resources to put the ideas into action, such as eye masks while focusing on sleep and note cards when focusing on reconnecting with friends. In addition, Go Love Yourself offers a supportive community with group coaching conversations and book discussions.
Choose from different subscription levels. The base subscription includes a monthly self-help book, workbook, webinar, and access to the online community. The Deluxe Self-Care Box comes with all of the base subscription items, plus 3–5 self-care items to "help your reading experience come to life." The top tier subscription option includes all of these items plus group coaching sessions.
Price: $30–75, depending on your subscription choice
Introverts Retreat promotes itself as the premiere book subscription service for introverted women. As a subscriber, each month you'll enjoy a novel written by a female author plus four or five additional items carefully curated with introverted women in mind. Items may include: bath products, skin care, snacks, fashion accessories, and other fun surprises.
Here's Literary Life unboxing the November Introverts Retreat box:
If you're looking for options, The Book HookUp has SO MANY! This is the famous Strand bookstore's book subscription service, offering you a signed, first edition of a highly anticipated title, an additional paperback title, and lots of other fun literary surprises. If you're into spoilers, here's a sneak peek of the books being delivered in December.
But I know I promised to break down the options for you, so here they are. The Book HookUp offers many different subscriptions centered around many different genres: fiction, art and photography, feminist literature, little readers, mystery/suspense, political nonfiction, sci-fi/fantasy, timeless favorites, and young adult.
Overwhelmed? The Book HookUp has a fun quiz you can take to figure out which subscription is right for you.
Price: $37.50–55, depending on your chosen genre
Whimsify is yet another young adult subscription box. Their boxes include a newly released, young adult fantasy or sci-fi book as well as 4–6 book-related items that have been handpicked to match a theme that relates to the book. Sound familiar? What really sets this book box apart for me is the quality and look of the items, which are all really top notch. Also just look at how cute the actual box is!
Here's my girl over at Book Roast to share the October Whimsify box with you:
Price: $34.95
Build a Black literature library of your very own one month at a time with Call Number's subscription box. This book subscription service offers fiction and nonfiction boxes, all featuring black authors. As with many of these subscription boxes, you have the option to get the "complete" box, which includes 2–3 book-themed and/or library-related items, and a library packet (catalog card, spine label, label protector, and logo sticker). If you just want the book, they offer a book-only option as well.
Just to give you an idea of what you can expect from these boxes, some of the past fiction boxes have included: Friday Black by Nana Kwame Adjei-Brenyah, How to Love a Jamaican by Alexia Arthurs, and Whiskey & Ribbons by Leesa Cross-Smith. Nonfiction boxes have included: This Will Be My Undoing by Morgan Jerkins, She Begat This: 20 Years of The Miseducation of Lauryn Hill by Joan Morgan, and Unapologetic: A Black, Queer, and Feminist Mandate for Radical Movements by Charlene Carruthers.
Price: $20–45, depending on your subscription choice
Beacon Book Box is a newish (just started in February, 2018) family-run book subscription service that was the brainchild of a 14-year-old bookworm. Yes, you heard me. Now 15, founder Cam Allen, his father, and their team of enthusiastic book lovers want to share their love of books and book-related goodies with you.
Here's the always wonderful Chelsea Palmer with another November book box unboxing for you. Have a gander at what Beacon Book Box had going on in November:
Price: $29.99
Bookcase Club is another one of those boxes where you can handpick a particular genre or theme to get mailed every month. Their themes are fairly specific and unique. You get to choose from the following: KidsBookCase.Club comes with three children's books each month (you also get to specify age range); Teenage Dreams case is their young adult subscription and includes two YA books each month; the Thrill Seeker case delivers two mystery/thrillers; Strange Worlds sends you two sci-fi/fantasy books; the Blind Date case is two paranormal romance novels; lastly, Booking for Love is their straight-up romance option (you get two books with this one as well).
This subscription service is a little more affordable than the other subscriptions listed here. Each month, you pay $9.99 plus shipping, totaling at around $15 for two books. The books are older releases, however, and if you're wanting lots of other book-related treats, look elsewhere. If all you want is some really great hand-picked reads without all the frills, Bookcase Club is the way to go.
Price: $15
Magic Chest is a whimsical book subscription service based out of Europe, which is great news if you live in the European Union, because some of these other subscriptions can be a bit expensive to ship overseas. On the other hand, if you're in the U.S. or other non-EU, please note that on top of the box fee, there is a hefty shipping fee on this one.
With all of that being said, the box and the items in it are pretty lovely. Don't believe me? Just check out this unboxing video from the wild Sasha:
Price: €31.99
LitJoy is a much-loved book subscription service founded by friends and book lovers Alix and Kelly, whose goal is to share their love of books with the rest of the world. In addition to bringing you awesome subscription boxes filled with books and book-related items, the company donates books to local charities and also partners with NGOs in quarterly service projects.
But what are their subscription options, you ask? They have a young adult book crate that you can subscribe to monthly; if you choose the YA crate, you can opt for the full crate including all the fun treats, or you can just go with the book-only subscription. In addition, they offer a middle grade crate on a quarterly basis, including two new middle grade releases.
Price: $18.99–34.99, depending on your subscription choice
Here's another brand new subscription box that came out earlier this year. Fae Crate is a monthly book subscription box that focuses on Young Adult fantasy and science fiction literature. In each of their monthly boxes, you will receive a brand new Young Adult novel, 5–6 exclusive bookish goodies related to the theme of the box, and other items from the author. Fae Crate also offers single order "Hangover Kits," boxes centered around one popular YA book and the recovery period after reading it. Where was this kit after I read Harry Potter and the Deathly Hallows is what I want to know.
Brittany the Bibliophile unboxed the October Fae Crate if you want to check out all of the goods:
Price: $33.32
For the book lover who loves to travel and seeks adventure, Book Voyage is a monthly subscription box focused on a different country every month. This subscription box features critically-acclaimed books in translation, tea or coffee from that country, as well as a sweet or savory treat to go with the hot drink, giving you what Book Voyage likes to call "a truly global immersive reading experience."
Book Voyage's goal is to get you reading more broadly across as many countries as possible. Their promise to you is this: "unless you specifically request it, you will not get a repeat country until you have read a book from every country on earth!" It's an ambitious goal, which I find exciting.
Delivery of the box in the UK is absolutely free, and delivery to the U.S., Canada, and Australia is £10. For other European countries, the shipping costs are £5. Choose your genre (fiction or nonfiction), or choose to be surprised!
Price: £14.99, or get the Premium Book Voyage box for £59.99
The Enchanted Book Box is a lovely YA subscription box featuring a new hardcover or paperback book every month along with 5–7 book-related items from Etsy or other independent vendors from Instagram. If you want to try out the box first before committing to a subscription the team at Enchanted Book Box recommends you buy a one-time only box order.
Here's Katherine's Reads unboxing the October Enchanted Book Box:
Price: $29.99
Men need book subscription boxes, too. I guess. No but seriously, Culture Carton is not just a book subscription service for men, they are advertising themselves as THE best book subscription service for me. Ryan and Joe are two brothers from Philadelphia who started Culture Carton for people like them, men who love reading and subscription boxes but have also noticed most boxes are catered to women. They write, "Once we realized there wasn't a subscription box for guys like us; guys who enjoy reading, who wanted high-quality products that were actually going to be used, and had a focus on self-improvement, we started Culture Carton to fill that void."
You can check out their past boxes here, which include books like The Lazarus Project by Aleksander Hemon and The Dog Stars by Peter Heller. Some of the lifestyle items included in the past have been things like tie clips, socks, energy bars, draft lattes, and so on. After all, men deserve to treat themselves as well.
Price: $16–45, depending on your subscription choice
Last but not least is The Bookie Box, a book subscription service run by a married couple named Julia and Dustin. Julia also runs a bookish candle Etsy shop called That Bookie Candles. Each month, you can order a YA Big Box, YA Small Box, and Adult Big Box, or an Adult Small Box.
HardbackHoarder calls Bookie Box "the one O.G. box for me," so watch her unboxing of October's box to find out why:
Price: $23.99–34.99, depending on your subscription choice
What do you rate as the best book subscription service? Which of these do you subscribe to? Are you adding any more to your list after checking out this list? I surely did. Let me know all about it in the comments.
And for more subscription box info, check out our list of the Best YA Subscription Boxes and Book Subscription Boxes Featuring Diverse Authors.