Lists
The Best Book Series for Adults in Every Genre
This content contains affiliate links. When you buy through these links, we may earn an affiliate commission.
Forget about spending your summer marathoning your favorite Netflix shows (again). Try powering through your next favorite book series. With so many great books out there and so little time, it can be hard to know where to begin with book series. So, to make it a little easier for you, I've put together a list of some of the best book series for adults in every genre. Now pick your favorite, pick a comfy reading spot, and get to your summer reading marathon ASAP!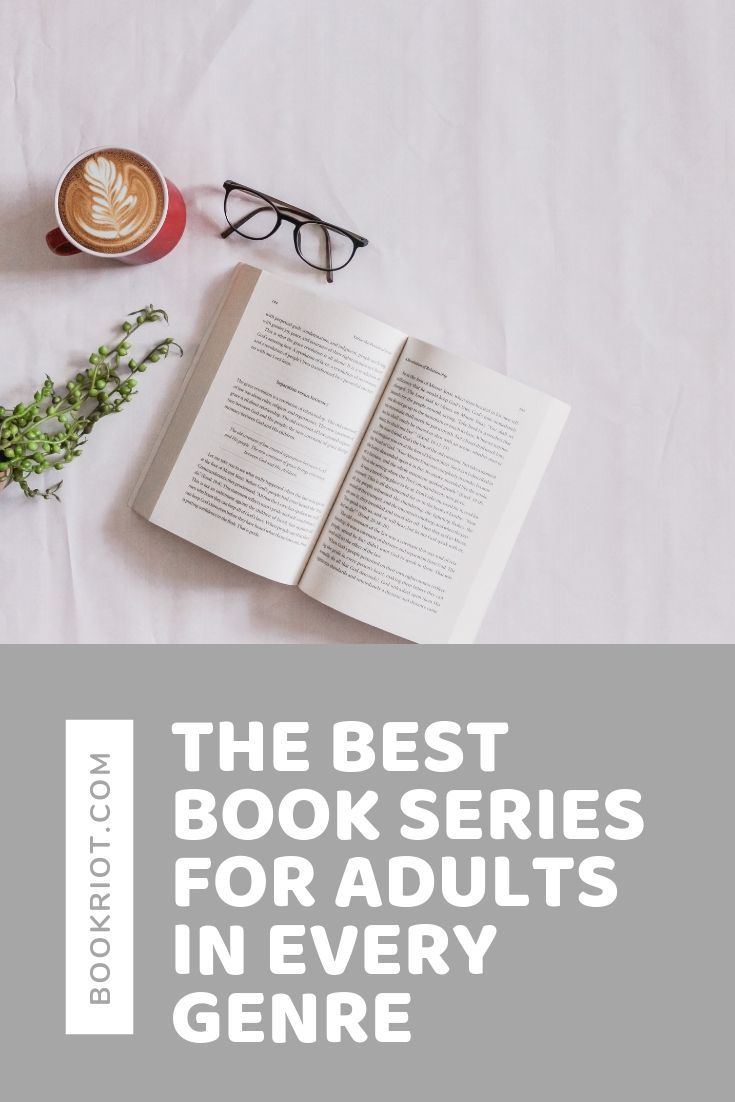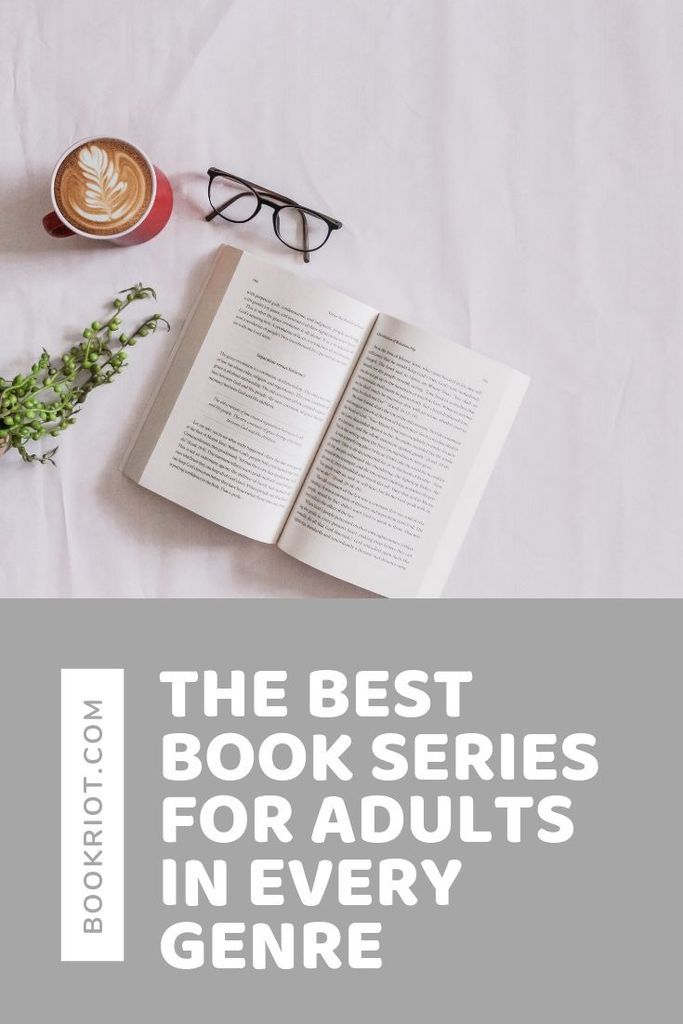 Science Fiction
On a planet with a single supercontinent called The Stillness, the inhabitants endure what is called a "Fifth Season" every few centuries. The Fifth Season brings on disastrous climate change, and the people on the planet must struggle to survive. The series centers around Essun and her daughter Nassun, two magically talented people (orogenes) who are separated before the start of the most recent Fifth Season.
Area X by Jeff VanDerMeer
Also known as The Southern Reach Trilogy, Jeff VanDerMeer's Area X books are now available in one volume for your marathon reading convenience. Area X is a remote location that's been cut off from the rest of the continent for decades. Expeditions into the area have proven unsuccessful, with the majority of the explorers dying. The 12th expedition is a group of women: an anthropologist, a surveyor, a psychologist, and our narrator, a biologist. This is how Annihilation, the first book in the trilogy, begins. From there, expect the unexpected.
This trilogy, featuring the novels Oryx and Crake, The Year of the Flood, and MaddAddam, is set in a dystopian future world that has been forever changed by plagues, floods, and genetic engineering. Only a few humans remain on Earth, fighting to survive. What makes this novel all the more unsettling is how easy it is to imagine our world devolving into the place Atwood has imagined in her series.
What would happened if humans colonized Mars? Kim Stanley Robinson explores that idea in this series. The first novel, Red Mars, is about the settlement of a colony on Mars. Green Mars picks up thirty years later as the colony is terraforming the planet. Lastly, with a wider scope than the first two books, Blue Mars examines the long term effects of the colonization of Mars, with the book covering an entire century. In addition, Robinson has written a collection of short stories called The Martians that take place over the same period of time as the three novels in the trilogy. Robinson uses these stories to imagine a successful colonization of Mars while Earth is suffering from ecological disasters and overpopulation.
As a newer series, Mary Robinette Kowal's Lady Astronaut series is only two books long; however, Kowal has promised more books in the series are forthcoming. The series starts off in 1952 after a meteorite falls to earth and destroys Washington D.C. along with much of the U.S.'s Eastern coast. The Meteorite will ultimately lead to a climate cataclysm, forcing Earth to accelerate their efforts to colonize space.
Fantasy
Another newer series, Patrick Rothfuss's Kingkiller Chronicles consists of two published books, with the third book in the series, The Doors of Stone, forthcoming. This is the story of Kvothe, an adventurer and musician, as he recalls his life's adventures to a scribe named Devan Lochees, also called The Chronicler. Eventually, Kvothe will grow up to be the most notorious wizard the world has even known. This is his journey, alternating between the present timeline and looking back at how Kvothe got to where he is today.
This series is so new that there is only one book currently available, but the second book in the series, The Dragon Republic, will be released in August of this year. So you won't have to wait much longer! This adult fantasy series is based on the history and politics of mid-20th century China and the Second Sino-Japanese War. The story follows protagonist Rin as she goes from being a poor orphan to training to be a part of an elite militia academy.
For an epic fantasy series with many books currently published, check out this series, starting with the first of the ten books, Gardens of the Moon. In this series, Steven Erikson tells the epic fantasy story of the Malazan Empire, including many characters' stories spanning thousands of years across multiple continents. Interestingly, this world was first created as a backdrop for a Dungeons & Dragons campaign, which partially explains why the world and characters in it are so detailed.
Part fantasy and part dystopian fiction, Who Fears Death is set in the distant future in a post-nuclear-holocaust Africa. Onyesonwu (whose name means "who fears death?") is born into this world out of violence. But she is also born with magic and a destiny to end the genocide of her people. Currently, Who Fears Death and the prequel The Book of Phoenix, but with HBO recently optioning this for a television series, it's likely there will be more to this story soon.
Mystery
In this gender-swapped series inspired by Sherlock Holmes, Charlotte Holmes investigates crimes under the pseudonym "Sherlock." Charlotte first gets into investigation in order to clear her family name after her father and sister are suspected of a crime. What follows from there are a series of investigations starring Charlotte and her helpful assistant Mrs. Watson. Thomas's feminist take on these characters, reimagined as women subverting the gender norms of their time, is a whole lot of fun, and there are currently four novels available in this series. The fifth is expected to release in 2020.
Each novel in this mystery series follows a different detective character loosely connected to previous protagonists in the series because they all work within the same murder squad in Dublin, Ireland. If you're interested in a character-driven mystery series, Tana French's novels cannot be missed. Start with the first book in the series, In The Woods, or read them in whatever order you'd like. For a thoughtful suggestion on which Dublin Murder Squad books you should read first, check out this Book Riot article.
Walter Mosley's private detective Easy Rawlins is a compelling character for many reasons. He's an African American private detective working in the often racist setting of Los Angeles in the 1940s to the 1960s. Because of this, issues of racism and social justice are just as integral to the storyline as the mysteries Rawlins is solving. Mosley has written 14 novels and a collection of short stories featuring Rawlins, so there are plenty of Rawlins mysteries to get you through the rest of the summer.
If you're looking to jump into a newer mystery series, Sujata Massey's Perveen Mistry series is the way to go, with the second novel in the series, The Satapur Moonstone, having just been published a month or so ago. This series is set in 1920s Bombay, and it is based on an actual person from history, Cornelia Sorabji, India's first woman lawyer.
Romance
There are three books currently available to read in this historical romance set during the Civil War in America. The books in this series follow the story of a group of Black spies who are working for the Union Army. While on missions, however, these spies find much more than just the information they need to fight against the Confederate soldiers. They find romance.
Written by Christina Hobbs and Lauren Billings under the singular pen name Christina Lauren, The Beautiful Series(also known as The Beautiful Bastard Series) is a collection of romance novels and novellas featuring Chloe, a hardworking intern, and Bennett Ryan, her no-nonsense, extremely demanding (and yet extremely attractive) boss.
Sonali Dev's Bollywood series currently consists of four loosely connected romance novels which can be read in any order. The first novel in the series, A Bollywood Affair, follows Mili, a girl who grew up in a small village and was promised to a man when she was only four years old. In order to prepare her for this marriage, Mili's family sends her off to America to go to school and learn how to be the perfect modern wife. However, unbeknownst to Mili, the man she is meant to marry has moved on and is involved with another woman. Samir Rathod, a beloved Bollywood director, goes to America to find Mili and secure a divorce for his brother. But when Samir meets Mili, he becomes much more involved in her life than he intended.
The Crossfire Series follows the romantic journey of Eva Tramell and Gideon Cross. Eva moves to New York from San Diego for a chance at a new start after an abusive childhood. When she meets her boss Gideon Cross, she immediately feels a connection. Then she discovers Gideon also comes from a troubled past, and the two begin to find ways to heal one another.
Horror
In the year 2014, humans discovered a means for curing diseases. Cancer became a thing of the past. The only problem? The cure created something new: an infection that spreads quickly and takes over a person's body and mind, essentially creating zombie-like beings. This series starts twenty years after the spread of this infection. Protagonists Georgia and Shaun are trying to discover what lead to this infection. But in a future America paralyzed by fear, no one with any sense dares to leave their home. Georgia and Shaun's search for the truth might just kill them.
Interview with the Vampire by Anne Rice is basically a classic by now, and for good reason. Anne Rice's vision of vampires has essentially shaped the way we view vampires in contemporary literature. With 13 books currently available in the series, you could be following Lestat and his fellow vampire's storylines through an intense marathon reading session all summer long. The most recent novel in the series, Blood Communion, just came out last year, so it doesn't look like Anne Rice's successful vampire chronicles are going anywhere anytime soon.
Historical Fiction
There are many adult series about The War of the Roses out there, but Con Iggulden's is by far the best, especially if you're looking for thoughtful and meaningful characterization. The first novel, Stormbird, begins in 1437, following the death of King Edward III. Following what was a mostly peaceful regency, Henry VI ascends the throne to an atmosphere of political unrest and uncertainty.
Wolf Hall chronicles one of the most fascinating moments in British history, the reign of Henry VIII. The novels are told from the perspective of Thomas Cromwell, one of Henry Tudor's most trusted advisors. Mantel follows Thomas Cromwell's journey from his humble beginnings, to his rise to a powerful advisor of the court, and finally to his eventual downfall. The first two books in the series are currently available, and the third is coming out in 2020. So catch up on the first two now so you can start preparing for this series' thrilling conclusion.
Still not sure which is the best book series for adults for you to read? Be sure to check out Book Riot's subscription service TBR for tailored book recommendations, picked out just for you. Specify that you're looking for an adult series, and your Bibliologist will hook you up!